Are you a seasoned visual artist or a professional graphic/web designer searching for the best tablet for Adobe Illustrator? With an adequate screen size, a portable form factor, and top-notch stylus integration, a tablet PC is simply the best device for running this Adobe masterpiece. Period.
While a laptop, preferably a 2-in-1 convertible, is a good way to make the most of creative apps like Illustrator and Photoshop, I wouldn't mind recommending tablets as Adobe has finally optimized their software for these smaller screen devices. So now it is easy for you to use select attributes like typography and paths.
But then, finding the perfect Illustrator tablet isn't that simple. You must look for a large display with color accuracy and stylus support. In case you could only muster a digitizer, stylus compatibility, pen pressure, and LPI become essential. Apart from these features, you might also want to rely on a decent hardware setup and a reliable battery.
Limitations aside, I considered several pain points and must-have features before I finalized my list of the best tablets to run Illustrator. Not just that, but if you're a novice in this, I have also prepared a dedicated buying guide to help you make an informed purchase decision.
7 Best Tablets for Illustrator in 2023
Laptops are meant to run apps relevant to the Adobe CC but can get cumbersome at times. It's hard to see how you can continue using them to draw logos or use the blob brush when in the back seat of a car. This is why it is wise to get a tablet PC for Illustrator. It comes in handy when handling restrictive environments.
As per similar requirements, I put together a list of the top-rated tablets for Illustrator, tested and reviewed across a wide range of parameters, user preferences, capabilities, and budget.
Adobe Illustrator is only available for iPads and Windows tablets as of now. This means the list won't feature Android tablets. As an alternative, you can always consider installing the likes of Clip Studio Paint and Vector Artist on Android.
1. Best Overall:

Microsoft Surface Pro 8
If you have the budget to invest in a laptop-like device to run illustrator, there isn't anything as good as the Microsoft Surface Pro 8 on the market. Deemed as the best tablet for illustrator and Photoshop, the Pro 8 even trumps the high-end Surface Pro 7 when the display quality and battery life are concerned.
Why is it suitable for Adobe Illustrator?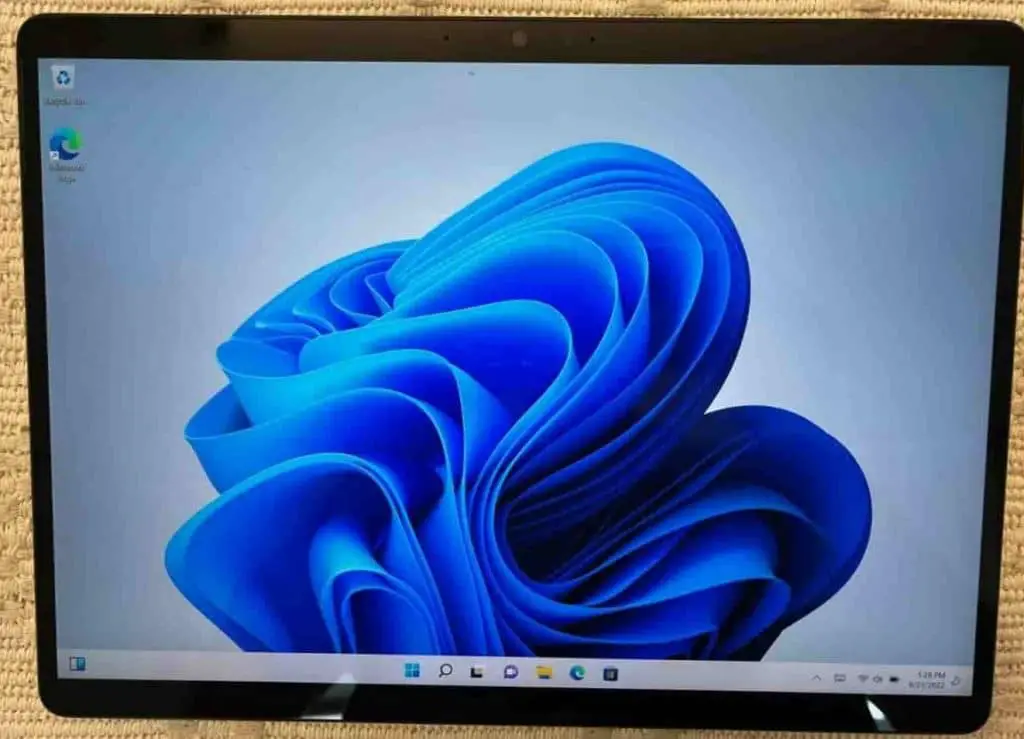 For starters, the brilliant 13-inch display makes life easier for the designers. The PixelSense panel accurately projects every color and even ensures the best viewing angles if you want to take the work outside. As far as the color gamut is concerned, the 103.% sRGB and 72% DCI-P3 palettes easily make the Pro 8 one of the best tablets for adobe illustrator.
Coming to the resolution, the Pro 8 trumps its predecessors to give you 2880 x 1920 pixels. Also, scrolling feels like a charm with the 120Hz refresh rate. The Surface Pen is nifty, comes with a good grip, and is known to offer at least 4096 pressure sensitivity levels, even if Microsoft doesn't declare it explicitly.
As a designer, I like the Apple Pencil 2nd gen better, but the Surface Pen should suffice if you are a hobbyist and not a regular sketch artist. Just one thing: the pen needs to be purchased separately.
Connectivity & Compatibility
As far as the connectivity suite is concerned, the Pro 8 persists with the Wi-Fi 6 and Bluetooth 5.1 standard. The Surface Connect port makes life easier for the designers to help you pair a keyboard if needed. And most importantly, Microsoft manages to do an iPad Pro by bringing in two Thunderbolt 4 Type-C ports for faster data transfers and charging.
Compatibility-wise, the Adobe Illustrator works just fine on the Pro 8. What makes sense is that you can access the software with Adobe's Creative Cloud Subscription. As far as features are concerned, you can handle every possible vector-based graphic illustration, logo, typography, and even use CAD tools to perfection, even on Windows.
Design & Build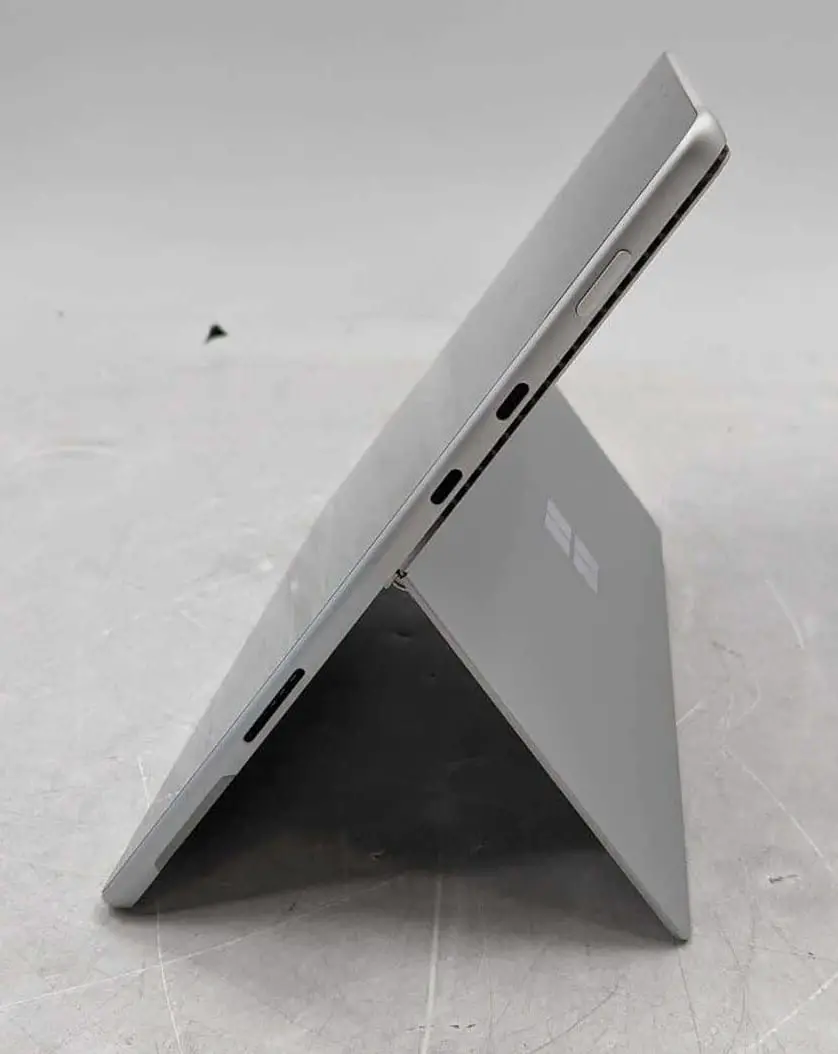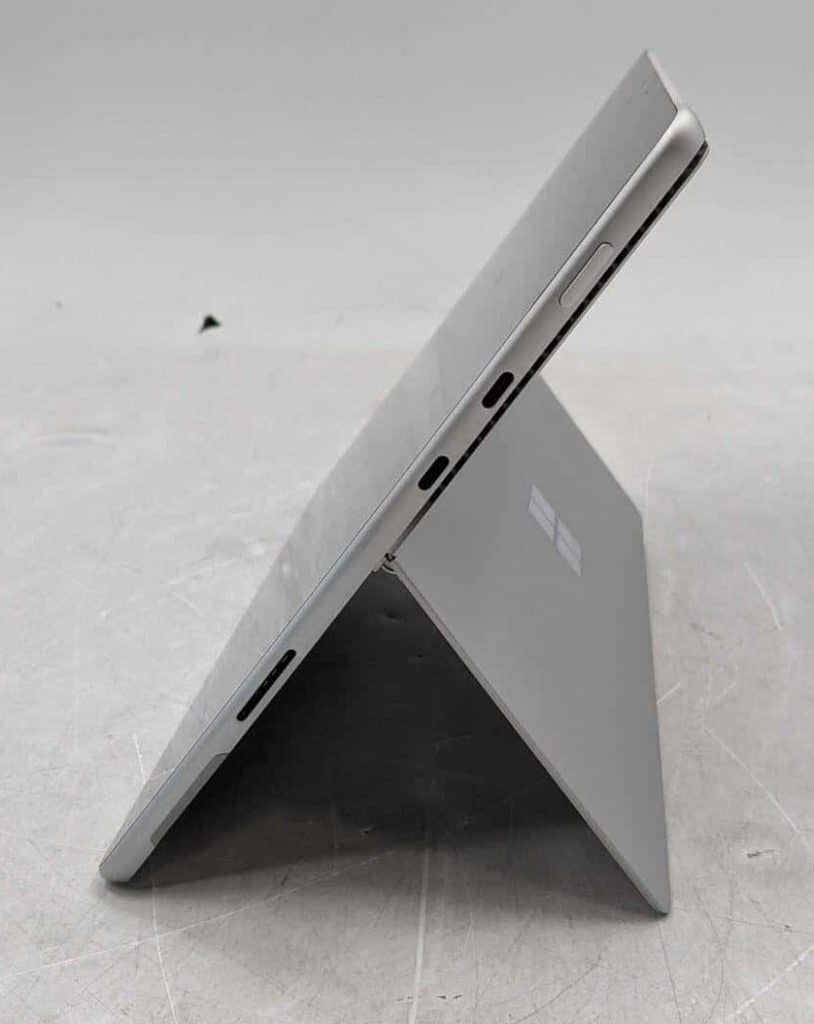 The Surface Pro 8 isn't just great at displaying stuff. Thanks to the remarkable aluminum form factor and a glossy rear panel, it looks adequately premium. As far as the dimensions go, it is a tad thicker at 11.3 x 8.2 x 0.37 inches.
Also, it is somewhat heavy at 1.91 pounds. If you plan to use this as a tablet and not a PC (which you can upon investing in an external keyboard), you can always use a dockable stand to make the Pro 8 more resourceful.
Hardware & Performance
Powering this brilliant 2-in-1 is the 11th gen i5 processor from Intel. As it's EVO-powered, you can expect the processor to consume low power. Adding to the performance is the 8GB RAM module. Storage doesn't take a backseat either, with Microsoft pairing a 128GB SSD to make things look up for the designer and his/her numerous images.
The quad-core chipset and the ultra-fast SSD ensure that the Windows 11 OS boots and runs at warped speeds. And apart from designing, you can use it for some basic 3D modeling and not precisely rendering.
Battery & Other Features
The Surface Pro 8 claims to offer 16 hours of battery backup on moderate usage. I tested the same with Illustrator processes running through the day and could get 10+ hours with ease. Coming to the charging speeds, it took me close to 90 minutes to completely charge the battery as there is a USB 4.0 port in play for the same.
The Pro 8 is fully stacked — with two reliable cameras (5MP and 10MP modules). Plus, there are dual-studio microphones for exceptional voice clarity. And finally, it comes equipped with two high-fidelity stereo speakers, helping you achieve the desired loudness levels.
Conclusion
Overall, Microsoft Surface Pro 8 is one of the best Windows OS-powered tablets for designers. Especially if you plan on using it to run apps relevant to the Adobe Creative Cloud, including the Illustrator. As far as the competition is concerned, it wins over every other device on the list regarding real-time battery life.
Excellent PixelSense display

Latest Wi-Fi 6 support

Premium aesthetics

High-speed Thunderbolt ports

Great battery backup
Doesn't bundle a stylus

Heavy and thick

Pricey
2. Best iPad for Illustrator:

Apple iPad Pro
If Illustrator is your vector designing app of choice, there cannot be a better option than the Apple iPad Pro to run it. I feel the capabilities of this device make it the best option for comic and manga designers. While the display is appropriately top-notch, the XDR technology furthers the contrast levels and ensures that you have the best designs ready for print.
The latest model also outwits the 2020-model as the faster processor and bigger RAM speed up the performance significantly.
Why is it suited for Adobe Illustrator?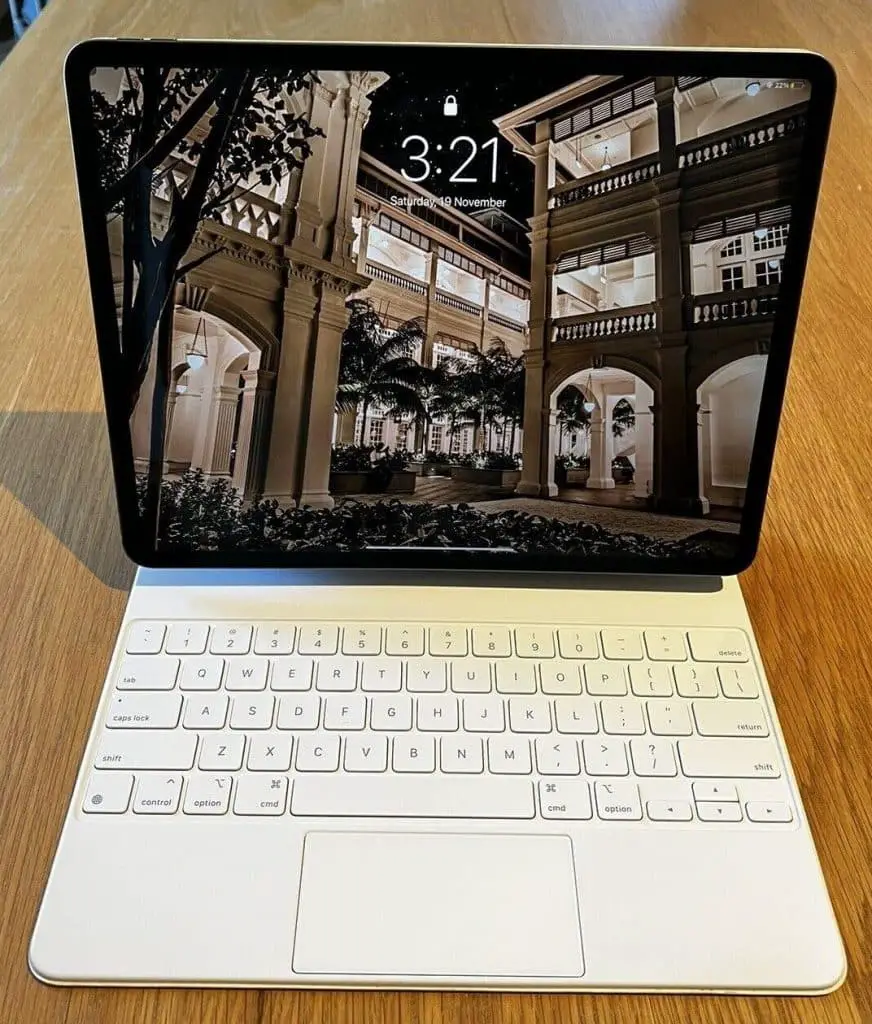 There are a lot of handy traits that make the iPad Pro the best iPad for drawing and other creative work. The 12.9-inch Liquid Retina display seems like a good start. Plus, the native resolution of 2048 x 2732 pixels adds to the same color accuracy.
Designers and creative professionals can also make good use of the ProMotion technology for experiencing faster refresh rates and an aspect ratio of 4:3 to cross-check the designs to perfection.
Working alongside the scratch-resistant screen with 1600-nits of peak brightness level is the 2nd Gen Apple Pencil. While charging the stylus takes almost no time, the impeccable accuracy of the identical scores a few additional brownie points for the device. Following this is palm rejection support and immaculate pressure and tilt sensitivity.
Connectivity & Compatibility
The port arrangement comprises a Type-C Thunderbolt 4 port, a magnetic connector for charging, and a DisplayPort for short projections. And there is a Wi-Fi 6 standard for the fastest possible internet connections, followed by Bluetooth 5.0 support. Then there is the intuitive iPadOS 16 that ensures zero compatibility issues with Adobe Illustrator.
Design & Build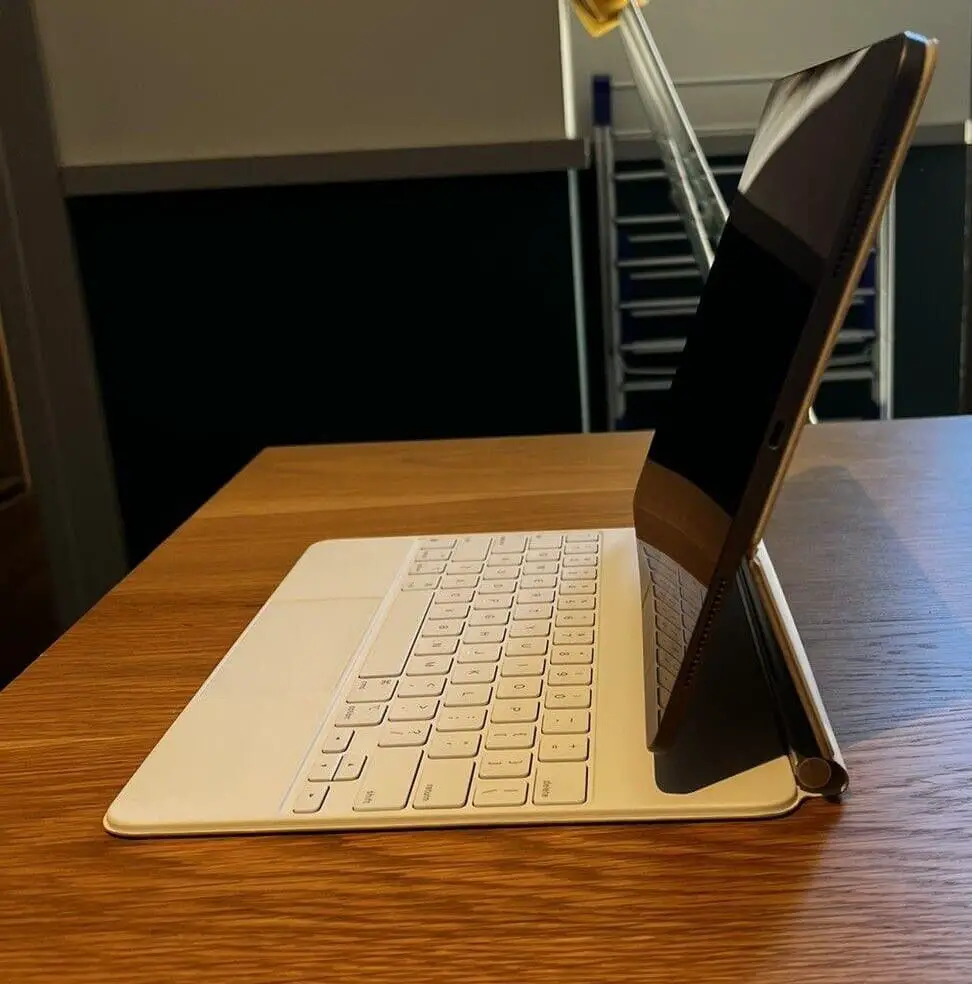 Coming to the aesthetics, the scratch-resistant panel is worth talking about. The iPad Pro measures a sleek 11.05 x 8.46 x 0.25 inches, courtesy of the aluminum-clad form factor. The slimmer bezels stand out, whereas for a 13-inch tablet to weigh a mere 1.50 pounds is nothing short of miraculous.
Hardware & Performance
It is more of a 13-inch large tablet and on the heavier side at 1.50 pounds. The design runs sleek, though, with the aluminium-clad chassis measuring 11.05 x 8.46 x 0.25 inches. The internal setup is equally provocative, courtesy of the M1 chipset, 8-core integrated GPU, and 8GB RAM for precision managing multiple artboards, paths, and transparencies.
Storing designs is easier with the 128GB unit, which sadly cannot be upgraded.
Battery & Other Features
The 10-hour battery backup is adequate if you are a globetrotting designer. Plus, the fast charging support makes refilling a charm.
Suppose you want to use the iPad for other professional and leisure tasks, a triple camera setup with a standard 12MP, ultrawide 10MP, and a LiDAR shooter. There is also a 12MP front shooter to make life easier during those meetings. In addition to that, you also get a quad-speaker setup and a couple of studio-grade microphones.
Conclusion
To sum it up, the Apple iPad Pro 12.9 is easily the best large-screen tablet for Adobe Illustrator when the raw specs sheet and display-specific output are concerned. However, its Face ID support for added Biometric protection separates it from other products on the list, owing to hardcore professionals' safety quotient.
True-Tone Retina display

Excellent integration with Apple Pencil

Latest wireless standards

Powerful M1 processor
Pricey

No fingerprint scanner
3. Best Value for Money:

Microsoft Surface Go 3
Good windows tablets are rare, especially if you are looking for one under the $500 price mark. Yet, if you come across the Microsoft Surface Go 3, I urge you to grab it without second guesses. Also, if you have been thinking of going for the Surface Go 2, consider the Go 3 as an excellent upgrade, courtesy of a better OS and increased power efficiency.
Why is it suitable for Adobe Illustrator?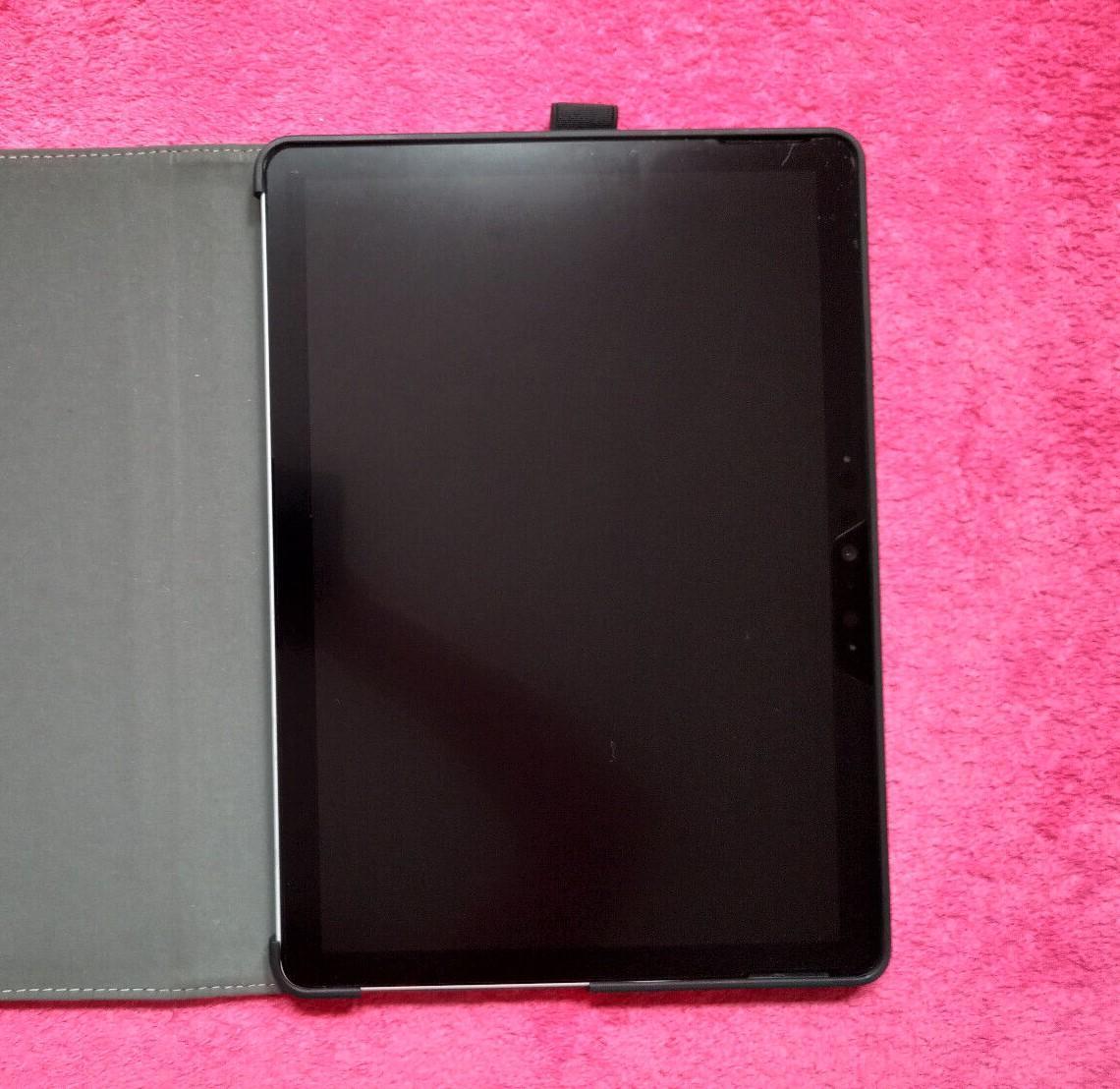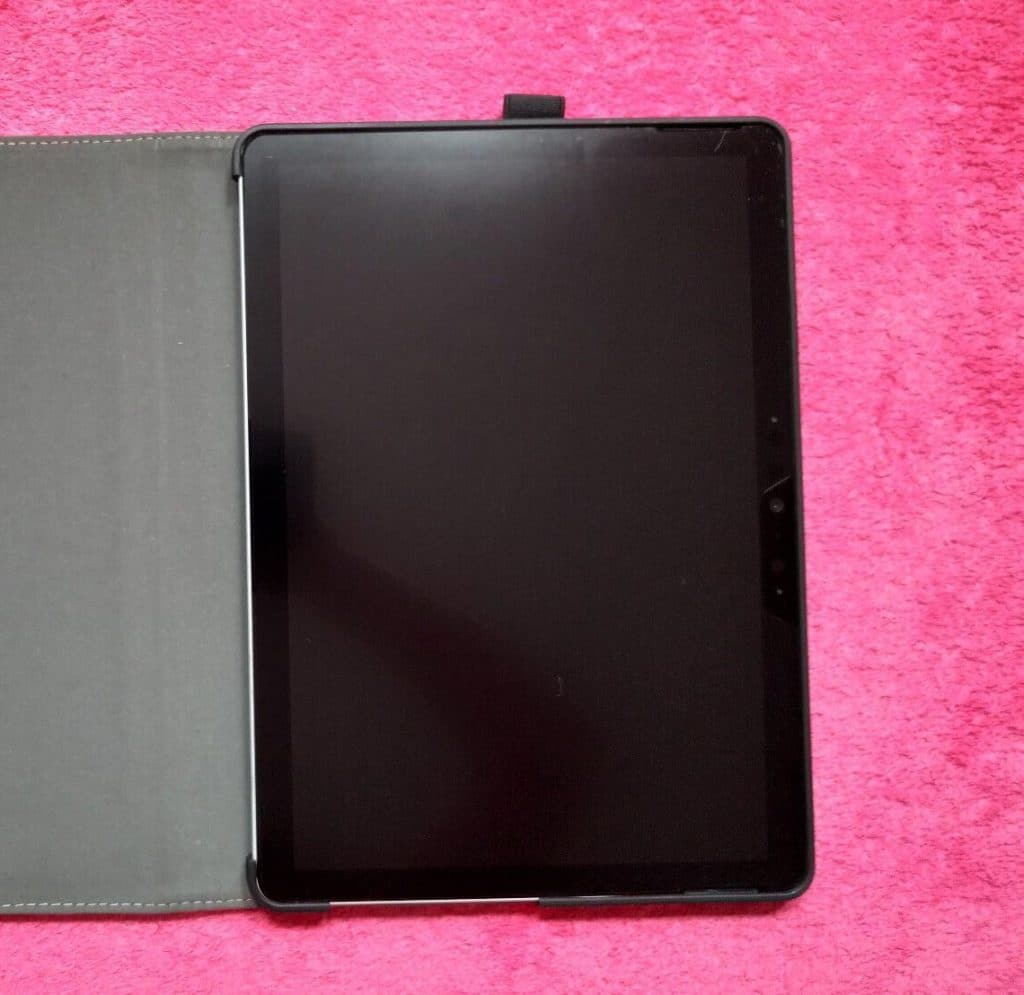 First of all, it is the 10.5-inch screen that makes an impression. With a Full HD resolution complementing the PixelSense panel, you can expect the Go 3 to pull out some of the best viewing angles. Plus, the sunlight visibility remains top-notch. As far as the color gamut is concerned, Go 3 manages a 100% sRGB spread, helping you get the best work done.
The Surface pen draws like a pro and ensures decent pressure sensitivity levels. Understandably, Microsoft needs you to pay extra for getting hold of this — a move winning it several detractors and backers simultaneously. As for its compatibility with Adobe Illustrator, the Surface Pen can easily handle the view artwork mode, rotate the view, and even other controls.
Connectivity & Compatibility
Microsoft makes the Wi-Fi 6 standard available, letting you connect faster to Adobe Illustrator's cloud version. Adding to this is the Bluetooth 5.0 support, followed by the Type-C port, a cover port for accommodating the kickstand, and a 3.5mm jack for connecting the legacy earphones.
Also, if you want to use the Creative Cloud version of this Illustrator, the Go 3 seems like a suitable device to invest in. Also, you can explore every feature of the application, including design layouts, typography modes, and more.
Design & Build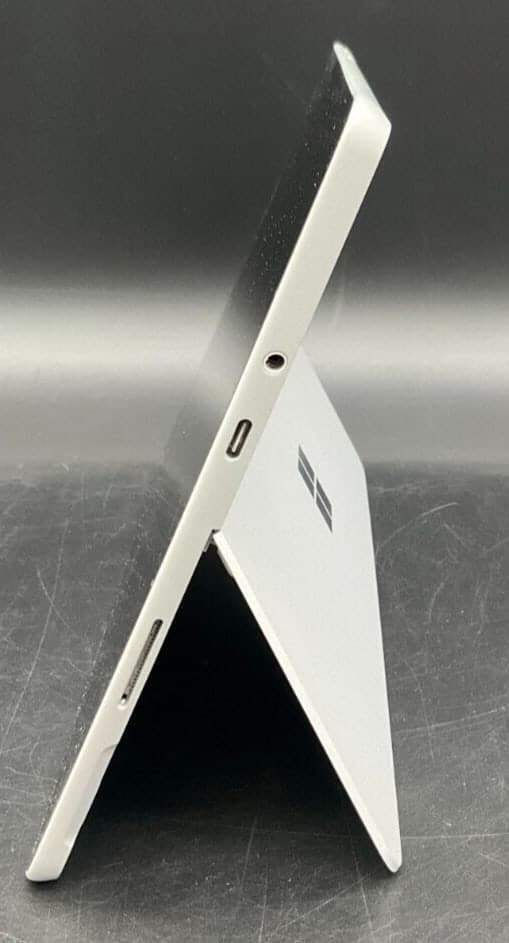 The Go 3 assumes a magnesium-clad chassis, measuring 9.65 x 6.9 x 0.33 inches when it comes to dimensions. The front panel features a Gorilla Glass layering for added strength, whereas the back panel feels glossy and premium. Also, this product weighs 1.2 pounds, making it a lot more manageable than the Pro 8.
Hardware & Performance
At the core, Go 3 has the Gold processor from the Pentium series, featuring two cores and an excellent clock speed for you to handle multiple tasks at once. Assisting the chipset is 8GB RAM for seamless multitasking followed by a 128GB SSD for storing the designs and ensuring that the Windows 11 loads in a heartbeat.
Not to mention that every aspect of Adobe Illustrator and Photoshop works swimmingly with the concerned processing setup at Go 3's disposal.
Battery & Other Features
Housing a 28Wh battery, the Go 3 is more than capable of offering up to 11 hours of backup, in line with what the company claims. As far as the charging speeds are concerned, it takes close to three hours for the battery to charge fully.
There is a 5MP front and an 8MP rear shooter to work with, followed by loudspeakers and studio-grade microphones.
Conclusion
The Microsoft Go 3 is a go-to Adobe illustrator tablet for creative aspirants. It's one of my top picks under $500. And most importantly, it is the value for money that separates it from the rest of the products on the list.
Gorilla-Glass protection

Windows 11 in S-mode

Power-efficient processor

Light and sleek design
4. Best Drawing Tablet for Illustrator:

Wacom Cintiq 16
Have you been looking for a drawing tablet compatible with Adobe Illustrator? I'd recommend the Cintiq 16. Read on to know if it fits your needs.
Not willing to invest in a full-fledged tablet yet? Consider the Wacom Cintiq 16 for your designs and illustrations to get a bang for your buck without getting overwhelmed by a detailed specs sheet. As per the features and the massive screen on offer, I feel that the Cintiq 16 should be prioritized by drawing enthusiasts and professional graphic and logo designers.
Also, it is a better choice if you have been eying the less impactful Wacom One, which features an underwhelming display compared to the Cintiq. However, if you prefer a smaller drawing tablet to use with Illustrator, the Wacom One is still a reasonable bet, courtesy of several pre-existing creative resources, an HD screen, and additional Android compatibility.
Why is it suited for Adobe Illustrator?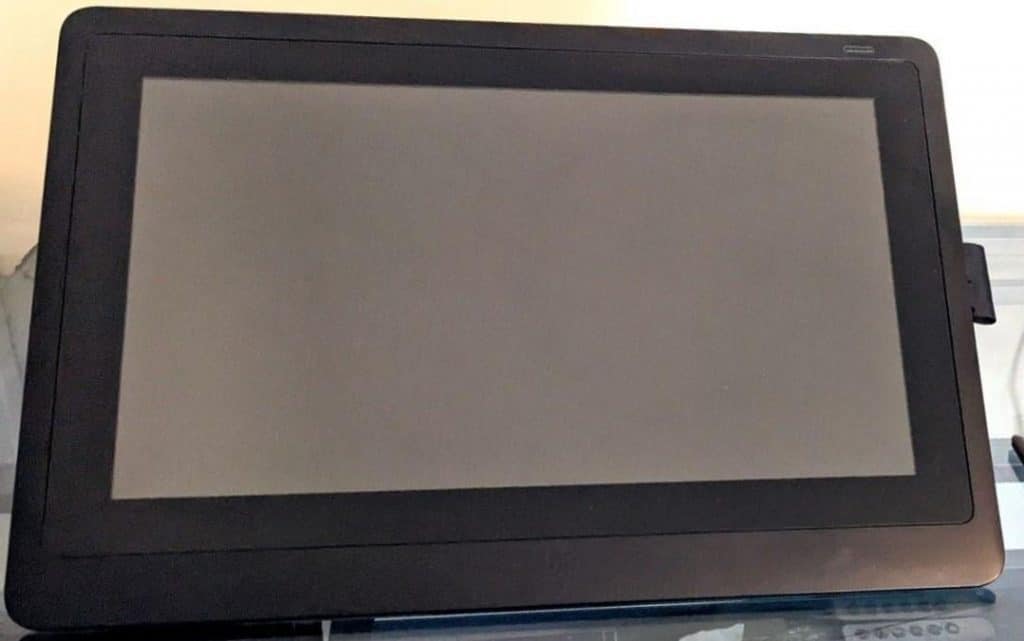 The Cintiq 16 makes quite a compelling case, courtesy of the 15.6-inch display. The Full HD IPS panel exhibits a 72 percent NTSC color palette, which goes a long way in projecting the images and designs in the most colorful ways. Plus, there is the 16:9 aspect ratio to rely on.
However, the excellent stylus, i.e., the Pro Pen 2, allows you to create designs with precision. What stands out is the 8192 pressure sensitivity level for a paper-like drawing experience followed by eraser integration and self-charging support.
Connectivity & Compatibility
Coming to the inclusions, there is a foldable stand in play, followed by the inclusion of a Type-A and an HDMI port for connecting the same to a host computer. But then, if you are into pairing devices, only consider setups running Windows OS and OS X.
Plus, there are several on-device express keys and a radial menu. But then, you need not lose sleep over the integrated hardware setup as it is a pen tablet and shares the host's processing power.
Design & Build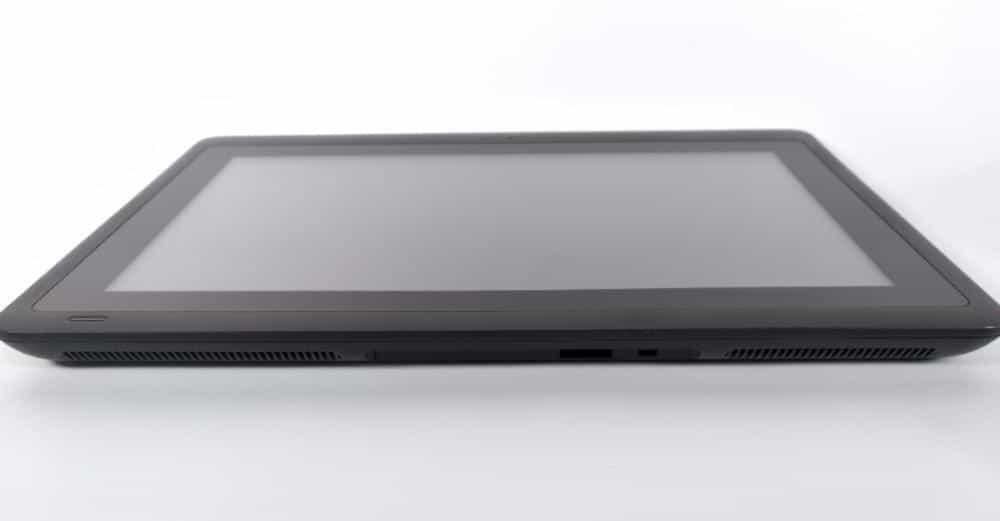 Here is a plastic-clad drawing tablet for illustrators that is heavy at almost 4 pounds and thick, with measurements running berserk at 16.6 x 11.2 x 1.0 inches. The rear panel of Wacom Cintiq 16 feels rugged, whereas the front surface seems bright enough to sustain the sun glare. A foldable stand is added to the structural presence, allowing you to adjust as needed.
Battery & Other Features
The Cintiq 16 draws power from the computer it is connected to. Plus, this tablet has a decent enough active area of 13.6 x 7.6 inches for making your illustrations come to life.
Conclusion
The Cintiq 16 is the best Wacom tablet for Illustrator that probably exceeds most full-fledged devices on the list when the quality of designs, graphics, and illustrations is concerned. What separates it from the rest is the massive screen which is way more responsive to the bundled drawing-friendly pen.
Suggested Read: Wacom vs. Huion
Massive screen real-estate

Excellent pen

Ample on-device controllers

Durable form factor
Heavy

Not meant for other fun activities
5. Best Stylus Pen:

Huion KAMVAS Pro 16
Large devices are rarely portable unless you consider investing in the Huion KAMVAS Pro 16. Therefore, if you are strictly into drawing illustrations for professional work and seeking a tablet with a top-shelf pen, this might be a good option to keep an eye on.
Not to mention its upgraded screen that comes to the fore when the KAMVAS Pro 16 runs into the older Pro 12.
Why is it suited for Adobe Illustrator?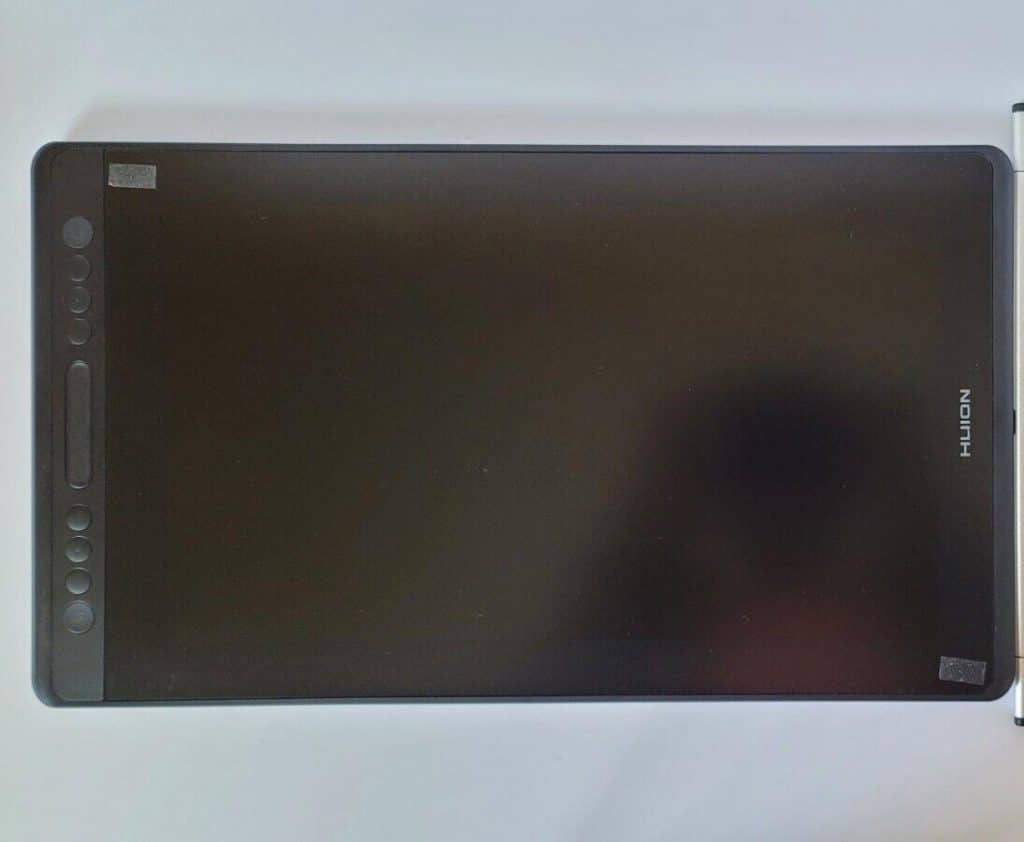 The 15.6-inch IPS screen is quite a compelling reason for it to be qualified as one of the best Huion tablets to run illustrator. The brilliant display is backed up by the 120 percent sRGB and even the 88 percent NTSC palette for maximizing color accuracy. Coming to the aspect ratio, you can expect the 16:9 allotment to be good enough for designing comics and manga.
I was particularly blown away by the EMR stylus pen, boasting self-charging and pressure sensitivity levels of up to 8192 for a paper-like drawing experience.
Connectivity & Compatibility
The HDMI and Type-C ports help connect this resourceful device to the computer host, which needs to feature Windows, Chrome, or at least any form of the Mac OS. As far as shortcuts and on-device keys are concerned, you get 6 shortcut buttons to work with, followed by a standard touch bar.
Design & Hardware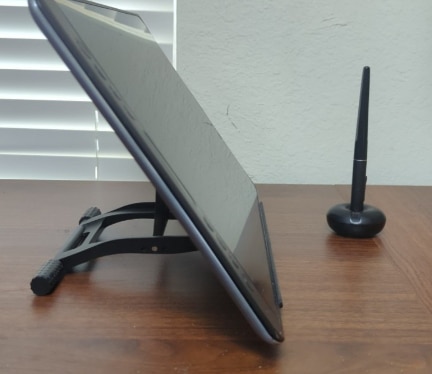 Despite being all beefed-up at 2.98 pounds, this plastic-infused table is way sleeker compared to the Cintiq 16, with dimensions reading 17.2 x 9.9 x 0.45 inches. Adding to the aesthetic functionality is the solitary touch key.
Battery & Other Features
As the KAMVAS Pro 16 draws its power from the host, you do not have to lose your sleep over scant battery backup. Plus, if you are serious about honing your skills as a designer, the stylus pen is quite a steal, courtesy of the lag-free object tracking and tilt recognition support.
Conclusion
Overall, the Huion KAMVAS Pro 16 is quite a steal for the price. The integrated Stylus Pen and its characteristics make it outwit any other drawing tablet for Adobe Illustrator featured on the list.
Glare-free display

Responsive pen

Affordable price

Dedicated hands-free stand
Still heavy

Lacks Android compatibility
6. Best for Logo Design:

XP-PEN Artist Pro
Still interested in only sparing money significant enough on a drawing tablet with a pen? Well, you are in luck as the XP-PEN Artist Pro is currently retailing online, boasting a detailed specs sheet that can be handy if you are a professional logo designer. Also, quite appropriately, the Artist 15.6 Pro offers an incremental display compared to the Artist 12.
Why is it suited for Adobe Illustrator?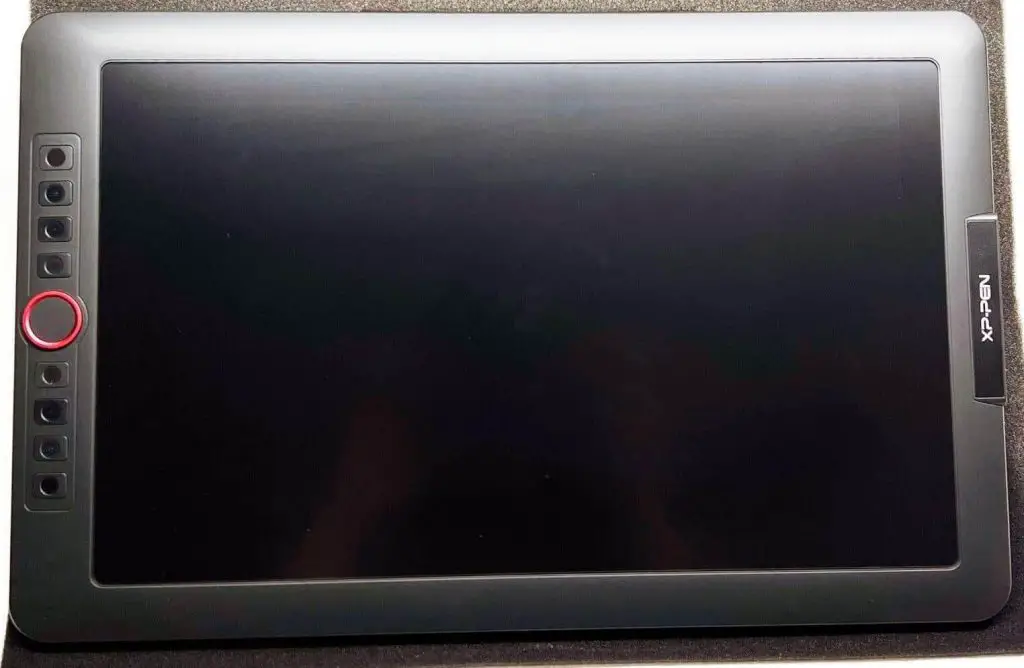 The 15.6-inch screen is bright and glare-free. As far as the resolution is concerned, you get 1920 x 1080 pixels to rely on, followed by an 88 percent NTSC palette and the 120 percent sRGB gamut for improved color accuracy.
The reliable stylus pen is known for the 5080 LPI, a reliable feature to get you through some of the more complex designs. Plus, the 8192 pressure sensitivity levels play a significant part in adding to the credibility of the XP-PEN Artist Pro.
Connectivity & Compatibility
There is a USB port and an HDMI slot to get you through the wired connections. As far as the host compatibility is concerned, XP-PEN only lets you connect with Windows devices and MacBooks. XP-Pen also makes way for a red dial to control several functions, followed by the presence of 8 shortcut keys.
Design & Build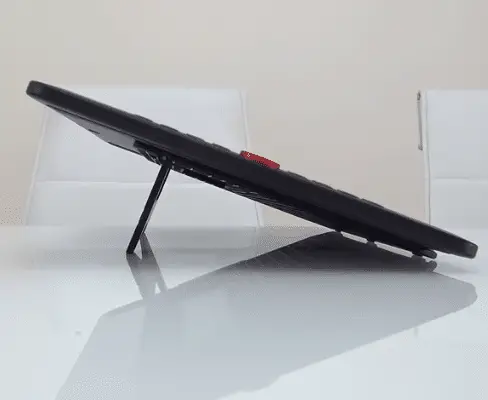 At 17.4 x 11.02 x 0.51 inches, this is one of the thicker drawing tablets in play. This plastic-clad device weighs 3.31 pounds, making it possible for you to pair an additional kickstand if needed.
Battery Life & other Features
The XP-PEN Artist Pro lacks a dedicated battery. Still, it ensures that you get hold of additional brownie points in a pen holder, featured screen protector, and a reliable pen with minimal activation pressure.
Conclusion
Overall, the Artist 15.6 Pro is quite a reliable option to opt for, which precedes others in its ability to manage complex designs. Also, if you want to get rid of a display altogether, the XP-PEN DECO-03 seems like a good choice, courtesy of the multi-app compatibility, 10 x 5.62 square inches of the active area, and an adequately powerful stylus pen.
Highly functional stylus

Sharp screen

Useful portable stand

Shortcut keys galore
Sunlight visibility suffers

Heavy
7. Best Graphic Tablet for Illustrator:

Wacom Intuos Pro
There are quite a few standard graphic tablets, aka digitizers, in the market, boasting exceptional stylus response and an expansive active area to draw on. The Wacom Intuos Pro is one such product, best suited for artists who are more reliant on their primary computer and only looking for a digital drawing pad to work the designs on.
But then, if you are still using the dated Intuos, going Pro might not be such a bad option after all, as you get a bigger panel to work on.
Why is it suited for Adobe Illustrator?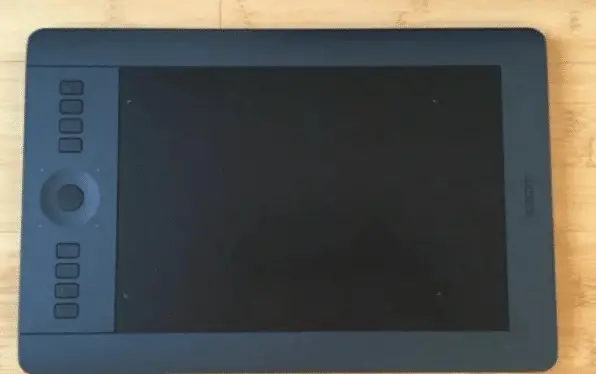 Despite lacking a traditional display, the Intuos Pro still makes quite an impression on the illustrators, owing to the 8.7 x 5.8 square inches' worth of active drawing area. Plus, there is a Pro Pen 2 stylus to work with, boasting EMR charging support, tilt recognition tech, and 8192 pressure sensitivity levels for a top-notch visual experience.
Connectivity & Compatibility
As you would still need to connect this device to a computer to make it work, there is a USB 2.0 slot to make things easier. Plus, you can even deploy the Bluetooth functionality of the same to make life easier while connecting to MacBooks and standard laptops.
On top of that, you get a dial to handle brush size and 8 customizable buttons, followed by the power-specific switch hanging on the edges.
Design & Build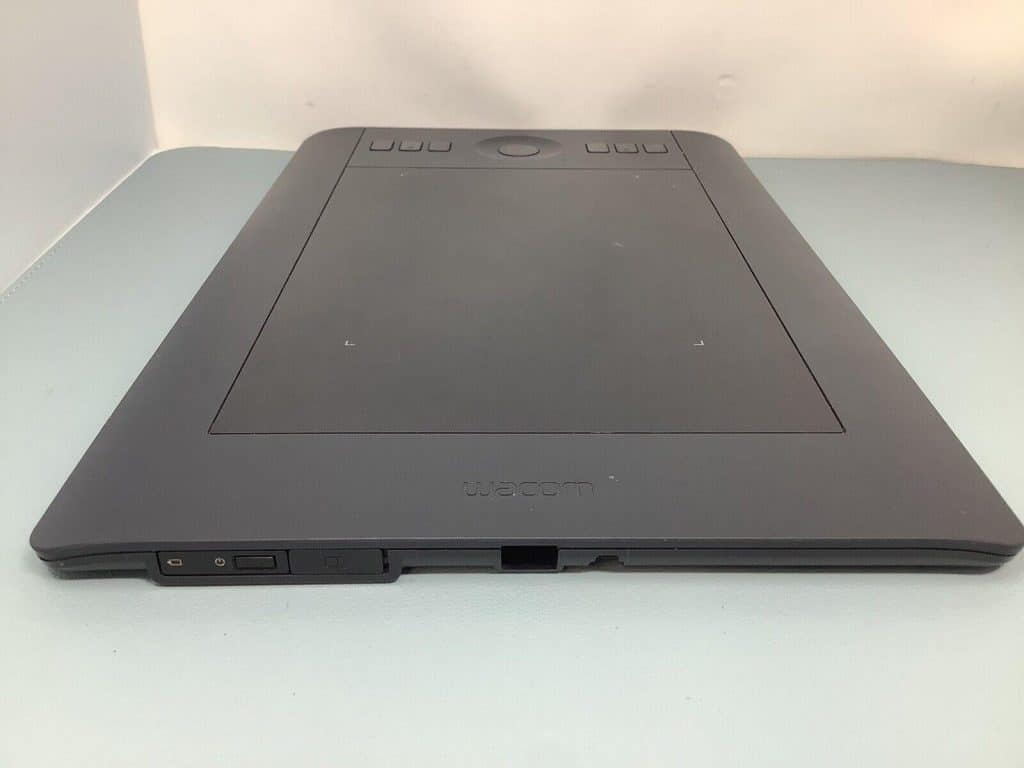 Not many digitizers are as light as the Intuos Pro, weighing 1.54 pounds. Despite featuring hardened plastic, the dimensions are on the sleeker side at 13.14 x 8.54 x 0.31 inches.
Battery & Other Features
As per specifications, Intuos Pro from Wacom doesn't feature an integrated battery. However, you get hold of a pen stand if you would be interested in such a trivial enhancement.
Conclusion
Overall, the Intuos Pro is not your regular drawing tablet but a highly responsive and scalable Adobe Illustrator drawing pad. Also, compared with some of the other options on the list, this product seems more capable of drawing better designs and vector art forms.
Light and portable

Expansive panel

Supports wireless connections

Functional stylus
Lack of display

Still costs quite a lot
Buying Guide to Choose the Best Illustrator Tablet
Now that you have had a close look at most Adobe Illustrator-supported tablets, here is a buying guide that might help you pick one as per your requirements and budget:
Display Quality
Having an 11-inch screen seems like the bare minimum if you are a professional. Coming to the quality, it is necessary to get an IPS screen if you prefer color clarity and sunlight visibility over anything else. Even an LCD screen makes sense if you are a budget seeker, but the screen size needs to be akin to a standard drawing tablet.
Coming to the resolution, you should look for a 2K or a Full HD Panel, as it would then allow you to get the best possible designs out. And if you are deep into designing, opting for a device with at least 100% color gamut (sRGB) makes sense.
Stylus Support
If you are a professional designer, it is necessary to rely on tablets that come with a stylus. While you can purchase them separately in the case of an iPad or a Surface Pro, drawing tablets come bundled with a pen. And when you are at it, try and get a pencil or pen with 8192 pressure sensitivity levels, at least 5 additional nibs, shortcut keys, and a good enough grip.
Connectivity & Compatibility
If you plan on getting a reliable device, aim for one with Wi-Fi 6 support. However, if you only want to get a drawing tablet with a screen, try to get one that lets you stay connected to the host wirelessly. As for wired connections, it is advisable to check whether the device has high-speed Type-C ports or even the Thunderbolt ones.
You can settle with an HDMI or a USB port for graphic tablets, aka Digitizers. When it comes to compatibility, it is necessary to see if every Illustrator process is working fine or not.
Hardware Setup
This is an entirely subjective section as the processor might vary depending on the type of tablets to use with Illustrator. You can go with a standard quad-core processor, at least 6GB RAM, and a 128GB SSD for regular tablets. However, if you choose to go with a digitizer, none of this matters, as the final design depends on how stacked your host computer is.
As for the OS, it is better to go with the iPadOS to make the most of the Illustrator's features.
Battery Life
If you choose to become a professional illustrator or a graphic designer, you might want to go with tablets that come with long battery life. This is important as you might not always be able to get a power source nearby if you plan on working on your feet.
The ideal capacity might vary, but you should always aim for 10 hours to maximize productivity. And it is always good if the device comes with fast charging support — something you need not worry about if you plan on dealing with drawing-specific devices.
Frequently Asked Questions
Can you use illustrator on a tablet?
Yes, it is often better to use Adobe Illustrator on a tablet as the software is precisely optimized for touch interfaces, with support for path designing, additional brushes, and typography.
Which tablet is best for Adobe illustrator?
Microsoft Surface Pro 8 is undoubtedly the best tablet for Illustrator. Thanks to the sharp and color-accurate display, full-fledge Illustrator experience, support for a highly functional and productive Surface Pen, and the perfect laptop-grade processor that lets you manage multiple designs and illustrations with ease.
Can you use a drawing tablet on Adobe illustrator?
Yes, a drawing tablet can help you work on Illustrator, provided you are more inclined to use the same as an Adobe Illustrator drawing pad, with edits and processes being managed by the host devices.
Do Wacom tablets work with Adobe Illustrator?
Yes, Wacom tablets are suitable for Illustrator. The company excels in offering the best possible drawing-friendly stylus pens with ample tilt recognition, pressure sensitivity, and even palm rejection support in select models.
Verdict
While there are several tablets in the retail space for managing digital drawings, only a handful can be used explicitly for Illustrator. You can easily pick any of the mentioned devices from the list above, but I have curated a more exclusive one for you to be able to select better:
If you have comprehensive requirements and expectations focusing on top-notch renders and designs,

Microsoft Surface Pro 8

seems like the most prudent call.
If you prefer the Apple ecosystem,

Apple iPad Pro

with a powerful M1 processor, accurate Retina display, and Apple Pencil Gen 2 support is a better prospect.
Pen tablet seekers can invest in the

Huion KAMVAS Pro 16

, owing to its brilliant stylus pen and top-shelf affordability.
Finally, if you seek a graphic tablet for Illustrator, there is the

Wacom Intuos Pro

to consider.
Hard to believe that you would need other options apart from these four. Still, if you have a thing for choices, there are a handful of different products and even some alternatives to look at.
Suggested Articles: