Graphic tablets are the new fads, in an era where work from home is hogging all the limelight. Unlike the traditional tablets that come with a dedicated processor, storage support, and other computing resources, these devices are more like your computing extensions, allowing you to use the interface strictly as a drawing tool.
However, the uncluttered specs sheet doesn't always mean seamless purchases. Instead, as there aren't many graphic tablet makers in the retail arena, you need to assess each product with a grain of salt. Plus, comparing these tablets might be a tad difficult if you aren't well-versed in how a graphic tablet works.
In most cases, it is the stylus sensitivity that drives the purchases followed by pricing, display quality, and existing connectivity specs. At present, only two brands i.e. Huion and Wacom are leading the charts when it comes to digitizers and pen displays (learn the differences). But then, which brand builds the better drawing tablets is a discussion of importance.
Wacom vs. Huion: Comparing The Digital Giants
Wacom, a company established way back in 1983, operates out of Saitama, Japan, and has been one of the market movers in the graphic tablet arena. While it boasts a pretty extensive historical identity, its Intuos and Cintiq tablet lineups are the ones to focus on.
Not just that, Wacom has taken the drawing to a new level with the introduction of top-shelf resources like the Mobile Studio Pro, a tablet that moves beyond the basics of Digitizers (or graphic tablets) and equates to a more complete computing device.
Huion, on the other hand, is a relatively new tablet conglomerate. The company invaded the graphic tablet space in 2011 and since then, has been pretty regular with its launches. At present, Huion operates out of Shenzhen and comes forth as one of the more consistent performers in the concerned arena.
Also check: Best Huion-branded Tablets
For a standard tablet user, both the Wacom and Huion tablet line-ups might not make a lot of sense, from a functional point of view. But their advanced styluses clubbed with ease of usage and connectivity, make them indispensable tools for graphics designers and engineers who are always on the move.
In the subsequent sections, we shall enlist 6 parameters against which the Huion and Wacom graphic tablets can be compared.
1. Stylus Sensitivity
Pressure sensitivity might sound like a new term but for a graphic tablet, there aren't many attributes more important than this. Graphic tablets from Huion and Wacom have pressure-sensitive screens. This means the pen can be used for drawing finer and deeper lines, depending on the nature of the art.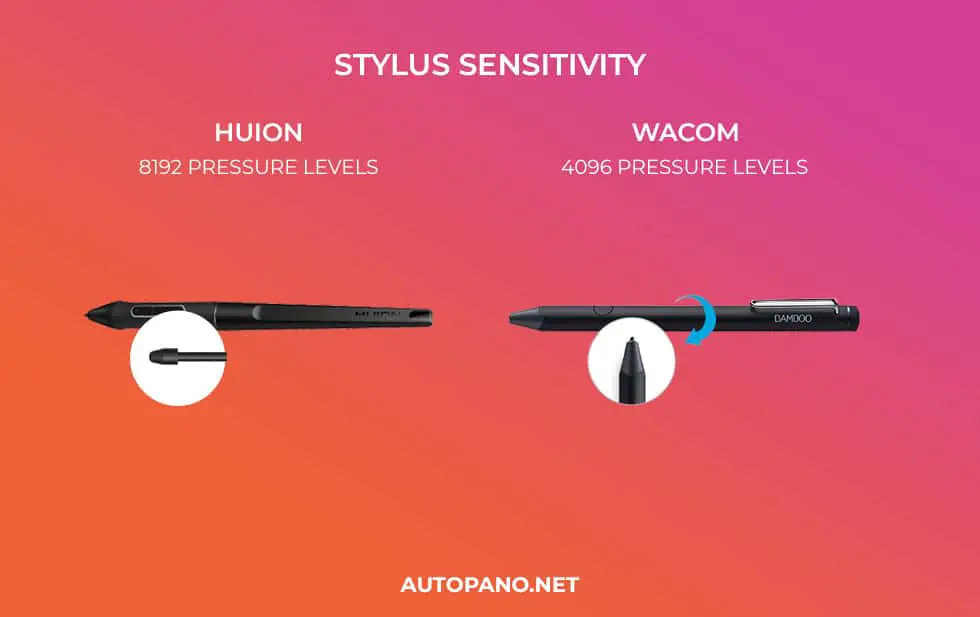 Still confused? Consider using a pen, marker, pencil, or even a real brush to draw a design. You would notice that different resources impact the paper in different ways. The stylus pen associated with a graphic tablet can help you achieve similar effects, depending on the pressure sensitivity of the stylus.
In most cases, you are required to choose between 1000, as the minimum, and 8000 as the maximum pressure sensitivity level. Both Wacom and Huion have tablets that offer 2048 levels in terms of pressure sensitivity.
If you are a standard user who is only into linear designs sans shading and deepening, pressure sensitivity isn't the best metric to compare the tablet against.
However, just for the sake of precision and quality, Huion's exceptional stylus pen with 8192 pressure levels to exhibit makes Huion tablets better selections as compared to the Wacom-tagged entities, which feature a maximum pen pressure sensitivity of 4096.
That said, stylus sensitivity doesn't end with the pressure levels, a parameter where Huion trounces Wacom, by a decent margin. As a matter of fact, you also need to account for the pen quality and their ability to churn out inductive power from the screen.
As these are battery-free pens, you need to ensure that the company offers them as a part of the bundled package. Plus, you also need to take the erasing capabilities and replaceable nibs into account.
These are the aspects where Wacom scores higher than Huion, courtesy of the stronger plastic nibs and the eraser-like pen pertaining to the Cintiq Pro and Intuos Pro line-up.
That's not it, Wacom also edges past Huion when the feel and the nib storage capabilities of a pressure-sensitive pen are concerned. Not to mention the pen tilt that is one of the main attributes for professional artists.
Graphic tablets featuring pens with decent tile-identifying sensors can make shading, airbrushing, and calligraphy easier than ever. However, this form of sensitivity is housed by both Huion and Wacom, courtesy of the KAMVAS, Cintiq, and Intuos Pro line-up.
2. Display Quality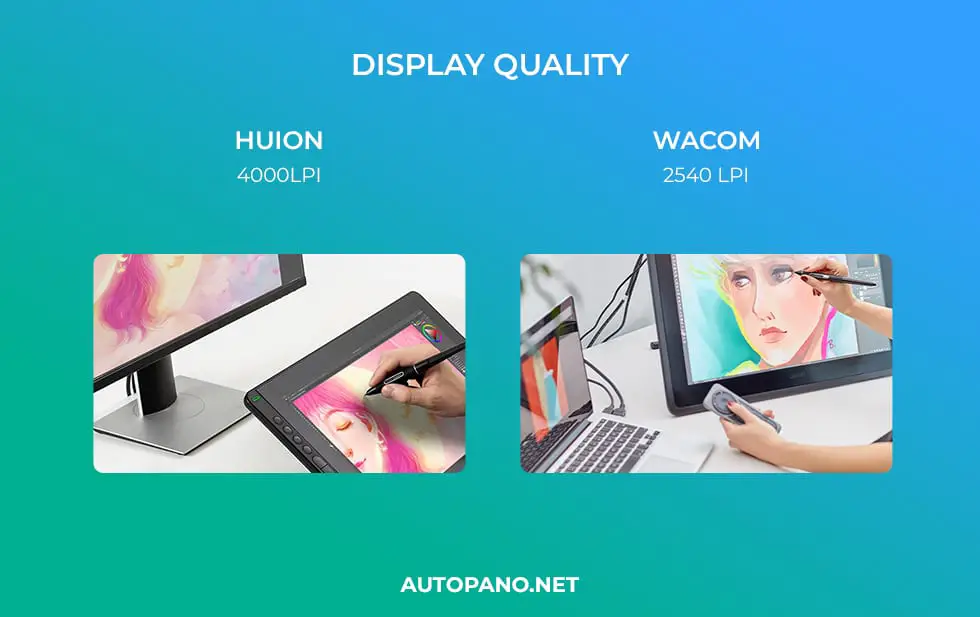 As far as the display quality is concerned, Wacom readily steals the show owing to the cost-justified specs sheet. Firstly, it is the screen size that makes a lasting impression, owing to the availability of different form factors.
As an artist, you are free to choose from a wide range of screen real-estate, spanning 13, 16, to even 32 inches.
Plus, Wacom also brings in the etched glass panel for certain top-shelf graphic tablets, followed by 1080p and even 4K resolutions, depending on the screen size and budget.
As artists would have it, Wacom also flaunts the 99 percent aRGB color gamut for certain 4K displays whereas the Full HD panels exhibit something in the 87 percent range.
Still, the best Huion graphic tablet, i.e. the KAMVAS tries its best to match up to Wacom, with a 3000:1 aspect ratio and 1080p resolution as the go-to features. Plus, the 72 percent NTSC color gamut also adds to the quality of the images and designs.
However, we would still consider Wacom to be a better brand in terms of display quality as this parameter even takes the LPI or 'Lines Per Inch' into consideration.
As far as Wacom tablets are concerned, the 2540 LPI is a good starting point. Still, the starting LPI feels slightly underwhelming as compared to that showcased by Huion, at 4000LPI.
Considering the screen size, color reproduction, and the comparable LPI, Wacom tablets are better equipped for the artists. Plus, Huion, despite featuring a higher starting LPI point leaves a lot to be desired in terms of viewing angles.
Wacom is therefore a better tablet brand, courtesy of the better pen-to-panel responsiveness, followed by multi-touch support. Plus, Wacom stylus pens have better tilt sensing abilities. This means, if you are into photo touch-ups and sketching, Wacom allows you to turn off tilt sensing.
3. Connectivity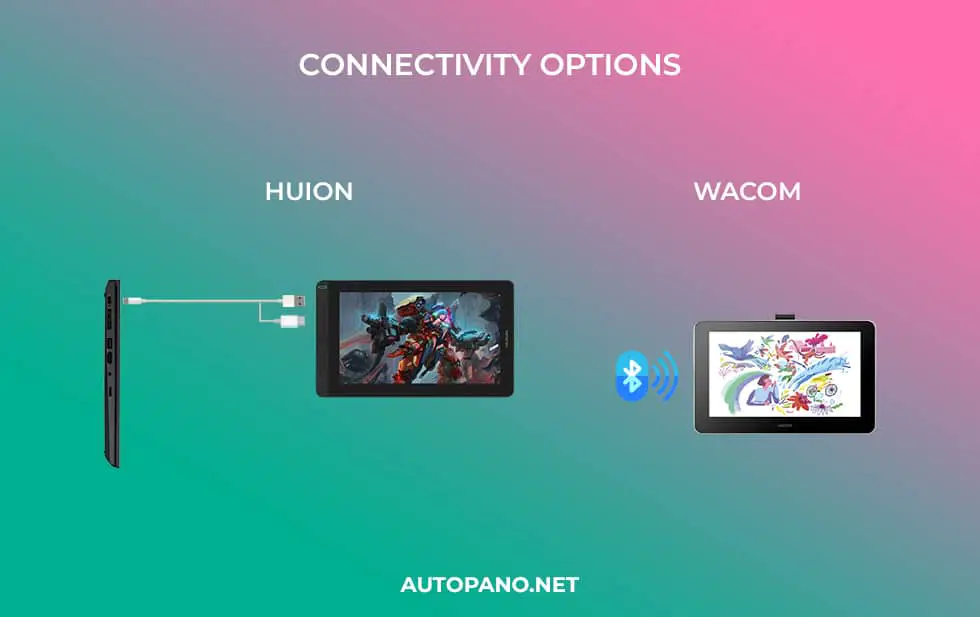 A good parameter for selecting a graphic tablet is the ease of establishing connections with the computer. In most cases, a graphic tablet needs a USB adapter to connect with the PC whereas the more functional ones support Bluetooth connections.
While both these strategies are advisable, Wacom allows you to establish wireless connections without breaking a sweat, courtesy of Bluetooth support. Also, the Bluetooth support doesn't require LoS linking, thereby faring better as compared to the 2.4GHz wireless support featured by select Huion tablets.
Not just that, even if you have a Huion tablet by your side, USB connections are still required, making Wacom the better brand for drawing on the move.
4. Design and Build
When it comes to the design, there isn't a lot to choose from between Huion and Wacom. Despite select Huion tablets offering heat vents and options for keeping noise build-up to a minimum, we personally liked the Wacom tablets better, courtesy of integrated legs and the ability to pair stands with the same.
If you would want to revisit the display-centric attributes as a part of the design module, Wacom boasts better control, zero delays, and a faster response. Plus, the Wacom tablets are pricier, which vindicates the better surface finish.
As far as buttons are concerned, every Wacom model boasts customizable keys. Therefore, Wacom readily scales beyond Huion tablets when it comes to managing popular functions like Save, Zoom, Redo, and more.
Plus, the Intuos Pro from Wacom also boasts a Touch Ring, which is more like a rotating tab for accessing express functions. Therefore, if you are planning to use the tablet extensively, Wacom is definitely a better bet considering the top-shelf button placement and aesthetics.
5. Price Difference and Value for Money
As far as pricing is concerned, the Wacom tablets are conveniently positioned higher up the pecking order. Also, the spec sheets associated with the tablets are cost-justified and worth the splurge.
Professional artists and graphic designers who do not mind spending a fortune on a good graphic tablet can opt for Wacom as the brand of choice.
Huion, on the other hand, is way more affordable as a brand. Graphic tablets from Huion are priced keeping the budget users in mind. This approach makes Huion tablets better choices for students and novices.
Considering the price point, Wacom easily offers more value for money despite being on the pricier side of tablet retails. The products are appropriately sturdy with the pens having better responses than those offered by Huion.
6. After-Sales Support
Most brands fail to give due importance to the after-sales services. However, both Wacom and Huion bust this ineffectiveness together by offering decent coverage, post-sales.
Starting with Huion, the company usually offers a 1-year warranty on most products. Also, you are free to upgrade the same by paying the warranty extension fee.
The Huion customer support team can also be reached via website chat, Skype calls, and emails. Our only gripe is the odd timings as being a Chinese firm; the customer service team is only functional during the company hours.
Wacom, on the other hand, offers better after-sales coverage, courtesy of the 24/7 access over the phone. If that wasn't all, most gadgets come with a 2-year warranty, right out of the box. Plus, we did take the Wacom customer support system for a test and the responses and issue mitigations were initiated within a few hours.
Therefore, if after-sales support is one of your priorities, we would readily recommend Wacom tablets.
As seen, Wacom tablets easily trounce Huion if you are using the aforementioned parameters to evaluate the offerings against. But then, every graphic tablet brand comes with its share of hits and misses.
Wacom Tablets: Pros and Cons
Compatibility: Starting from the Cintiq series to the Intuos lineup, every Wacom tablet is compatible with most programs, graphics-centric software solutions, and applications
Size: If you are planning to check for diverse graphic tablet sizes before taking a pick, Wacom is a better brand to turn to, owing to the widest possible product range
Pen Pressure: Wacom tablets, regardless of the model you choose, are loaded with better pens with a starting pressure sensitivity of 2048. This attribute allows you to manage almost every kind of drawing and design with pencil-like precision.
Control: As graphic tablets do not have the usual bells and whistles commonly associated with commercial tablets; it becomes all the more important for them to rely on advanced buttons and one-touch controllers. This is where Wacom comes forth as a better brand, offering multi-touch, scrolling key, and other intuitive controllers.
Price: The pricing associated with Wacom tablets is pretty off-putting, especially for a student or a basic user. Plus, there aren't many graphic tablet OEMs in the market, which coerce people into going with the pricier Wacom tablets.
Portability: Some of the chunkier Wacom tablets are anything but portable and end up taking up a lot of space
Lag and Latency: As Wacom offers graphic tablets, the performance of the pen and the screen depends on the mother computer that you are connecting it to. If you have a sluggish machine at your disposal, system lags are common.
Huion Tablets: Pros and Cons
Pen Quality: Huion stylus pens are in no way inferior to the Wacom counterparts. While the pressure sensitivity is at par with the pricier variants, the starting pen resolution of 4000LPI makes Huion a top-of-the-line graphic tablet manufacturer.
Price: If you are looking for affordable graphic tablets, there isn't a better brand around than Huion
Shortcuts: Despite the buttons not being as innovative as the ones featured by Wacom, Huion still brings in enough controls, best suited for zooming, changing brush size, and even invoking the eraser.
Compatibility: If you are planning to opt for Huion tablets, you must compromise on certain processing resources and applications, which are usually supported by the Wacom counterparts
Connectivity: Huion tablets, despite boasting 2.4GHz wireless support, require you to connect an adapter to the same
Customer Service: While the after-sales service isn't all that bad, the working hour restrictions can be a bit frustrating to manage certain petty issues
Packaging: The affordability often backfires as Huion doesn't invest a lot of the packaging quality of the tablets
Drivers: Huion tablet drivers aren't the easiest to find
Conclusion: Which is the better Tablet Brand?
To be honest, Wacom tablets fare better if functionality, pen quality, aesthetics, and features are some of your priorities. While several assumptions are already flooding the internet regarding the differences between Wacom and Huion tablets, the former is more of a complete graphic tablet brand.
While Huion offers cheaper tablets, Wacom offers the most value for money as the offerings are in line with diverse professional requirements. Plus, Wacom stylus pens also double down as powerful erasers, thereby furthering the scope and impact of these tablets.
You Might Also Be Interested in: