There are plenty of Android tablets in the market, all these devices come with different specs combinations. Thereby, choosing the right one for your needs can get a little tricky. But, since you're here, it's evident that you're looking for the best available option, and I'll help you find it.
Well, tablets aren't just used for a single task. That's why the best device shall vary for different use cases. For instance, a gamer might find a tablet with a high-performance CPU, GPU as the best, while a reader might want an easy-to-use interface and a good quality display. Similarly, an artist might want a tablet with stylus support.
It doesn't matter what your use-case is. Whether you need a device to read ebooks, take quick notes, play games, or attend video conferences, or all of this, devices in this list are highly capable. So rest assured, there's an Android tablet for every need, and I promise that by the end of this read, you will find your perfect companion!
8 Best Android Tablets in 2023
While choosing a tablet is relatively simpler for Apple users, thanks to the presence of minor variations among all iPads, it can get really confusing if you're on the Android OS. Over the course of this article, I shall take you through some of the best options out there.
Up next is a detailed review of 8 top-rated Android tablets, along with all their specs and a quick look at what is it that makes each of them so unique and special! Towards the end of each product, I sum things up with pros and cons for each of them.
1. Best Overall:

Samsung Galaxy Tab S7
Samsung's flagship tablet, the Galaxy Tab S7 has been rightly advertised by the company as 'Perfect for Work. Perfect for Play'. The device is elegant enough for you to carry around at your workplace and use for all your tasks, while it carries in quite the power to run all your games and for your media and entertainment needs.
SoC & Performance
This is the best-performing device out there when you look at Android tablets, thanks largely to the eight-core CPU that powers this beast! Samsung has tied up with Qualcomm and uses their top-of-the-line SDM865 processor here.
Thanks to this power-packed processor, the tablet can do anything that you can expect a laptop to do for you – be it work, gaming, or even some high-power tasks like video editing or designing. The DeX mode practically turns it into a proper computer!
RAM & Storage
The tablet comes with 6GB of RAM and different storage variants. You can choose from 128GB, 256GB, or 512GB of storage capacity. It also comes with an SD card slot to expand the storage up to 1TB using an SD card. I'd suggest getting a 128GB variant and save some money. The tablet runs on Android 10.0 is and is certain to get multiple upcoming updates as well.
Display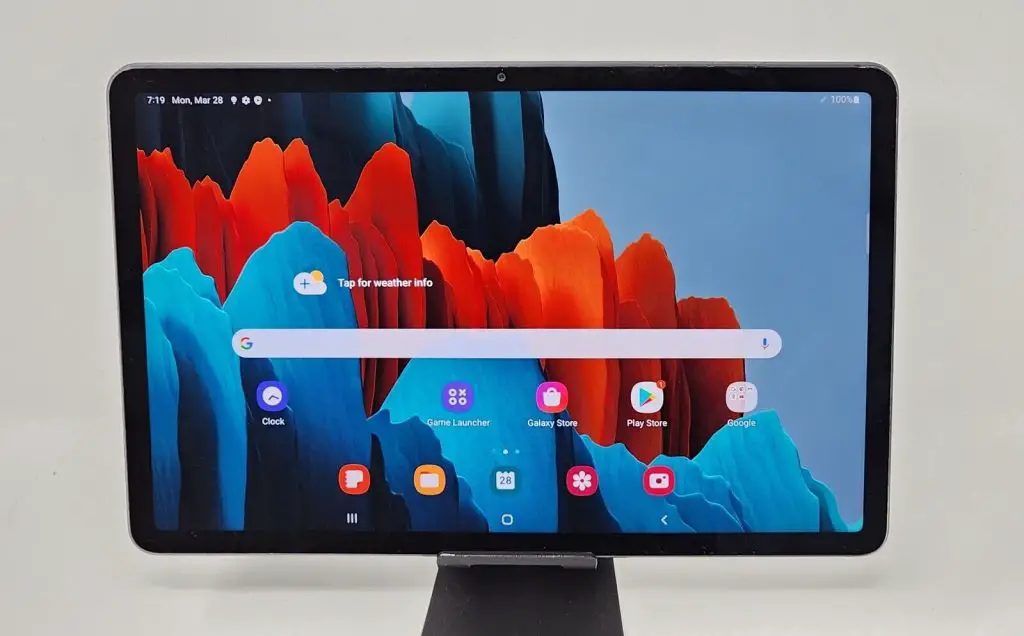 Another cool thing about this tablet from Samsung is the display. Coming out into the markets with an impressive 11 inches WQXGA+ TFT display. Not just that, the display also supports a 120Hz refresh rate which makes it a perfect gaming tablet, as well as quite the performer for video conferencing.
Keyboard & Interaction
A keyboard that is sold separately can also be purchased to make this into a high-functioning 2-in-1 device. Besides this, there's also the added advantage of the S-Pen that comes included in the box. It allows you to control your presentations and do much more than just drawing or navigating throughout the UI.
Design
Samsung rarely gets it wrong when it comes to the design part of things – this holds true for the Tab S7 as well. It is one of the most elegantly designed tablets out there. This specific variant is the 'Mystic Black' color, which I believe to be a great choice. Unlike the Tab S7+, it doesn't offer an in-display fingerprint scanner, however, Samsung chose to provide the side-mounted fingerprint scanner on the Tab S7, and it works flawlessly.
Battery & Other Features
Moving on to the battery and charging details, you get a 45W fast-charger, which charges the tablet via a USB-C port. Then there's the 13MP + 5MP dual cameras on the back and an 8MP camera on the front. Audio, too, is pretty loud and impressive, thanks to the impressive Quad + AKG + Dolby Atmos audio setup. All of this, and the device still weighs just 1.10 pounds!
Should you buy it?
Summing up the Galaxy Tab S7, this is just the perfect option if you are looking forward to shelling out the right money for the right product. A tablet that is going to last you for a long time – and one that will make sure you get all your work, gaming, art, and entertainment sorted in just one device.
Pros
Top-of-the-line processor

Long battery life with fast charging

Comes with an S-Pen (Stylus)

Perfectly balanced 120Hz display
Side-mounted fingerprint scanner
Excellent cameras & speakers setup
Thin and Lightweight form-factor
Cons
Lack of a headphone jack

Keyboard needs to be purchased separately 

Expensive
2. Best for Students:

Lenovo Tab M10 Plus
Lenovo is a top brand when it comes to the laptop and smartphone markets and their tablets are pretty impressive as well. The M10 Plus continues to be among their hottest selling products, as it offers great performance at a price that isn't too expensive.
SoC & Performance
The device is powered by a CPU that was specifically created for tablets. MediaTek's Helio P22T is an octa-core processor that can function at a frequency of up to 2.3GHz, making it great for multitasking and handling tasks like video recording and editing. The presence of a PowerVR GE8320 GPU also makes it a pretty good gaming device.
RAM & Storage
This particular variant offers you 4GB of RAM and 128GB of storage, but there are other variants as well. These include 2GB RAM + 32GB storage and the 4GB RAM + 64GB storage. You can also add a MicroSD card to expand the storage up to 256GB. The tablet runs on Android 9.0 OS and gets frequent updates from Lenovo, which keep it secure and up-to-date.
Display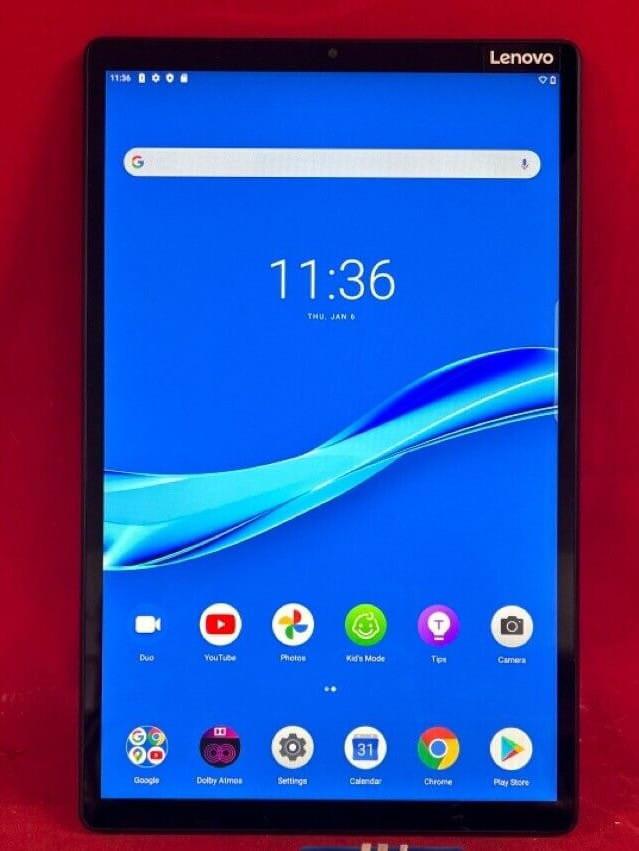 A 10.3-inch full-HD IPS display is among the highlights of this tablet, giving college students an immersive note-taking experience. The display runs at a resolution of 1920 x 1200 pixels and offers a screen-to-body ratio of over 82%. Lenovo has also narrowed down the bezels and has made sure that the device is as slim as they could make it at just 8.2mm.
Other Features
Furthermore, the device carries an 8MP camera on the back and a 5MP camera on the front, making it a decent option for connecting with friends and colleagues over video calls. The presence of a 3.5mm jack is an added advantage here. Besides, there are dual speakers included in this model, giving it quite the boost in audio performance.
Should you buy it?
Summing up, the device carries is great for students who attend online classes. The presence of features such as face-unlock, kid-mode, etc. adds to the overall user experience. However, the 8-hour battery life could have been improved by Lenovo.
Pros
Full HD dsplay w/ great viewing angles
Very sleek and durable design
Multiple RAM/storage variants
Kids-mode for child-friendly content
Good cameras for video calls
Cons
Battery life could have been better
Storage expandable only till 256GB
3. Best Runner Up:

Samsung Galaxy Tab S6 Lite
Samsung, hands down, is the top name in the markets when it comes to making tablets. While the company has high-power high-price offerings such as the S7 lineup, there are also others such as the Samsung Galaxy Tab S6 Lite, which are budget products if you don't want to break the bank buying a tablet.
SoC & Performance
Priced in at almost a third of the S7+, the S6 Lite offers the perfect price-performance ratio. Powered by Samsung's homegrown eight-core Exynos 9611 processor, the S6 Lite, straight-up is a device that will allow you to perform all the basics – and then punches above its weight.
While you can easily work on word processing and other office-related tasks, you can also attend Zoom meetings, as well as play games that don't require a high processing power – Maybe not an Asphalt, but certainly a PUBG.
RAM & Storage
Coming next to the hardware aspects of this tablet, the S6 Lite comes in two storage variants, offering 64GB and 128GB of storage space. Both these devices have 4GB RAM. While you can't upgrade the RAM, the storage can be expanded up to 1TB using a micro SD card. The tablet currently runs on Android 10.0.
Display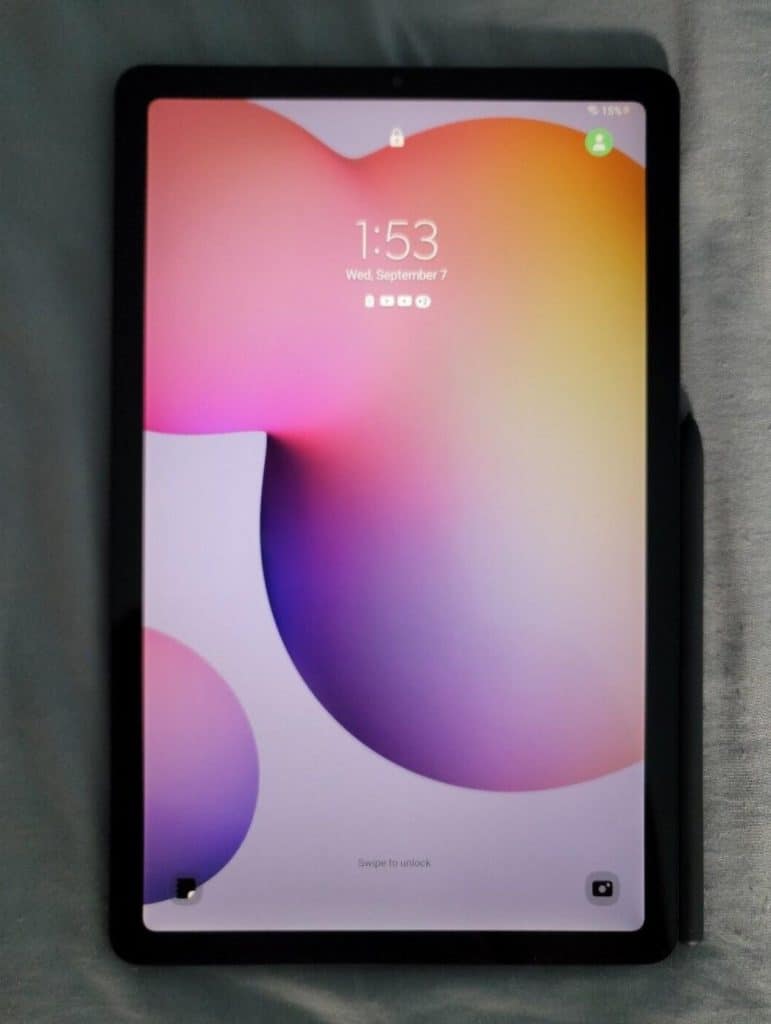 What really impresses me about the S6 Lite is the fact that despite being one of the sub $400 tablets, it comes with a TFT display, the quality has not been affected at all. You would rather have had an OLED screen, but the 10.4-inch, 2000 x 1200 WUXGA+ screen here is really impressive and works really well even under bright outdoor conditions.
Keyboard & Interaction
This tablet from Samsung also supports a keyboard, which makes it great for those users who might want to use it as a 2-in-1 device. Moreover, like Samsung Tab S7 (which I reviewed at the first position on this list), the Tab S6 Lite also comes with a stylus inside the box. So, drawing or taking notes would be effortless.
Design
The tablet has a sleek and elegant design and is quite durable as well. It can survive quite a few bumps and falls (not that I recommend you to put it to the test!). The S6 Lite comes with a fast charger, along with a battery that can last you up to 13 hours.
Should you buy it?
At just 1.02 pounds of weight, this is quite the package. An S-Pen is also included with the tablet. While it might not be as powerful as some of the top-of-the-line Samsung products, this tablet is certainly easy on the pockets and is a great purchase.
Pros
Cost-effective
Sleek metal design
Expandable storage
Can be paired with a keyboard
AKG Dual speakers
Decent cameras for video calls
Great for document-related work
Cons
An OLED screen could be better
A Qualcomm processor could have added a little more power
4. Best with 2K Display:

CHUWI Hipad Plus
Pretty much on the lines of Vastking, even CHUWI is a brand you may not have heard of. However, this company too makes some really good products, and the CHUWI Hipad Plus is a shining example of that. One of the first things that strike me about this tablet is the fact that it comes with a 2K IPS display claiming 460 nits of peak brightness.
SoC & Performance
The tablet is powered by a Mediatek MT8183 chipset that clocks at a 1.6GHz base frequency. This is quite a mediocre processor considering the $300 price tag. But the overall performance has been pretty good for day-to-day tasks. I had tried a couple of games too, but it was the okayish experience with stutters here and there. So, if you play graphic-intensive games like Genshin Impact, do yourself a favor and skip this model.
RAM & Storage
The Hipad Plus comes with 128GB of storage space and 4GB of RAM. The device supports storage expansion up to 128GB using a Micro SD card. Furthermore, this tablet runs on Android 10.0 OS, which is really cool, as it ensures your security and features are up-to-date.
Display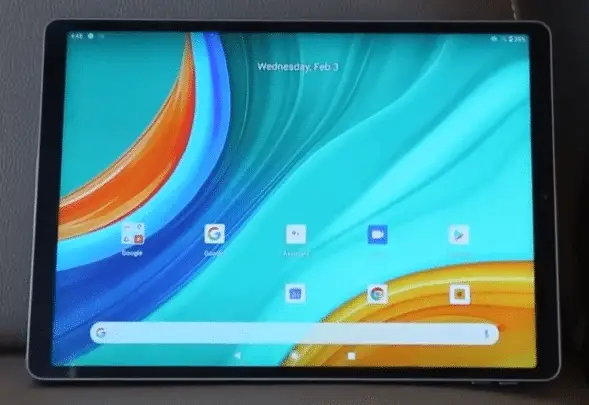 The true highlight of this Android-powered tablet comes in its entertainment-related features. First up, there's an 11 inch 2K IPS display that exhibits a resolution of 2176 x 1600. This gives you an excellent media consumption experience. The company also claims that 100% sRGB improves color accuracy. So, if you indulge in creative tasks like photo editing, you'll definitely enjoy this crisp panel.
Other Features
There are dual speakers on the back. Put together, these two aspects ensure that both audio, as well as video bases, are covered really well. Add a 15-hour battery life to that, and you've got non-stop entertainment!
There are also many other attractions, such as an 'eye comfort' mode, a built-in GPS with offline maps, and Bluetooth keyboards. There's a 13MP rear camera and 5MP camera on the front, which are good and get the job done for video conferencing.
Should you buy it?
At the price at which this tablet comes, it is not a bad deal at all! If you're a movie buff who needs a good quality display, this could be your best bet. Not only is the display great, but the 7300 mAh battery lasts really long.
Pros
2K IPS Screen
Ultra thin at 6.9mm
Good quality dual speakers
Long-lasting battery
No pre-installed bloatware
Really bright even outdoors
Cons
No widevine support
Medicore processor
Not suited for heavy gaming
5. Best Cellular Model:

Samsung Galaxy Tab A7
Yes, this is our third Samsung tablet already on this list, but I can't help it because Samsung is the true-blue industry leader in making tablet devices. The Galaxy Tab A7 is a great option if you are looking for an Android tablet with cellular connectivity.
SoC & Performance
Powered by Qualcomm's Snapdragon 662 processor, the Tab A7 is a high-performing device that allows you to quickly switch between tasks. This tablet also lets you run all your favorite games such as Asphalt and PUBG, as well as multitask between getting your office work done while listening to music altogether.
RAM & Storage
This tablet runs on 3GB RAM and offers you limited storage of 32GB. I know it's too low to consider, but the storage can further be expanded by adding a Micro SD card. Moreover, if you're an advanced user who has a little bit of knowledge of ADB commands, you can install apps on the SD card itself. You need to follow this Reddit thread for the same.
Display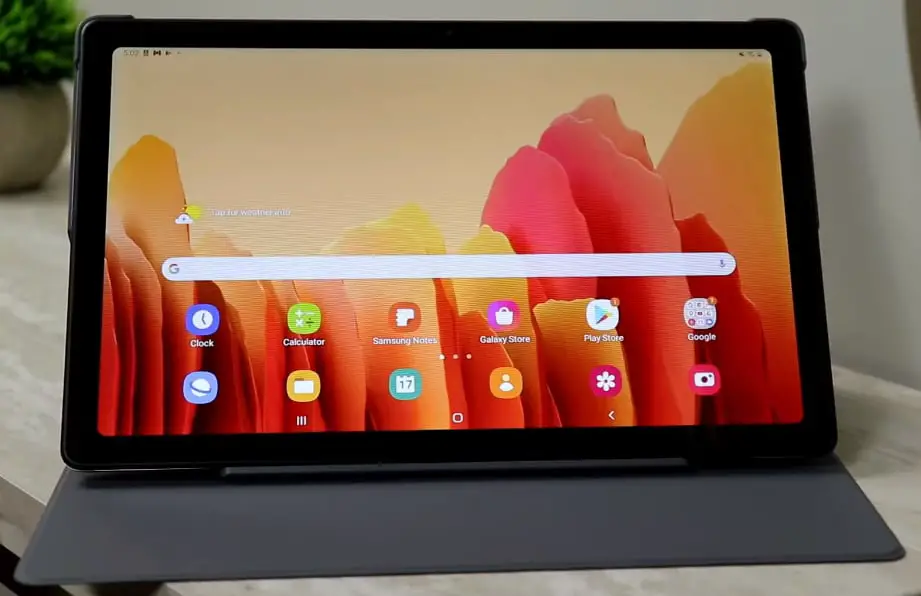 At 10.4 inches, Samsung advertises the screen offering an 'ultra-wide display' for the perfect media experience. This is an IPS LCD panel with a resolution of 2000 x 1200 pixels.
Other Features
The lack of an S-Pen on this tablet upsets some users, but you can always get that separately if you wish to use it. To compensate for that, Samsung opted for a cellular connectivity feature on this device. You can use your 4G LTE GSM sim for internet data or even making phone calls. Hence, this tablet also doubles as a smartphone.
This tablet from Samsung also supports a wireless keyboard. While it is not included in the box, you can get it separately and use it as a 2-in-1 device. There's an 8MP camera on the back and a 5MP camera on the front, making it a decent option for video conferencing.
Deign
Talking of the design, the Galaxy Tab A7 is a really sleek device that comes with a durable metal body and feels really good on the hand. At a thickness of just 7mm and weighing below 1 pound, there's nothing amiss when it comes to the design front.
Should you buy it?
Lastly, the battery on this tablet is pretty good and can last you up to 12 solid hours of media playback. The device charges via a USB-C port and supports fast charging, which is another added advantage in these times. All said and done, this is the ultimate entertainment device at a price that won't really pinch the pocket too much!
Pros
WiFi + Cellular connectivity
7mm thickness with metal finish
A bright and vibrant display
Great for multi-tasking
Decent camera performance
3 color options to choose from
6. Best 2-in-1 Tablet:

Vastking KingPad K10 Pro
VASTKING isn't really a brand that you'll hear a lot about, but it is quite a hidden gem! For those who don't really want to opt for the industry giants such as Samsung and Lenovo but are looking for a decent device that gives them everything at a relatively lower price, the Vastking KingPad K10 Pro is one such option to consider.
Hardware & Performance
Powered by Unisoc Tiger T618, an octa-core processor that clocks in at a frequency of 1.8GHz, the device offers you just enough power through all your day-to-day tasks. With 4GB RAM and a 64GB storage space which is expandable up to 512GB with an SD Card, this should fit the needs of most students and working professionals.
Display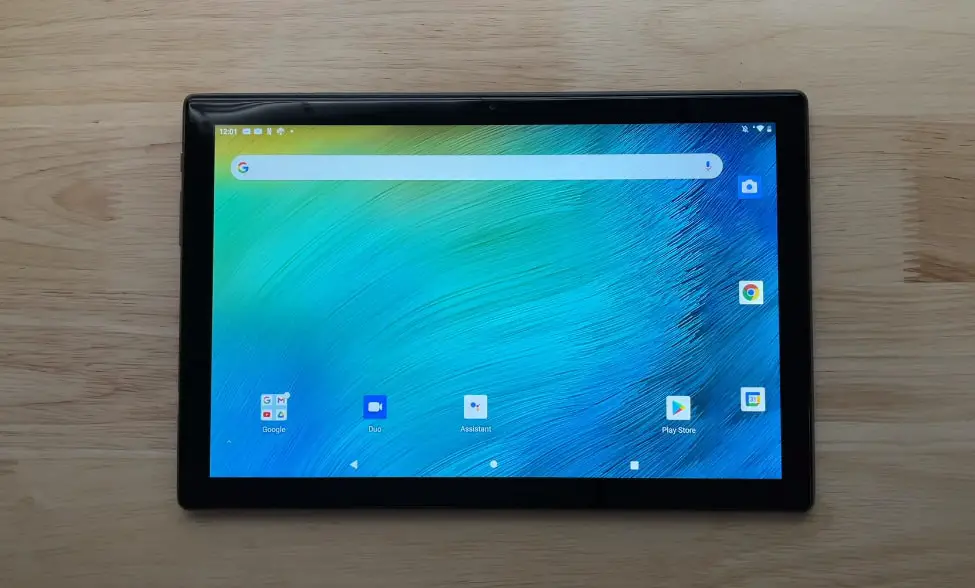 The tablet offers a 10.1-inch 1080p full-HD display, which makes it great for work and entertainment purposes. Plus, there are ultra-thin bezels on the side, which provide a great viewing experience. There's an eye-comfort mode in this tablet as well, which reduces the blue light emissions.
Keyboard & Interaction
When you buy this model, you also get the stylus pen and the keyboard included in the box, which is a major plus. Dual speakers on this device also give the audio quite a boost. Besides that, you get face recognition, offline maps, and the ability to edit and annotate PDFs using the included stylus.
Other Features
You also have a 5MP camera in the front and a 13MP camera on the back, which enables you to make better video calls, and is great for photography as well. The battery life lasts for about 10 hours, which should be more than enough for most users. The 6000 mAh battery can be charged via a USB-C charger.
Should you buy it?
All said and done, this Android tablet from VASTKING is quite a great package. Despite being a lesser-known name in the market, the device punches far above its weight and can easily compete with the top dogs in the markets.
Pros
Includes keyboard and stylus
Octa-Core processor
High-resolution camera setup
Storage expansion of up to 512GB
Decent battery life
Unlock using face recognition
7. Best for Entertainment:

Huawei MediaPad M5 Lite
Once a major player on the global stage, Huawei's fall from grace has been quite the story. Nonetheless, the Huawei MediaPad M5 Lite continues to sell despite being a relic from a bygone time. This is primarily because despite being a little over 2 years old, the tablet continues to be quite a performance beast.
Hardware & Performance
Powered by Huawei's in-house Kirin 659 Octa-core 2.36GHz processor, this tablet features 3GB of RAM along with 32GB of storage space, which is expandable with the help of a MicroSD card. A Mali T830 MP2 GPU makes it a great gaming tablet as well.
Display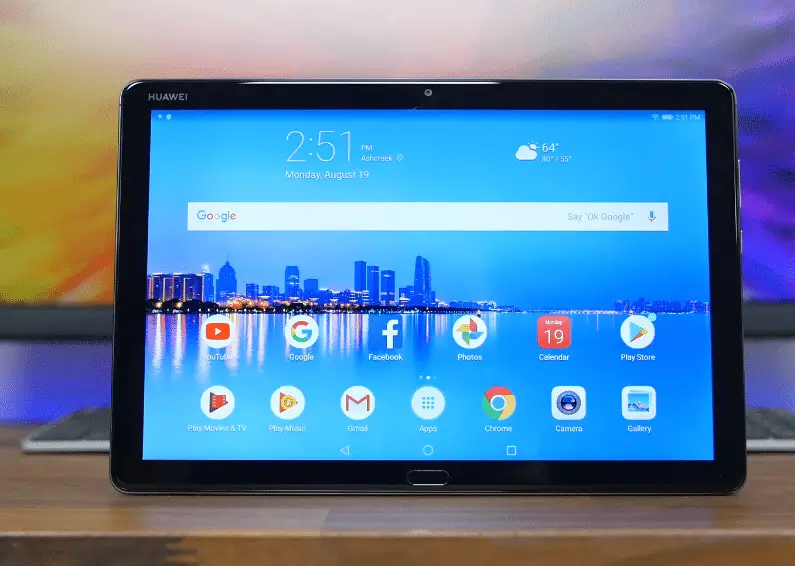 The TFT display measures 10.1 inches and offers a resolution of 1920 x 1200. It's sufficiently bright and produces vivid colors. Watching videos on this device would be a treat to your eyes. What further enhances this entertainment setup is the inclusion of quad speakers tuned by Harman Kardon. They're delicious and get sufficiently loud too.
Other Features
You get an 8MP camera on the front and on the back, giving you quite a good video calling experience. While video calling is a great WFH feature to have, what also makes it a great work-related device is that it comes with a Stylus that can perform functions much more than just writing. It allows you to control presentations, as well as draw with precision.
The body of this tablet has been crafted in a manner that fits the hands really well. There's a 2.5D curved glass edge on the sides and a curved metallic unibody on the back. This makes it sleek as well as elegant.
Should you buy it?
One major drawback of this device, straight up, is the fact that it runs on Android 8.0 and hasn't gotten an update since, and is unlikely to get an update given Google's dispute with Huawei. Nonetheless, 2 years down the line, a large number of users still buy this device as it is indeed quite a good product.
Pros
Amazing TFT display panel
Really powerful processor
Harman Kardon tuned speakers
Comes with a Stykus for note taking
Decent battery backup
One of the best designed tablets
Cons
Runs on Android 8.0 (no updates planned)
No support for fast-charging
8. Best for Reading:

Fire HD 10
Amazon's own creation, the Fire HD 10 is one of the best options out there if you're looking for an Android device but with a particular purpose: reading. This is quite a smooth device that allows you to perform all the basic tasks at a very affordable price point.
SoC & Performance
When you look at the overall performance of the Fire HD 10, there's nothing that really 'stands out' about it, but at the $150 price point, this is quite a bang for your buck. Powered by an octa-core Mediatek Helio processor, this is a good tablet for reading comics, ebooks, or working on some documents, checking out all your favorite videos and music. The presence of a Mali-G72 MP3 GPU adds to the overall visual performance of the device.
RAM & Storage
The tablet is available in two variants, 32GB and 64GB of storage. Both these variants feature 3GB of RAM. So, with this release, you're getting 50% more RAM as compared to the 2019 release. There's one catch when you buy this tablet, though – ads on the lock screen. There's an ad-free version as well, but you will need to shell out some extra bucks to get that.
Display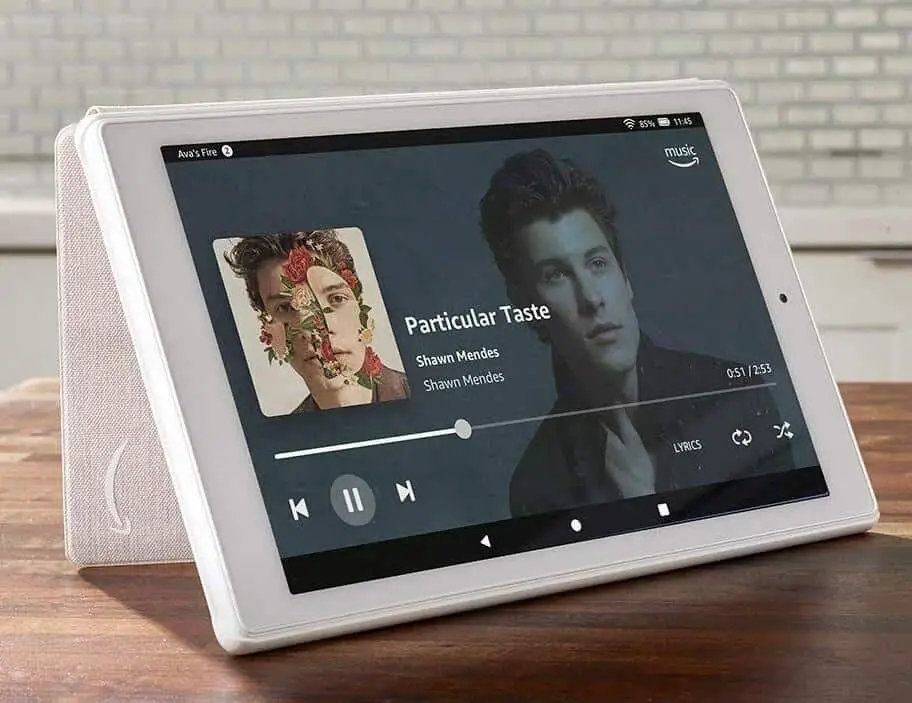 Amazon's 'Fire' branded tablets have been around for a while now, and the HD 10 offers you a large screen than any other in the Fire HD lineup. At 10.1 inches, there's a 71% screen-to-body ratio that you get. The resolution here is 1920 x 1200 pixels, and you get a 1080p Full-HD video playback.
Other Features
There's a 2MP camera on the front as well as on the back, perhaps not the best choice for video conferencing. Fire 10 is available in Black, Plum, Twilight Blue, and White design variants. The 12-hour battery is more than enough for most users.
Now, let's look at some other features of this tablet. An added benefit of getting the Fire tablet is that it includes Alexa built into it, allowing you to control much of its features via voice. This model runs on Amazon's Fire OS, which is built upon the Android 9.0 framework. So, you won't have difficulties in operating the same.
Should you buy it?
To sum it up, if you want an affordable yet effective Android tablet, the Fire HD 10 offers you a little bit of everything. However, it leaves you wishing for more on multiple fronts. For anyone looking for a similar device at an even lower price point, we suggest you look at the Fire HD 8 from Amazon.
Pros
3GB RAM
12-hours of battery life
Full HD display panel
Great for reading comics / ebooks
Alexa integration for voice commands
Larger screen compared to other Fire tablets
Cons
Ads on the lock screen
Just 2MP basic cameras
Frequently Asked Questions
Are Android tablets worth it in 2023?
Yes, Android tablets are totally worth it in 2023. Considering how millions of people are now working from home, these tablets are more important than ever before. Besides, they are lighter than a laptop and are reaching PC-level processing powers with every passing day.
How do I choose an Android tablet?
An ideal tablet must have a good processor, large storage space, and powerful RAM. Besides, it should also have a decent screen, as well as long-lasting battery life. Price, too, is an important factor—the attempt at getting the best of such combination in your budget.
Can Android tablet be used as a monitor?
While it can't technically be used as a monitor, you can attach a keyboard to it to use it like you would use a PC. You can also use it to stream your favorite shows and videos, but they don't really replace a proper monitor.
Which Android tablet is best for gaming?
The Samsung Galaxy Tab S7 is probably the best gaming tablet out there. This is because it supports a special mode for console gaming where gamers can use their controller and play their console games on the tablet's screen! Besides, you can also play games such as Fortnite, PUBG, and Asphalt on the tablet with ease.
Verdict
Android is great because of its customization and multitasking abilities. As tablet-tech evolves, some tablets can practically double up as a PC! Here are four of my top picks:
If you want the long-lasting, flagship-grade device, the

Samsung Galaxy Tab S7

is, without the shadow of a doubt, the biggest name out there.
While if you are interested in a tablet for academic use that also allows them to draw, annotate and read, the

Galaxy Tab S6 Lite

offers a superior e-ink experience like no other!
Lastly, if you're are looking forward to getting budget-friendly devices that don't cost a bomb, I strongly recommend getting

Vastking KingPad K10 Pro

or the

Fire HD 10

.
Finding the right tablet is no longer difficult! I hope this list helped you find just the right tablet for your needs.