The Wordle game is an exhilarating game that's easy to play for people of various ages. If we were to describe the game, we would say it's a cross between a crossword puzzle and Jeopardy.
The game's objective is to guess a pre-determined secret word by using letters. In other words, you choose the guess words and then use the input you receive from the game about each letter's placement.
Wordle has a simplistic setup that consists of six rows of five hollow boxes you fill with the letters from your chosen words.
As you choose and submit new words, you'll see color-coded indicators of how they fit into the secret word. For example, any letters from a word you select will turn green if they are part of the secret word and their placement is correct. So let's say your first-word choice is LEARN. The L will turn green if it's the first letter required to spell the secret word.
Letters will turn yellow if they are included in the secret World, but they need to be in the right place. For instance, the E would turn yellow if it's in the secret word but not in the second spot. Otherwise, it would turn green.
Letters not in the hidden phrase turn gray after you submit your comments.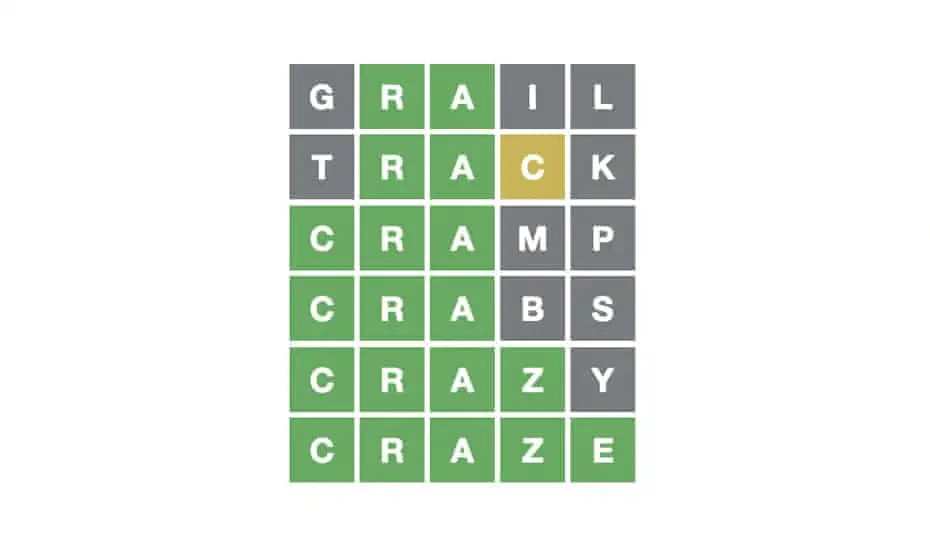 Sometimes, you might enter random letters to spell a "guess word." Well, that's too bad because you're not allowed to do that. Wordle will notify you that you've used a word that doesn't exist or isn't in the dictionary, and you'll have to choose a new one.
You'll use all the clues the game gives you to figure out the secret word. If you fail, you can always play again and increase your score next time. You're also allowed to play the game again if you win. Additionally, you can share your "win" with all your friends and family members.
Installing Wordle
You can easily install World on your iPad or iPhone by visiting your home screen. Next, you'll want to look for the Safari browser icon and tap it. Then you'll need to Google "Wordle" and navigate to the website (New York Times) that hosts it.
You'll see it on the first page of the search results. You'll then see the page open and display a "Share" button at the bottom left of the screen. Tap that and scroll down until you see "Add to Home Screen" on your device. Tap that, and then Wordle will be on your phone and in your home screen selections!
Why the Clipboard Feature Is Important on Wordle
The Clipboard feature can be a valuable tool for Wordle gameplay, especially if you intend to keep playing multiple games until you figure out the correct word.
You'll want to keep track of all the words you used previously and all the letters that have turned yellow or green in your former games. That part is where your iPad's clipboard feature can be invaluable.
You won't have to continue guessing with letters that don't fit or using the exact words you've used before. Unfortunately, you might need help understanding how to use the clipboard feature on your iPad. We can explain that to you so you can navigate it during your next game.
Accessing the Clipboard on iPad
The Clipboard is a convenient feature that allows you to select words or sentences, store them somewhere, and then paste them when you're ready to use them. It's easy to access the Clipboard from the Notepad app.
All you need to do is type the next you want to add to your Clipboard and long press your finger on an area where you want to have those words written. You'll see a menu of options pop up, such as select, select all, copy, etc.
Tap or double-tap to navigate those options. When you get ready to paste the material you saved, you can long press in any whitespace area you want the text to drop and then choose the "paste" option.
If you don't know where your clipboard this but need to access it, you can do so through the shortcut icon. If you do not have shortcuts, you can easily install it by visiting the Apple Store and typing it in to find it.
Once you get into the shortcuts menu, you'll need to type in "clipboard" or scroll down to find within the list of apps. You'll scroll down until you see "Adjust Clipboard." Tap on it to add a shortcut by tap on that option.
Now you can go into your Clipboard using the shortcut, and you will be able to see everything in your Clipboard. At that point, you can paste anything from your Clipboard into a compatible app or whitespace.
Copying and Pasting in Wordle
Copying and pasting your saved words and letters in Wordle is pretty straightforward.
Step One
First, you will need to open the Safari app and then Google" Wordle," as mentioned above. Press down on the letters you want to copy and then tap on the button that says "copy." Now that information is now saved and ready to be pasted somewhere.
Step Two
Revisit your current guess and then place your finger in the space where you want to use the saved text. Press the area until you get a menu that gives you the option to paste. Finally, tap "paste" to place the letters where you want them.
You can also create a clipboard full of words you've already used in Wordle to remind yourself not to guess the words. You can make a list in Notepad using a copy-and-paste method so that you have a document with all your used words.
Common Issues With Pasting in Wordle
These are some of the standard issues with pasting in Wordle:
Current Game Disappears
If your current Wordle game disappeared, you most likely have a technical issue with your device. Clearing the cache on your phone might help this issue, but then you will need to restart your game and the clipboarding process again.
Not All Letters Show Up
If all your letters don't show up, it means you didn't copy all the ones you wanted to copy, or you need more room in the space you tapped. Go back to your previous letters and copy them again. Then try pasting them into your Wordle game a second time. Be careful to tap into an empty line and only use enough letters to fit into it.
Navigating Wordle can be simple. You'll see how easy it is once oy save the shortcut on your home screen and use a one-tap method to access the game.
Now you know a little bit about Wordle and how to play it. Try playing this viral game today. You'll mostly get hooked after the first time.