What kind of artist are you, tattoo artist, standard graphic designer, logo designer who does a bit of social media work, or professional illustrator entrusted with comic book and manga creation? Regardless of what your skill sets might be, you definitely need to look at suitable tablets for artists instead of overspending on regular tablets that are only good for trivial tasks.
As an artist, your priorities should include a bright display, provided you want to get a drawing tablet, excellent color accuracy, multi-platform compatibility in the case of graphic tablets, stylus compatibility, portable form factor, and extensive connectivity suite. But then, most hasty tablet purchases ensure that you end up with bulky, unresponsive, and ill-equipped tablets.
Plus, if you do not know where to look, getting a drawing tablet with a dimmer screen or a graphic tablet with restricted compatibility is always a risk. Therefore, I have created a detailed and exhaustive list of highly recommended tablets for digital art, which would surely help you pick one as per your personal and professional requirements.
Best Tablets for Artists in 2023
Attention artists, I have finally come up with a list of 9 tablets that can cater to your wide range of requirements. The list takes a note of diverse user requirements and plans on featuring at least one tablet for the concerned use case. What's heartening is that I have prepared this list upon consulting several industry experts across verticals, including logo designers, graphic designers, tattoo artists, and more.
Also, the list starts with the more premium and professionally exclusive options, only to be followed by the mid-range tablets, and finally the budget variants. So let's get the discussion started, right away:
1. Best Overall:

XP-Pen Artist 24 Pro
The XP-Pen Artist 24 Pro is arguably the best digital art tablet on the list, that works well for tattoo artists, illustrators, and even engineering students looking to create accurate designs. Also, if I compare it with the Artist 12 or Artist 15 Pro, the 24 Pro seems like an excellent upgrade, when it comes to screen real-estate.
Why is it suited for Artists?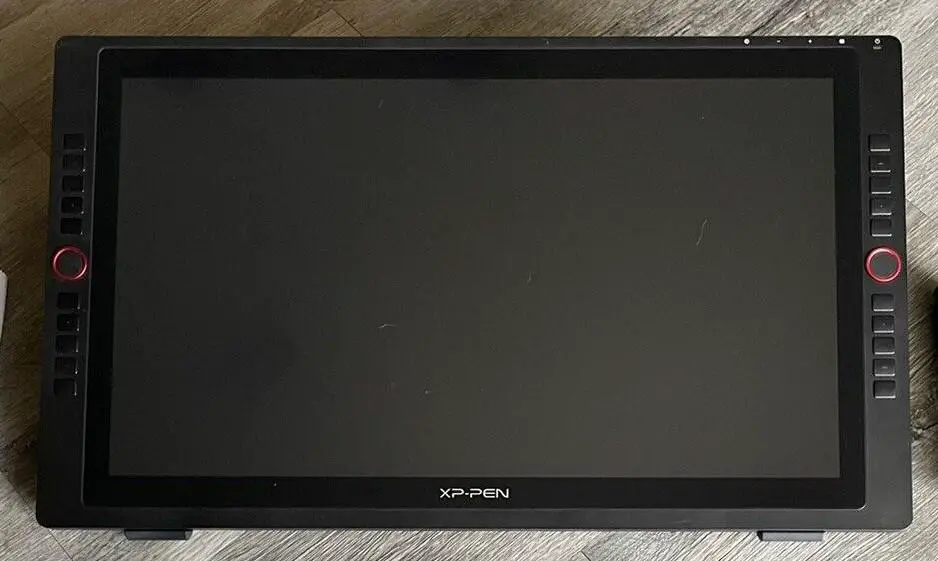 This is undoubtedly one of the best tablets for animators and even tattoo artists who prefer working alongside apps like Toontastic and more. What works perfectly is the 23.8-inch QHD screen, boasting an overall resolution of 2560 x 1440. Adding to the attributes is the aRGB color gamut and an aspect ratio of 16:9.
For any tablet as expansive as this, the panel cannot be any brighter. Plus, the inventive stylus pen with 8192 pressure sensitivity levels, cursor positioning support, and tilt function is worth considering as well.
Coming to the connectivity suite, this tablet features a Type-C port and 20 customizable tabs to be exact. And to make things better, there is a dedicated USB hub to help you fit in accessories. Overall, if you are a cartoon animator or even a CAD artist privy to the likes of Adobe Photoshop, SAI, and other resources, the Artist 24 Pro is the perfect tablet to consider.
But that's why you should consider this tablet as an artist. The Artist 24 Pro even comes equipped with red shortcut dials to make device management easier followed by multi-OS compatibility, with Windows and macOS being the key operating systems.
Design & Other Features
As far as the dimensions are concerned, this ultra-big and thick tablet measures 24.88 x 14.57 x 1.76 inches. And despite being plastic-clad it weighs close to 15 pounds, which makes it anything but portable. And it comes equipped with a tilt-supporting Vesa Mount to make device handling easier and fun.
Conclusion
Overall, the XP-Pen Artist 24 Pro is arguably the only tablet on the list that can cater to every professional or category, or artist without breaking a sweat. And what it lacks in portability, it makes up for in customizable buttons and responsiveness.
Massive screen

Wide range of ports

Pressure-sensitive stylus

Fast output

Brilliant resolution
Heavy

Not compatible with Android OS
2. Best iPad for Artists:

Apple iPad Pro
If you are a graphic designer or an illustrator on the move, you cannot and shouldn't look beyond the Apple iPad Pro as your go-to tablet for art and design. While you can always opt for the 2020-variant, the new M1 model boasts better processing power and battery efficiency.
Why is it suited for Artists?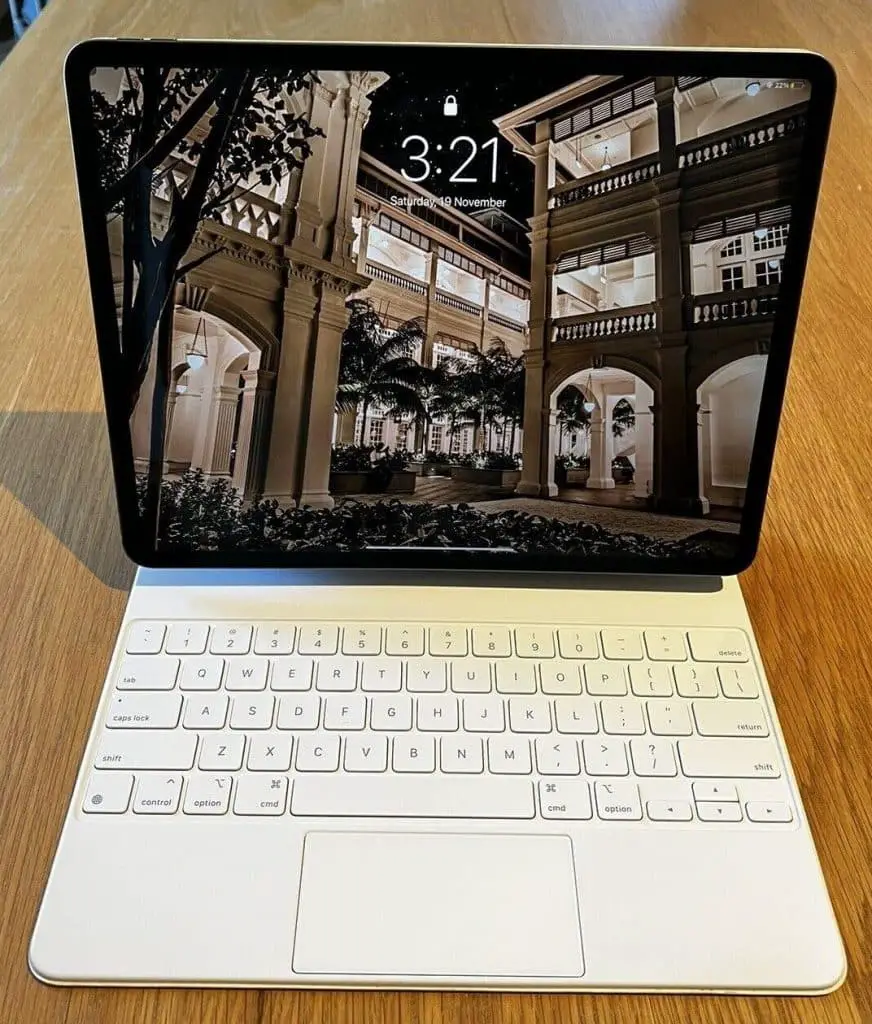 For starters, it is the 12.9-inch Liquid Retina screen that comes across as the unique selling point. The mini-LED display promises excellent color fidelity, more so with an overall resolution of 2732 x 2048 pixels. The 115% sRGB and wide color gamut ensure the highest level of color accuracy whereas the 4:3 aspect ratio makes drawing and designing fun.
The Apple iPad Pro also throws in a high-speed Type-C Thunderbolt 4 port followed by Wi-Fi 6 and the strategic placement of volume rockers. As for the stylus, the tablet is compatible with Apple Pencil Gen 2 that promises 8192 pressure sensitivity and tilt-recognition. These specs easily qualifies it as one of the best iPads for Procreate and other drawing apps.
Design & Other Features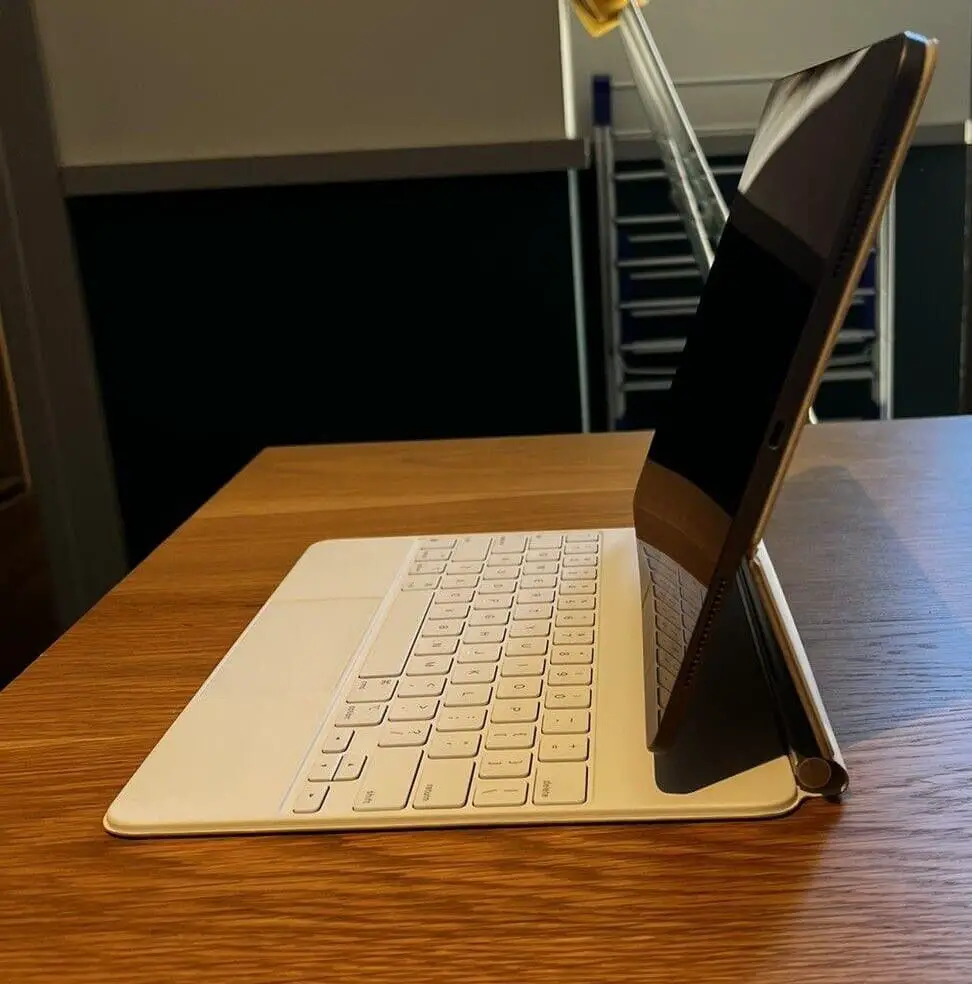 This tablet weighs 1.50 pounds, which feels feathery to any professional designer. As far as the dimensions are concerned, the iPad Pro measures 11.05 x 8.46 x 0.25 inches, making it one of the sleekest iPads. Plus, you also get scratch-resistant glass for added durability.
And when it comes to accessories, you need to pay extra for the Type-cover stand and the keyboard but the compatibility is nothing short of spectacular.
Conclusion
Overall, the Apple iPad Pro is easily one of the best drawing tablets for artists, which scales beyond any competition when it comes to portability and standalone usage. And the best thing about the iPad Pro is the excellent hardware setup, led by the M1 processor and 8GB RAM that allows you to handle most designing apps without breaking a sweat.
Brilliant Liquid Retina display

Lightweight form-factor

Excellent battery backup

3D shooters for creating stuff using Augmented Reality

Responsive stylus
Stylus need to be purchased separately
3. Best with Detachable Stand:

XP-Pen Artist Pro
The XP-Pen Artist Pro should be your go-to drawing tablet, in case you are more invested in creating GIFs and memes. Plus, unlike the Artist 16 Pro, this product comes with a detachable stand to help you draw even on the move.
Why is it suited for Artists?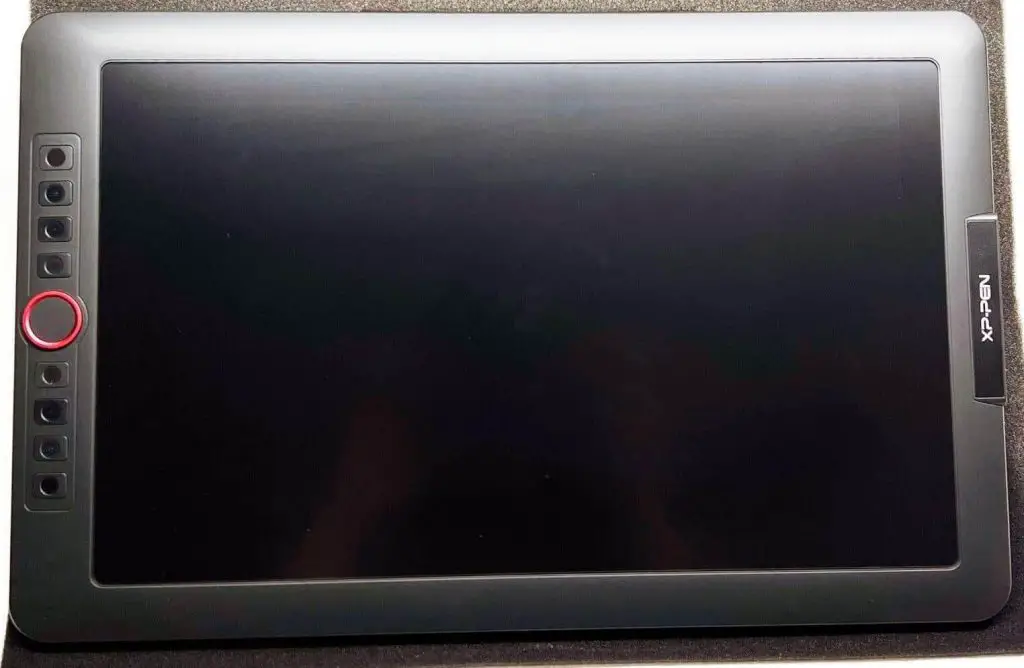 Well, it is the 15.6-inch screen that makes it good enough for creative artists. Starting from the Full HD resolution to 120% color gamut to a fully laminated panel, the screen quality pertaining to the Artist Pro cannot get any better. And adding to this is the 178-degree wide-angle viewing experience and the availability of the PA2 passive stylus pen with 8192 pressure levels.
Connectivity-wise, there is a USB port in play followed by the HDMI slot. And once you choose to connect, be mindful that it only works with systems running Windows and macOS.
Design & Other Features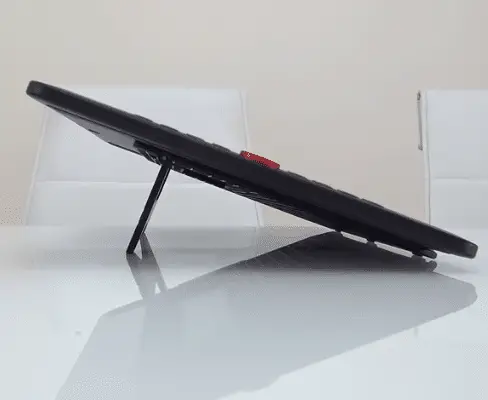 The Artist Pro measures 17.4 x 11.02 x 0.51 inches, which is good enough for most designers. It weighs a manageable 3.31 pounds and even comes equipped with a customizable kickstand. Plus, the aesthetic elements include the red dial and 8 on-device shortcut keys.
Conclusion
The XP-Pen Artist Pro is a reasonable drawing tablet for drawing with a pen, provided you want a screen that outpaces every other on the list in terms of outdoor visibility.
Features a fully laminated display

Viewing angles are brilliant

Wide range of shortcut keys

Customizable stand

Excellent stylus
Heavy

Not as responsive as the Wacom variants
If you are in the market for a drawing tablet that can handle animation, comic book creation, and even logos, the HUION KAMVAS Pro 16 seems like an excellent pick. And it even performs better in the display segment, when compared with the Pro 12 from the same company.
Why is it suited for Artists?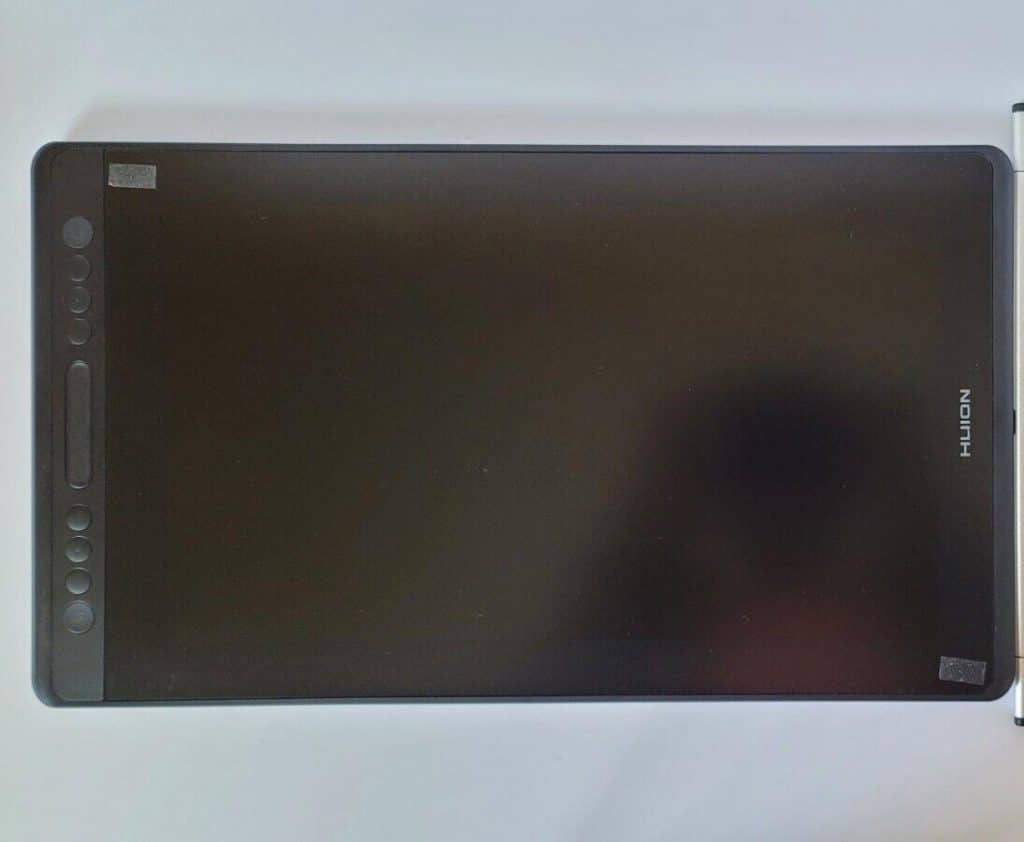 The KAMVAS Pro 16 boasts a 15.6-inch, IPS panel, exhibiting a native and peak resolution of 1920 x 1080 pixels. Coming to color fidelity, the product features 120% sRGB and 92% sRGB color gamut to make images come to life. Adding to this is the 16:9 screen aspect ratio.
Huion even throws in a highly responsive pen with 8192 pressure sensitivity levels. And the self-charging EMR pen also supports tilt recognition and doesn't experience any lag, whatsoever.
In case you want to drive third-party advantages home, the HDMI and Type-C ports are good enough resources. On top of that, this product even brings 6 shortcut keys, one dedicated touch bar, and an anti-glare screen to make the artist in you even more productive. The OS-agnostic platform that works rather well with macOS, Windows, and Chrome.
Design & Other Features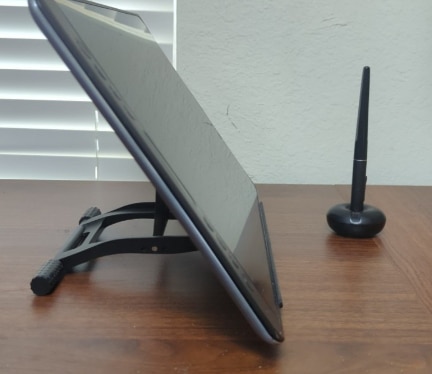 The tablet, despite being a drawing tablet with a screen, manages to stay relatively slim at 17.2 x 9.9 x 0.45 inches. And when it comes to heft, it weighs 2.98 pounds to be exact. Also, the package includes an adjustable stand for you to work better followed by a dedicated pen holder.
Conclusion
The Huion KAMVAS Pro 16 is one of the best stand-alone drawing tablets around if you, as an artist, are more inclined towards getting a great stylus pen to complement a near-perfect display. And these are the traits that set this device apart from the rest.
Glare-free display

Excellent pen quality

Budget-friendly

Comes with several shortcut keys
Doesn't work with android ecosystems
5. Best Android Tablet:

Samsung Galaxy Tab S7+
Well, by now it is evident that most drawing tablets aren't meant to work with the Android ecosystem. This is why I have finally enlisted the ultra-powerful Samsung Galaxy Tab S7+ that takes matters into its own hands and offers the best possible Android experience ever. And it fares better than the Tab S7 by replacing the TFT panel with Super AMOLED.
Why is it suited for Artists?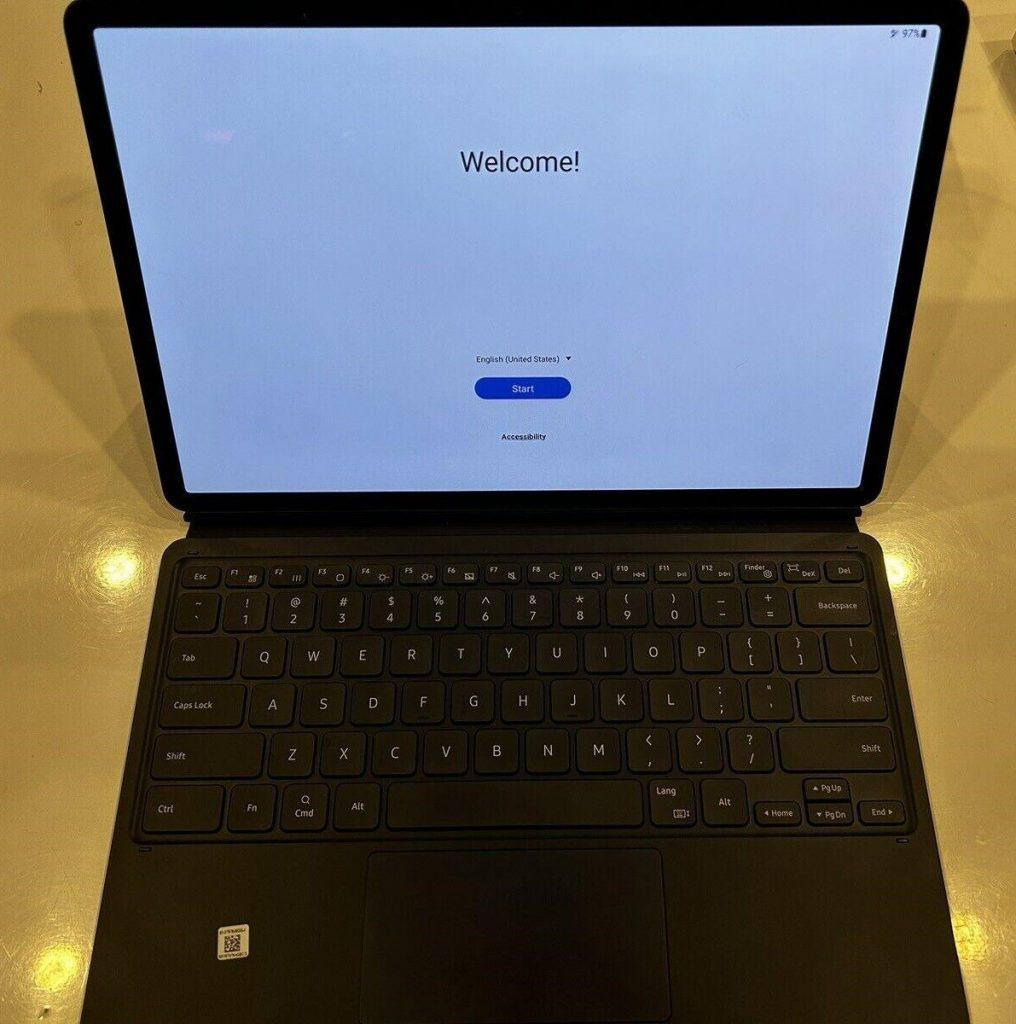 First of all, it is the 12.4-inch screen that makes quite an impression. Despite being smaller as compared to some of the other products around, the visuals are enthralling, to say the least, courtesy of the 211% color gamut and a native resolution of 2800 x 1752 pixels. Plus, the 16:10 aspect ratio works wonders for creative designers.
The S-Pen, with 4096 pressure sensitivity levels, comes bundled with the tablet. The stylus boasts tilt recognition and is an active charging variant that you can refill within a few minutes. Plus, the tablet comes equipped with a Type-C port, expandable storage slot, and Wi-Fi 6 support to cover every utility with immediate effect.
Design & Other Features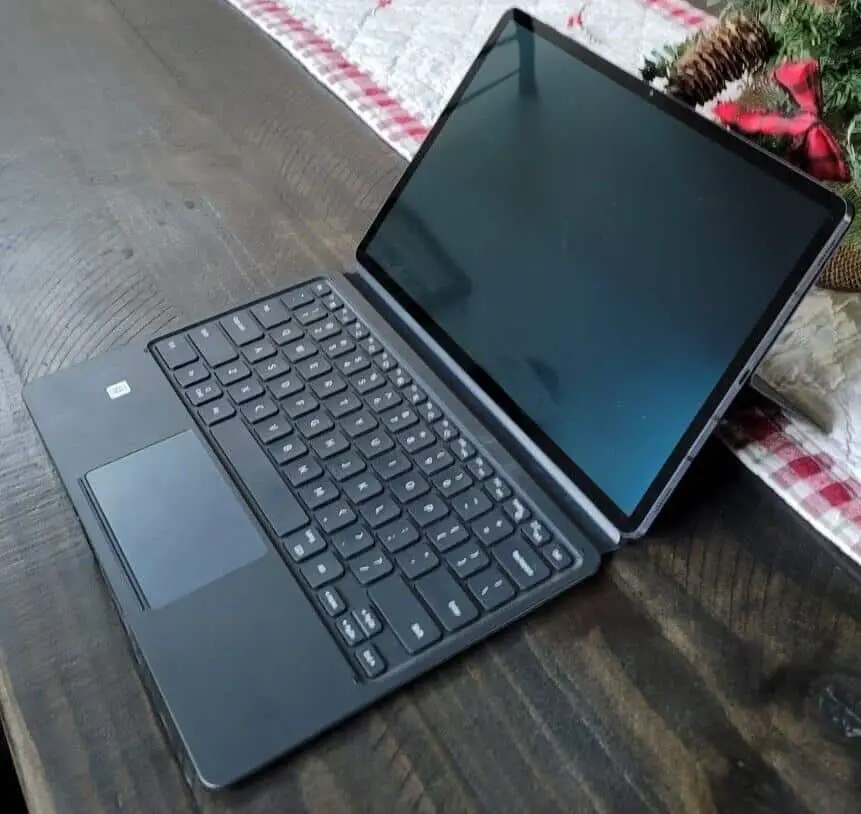 The aesthetic presence of this metal-clad tablet is immaculate, to say the least as it measures 11.22 x 7.28 x 0.22 inches, which makes it the slimmest product on the list. It is also the lightest at 1.27 pounds and works perfectly with the durable and customizable kickstand.
Plus, the tablet comes equipped with a 5G-compatible Snapdragon 865+ chipset, 6GB of system memory, and 128GB of on-device storage space to ensure that the device can very well operate on its own.
Conclusion
While the list features several drawing tablets for artists, the Samsung Galaxy Tab S7+ steals the show when portability, autonomy, and visual quality are concerned.
Excellent visual quality

Powerful processing setup

Top-of-the-line stylus

Powerful battery module
Pricey

Not meant for hardcore professionals
6. Best for Tattoo Artists:

Wacom Cintiq 16
If you are a professional with a penchant for 3D sculpting, tattoo stencils, concept art, comic book creation, and illustrations, the Wacom Cintiq 16 is arguably the best product in the retail space. And it easily bests the Wacom One in terms of pen quality, associated technology, and certainly the visuals.
Why is it suited for Artists?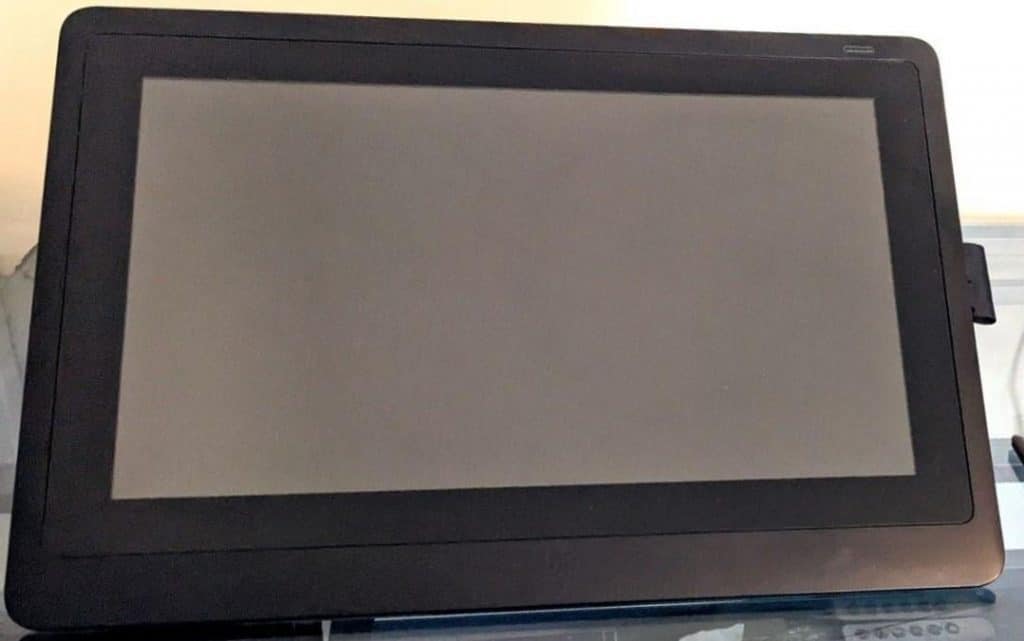 The 15.6-inch screen seems basic but works wonders for concept and tattoo artists, courtesy of the 1080p resolution. Also, the IPS screen works hand-in-hand with the 72% NTSC color gamut to make creative work more pronounced, in terms of color fidelity. Adding to the same is the 16:9 aspect ratio for an unhindered viewing experience.
The Wacom Pro Pen 2 is worth mentioning as it is certainly the best in business, owing to the 8192 pressure sensitivity limit, tilt recognition support, and 5080LPI for improved accuracy.
As far as the connectivity suite is concerned, there is an HDMI port in play followed by a Type-A port. The orifices let you connect seamlessly to Windows and Mac setups, without breaking a sweat. But that's not all, this tablet also comes with a wide range of on-device enhancements, including the express keys, touch ring, and the aesthetic radial menu for better control.
Design & Other Features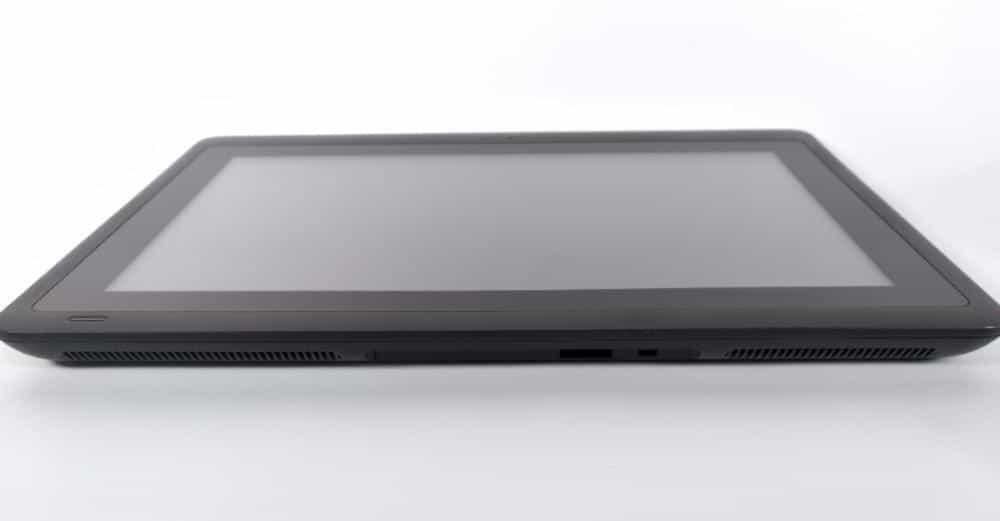 This Wacom-branded tablet weighs over 4 pounds and measures 16.6 x 11.2 x 1.0 inches. And the package includes a standard foldable stand for improved device handling.
Conclusion
And while the feature sets associated with the Wacom Cintiq 16 seem quite similar to some of the other premium tablets on the list, it is the quality of the stylus pen and designs that make it a standout performer.
Sizable screen

A large number of shortcut keys

Durable chassis

Best-in-class stylus
On the heavier side

Not compatible with Chrome ecosystem
7. Best OS Compatibility:

HUION KAMVAS 12
Finally, I do have an Android-compatible drawing tablet for you in HUION KAMVAS 12. And that tablet works really well if you are into animation and meme creation. And as compared to the older variants and even the more popular KAMVAS Pro 16, the Kamvas 12 comes across as a more complete tablet, courtesy of the additional Android compatibility.
Why is it suited for Artists?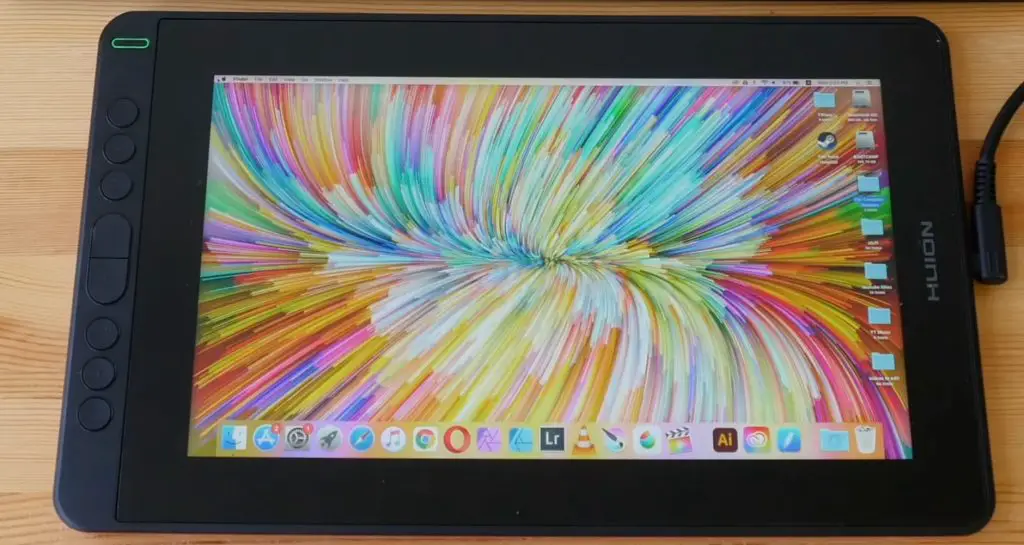 The 11.6-inch screen is adequately bright with overall resolution of 1920 x 1080 pixels. And what sticks even better is the 120% color gamut, bolstered further by the 16:9 aspect ratio. Adding to this is the brilliant stylus, also known as PenTech 3.0. The pen exhibits 8192 pressure sensitivity and comes with tilt recognition support to help you through some complex layouts.
This tablet features one HDMI/Type-C port followed by one standalone Type-C slot. And Huion sweetens the pot further with 8 shortcut buttons and multi-OS compatibility.
Design & Other Features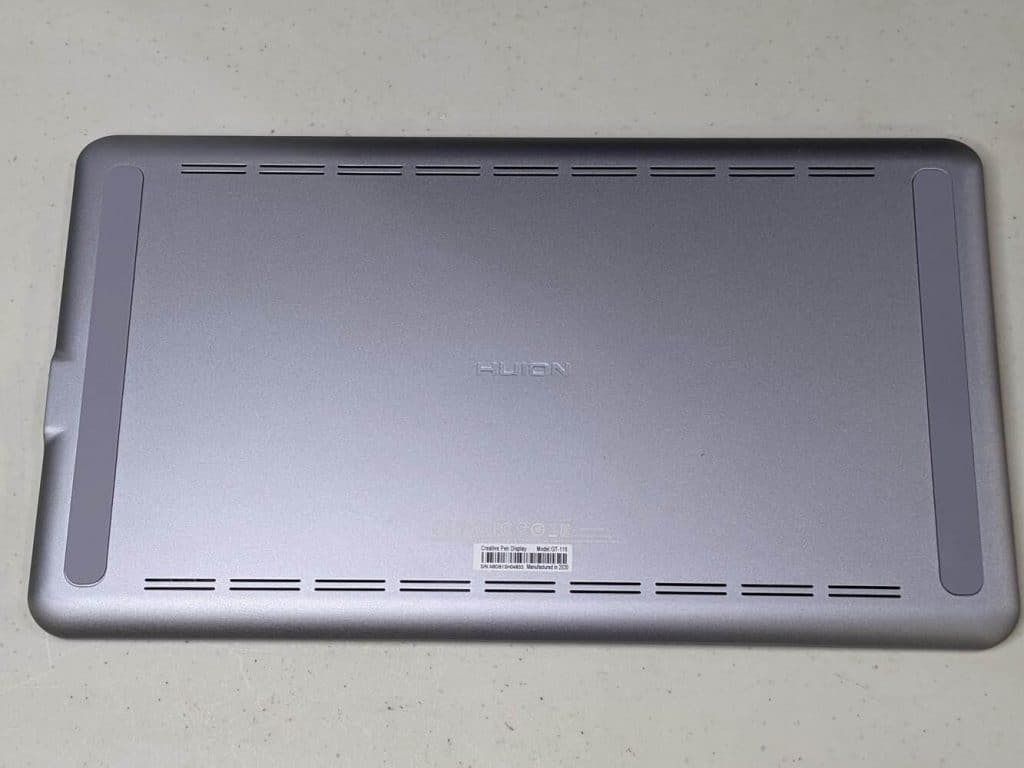 Aesthetic-wise, Huion keeps the real estate within manageable standards by ensuring that the tablet measures 35 x 20 x 0.46 inches. Plus. it weighs a respectable 1.62 pounds, which is light work for designers and creative artists alike. And when it comes to tablet management, you must select the bundle that comes with the adjustable stand for improved productivity.
Conclusion
To sum it up, the HUION KAMVAS 12 is one of the more reliable tablets that you, as an artist, can invest in. And while it offers a smallish screen, the visual quality more than makes up for it. And if you want to see how it stands in comparison with other picks, the elusive Android compatibility fetches some additional brownie points for the same.
Bright yet glare-free screen

Compatible with Android devices

Comes with 8 hotkeys

Type-C ports are fast
You need to pay extra for the stand

Smallish screen
8. Best for Creative Students:

GAOMON PD1161
The GAOMON PD1161 tries to be the next Kamvas 12 but manages to put together a handful of exclusive features for the students and budding artists. And, if you have been using standard tablets from XP-Pen and Huion, the PD1161 comes across as a more beginner-friendly device.
Why is it suited for Artists?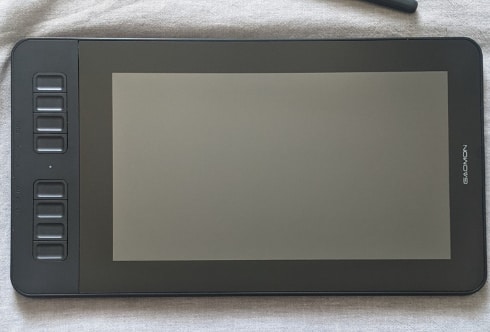 Well, the 11.6-inch Full HD screen needs no introduction. Plus, the sRGB and NTSC color gamuts pave the way for excellent color fidelity. On top of that, you get to experience the 178-degree wide-angle view. Coming to the stylus, GAOMON comes equipped with a battery-free stylus pen, boasting a peak pressure level of up to 8192.
Also, the tablet throws in tilt recognition as part of the package followed by 8 nibs and a dedicated pen holder. You also get access to two hotkeys, 8 shortcut keys, a Type-C port, and a standalone HDMI port to enhance the overall functionality.
Design & Other Features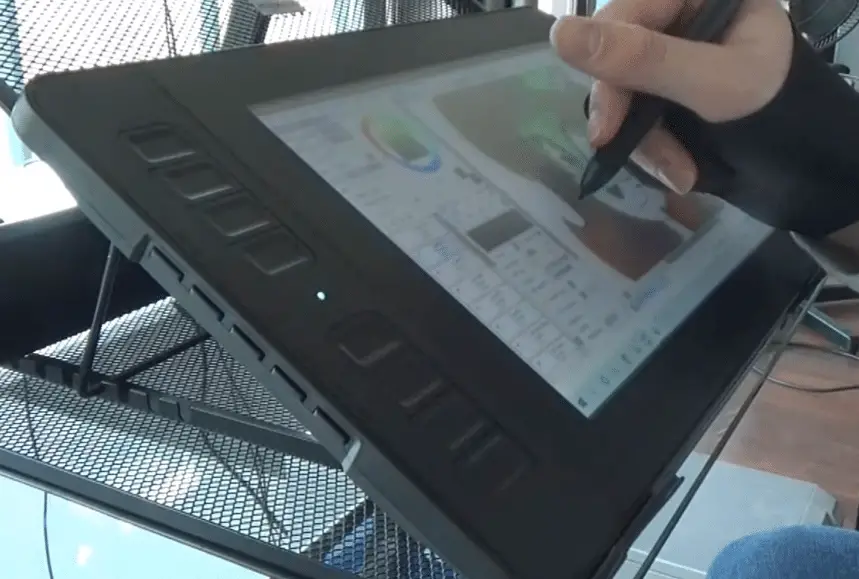 Coming to the layout, the tablet itself measures 14.2 x 7.9 x 0.5 inches and weighs 1.90 pounds. And if you want to get a stand for this drawing tablet, it is better to opt for the bundled variant of the tablet.
Conclusion
For the given price, there isn't a better product in the market as compared to the PD1161, courtesy of the excellent set of on-device keys and a responsive stylus.
Cost-effective

Compatible with most apps

Several on-device keys

Responsive stylus
Smallish screen

Thicker than usual
9. Best Budget Option:

HUION Inspiroy Dial
And finally, I have listed one much-anticipated graphic tablet, i.e. the HUION Inspiroy Dial that appropriately misses out on a display but more than makes up for the same with more seasoned and artist-relevant specs sheet. Also, if I compare it with the more affordable Inspiroy H610X, you would enjoy upgrading to the Dial, courtesy of the dedicated on-device controller.
Why is it suited for Artists?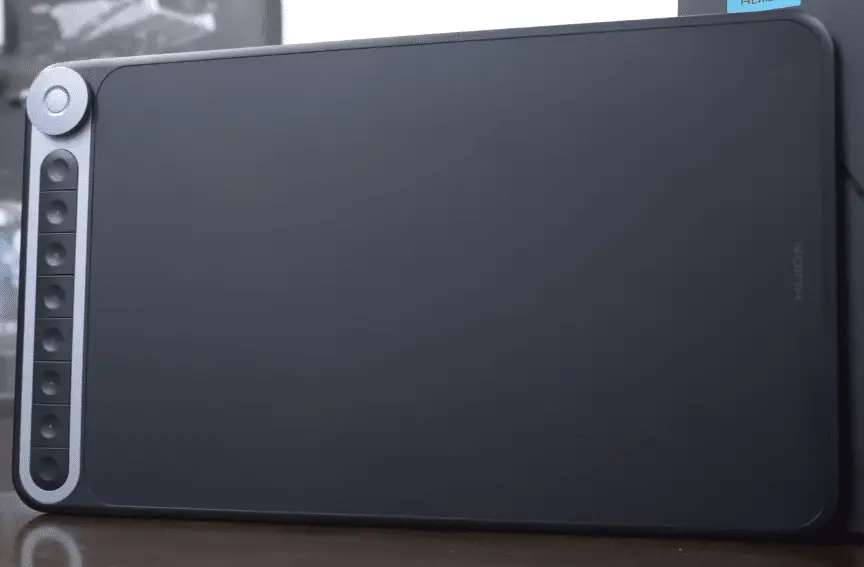 The Inspiroy Dial boasts an active area of 65.6 square inches, thereby offering a lot of real estate to the artist in you. And complementing the same is the excellent PW100 stylus pen that supports passive charging, 5080 LPI, 8192 pressure sensitivity levels, tilt recognition, and a faster report rate.
However, the Inspiroy Dial scores highly in terms of connectivity, courtesy of the Type-C OTG port and support for the 2.4GHz wireless standard, provided you plug in the wireless USB receiver. And when it comes to the on-device controllers, there are 8 shortcut keys in play followed by the controller dial.
Design & Other Features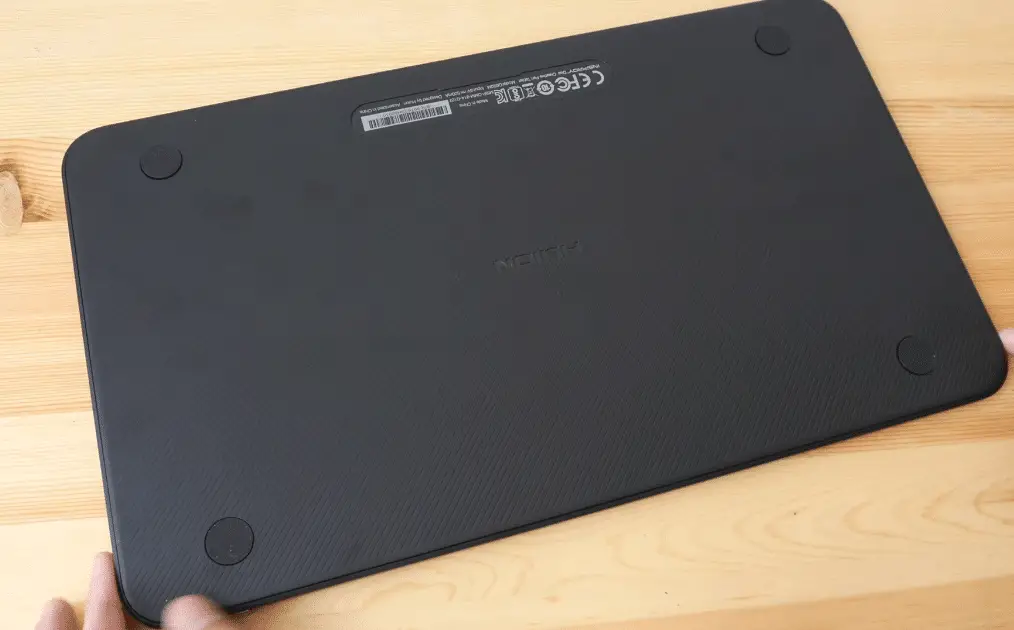 As a tablet, the Inspiroy Dial is adequately slim, with dimensions set at 14.96 x 8.66 x 0.2 inches. And it weighs a manageable 1.54 pounds, thereby ensuring decent portability. Also, when it comes to the build quality, this device is mostly plastic-clad, albeit with metallic undertones. Plus, there are 4 rubberized holds in play to avoid accidental drops.
Conclusion
While a drawing tablet is always exciting, Inspiroy Dial is one of the few graphic tablets that doesn't make you miss the screen. And its descriptive stylus-specific specs sheet arguably makes it the best asset for a tattoo artist or a sketch artist who doesn't always prefer drawing right into a screen. And unlike any other graphic tablet around, it comes with a 20-hour battery backup and an array of LEDs.
Lightweight

Excellent stylus attributes

Multi-OS compatibility

Supports wired and wireless connections

Offers battery backup
No display

Doesn't come with an integrated stand
Frequently Asked Questions
Which is the best tablet for an artist?
Firstly, the definition of best depends on the type of artist you are. Well, from a generic perspective, drawing tablets with 15.6-inch FHD screens, responsive stylus pens with 8192 pressure sensitivity levels, and dedicated kickstands are good enough.
What is the difference between a graphics tablet and a drawing tablet?
A drawing tablet is a passive tablet with a display. However, there are some active drawing tablets as well that have dedicated batteries. A graphic tablet, however, doesn't include a dedicated screen or display and anything you draw can only be viewed on the primary, computing device.
What are the factors to consider when buying a tablet for an artist?
A good artist-specific tablet must offer excellent color accuracy, a top-shelf pen, preferably with a holder, a wide array of on-device buttons to control the device better, and a powerful battery in case you plan on investing in a standalone drawing tablet.
Can a tattoo artist and logo designer use similar tablets?
Unless you have plans on investing in the XP-Pen Artist 24 Pro, you should select different tablets for tattoo and logo designing. Tattoo designers can consider a graphic tablet or a tablet with higher pen resolution. However, logo designing isn't as complex and standard Huion or Wacom tablets are good enough for the job.
Verdict
Finding the right tablet for the artist within often requires monumental efforts. However, the trick here is to be clear in the head and aware of the exact requirements. Therefore, to make selections simpler, I have put together a more curated list, highly specific to the use cases.
If you are a professional or an artist who needs to manage complex CAD stuff, comics, and even illustrations, there isn't a better tablet in play than the

XP-Pen Artist 24 Pro

.
For comprehensive users, the

Apple iPad Pro

is a perfect choice, courtesy of the excellent pen, brilliant screen, and a virtually neverending battery module.
In case you want to purchase a tablet that is compatible with Android, Windows, and macOS ecosystems, the

HUION KAMVAS 12

is worth investing in.
And finally, if you do not prefer screens and colors restricting your creativity, the more affordable

Inspiroy Dial

graphic tablet from Huion seems like the most obvious bet.
And while these tablets are great picks, you can read through all the reviews and get yourself a tablet that makes the most sense to your needs, skills, and preferences.