I'm neither an Aviation expert nor am I a pilot, but I'm quite experienced with tablets. But this was a difficult topic for me to write, that's why I consulted 11 aviation industry experts and spent around 11 hours testing different pilot specific apps like ForeFlight. After all of it, I've reviewed the 4 best iPad options you can consider.
Whether you are a student, private, or even a commercial pilot. If you plan on taking flying aircraft as a profession, you might also want to wrap your head around the ForeFlight app, which lets you in on destination info, preflight weather bits, fly routes, and more. Therefore, with ForeFlight installed on your iPad, you are always ahead of the inclement flying conditions.
But not every iPad is cut out for the pilot in you.
For starters, older iPads running dated iPadOS versions might not allow you to use the ForeFlight app in its entirety. Also, smaller iPads are not worth looking at as learning aviation concepts, handling logbooks, and even accessing terminal procedures requires a lot of scrolling space and screen real-estate. And to make things even better, you would preferably want the iPad to have a built-in GPS tracker.
Therefore, getting the best iPad for flying, the pilot within requires foresight, due diligence, and research. But then, I believe that as a professional or even an aspiring pilot, time is something you do not have in plenty. This is the reason why I have collated all the pain points and requirements to come up with a list featuring the best iPads for ForeFlight, evaluated across a wide range of parameters.
Best iPads for Pilots in 2023
If you are an aspiring or a professional pilot, you cannot ignore the reliability of a top-shelf iPad, especially for keeping track of the travel conditions, airport diagrams, VFR sectionals, route charts, and more. Keeping these highly technical requirements in mind, I have prepared a collection of some handpicked cockpit tablets, segregated according to the budget, screen size, battery life, and other aligned needs.
So let's dig right in:
1. Best Overall:

Apple iPad Pro
Your choice of iPad for aviation cannot get any better if you have the Apple iPad Pro by your side. Best suited for professional private and commercial pilots, this device has enough firepower to last you a few years with ease. And as compared to the older-variant, the newer model packs quite a bit of additional processing power to help you with multitasking.
Why is it suited for aviation use?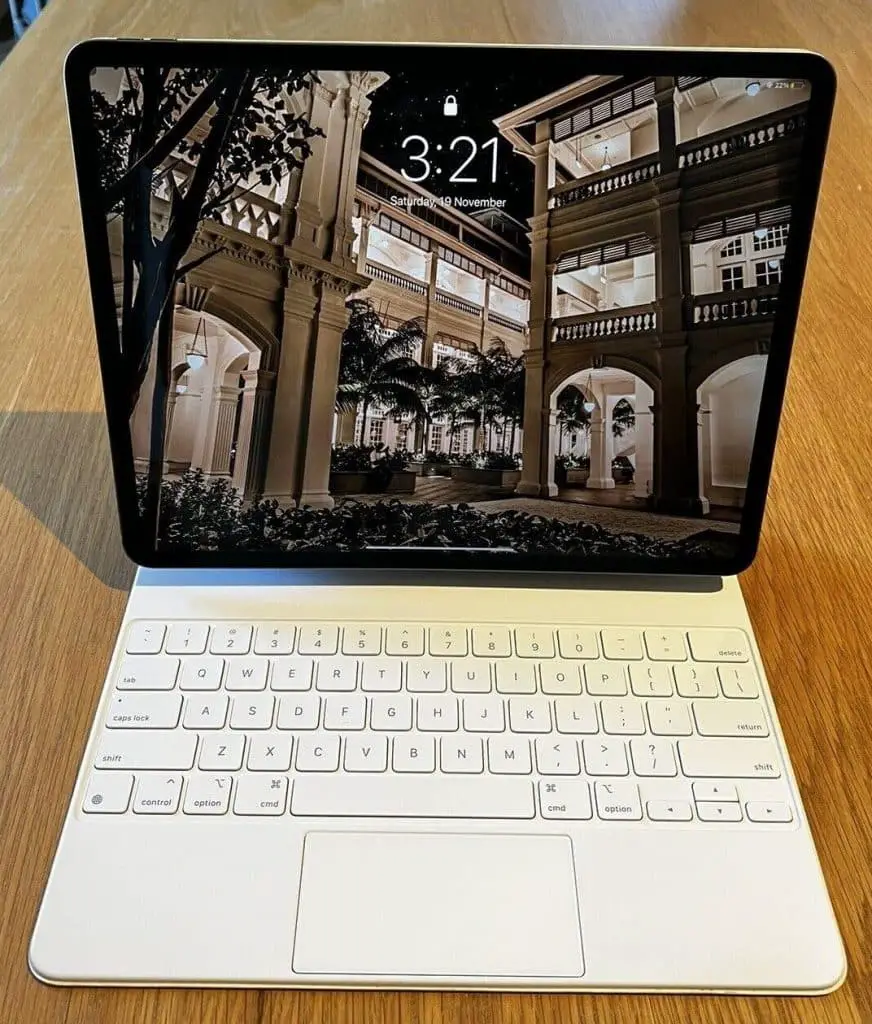 First of all, the iPad Pro sports an 11-inch liquid retina display that is meant for cockpits with considerable elbow room. The bright screen is easy to look at and even boasts sharp viewing angles. Coming to the resolution, you have 2388 x 1688 pixels to rely on, which adds to the overall visual experience. And, to top it all off, this iPad comes equipped with scratch-resistant glass and 600-nits of peak brightness count.
The iPad design is also a reason enough to use inside the cockpit. Firstly, the dimensions are set at 9.75 x 7.03 x 0.23 inches, and the device weighs a manageable 1.03 pounds, which furthers its portability quotient. Plus, this variant comes equipped with cellular, 5G connectivity along with Wi-Fi 6, allowing you to make use of the built-in GPS functionality.
Charging and Battery
This iPad variant features a sizable battery module capable of lasting 10 hours at one go. And when it comes to charging on the move, Apple accommodates fast charging support, provided you do not mind paying extra for the 18W charger.
Technical Specs
At the core, the iPad Pro 11 features the high-end M1 chipset. Plus, there is 8GB RAM to work with, allowing you to jump across tasks, weather updates, and charts. Storage-wise, the 128GB module seems good enough for storing instrumental procedures, airport diagrams, enroute charts, and other technical documents.
Coming to the performance, the existing hardware setup works swimmingly with most pilot-relevant apps, including CloudAhoy, ForeFlight, and more.
Conclusion
Overall, there isn't a lot that the iPad Pro 11 cannot do when it comes to assisting professional pilots. While the specs sheet itself is self-explanatory, it is the excellent hardware setup and sleek dimensions that make it a better bet as compared to other products on the list.
And if you plan on operating a Boeing or a massive Airbus that comes equipped with a larger cockpit, the Apple iPad Pro 12.9 is also a reliable device to invest in. While most of the relevant features are comparable with the iPad Pro 11, the bigger screen lets you view charts and routes, better.
Powerful battery

Bright and responsive screen

Cellular connectivity

Accurate GPS tracker

Portable
2. Best Value for Money:

Apple iPad Mini
Students and mid-level professionals operating smaller aircraft cannot undermine the functionality of the new and improved Apple iPad Mini. Also, when compared with the older iPad Mini, this variant comes equipped with a better processing setup and a brighter screen.
Why is it suited for aviation use?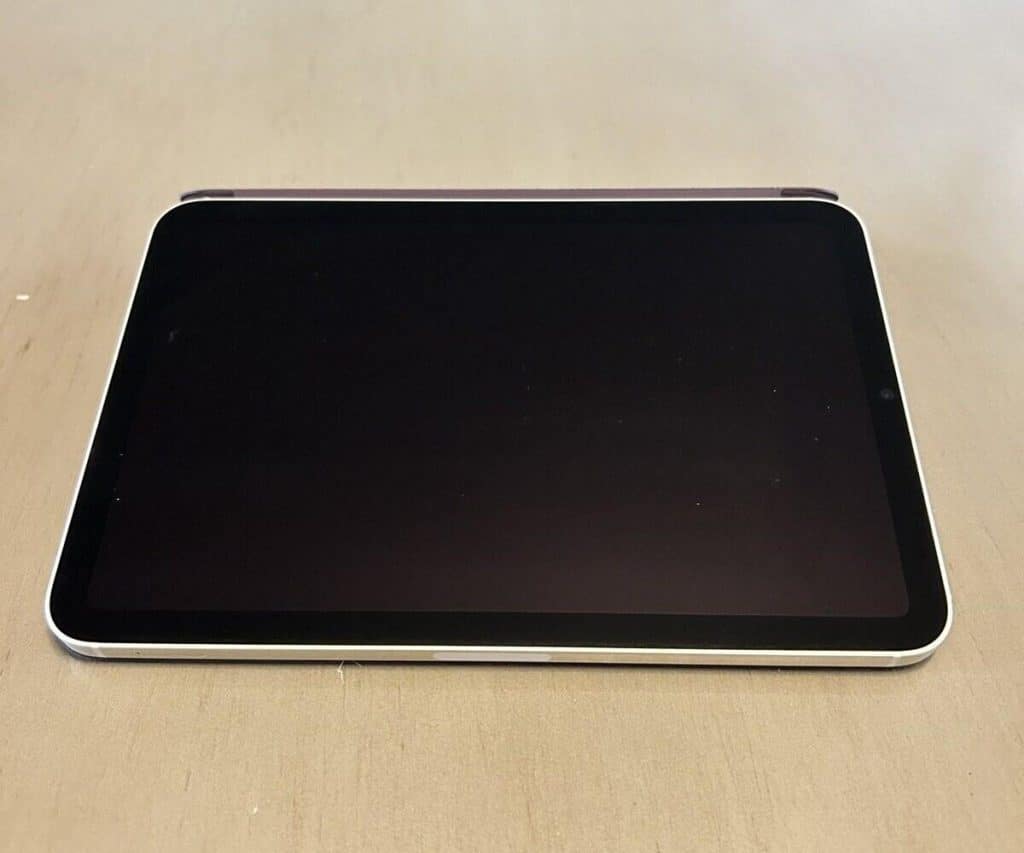 For starters, it is the 8.3-inch panel that makes an appearance. The smallish screen is perfect enough for smaller cockpits where space comes at a premium. Also, the overall resolution, fixed at 2266 x 1488 pixels, provides better visuals than the most 8-inch tablets out there.
The design elements are close to perfect for smaller cockpits, as the iPad Mini measures 7.69 x 5.31 x 0.25 inches and weighs a manageable 0.64 pounds. Plus, this iPad comes equipped with cellular connectivity, GPS functionality, and the Wireless AX standard for establishing faster internet connections.
Charging and Battery
When it comes to autonomy, iPad Mini houses a pretty powerful battery that can last 10 hours on a single charge. Also, the iPad hasn't declared fast charging functionality out of the box, but an 18W charger can let you fill-up the same within 90 minutes, which can be pretty useful for pilots who are always on the clock.
Technical Specs
This iPad comes equipped with a standard A15 Bionic processor that is based on the 5nm architecture. Working alongside the same is 4GB RAM and 64GB of ultrafast storage space. And when it comes to performance, the iPad Mini runs the most relevant apps like Air Navigation Pro and AeroWeather Pro with considerable ease.
Conclusion
Overall, if you prefer smaller iPads with significant processing power, the iPad Mini is one of the better devices to invest in. And if you are into comparisons, it is the cost-to-ownership ratio that lets it outpace other performers on the list.
Light and portable

Exceptional visuals

Excellent battery life

A decent chunk of RAM
3. Best for Portability:

Apple iPad Air
The Apple iPad Air is one of the few compact tablets around, especially if you plan on using the same in closed premises, i.e., the cockpit. While professionals and commercial pilots can very well use this iPad, the excellent storage allotment makes it a great choice even for students who prefer storing a lot of educational content on their devices.
And the 4th gen iPad Air performs a lot better than the 3rd gen variant in terms of multitasking and running relevant applications with seamless ease.
Why is it suited for aviation use?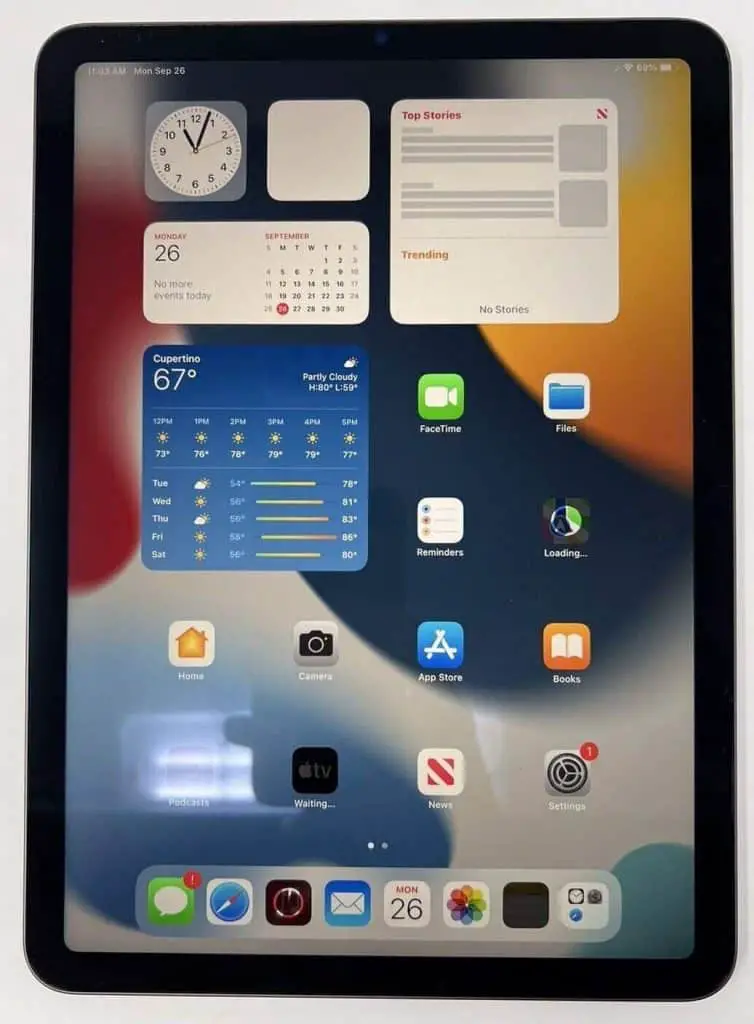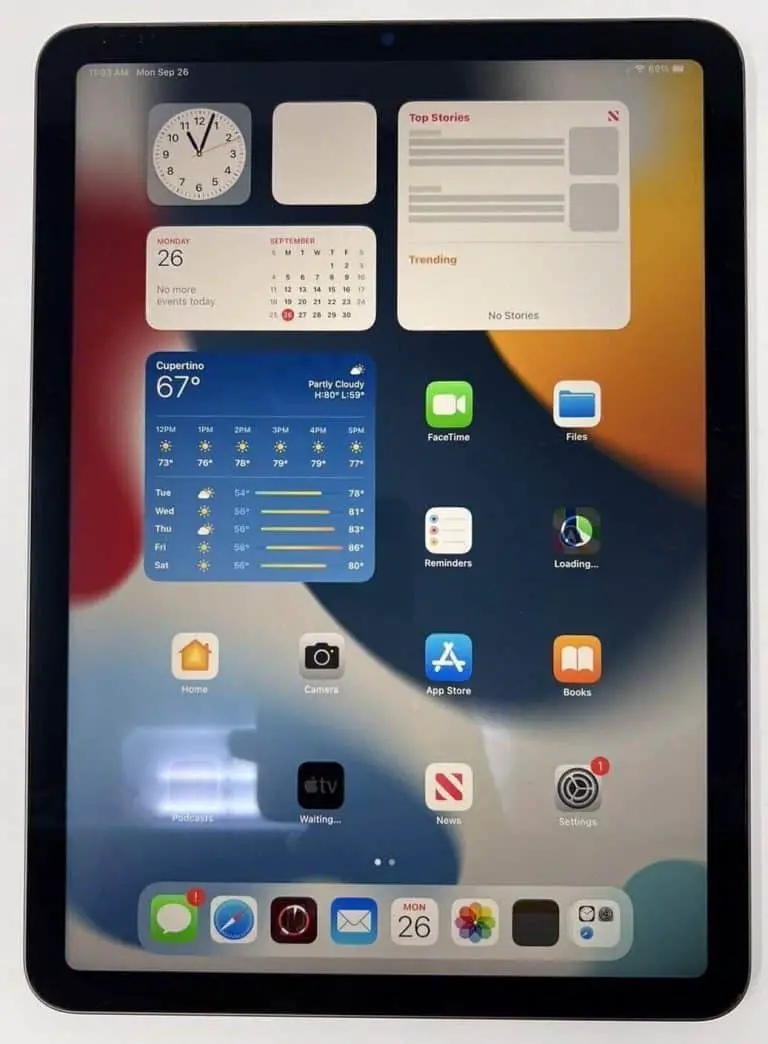 The 10.9-inch screen is almost perfect to be used inside the cockpit. Clubbed with an overall resolution of 2360 x 1640 pixels and a peak brightness of 500-nits, this iPad boasts excellent viewing angles and sharper visuals.
Coming to the aesthetics and dimensions, this device measures 9.75 x 7.03 x 0.24 inches, which is adequately sleek. The slimness of form factor even translates into a minimal heft of 1.01 pounds. And to make things better, this model boasts 3G cellular connectivity, in addition to the GPS functionality for tracking air routes and Wi-Fi 6 standard for connecting to high-speed wireless internet.
Charging and Battery
The existing battery isn't cut out for fast charging unless you plan on purchasing a fast charger separately. Still, on a single charge, you can easily get up to 10 hours of backup, which is more than adequate for multiple trips.
Technical Specs
This tablet comes equipped with an A14 Bionic chipset, which works alongside 4GB RAM. The existing processing setup, therefore, lets you run apps like ForeFlight with considerable ease. Storage space at 256GB lets you store VFR sectionals and A/FD datasheets without blinking an eye. And lastly, with GPS support and ForeFlight installed, you can use the iPad Air to activate mapping capabilities.
Conclusion
Overall, the iPad Air is one of the more promising products available for pilots, which outpaces others in terms of portability and slimness of form.
Fast processor

Massive storage module

Bright display

Scratch-resistant screen

GPS support
Lacks a 3.5mm jack

Doesn't support fast charging out of the box
4. Best for Students:

Apple iPad
Students aspiring to be pilots are always on the lookout for affordable tablets, and this is where the Apple iPad comes into the mix. And on top of that, it comes equipped with an aesthetic form factor and a screen real-estate that aligns with every user requirement. Also, if you are already using the 8th gen iPad, this variant seems like an excellent upgrade, courtesy of bigger storage space and an improved processor.
Why is it suited for aviation use?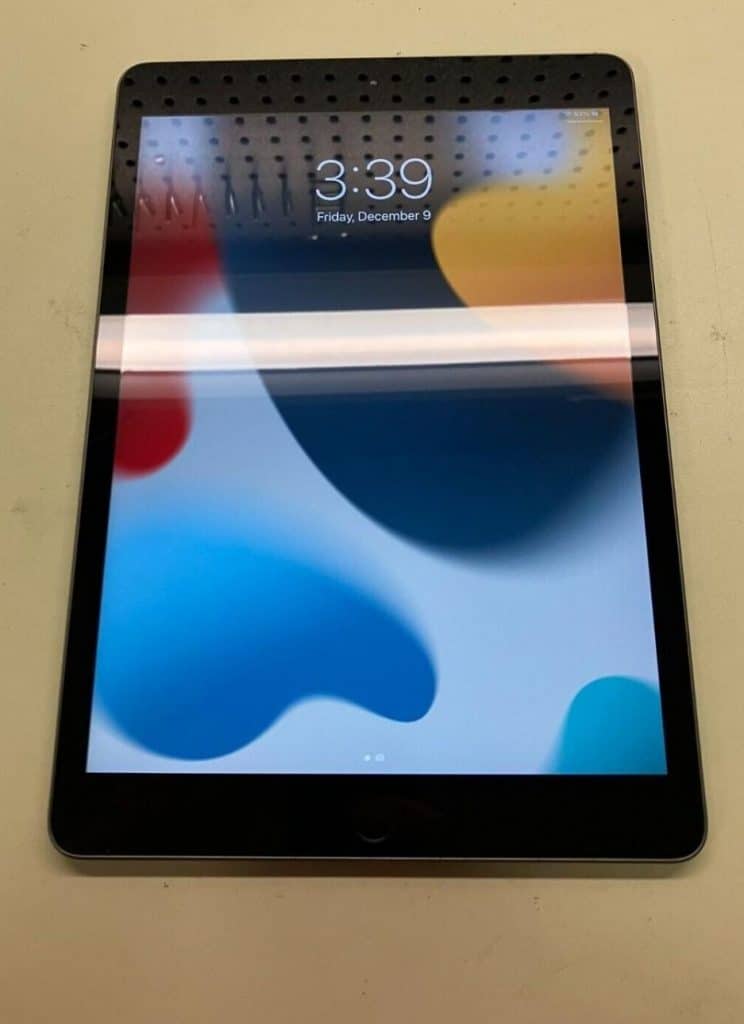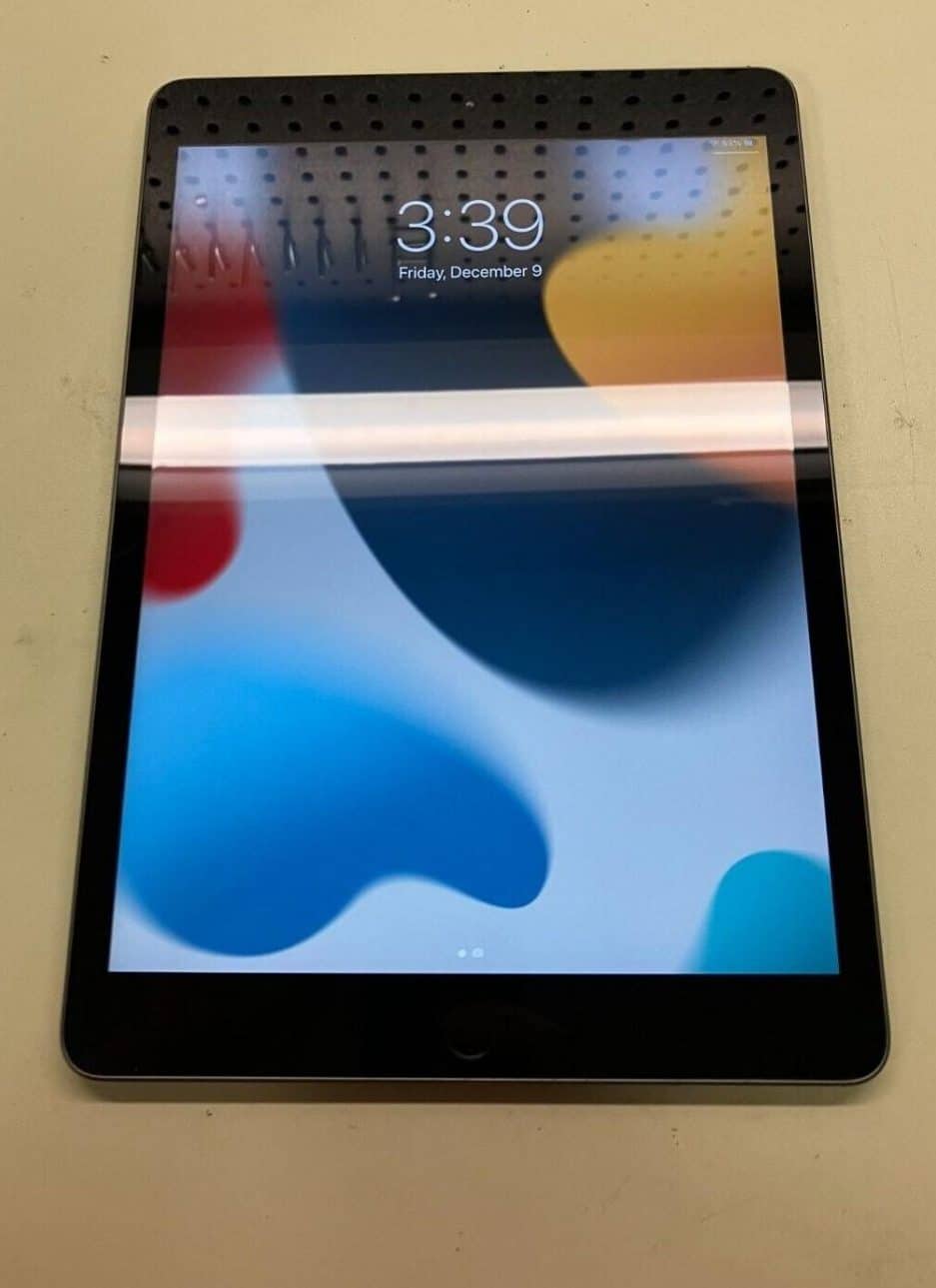 This iPad features a 10.2-inch Retina display that is adequately bright and even sports a scratch-resistant panel for combating rough usage. When it comes to the resolution, Apple offers 2160 x 1620 pixels, which is good enough for projecting the best possible visuals concerning air routes and airport diagrams.
As far as the aesthetics are concerned, this iPad measures 9.87 x 6.85 x 0.30 inches, making it a tad thicker as compared to other iPads on the list. Also, this product weighs 1.07 pounds and is even equipped with a wide range of connectivity-specific traits like Wireless AC standard, LTE functionality, and GPS support.
Charging and Battery
Apple brings forth a non-removable battery module that is capable of offering 10 hours of extended backup on moderate usage.
Technical Specs
At the core, there is an A13 Bionic chipset powering each of the several relevant processes. And complementing the same is 3GB RAM that amplifies performances exhibited by the ForeFlight application. Next in line is 256GB of storage space that is more than enough for students planning to stack in educational content, demo charts, and other resources without breaking a sweat.
Conclusion
In conclusion, the Apple iPad Mini is one of the more reliable 10-inch tablets on the list, which offers the most balanced screen size to seamlessly fit into any premise.
Long battery life

Fast processor

Accurate GPS

iPadOS 16.6 is interactive enough

Massive storage
Frequently Asked Questions
Do pilots need an iPad with cellular connectivity?
Yes, pilots are better off purchasing iPad with cellular connectivity as it allows them to make use of GPS functionality to track air routes, in addition to the support offered by the aircraft itself.
Do all the iPads come with built-in GPS?
No, only the iPads with cellular connectivity feature the built-in GPS functionality. Therefore, it is important that pilots only invest in compatible iPads that would help them cross-reference the air routes with the ones projected by the aircraft's built-in GPS setup.
How much internal storage is good for the cockpit iPad?
Cockpit iPads should offer at least 128GB of built-in storage space for pilots to store air routes, weather charts, airport diagrams, and other flying essentials.
What are the best aviation apps for iPad?
Pilots, contrary to popular opinion, often use a wide range of applications to assist them while flying. Some of the more popular ones include CloudAhoy, ForeFlight Mobile, Qref Aircraft Checklists (iOS only), and SkyDemon.
Is an iPad Mini good for ForeFlight?
Yes. iPad Mini is an extremely reliable device if ForeFlight is your go-to application. While the GPS functionality lets you make great use of the mapping feature, the sleek and light form factor allows you to carry the device around with relative ease.
Verdict
If you are a professional pilot involved in operating private and commercial aircraft or a student aspiring to make it big in the aviation sector, you simply cannot ignore the benefits offered by an iPad. While every new iPad is relevant enough, here are some of the more obvious picks to consider.
In case you want to maximize the operating potential of the tablet and use it to run every professional app in plain sight, there isn't a better device than the

11-inch iPad Pro

.
Also, if you are assigned a smaller aircraft with restricted cockpit space, the

iPad Mini

is a better device to consider.
Finally, if you are a student interested in picking a more affordable yet expansive iPad with decent storage space, the

iPad 10.2

seems like the best option to invest in.
Apart from these picks, you can get yourself any other iPad, provided it is aligned with your budget and app-specific preferences.
Recommended Articles to Read: