With more and more workplaces and schools adapting work-from-home and learn-from-home policy, it is important to invest in a good Windows tablet to get your work done with ease. A good internet connection with a good device with the latest technological updates is something that every individual requires during the current situation.
Though one can get a large-screen tablet with Android OS or even an iPad, the number of the functionality on these devices is somewhat limited compared to tablets featuring Windows OS. Moreover, they work as a professional device with support for software like Microsoft Office, and some of the contemporary software are only available on Windows operating system.
A Windows tablet is not only a portable computer, but it can also act as a full-fledged laptop if required, and it is also easy to find apps and software for the same when compared to non-windows OS-powered tablets. A tablet is easy to use while traveling and is pretty light in weight, making it easy to carry around.
6 Best Windows Tablets in 2023
I have come compiled a list of windows tablets that offer portability along with performance. If you are a working professional, then these tablets will improve your work efficiency and for students, these will help you to learn and grasp new concepts in a quick and easy manner.
1. Best Overall:

Microsoft Surface Pro 7
The Microsoft Surface Pro 7 is one of the most powerful 12-inch Windows tablets with an amazing combination of design and hardware. It looks like a tablet but does offer features like full-sized USB-A ports that are normally seen on a full-fledged laptop.
Processor & Performance
The tablet PC is based on Intel's latest Core-i3 1005G1 processor with a base clock speed of 1.2GHz. Having a higher grade CPU makes the Surface Pro 7 a professional-grade laptop, allowing users to edit videos, photos, and do other creative tasks. Even with a desktop-grade processor, the Surface Pro 7 just weighs 1.7-pounds making it a perfect large screen laptop that is easy to carry around.
RAM & Storage
The computer offers 128GB internal storage with 4GB RAM. Thanks to the optimized OS, the system can even handle a highly tasking processes with ease. If there comes a need for more storage. Just stick a portable HDD/SSD through the USB port and you are good to go.
The Display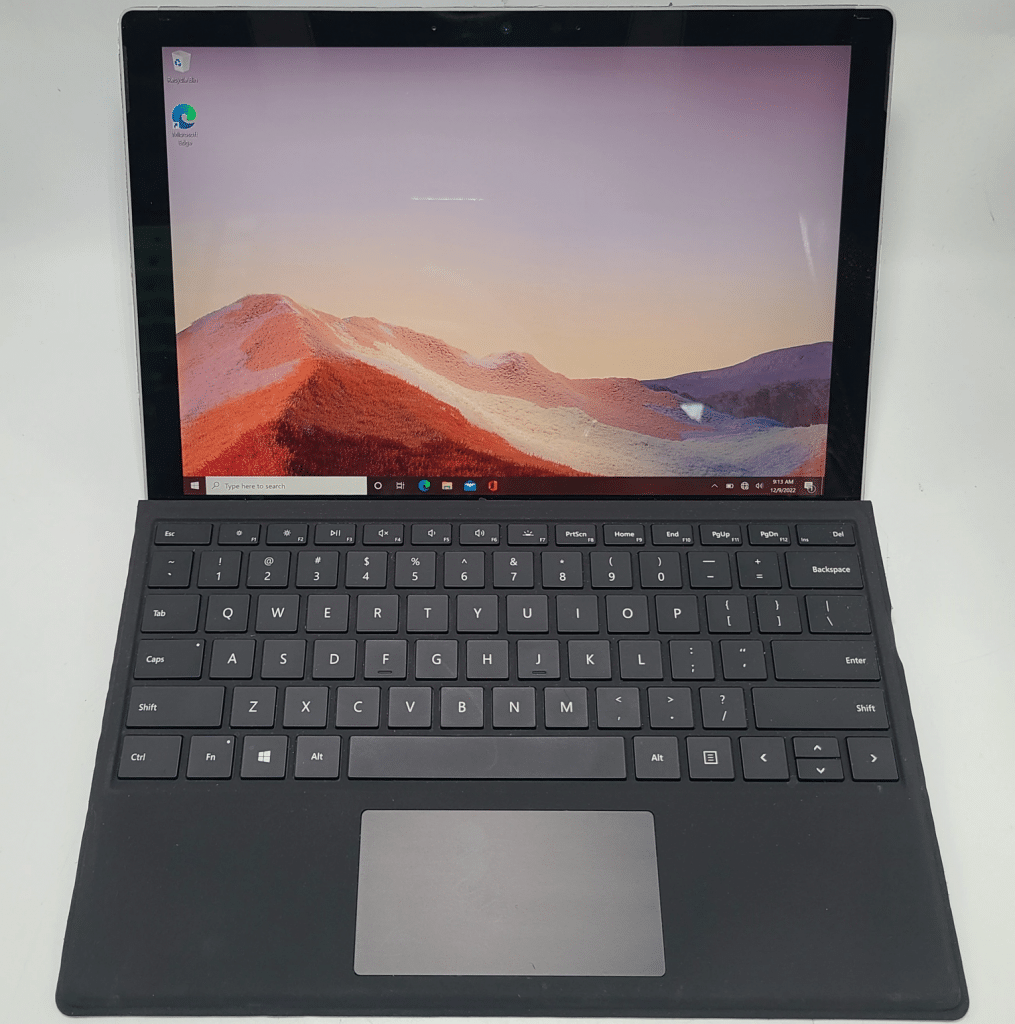 The device has a 12.3-inch screen with a native resolution of 2736 x 1824p. However, the bezels on the display are slightly thicker and the screen-to-body ratio is a bit off. Surprisingly, the whole setup still works great and helps you take notes well.
Peripherals
This laptop can last up to 10.5 hours even with continuous usage. Thanks to the USB port, the device can charge iPhones and other smartphones while in transit. It has an 8MP primary camera with support for 1080p video recording and an HD web camera making it the perfect tablet for Zoom and Skype business calls.
Pros
Good storage capacity
Very light in weight
Good battery life
Windows Hello facial unlock
Cons
Thick bezels across the screen
Tiny sounding speakers
Expensive accessories
2. Best for Professionals:

CHUWI UBook
I have always been slightly biased towards Windows-powered tablet PCs and at current market rates; there isn't a better option in the market than the CHUWI UBook. Also, when compared to the slightly more powerful UBook X, the UBook 11 offers a more vibrant screen despite a smaller display panel to work with.
Not just that, for a pretty comparable memory allocation, the price range exhibited by UBook 11 is better than the UBook X.
Processor & Performance
The UBook 11 brings home the Intel N4100 as the chipset of interest, boasting maximum clock speeds of up to 2.4GHz. Therefore, unlike standard Cherry Trail processors, you can deploy this piece of innovation to reach better multitasking performances. Also, the UHD 600 graphics support takes care of the visuals and graphics to the best of its abilities.
RAM & Storage
Much like the UBook X, the UBook 11 brings in 8GB RAM for helping you use the tablet as a fully functional computer. Also, the 256GB SSD on a tablet is virtually path-breaking and doesn't require a lot of speculation.
OS & Performance
The Windows 10 Home operating system infuses a new life to the hardware, making it easier for you to handle Office-specific tasks, streaming, and other productivity-specific activities.
Display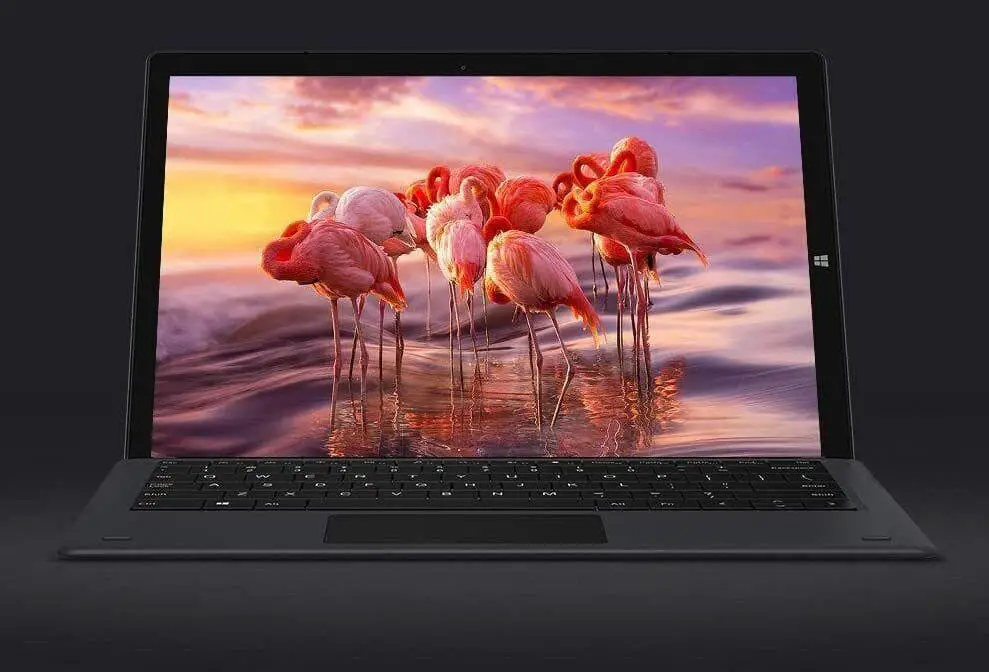 The 11.6-inch IPS screen is adequately bright and boasts excellent viewing angles. Also, the screen resolution is fixed at 1920 x 1080 pixels, which is good enough for most budding graphic designers, stock traders and social media marketers.
Keyboard & Inputs
The UBook 11 is one of the few tablets that comes with a keyboard, responsive stylus, and modular kickstand. Also, the accessories are exceedingly snappy with the magnetic port allowing the keyboard to fit in with ease. Not to mention the calibrated stylus or rather the H3 HiPen that comes with showcases pressure sensitivity levels, reaching up to 1024, thereby making life easier for the designers.
Camera
Coming to the camera setup, this tablet accommodates a 5MP rear shooter followed by the standard 2MP webcam.
Design & Build
The UBook 11 is easily one of the sleekest Windows tablets in the market with measurements fixed at 11.42 x 7.09 x 0.35 inches.
As far as the heft is concerned, the gray-colored tablet weighs 1.68 pounds. And, if you are interested in other structural perks, the tablet and the keyboard work in tandem to offer a reliable Type-C interface, micro-HDMI, and other responsive slots.
Final Thoughts!
The CHUWI UBook 11 is the product that I am currently using as my globetrotting ally, specifically to stay in touch with my team at Autopano. I feel that it is a better bet than some of the other tablets in the retail space, owing to the multi-faceted operability and stellar aesthetics.
But then, as I have been oddly throwing in the UBook X mentions, you can even consider this tablet PC in case the higher price point isn't an issue. This device comes equipped with a bigger 12-inch screen, a heavier chassis, an anti-glare screen for hardcore users.
Portable chassis

Sharp visuals

Massive in-device storage

High-speed RAM

Ultra-fast Wi-Fi
Prone to heating

Not the best sunlight visibility as experienced hands-on
3. Best for Drawing:

Microsoft Surface Go 2
The new Surface Go 2 is Microsoft's offering to compete against Apple's 7th Gen iPad under a $500 price tag. In terms of features and specifications, the device does not compromise and offers good performance especially for digital artists and drawing enthusiasts.
Processor & Performance
The tablet is based on the Pentium Gold dual-core, a four-thread processor with a clock speed of 1.7GHz and a boost clock speed of 3.5GHz. The computer can handle basic office tasks like creating an excel sheet or making a presentation with ease. This is also a great device for research students who wants a tablet for online research and writing a thesis on the go.
RAM & Storage
This variant of the Microsoft Surface Go 2 offers 8GB RAM and 128GB internal storage. So, if you are looking for a Windows tablet to install a lot of software and apps, Surface Go 2 might not be the best option.
The Display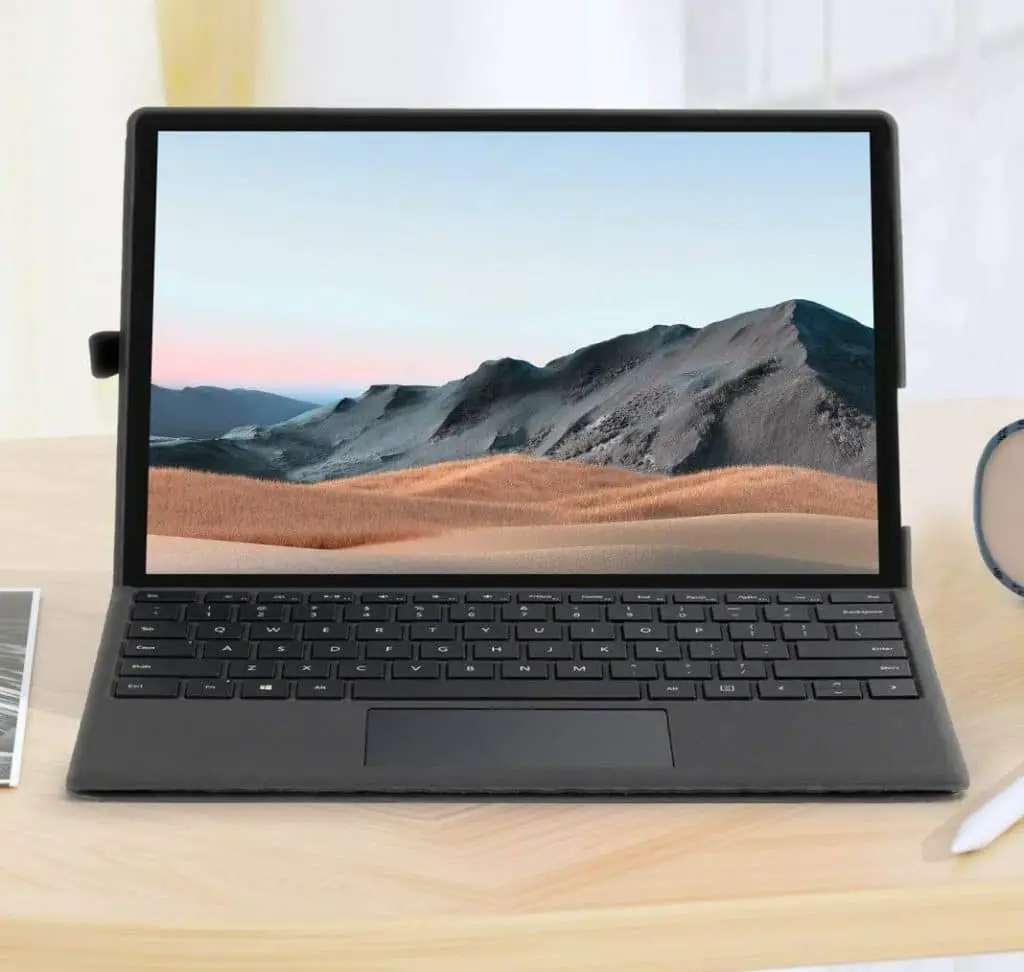 The device has a 10.5-inch touch screen display with FHD (1920 x 1280) resolution and the screen is bright and vivid, making this device great for multi-media consumption.
Peripherals
The tablet weighs 1.2-pounds and offers 10 hours of battery life. The device can be paired with Surface Signature Type cover to convert this device into a laptop. However, to note that the case and the Surface Pen have to be purchased separately.
Pros
Affordable Pricing with good processing power
A good screen with ample amount of brightness
Thin and light design
A good set of speakers with rich bass
Expandable storage option
Cons
Very limited internal storage
Expensive accessories
4. Best for Entertainment:

Lenovo Yoga Book
Most of the tablets compromise with performance to offer thin and light design and good battery life, whereas the Lenovo Yoga 2-in-1 tablet computer has gone for a different approach. This is a full-fledged computer that also behaves like a tablet, thanks to the rotatable display.
Processor & Performance
The 2-in-1 computer tablet is based on the Intel Atom x5-Z8550 processor with a 1.44GHz base clock speed. The device has the Intel HD Graphics 400 capable of driving a secondary 4K resolution display, hence supporting an external monitor or even a projector system to stream your favorite content.
RAM & Storage
The laptop also has an ample amount of high-speed 64GB SSD-based storage, allowing faster read and write speed. If you are a multi-tasker, then the tablet offers 4GB RAM allowing users to open multiple software at the same time without bottleneck the performance of the device.
The Display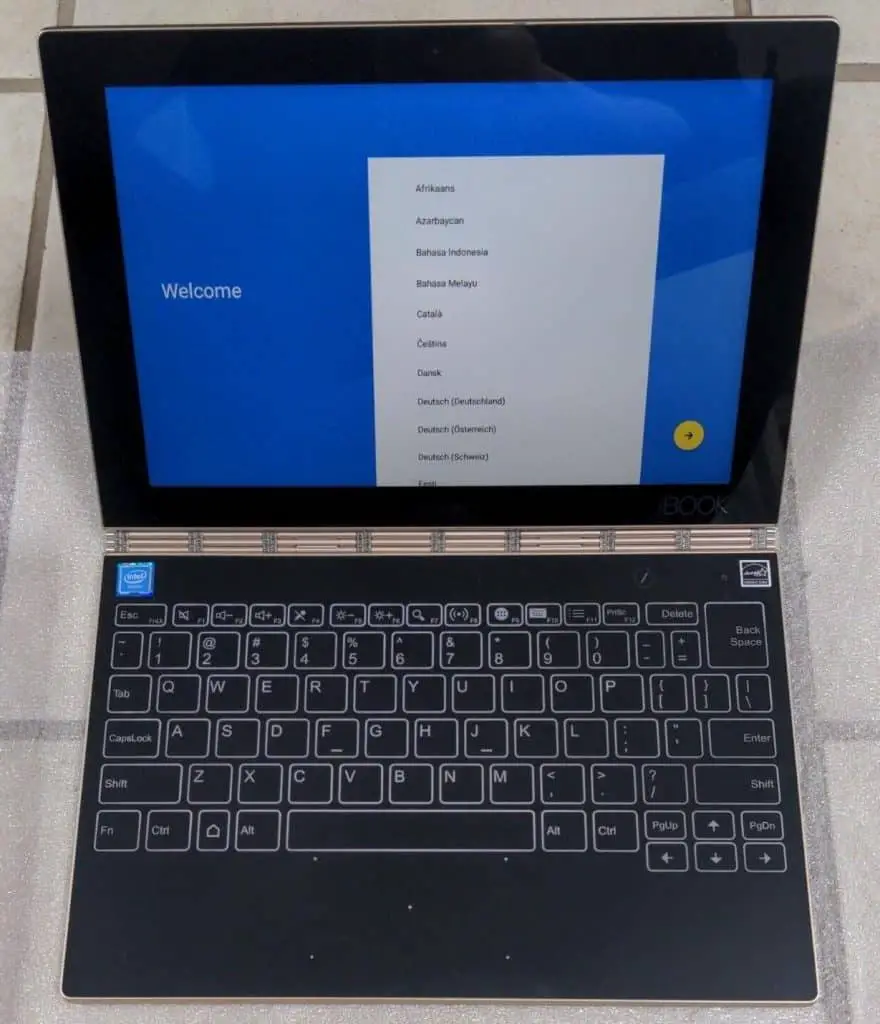 The laptop has a 10.1-inch screen with a native FHD resolution (1920 x 1280). The screen has minimal bezels and offers a peak brightness that supports FHD movie streaming on platforms like YouTube, Amazon Prime Video, and Netflix.
Design & Build
Compared to other Windows tablets that I have mentioned, the Lenovo Yoga 2-in-1 tablet computer is lightweight at 1.52 pounds. It is also a full-fledged laptop with a built-in keyboard and a sensitive trackpad.
The device can last up to 13 hours on a single charge and it also supports fast charging along with fast reverse charging support to refill the batteries of smartphones and tablets.
Pros
Good keyboard with great key response
Good battery life
Lightweight
Intuitive touch screen display
Cons
No Dedicated GPU
Low on storage
5. Best for Students:

CHUWI Hi10 X
If you are short on budget and still want a great windows tablet, then the Chuwi Hi10 X could be of your internet as it costs less than half that of a similarly priced Windows 10 powered tablets.
Processor & Performance
The tablet is based on Intel's entry-level Intel N4100 processor that runs at 2.4GHz and can go up to 3GHz under load. Not just that, the computer also offers Intel UHD graphics for some light gaming and to run professional software that requires good graphics backing.
As this is an entry-level tablet, it won't be suitable for tasks like video editing or graphics designing. Consider this if you want a device to create spreadsheets, presentations, and to surf the web.
RAM & Storage
The 128GB internal storage on the Chuwi Hi10 X might not feel plenty enough in 2023. So, the device has a dedicated microSD card slot that will double the storage on this unit. Not just that, the tablet comes with a built-in keyboard folio with a built-in trackpad. Rotate the display to make it into a tablet or a laptop in a second.
The Display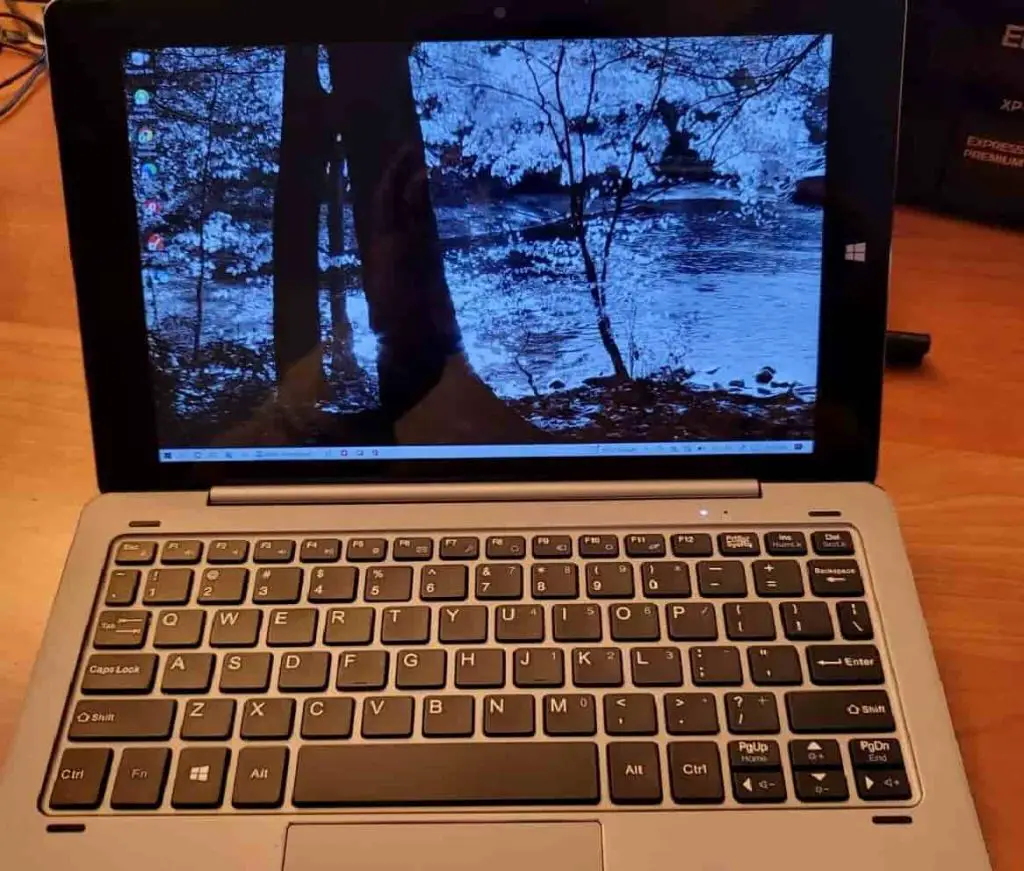 The device has a compact 10.1-inch screen with full HD (1920 x 1200p) resolution. This is not the brightest or the most color-accurate display, but it is a touch panel and gets the job done.
Peripherals
The tablet weighs 1.2 pounds with the keyboard and it is well really well with rubber feet on the keyboard that prevents the display from touching the keyboard, thus preventing scratches. Lastly, the computer can last up to 12 hours on a single charge and it can also charge other electronic devices that charge via the USB port.
Pros
Highly affordable
SD card slot for storage expansion
Responsive touch screen
Comes with a stylus
Plenty of connectivity options
Cons
Below average trackpad
Lower brightness
Mediocre CPU performance
6. Cheapest Option:

Fusion 5 FWIN232 Pro
If you despise entry-level tablets, the Fusion 5 FWIN232 Pro is expected to change your perception, rather significantly. Despite featuring g a nominal price tag, this tablet is still capable of catering to the laptop discards, who are interested in purchasing something smaller yet usable for managing MS Office and other relevant processes with ease.
Also, when pitted against the standard FWIN232+ tablet, the Fusion 5 comes on top, courtesy of the bigger chunk of RAM and the better multitasking performances.
Processor & Performance
At the core, Fusion 5 houses a standard Cherry Trail processor, with four cores and the integrated Intel HD coprocessor to rely on. While you cannot expect the swiftest possible performances, the setup still allows the tablet to manage basic single and multi-threaded tasks with ease.
RAM & Storage
Assisting the processor is 4GB RAM, which allows you to handle multi-tab browsing without experiencing system slowdowns. The 128GB storage module is also a reliable inclusion, as being a Windows-powered tablet it is better off with some additional storage firepower.
OS & Experience
As mentioned, this Windows-powered tablet works with the W10 S version stacked right out of the box. The featured OS variant is power efficient and allows you to get a considerable lead when battery backup is concerned. Plus, the operating platform is extremely interactive and makes surfing fun and productive.
The Display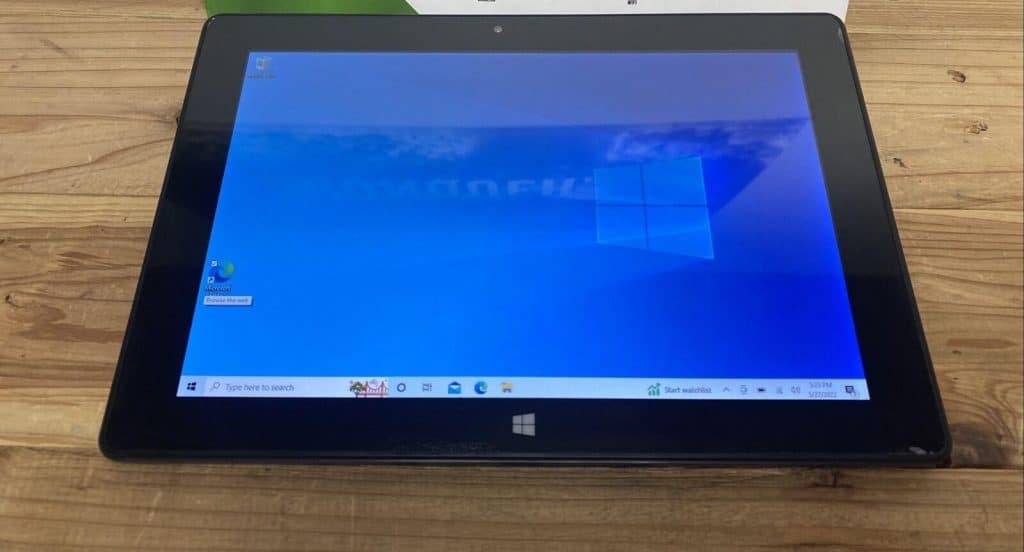 The 10.1-inch display exhibits an overall resolution of 800 x 1280 pixels, with decent color reproduction and legible viewing angles.
Keyboard & Inputs
Connecting a standard keyboard to the FWIN232 Pro is easier than ever, with Bluetooth and USB support at your disposal. And, if you want to make the best use of the touch screen, pairing an active stylus pen is also recommended.
Camera
There is a 5MP rear camera for using the device in tablet mode. However, if you are heavily invested in video conferences and Google meet-ups, the 2MP webcam can still offer decent performances.
Design & Build
From an aesthetic perspective, the FWIN232 Pro is more of a plastic-made device, measuring 10.24 x 6.85 x 0.43 inches. The elevated thickness adds to the heft with the tablet weighing 1.54 pounds.
Finally, the FWIN232 Po comes is available for purchase in the silver shade and makes room for several nifty structural enhancements, including the micro-HDMI port and the micro-SD slot.
Final Thoughts!
Overall, the Fusion 5 FWIN232 Pro offers the best value for any given Windows-powered tablet. Also, when compared with other products on the list, it is the affordability and price-to-productivity ratio that make it a good enough option.
Fast wireless supports

Interactive operating system

Pocket-friendly

Exceptional storage space
Frequently Asked Questions
Can tablets run Windows 10 OS?
Yes, there are a lot of tablets that are based on Windows 10. These tablets are mostly based on the Intel processor. However, there are some exceptions, as some of the tablets use ARM technology-based processor and they do support 64-bit .exe apps.
Which brands makes best Windows tablet?
There are multiple brands that make a great windows tablet and I prefer a tablet made by Microsoft as the hardware and the software is being made by the same company.
Is Windows tablet better than an Android tablet?
It depends on the scenario. A Windows tablet will support apps that are only available on Windows platforms and users can also install Android apps within the Windows app using virtual Android OS but the opposite is not possible.
Verdict
All the tablets that I have mentioned have at least one unique feature, and all these tablets offer great performance and can easily last for the next couple of years without any issue. Unlike an Android or an iOS device, a Windows tablet will get better software support, and it is easy to install an app outside the app store.
So, if you're still confused about which one to get, here are my top picks for different use cases:
If you need the most powerful Windows-based tablet, the

Microsoft Surface Pro 7

is my go-to recommendation. Not only is it capable of performing high-end tasks, but it is also light in weight, making it easy to carry everywhere.
If your usage requires more RAM and storage, the

CHUWI UBook

is a good option for you. It comes with 8GB of RAM and 256GB of internal storage. It also packs a decent specs sheet to handle your personal and professional needs.
If you're a student looking for an affordable Windows tab, the

CHUWI Hi10 X

is a great option. At $250, it offers decent CPU, RAM, and storage capacity.