As a drawing enthusiast, professional illustrator, or even a college student, it is prudent to have a portable tablet at hand, especially the one with impeccable touch responsiveness. But then, can't you just pick any tablet for the job?
Well, selecting the right drawing tablet isn't always this straightforward. For starters, they need to be specifically fortified with top-notch stylus compatibility, calibrated pens with varying pressure sensitivity, highest possible LPI levels, sizable mapping areas, bright screens, extended connectivity suite, and multi-platform compatibility.
Once a few or all of the mentioned traits are checked in, can you identify the best drawing tablet for the task at hand! Plus, the relevance of each attribute also depends on the functionality you want the device to serve, including photo editing, tattoo designing, graphic designing, drafting engineering layouts, or architectural renders.
Regardless, it can be inferred that a tablet meant for calibrated, accurate, and creative drawings cannot be picked from the usual set of commercial devices. Instead, you would need specialized drawing tablets that must be connected to primary computing devices to be operational.
Considering these preferences, expected features, and highly targeted professional requirements, it becomes all the more important to be aware of how standard drawing tablets are stacked and what are the types you, as a creative professional, can consider for purchasing?
4 Types of Drawing Tablets in 2023
As mentioned, drawing tablets can be tricky to purchase, if you aren't aware of the types, utilities, and relevant attributes. Keeping the misinformation and lack of clarity regarding drawing tablets in mind, I have made it a point to segregate them into four types. Each type has a specific set of traits to look at and a select audience base to cater to.
1. Digitizers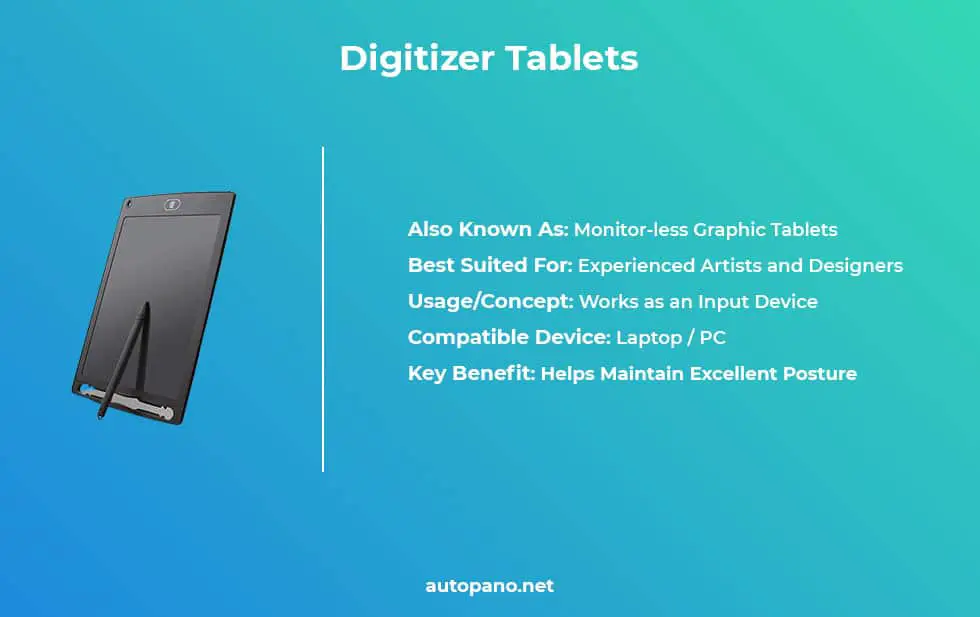 Better termed as monitor-less graphic tablets, these devices need to be connected to the PC for being functional, in any given capacity. Specifically manufactured for experienced artists and designers, these tablets rely heavily on the quality of the stylus pen that comes bundled along.
Often used as an input device for the host, a digitizer tablet boasting a functional pen with at least 4096 pressure sensitivity is still good enough for drawing lines, with varying opacity and thickness. However, the quality of designs is hardly ever as good as the ones made on actual paper.
Coming to the preferred specifications, a good digitizer needs to offer a sizable touchpad or rather active drawing surface, portable chassis that isn't abnormally heavy, and several hotkeys for managing designs without having to rely on the computing device.
Also, when aesthetics are concerned, a digitizer looks more like a thick plastic block and only works when connected to the PC. As far as preferences go, you would want a self-charging stylus and support for multiple operating platforms, including Windows, Android, and macOS.
Images aren't obstructed by the hand

Helps maintain excellent posture

Stack responsive stylus pens

Quite affordable
Not meant for etching out the perfect lines

Accuracy can be an issue
2. Paper Tablets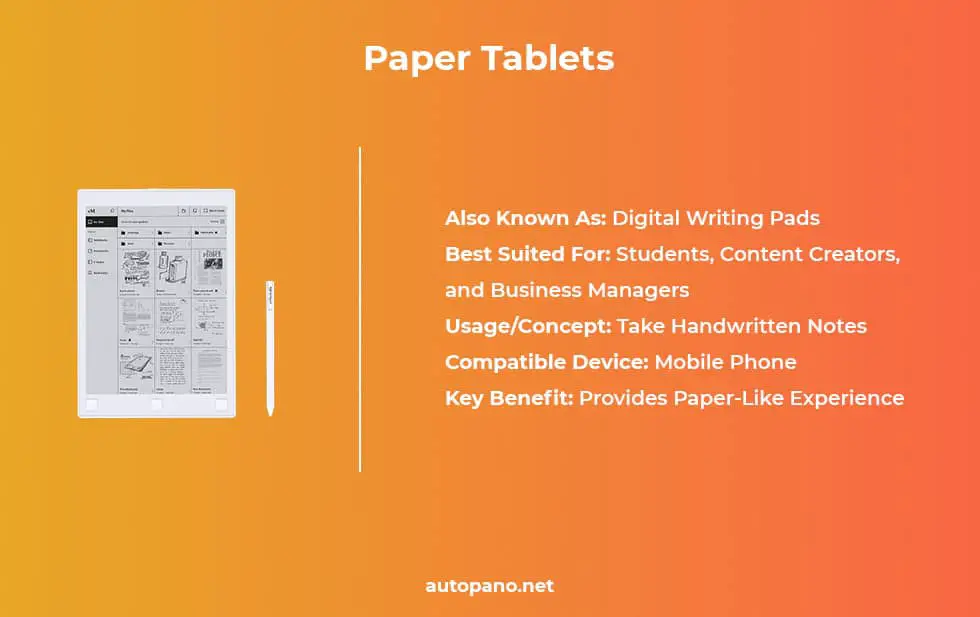 These are highly inventive drawing tablets, best suited for students, content creators, and business managers. The underlying concept of a paper tablet is quite new as it allows you to attach handwritten notes to the tablet and work on them, at will. Any number of changes made to the notes automatically reflects on the Notes application that needs to be preinstalled on the smartphone to make the experience, wholesome.
Often termed as digital writing pads, these tablets actually digitize every stroke that you place on the clipped pieces of paper. However, if you plan on drawing on paper, the output might not be the most pleasing to the eye.
Paper tablets are smaller in size as compared to digitizer tablets and automatically determine the input feedback onto the paper, as and when made by the pre-existing stylus pen. The inputs reflect on the mobile app and can be shared across standard computing devices for editing.
Puts minimal strain on the eye

Help revisit the paper-like experience

Easy to use

Affordable
Clipped papers aren't always easy to manage
3. Pen Displays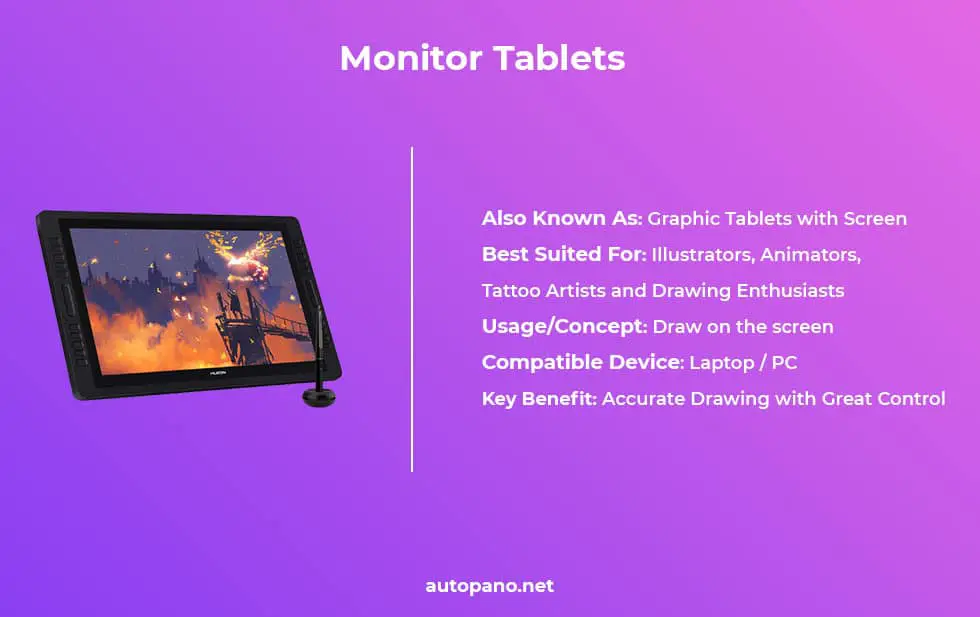 A drawing tablet with a dedicated screen is probably the most functional of the lot. While it still works best when connected to a compatible PC, having an actual screen to draw on is something that cannot be matched by a digitizer or even a paper tablet.
Most of the Pen Displays or Monitor Tablets are backlit and feature some of the best pens, with pressure sensitivity and LPI levels reaching up to 8192 and 5000+ respectively. In most cases, you get dedicated software modules preinstalled; making monitor tablets the best resources for drawing creative stuff, either as a graphic designer or even an illustrator.
Recommended Read: Graphic Tablet vs Drawing Tablet
Exceptional accuracy

Great control over lines

Direct drawing interface

Feature one of the best set of pens

HD display is the bare minimum
Pricey

Can block direct vision
4. Tablet PCs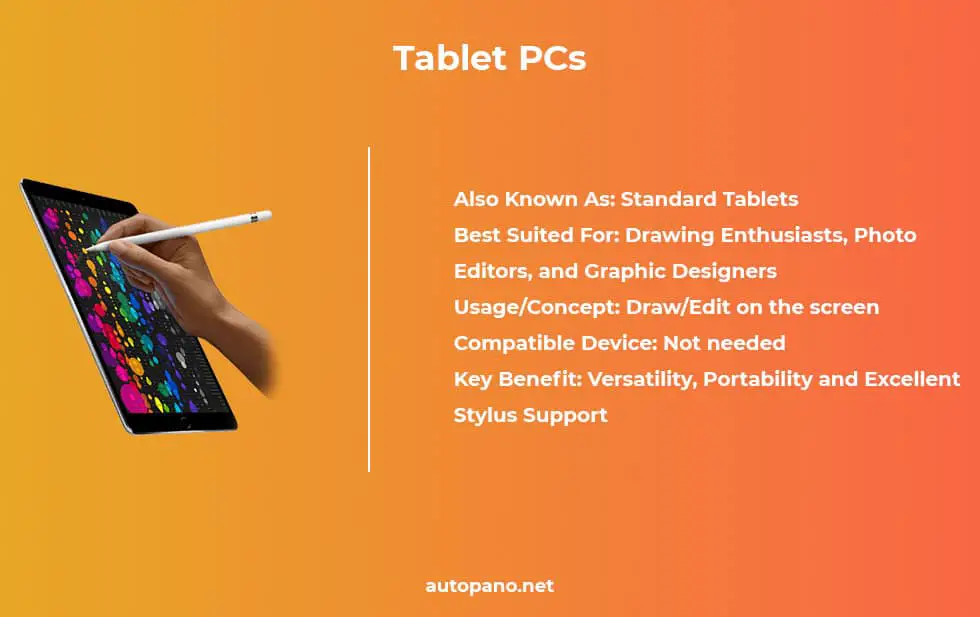 Nothing beats using those good old tablet PCs for drawing. However, you must be able to locate the ones that actually fit in. This is where I would recommend the iPad for drawing, a device that comes with a brilliant active Apple Pencil 2nd generation. You can even rely on Samsung Tab S8+ with the S-pen helping you create designs and artwork with absolute perfection.
Most tablet PCs, however, are sleek and come with active charging support for the stylus pen. Plus, you get other tablet and PC-like functionalities to rely on and need not connect the same with a full-fledged computer to start with your creative work.
Also Read:
Loaded with basic computing functionalities

High-end models have excellent stylus pens to rely on

A comprehensive device that can be carried around by professional designers

Easy to use

Offer the best visuals experience
Pricey

Hardly have on-device hotkeys
Verdict
By this point, it must be clear that artists, designers, and even engineers are at the liberty to choose from 4 variants of drawing tablets. However, if you are a seasoned professional and already have a primary computer at your disposal, it is better to consider pen displays.
But then, if budget is a concern and your primary computing device is quite snappy, you can make peace with a digitizer tablet, which would then need you to view the designs on the host screen. Finally, if an all-inclusive product is what you seek, I would recommend a tablet PC, preferably the latest iPad Pro, for seeing you through the designs and creative tasks.