As an artist, 'Drawing' isn't the term you would want to use while streamlining your tablet search. Instead, selecting the best digital art tablet makes more sense. Still, if the best tablet for drawing is your preferred search term, let me help you find exactly the same.
I believe artists, graphic evangelists, illustrators, editors, designers, and even engineers would require tablets for drawing and designing. But then, there are quite a few factors to consider when buying a drawing tablet. The mentioned creative professionals would want to rely on stylus support for realizing their ideas into concrete designs.
Now that you know the needs of creative professionals and drawing enthusiasts, you can just find a device that fits in. However, identifying a tablet with similar specs isn't as straightforward. Despite most manufacturers claiming to have ideated relevant tablets, not many offer a complete drawing-friendly experience.
Minimum & Recommended System Requirements
I have segregated the tablet specifications according to the capabilities. The ones with minimum specifications for drawing and art can manage basic-level designs with ease. For handling intricate designs, layouts, and demanding pen work, tablets with recommended system requirements must be prioritized.
| Specification | Minimum | Recommended |
| --- | --- | --- |
| CPU | Hexa-Core Mediatek Processor | Intel Core i5 / Octa-Core Qualcomm Snapdragon |
| RAM | 2GB | 4GB |
| Storage | 64GB | 128GB |
| Battery | Up to 8 Hours | Up to 12 Hours |
| Weight | Up to 1.5 Pounds | Up to 1.2 Pounds |
| OS | Open | Android/ iPad OS |
Best Tablets For Drawing in 2023
During the course of research, I tested close to 25 tablets (ensuring all types of drawing tablets are covered), only to come up with the top 10 tablets that fit in, when design, graphics, and art are concerned.
I believe drawing on a tablet requires skills and support from the hardware. This is why I chose to evaluate each tablet across several parameters, including price, responsiveness, battery life, system memory, and more.
1. Best Standalone Graphic Monitor:

Wacom Cintiq 22
The Wacom Cintiq 22 is a professional grade big-screen tablet or rather a graphics monitor for drawing enthusiasts, students, and professionals.
Why is it suitable for Drawing?
The large screen tablet from Wacom comes bundled with the Wacom Pro Pen 2 which looks and feels like a regular pen. Primarily used for drawing, courtesy of the 8,192 levels of pressure sensitivity and lightness of form, it can also be used to take notes and make sketches on paper or a notebook.
The creative, pen-intensive display comes equipped with tilt recognition and allows you to customize the design based on the orientation of the device. Drawing experiences are completely natural owing to the low activation of the Pro Pen, which also boasts low parallax and a nifty presence.
Hardware
This tablet does not have dedicated hardware, and it needs to be used with a computer, as it can then share the processing capabilities of the host to make the designs come to life. This means the tablet's performance will be dependent on the capabilities of the computer that the tablet has been connected to.
RAM, Storage, OS
The same goes for the RAM, storage, and OS as well. As the designs aren't processed by this graphics monitor, the memory allocation wasn't even taken into consideration by Wacom. Also, the Wacom Cintiq 22 is software agnostic, which translates into macOS and Windows OS compatibility. Using this graphics monitor with any PC or MacBook isn't going to be an issue.
Display
For me, the highlight of the Wacom Cintiq 22 is the 21.5-inch large screen display with a native resolution of 1920 x 1080 pixels. The panel supports 16.7 million colors and a 72 percent NTSC color gamut, which ensures color accuracy and vibrant renders.
Aspect Ratio
Coming to the structural footprint, it looks like a large touch screen monitor with thicker bezels on all four sides. The 16:9 aspect ratio is more on the expected lines, allowing you to view the designs and creations perfectly in the landscape mode.
Design and Ports
The monitor comes with a kickstand, and it weighs close to 12.35 pounds, inclusive of the same. This meaty tablet has an HDMI port to connect it to a computer, along with a USB-A port for power delivery, which eliminates the need for a dedicated battery.
Considering the massive size, it is very light, sans the kickstand. Even though the Wacom Cintiq 22 can be shifted from place to place without any hurdle, I wouldn't exactly tag it as a portable machine.
Battery Life
As mentioned, this tablet does not have a battery and gets its power from the USB port. It can be used with both desktops and laptops alike. If you are looking to create digital graphics and illustrations and don't want to get an expensive tablet, then this is the device to consider, especially for professional artists.
Alternate Option
If you feel that the Wacom Cintiq 22 is slightly bigger for your use case, then you can consider an alternative device, the Wacom Cintiq 16 which is much smaller and comes with a compact form factor without compromising on the actual functionalities.
Suggested Comparison: Wacom vs. Huion
Pros
Color accurate panel

Big touch screen display

Works with desktops and laptops

Easy to setup

Pro pen derives power from the electromagnetic presence of the screen
Cons
No built-in battery

Cannot be used as a standalone tablet
Are you looking for an all-inclusive tablet for your creative indulgences and literally hand-crafted designs? If yes, the New Apple iPad Pro is the perfect gadget to pay for. You can use the iPad as your go-to drawing resource along with a bunch of personal and professional activities.
Processor
The iPad Pro exhibits a pretty powerful processing setup, led by the ever-reliable A12Z Bionic chipset. As it is an Octa-core processor, it works in tandem with the 8-core Apple GPU to process designs, animations, and creative inputs like a pro.
Software Support
It wouldn't be wrong to consider the iPad Pro for running applications like Photoshop, Illustrator, and other Adobe CC resources, as this is probably the one tablet capable enough of handling such a massive workload.
RAM
The Bionic processor is capable of reaching clock speeds of up to 2.5GHz, thereby allowing you to manage processes other than drawing and designing. Assisting the mobile SoC is the 6GB RAM unit, which comes forth as a resourceful multitasking ally.
Storage
If you are planning to process designs like a pro, the existing chunk of system memory is expected to help. Storing the images and other files isn't an issue either with the 128GB storage unit in play.
OS
The iPad Pro runs iPadOS 16.6 right out of the box and can also be upgraded to iPadOS v14.4, as and when available.
Display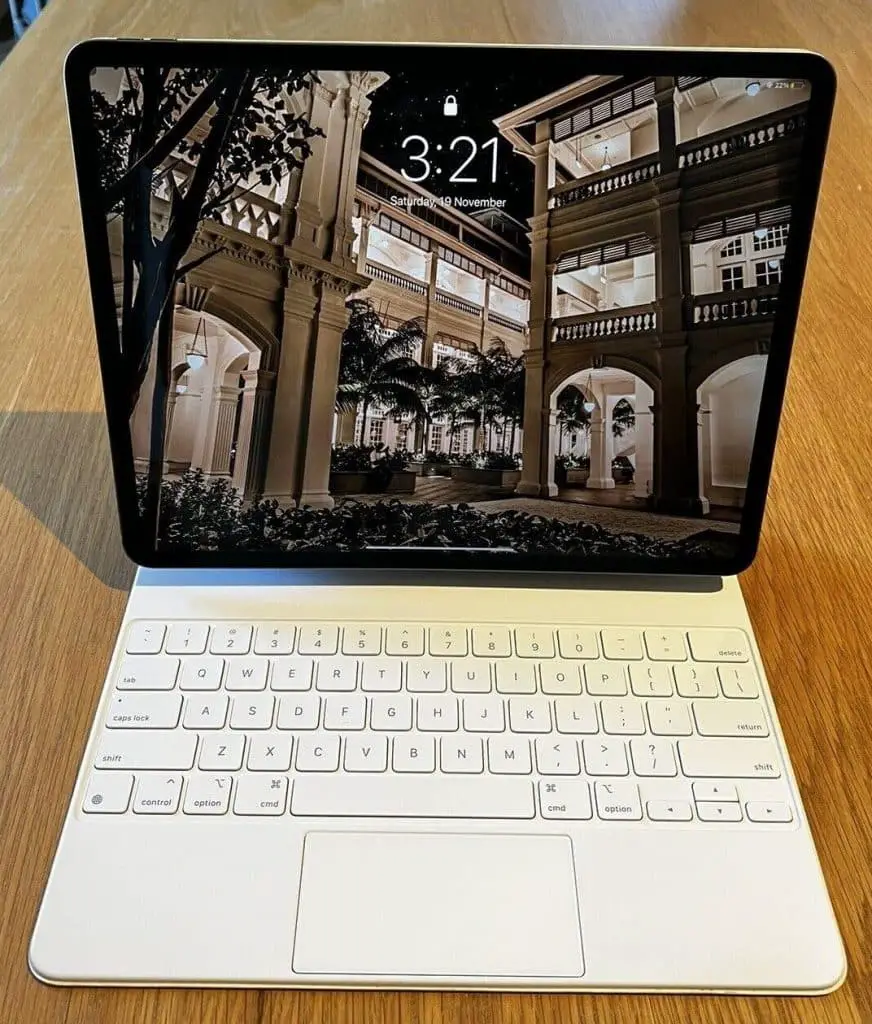 Drawing performances as projected by this tablet are extraordinary, courtesy of the 12.9-inch screen, exhibiting an overall resolution of 2048 x 2732 pixels. What impressed me the most is the IPS LCD panel followed by the widest possible color gamut, allowing creatives to envision life-like designs.
Design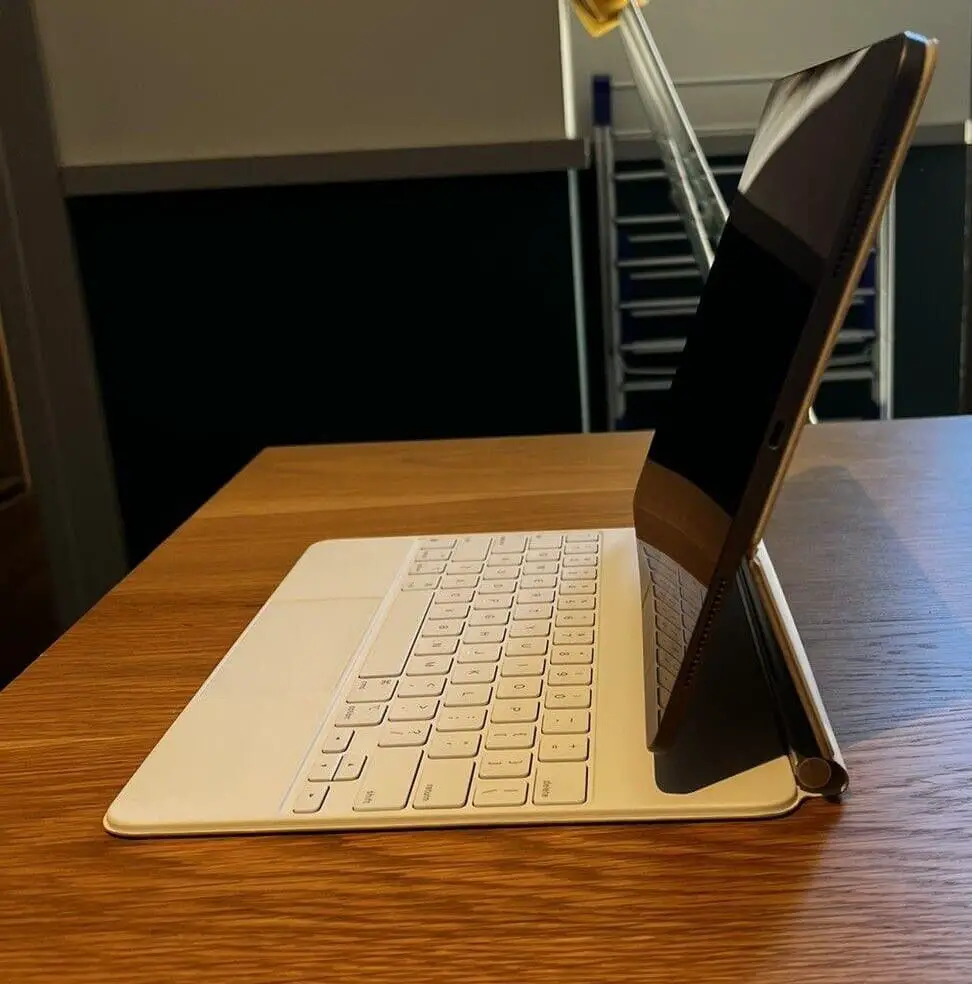 The screen scales newer heights owing to the scratch-resistant oleophobic coating and the True-tone panel that only reproduces the exact set of hues. Lastly, the screen is compatible with the chargeable Apple Pencil that furthers the ability of the tablet to retouch and edit photos, draw engineering designs, and ideate life-like designs on the move.
Peripherals
The iPad Pro doesn't cut corners in terms of functionality and allows you to pair a Magic keyboard as a bespoke option. As an artist, you need to invest separately in the Pencil, and the Keyboard, provided it doesn't burn a hole in your pocket.
Rear Camera
Clicking pictures might not matter much to a designer. However, the iPad Pro still keeps the possibilities intact with a top-shelf rear shooter, comprising a 12MP primary lens, 10MP ultrawide snapper, and a LiDAR module for depth-sensing. The latest bit of photographic innovation assists with AR-ready designs and enhances the video recording experience.
Front Camera and Ports
Apple also throws in a 7MP front shooter with face detection support via Face ID support. Complementing the discerning privacy-specific enhancements, the iPad Pro also makes way for Type-C 3.1 connector and Wi-Fi 6 support for transferring images and utilizing peripherals in any way desired.
Battery & Weight
Lastly, there is a massive 9720mAh battery module in play that offers 10 hours of steady backup whilst supporting fast charging and reverse charging. Despite the bells and whistles, the aluminum-clad iPad Pro is adequately portable at 1.41 pounds.
Conclusion
Are you still wondering if the iPad is a suitable choice for drawing? Well, if you are, let me assure you that it is good for drawing, designing, or almost anything. If you're looking for an all-inclusive device, I would definitely recommend the iPad Pro. And If you're okay with 11-inch screen size, I believe 11-inch iPad Pro with an M1 chip offers more value for money.
Pros
Stellar display

Powerful processor

Minimal pencil lag

Sizable display

Excellent battery life

Resourceful connectivity suite
Cons
Pricey

The pencil needs to be purchased separately
3. Best 2-in-1 Tablet:

Microsoft Surface Pro 7
The Microsoft Surface Pro 7 is the latest tablet 2-in-1 tablet PC from Microsoft. Based on the 10th gen Intel Core i3 processor with a CPU clock speed of 1.2GHz, this gadget readily syncs in with your artistic indulgences.
CPU
As reviewed, the 10th gen Intel Core i3-1005G1 chipset deserves a special mention, owing to turbo boost clock frequency of 3.4GHz. This attribute allows you to indulge in demanding logo designs and graphic-centric tasks via Photoshop, Illustrator, and other apps.
Graphics
With the Intel UHD graphics coprocessor and this tablet can even support an external display with up to 4K resolution whilst helping you etch out life-like visuals.
RAM, Storage & OS
The Surface Pro 7 offers 4GB RAM and 128GB internal storage. And it also has a microSD card slot for additional storage upgrades. The device runs on the full version of Windows 10 OS, and one can use all 32-bit and 64-bit drawing software without any issue. Besides, the boot-up speeds are literally out of this world.
Display & Pen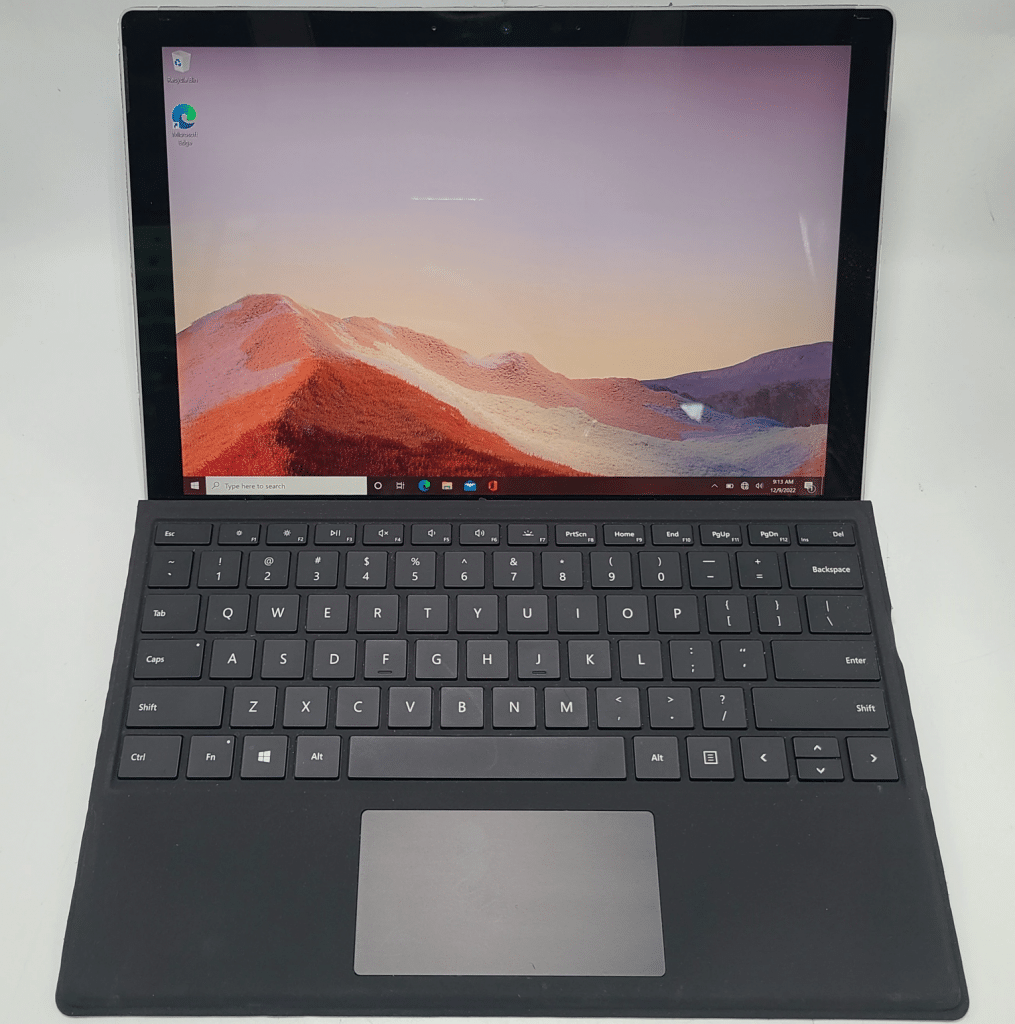 The tablet has a 12.3-inch touch screen display with native QHD+ resolution. Also, the display is protected by tempered glass. The tablet features accurate color reproduction levels followed by excellent sunlight visibility, owing to the PixelSense support. The Surface Pen works like a charm, allowing you to draw and draft at will.
Peripherals
Coming to the keyboard support, this tablet can be used with an external peripheral. Microsoft also supplies an excellent external keyboard with a built-in trackpad that has excellent navigation. Besides, you can connect additional external devices using the USB-A port.
Ports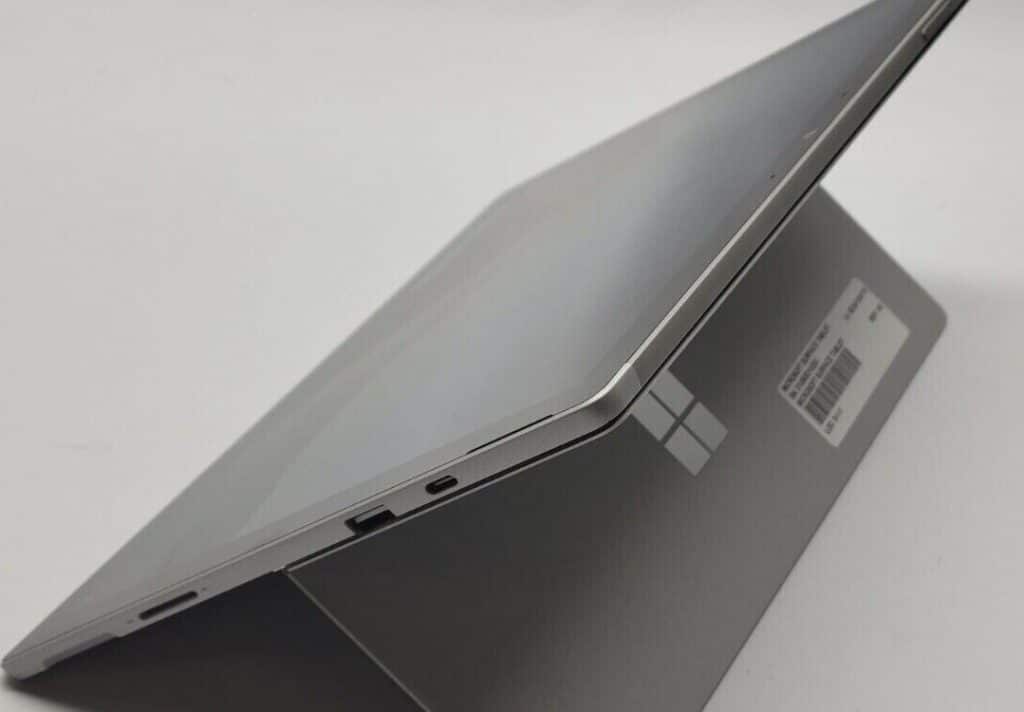 As far as the design is concerned, the computer has a full-metal unibody design, and it just weighs 1.10-pounds. Port-wise, it has USB-A, USB-C, SD card, and a 3.5mm headphone jack, allowing you to use all the accessories with this machine.
Battery Life
On a single charge, the Microsoft Surface Pro 7 can last up to 10.5-hours. And, it also supports fast charging. Therefore, if you want a full-fledged tablet that can also be used for drawing, then get the Microsoft Surface Pro 7.
Alternate Option
If you feel that Surface Pro 7 is a bit expensive, then you can consider the Surface Pro 6. It is a little cheaper and offers almost a similar set of features and specifications, just like the latest iteration. However, if you play your cards right, the Surface Pro 6 can be procured at a similar or slightly lower price with an i5 processor and 8GB RAM on-board.
Suggested Read: Surface Pro vs iPad Pro for Artists
Pros
Premium design

Ultra-fast processor

Dedicated SD card slot

High-resolution touch screen display

A full-fledged computer
Cons
No full-sized HDMI port

RAM/storage is not upgradable
4. Best Android Tablet:

Samsung Galaxy Tab S7+
The Galaxy Tab S7+ is one of the most powerful tablets from Samsung, which doesn't restrict its skill sets to drawing and designing. Plus, the tablet comes bundled with a reliable S Pen that boasts a negligible latency of 9ms and the highest levels of craftsmanship.
Processor
Processing-wise, there is a Snapdragon 865+ in play, capable of reaching maximum clock speeds of up to 2.42GHz. The best thing about this chipset is the octa-core setup followed by the 7nm architecture, which keeps the footprint under control.
Graphics & RAM
The Adreno 650 GPU is also an asset, capable of running games and creative software solutions like Photoshop and more with comparable aplomb. Coming to the system memory, this tablet features 8GB, which is at par with a mid-range tablet PC.
Storage & OS
Designers and artists can really dig into the excellent storage space that amounts to 128GB. The otherwise sizable storage also houses the Android 10 OS and boots up the Tab S7+ plus at enviable speeds. The operating platform allows you to install a majority of drawing and designing apps available on the play store, with the RAM helping you run each, sans lags.
Display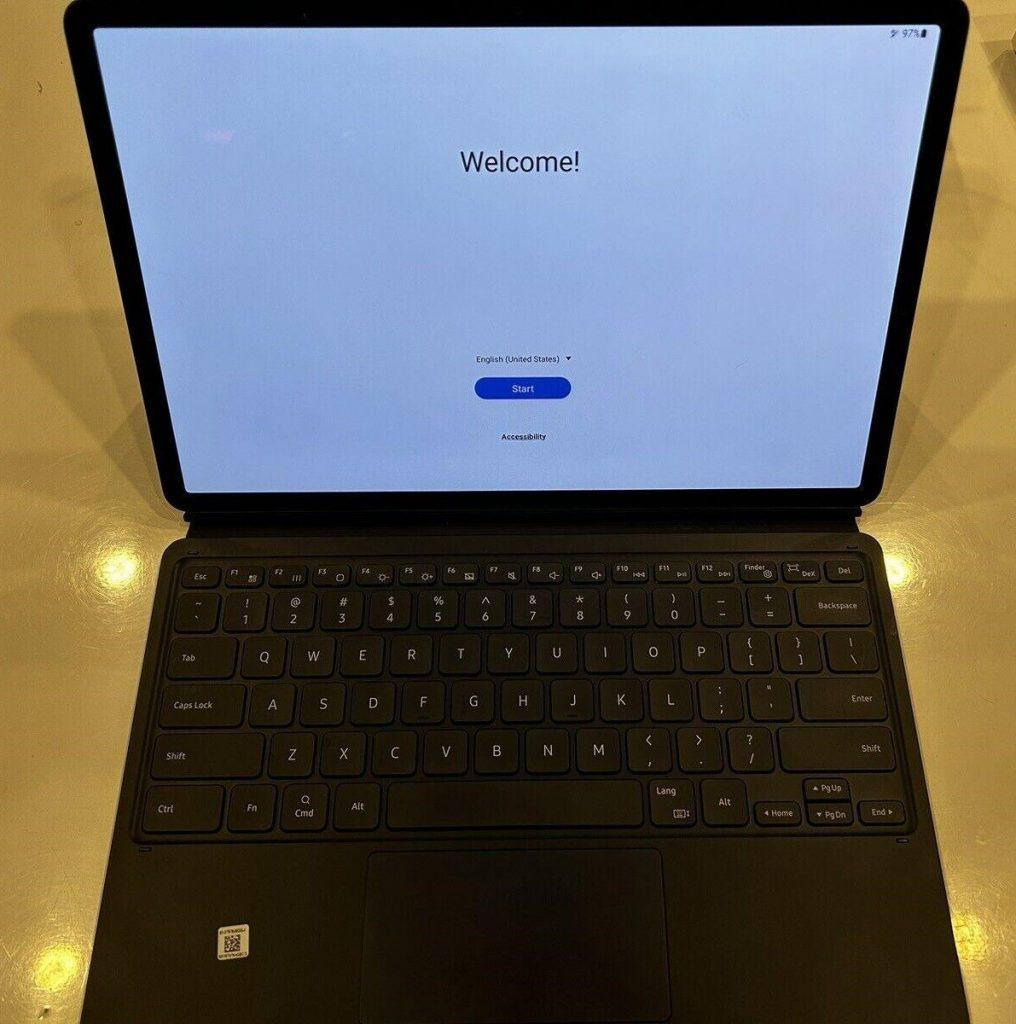 Completing every drawing and even engineering design is the stellar 12.4-inch Super AMOLED screen. Unlike the IPS variants, the AMOLED panel boasts better backlighting and makes your designs look truer and crispier. The overall resolution of 1752 x 2800 pixels also helps.
Camera
The productivity suite on offer is pretty extensive, with Samsung incorporating a dual rear camera setup followed by the 8MP front camera. You also get access to a nifty fingerprint scanner, in case privacy is one of your priorities.
Design and Ports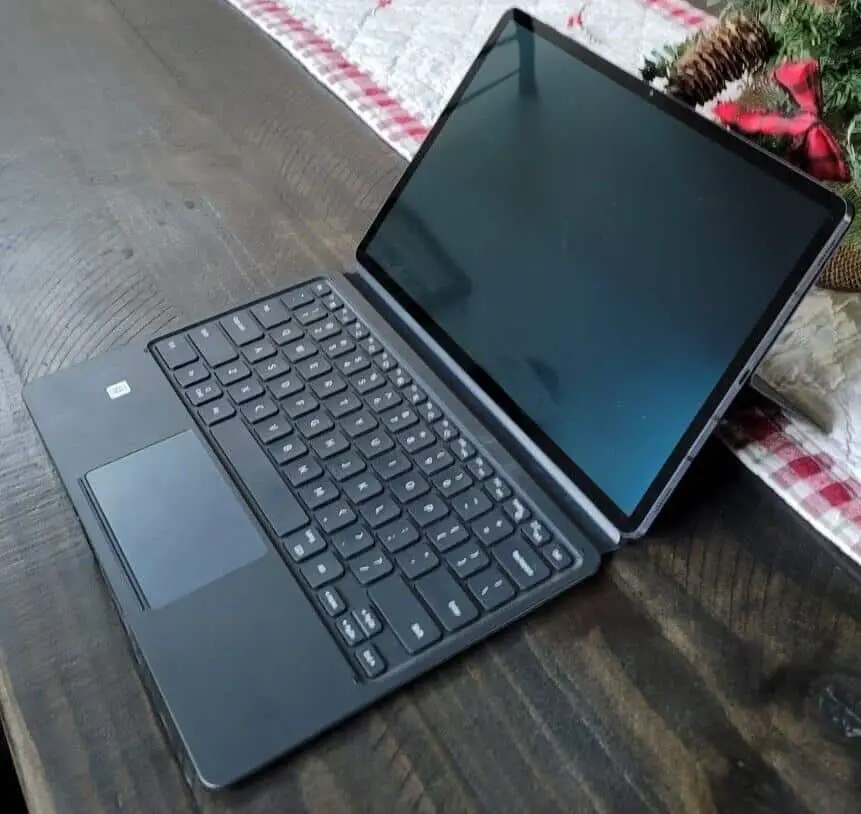 Coming to aesthetics, this aluminum-paneled device weighs close to 1.3 pounds. The stylus, on the other hand, feels like an actual pen and doesn't add to the heft. Connectivity takes center stage for professional artists, owing to the availability of the Wi-Fi 6 support and the Type-C slot.
Battery Life
The massive, 10090mAh battery furthers the credibility of this tablet. If you are interested in figures, the existing module churns out close to 13 hours at once whilst supporting fast charging.
Conclusion
Overall, the Galaxy Tab S7+ is one of the best Android tablets for drawing in the market that caters to a lot more than just drawing sketches and taking notes.
Alternate Option
If you are still searching for something more affordable and that too without performance compromises, the Galaxy Tab S6 is a pretty good alternative. It packs in the Snapdragon 855 chipset followed by a 128GB storage unit with UFS 3.0 enhancement and 6GB of RAM.
Pros
Stellar display

Flagship processor

Long-lasting battery

Responsive S Pen for seamless designs

Wi-Fi 6 support
Cons
Overkill for basic users

Pricey
5. Best Portable Tablet:

Huion KAMVAS Pro 16
The Huion KAMVAS Pro 16 could be a companion for an artist looking for a touch tablet with a color-accurate panel. This sub $400 tablet cannot be used individually as a device but works in adherence with a computing host, better termed as the mother computer.
RAM and Storage
The Huion KAMVAS Pro 16 does not offer RAM or internal storage to store the content directly on the tablet. Instead, all the work done on this tablet can be stored on a laptop or a computer, and it simply acts as an external drawing pad.
Software Support
In terms of software support, the KAMVAS Pro 16 can be used with laptops and computers running on Windows and macOS with ease. As it is OS agnostic and doesn't have an operating platform of its own, it pairs perfectly with any gadget you consider as the host.
Display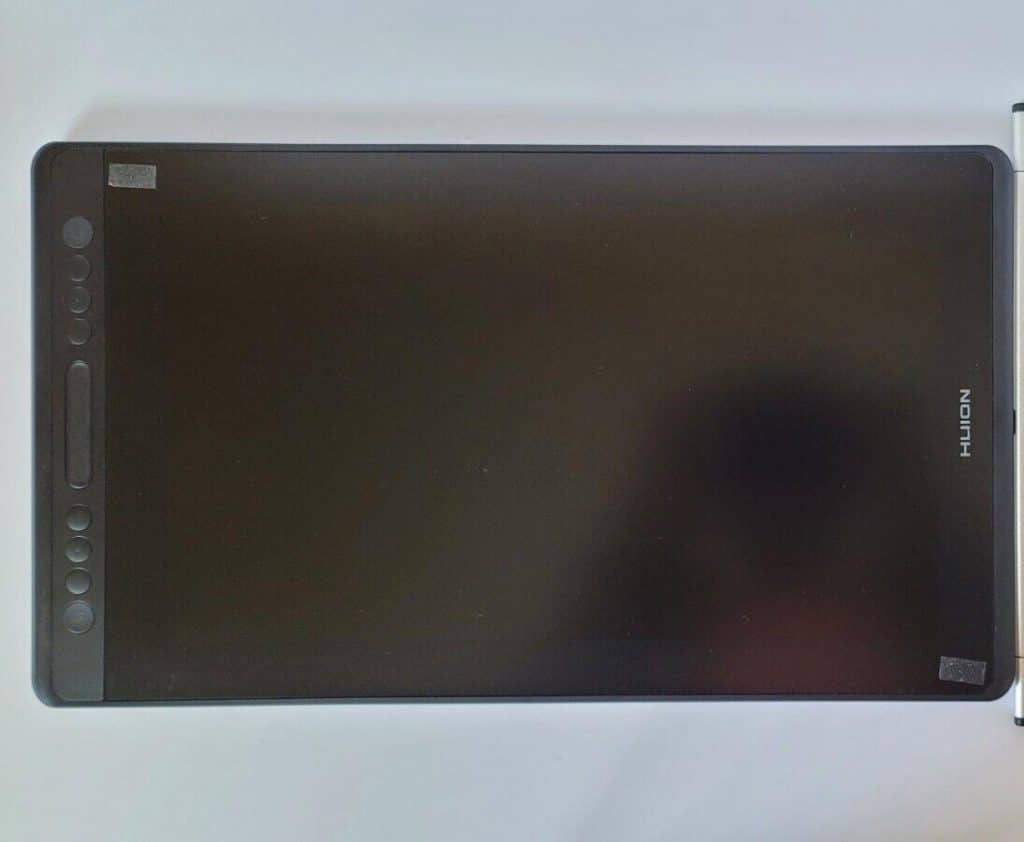 The tablet or rather graphics monitor features a massive 15.6-inch screen with a native resolution of 1920 x 1080 pixels. This touch panel covers 120 percent of the sRGB color gamut and 92 percent of Adobe RGB color space.
Aspect Ratio
These specs, along with a 16:9 aspect ratio, ensure top-notch color reproduction. Besides, the fully laminated panel is adequately glazy and best suited for indoor working conditions. The anti-glare glass keeps the screen flares at bay, whereas the etched glass panel responds perfectly to the tilt-supported pen.
Charging and Pressure Sensitivity
The top-of-the-line EMR pen charges itself via the electromagnetic resonance, as projected by the screen, whereas the 10mm sensing height makes drawing easier for the artists. Coming to the pressure sensitivity, the Huion KAMVAS Pro 16 works perfectly with the EMR pen flaunting 8192 levels of the same, which is good enough for standard graphics and designs.
Pen Support
The EMR pen also features six physical buttons, whereas the monitor houses the single touch bar for seamless management. Plus, this monitor adhering pen comes with ten different types of nibs, and one can change the nibs with ease, depending on the type of drawing. Also, the battery-free pen offers great sensitivity whilst showcasing an accurate and easy drawing experience.
Stand and Ports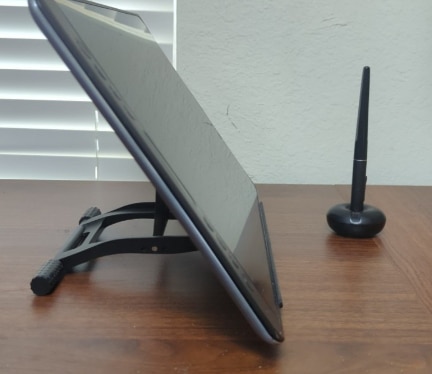 This sub $400 device also comes with an adjustable stand. However, the standalone device weighs 2.98pounds and comes with an HDMI port and a USB Type-C port. These attributes make this a modern device that can even be connected to the latest via the USB Type-C port.
Conclusion
It does not have a built-in battery, and it takes power from the USB port. The Huion KAMVAS Pro 16 is for those who want a no-compromise drawing tablet that is tuned for parallax and comes equipped with a color-accurate display and a pretty portable chassis.
Alternate Option
If you are looking for an affordable option, the Huion H420 is also up for grabs. This drawing board is best suited for managing designs and formats involving Illustrator, Photoshop, Macromedia Flash, and other graphics-intensive resources. This drawing board takes pen scrolling, express key management, and USB interfacing to a new level.
Pros
Color-accurate display

USB Type-C port for seamless connectivity

Cross-platform compatibility

Offers different pen nibs

Premium build

Parallax optimized for engineering designs
Cons
Slightly thick bezels

No built-in memory
6. Best Tablet with Pen:

XP-PEN Artist 12 Pro
The XP-PEN Artist 12 Pro is a compact and premium-looking tablet for under $300. Like most of the expansive drawing devices, it also needs a mother device (laptop or a computer) to work efficiently. Besides, it is a super-portable device.
RAM, Storage & OS
The tablet does not offer any sort of internal storage or RAM. It is just an external touch display that can be used with computers and laptops. Do note that you can also use this machine with the latest MacBooks and iMacs without any issue. It also works with Windows 10 OS-powered computers, owing to the Software-agnostic capabilities.
Display
The device has an 11.6-inch IPS LCD touch panel with an overall resolution of 1920 x 1080 pixels. This is a fully laminated LCD, protected by tempered glass. Besides, the 178-degree viewing angle allows you to envision designs without cutting corners. Also, the screen exhibits a color accuracy of 72 percent NTSC and is completely scratch-resistant.
Display
Although the XP-Pen Artist does not have a keyboard, it does include eight shortcut keys. And, this tablet device also has a dedicated red dial button for optimizing graphic workflows. Even with all these features, it is very thin with just 11mm in height.
Pressure Levels
The XP-Pen Artist also comes with a battery-free pen with support for 8,192 pressure levels. Most importantly, the pen is easy to grip and features finer nibs for holistic drawing and retouching experiences.
Weight
When the design is concerned, the tablet weighs 3.31-pounds and is slightly on the heavier side. Do note that there are some 15-inch tablets, which are light and offer a bigger footprint.
Ports and Battery Life
The XP-Pen Artist comes with an HDMI port, and you need to get an HDMI to USB Type-C port to connect this tablet with any modern laptop. This drawing tablet, or rather a graphic monitor, does not have a battery, and it takes power directly from the computer.
Conclusion
Overall, if you are looking for a high-resolution tablet to perform drawing on, with a dedicated one-touch dial button in a thin and light form factor, the XP-Pen Artist offers a good set of features at attractive pricing.
Alternate Option
If you are looking for alternatives, the XP-Pen Artist 12 is also a pretty nifty selection. Unlike the Artist 12 Pro, this device comes with 6 shortcut keys and an anti-reflective coating for better sunlight visibility. Also, this variant comes equipped with an innovative, passive pen, best known for the tack-free grip and a rear-ended eraser.
Pros
Premium looking design

Accurate touch display

Physical dial button

Works with modern computers

Battery-Free S-Pen

Built-in stand
Cons
Thick bezels across the display

Slightly heavy
7. Best for Affordability:

Wacom DTC133W0A One
The Wacom B082LZXQ6B One is one of the more premium drawing tablets in the retail space. Plus, if you are looking for something affordable, this is the perfect option to invest in.
Processor
At the core is a custom processor, which renders the tablet as a drawing medium. Therefore, you can explore the capabilities of the Wacom One by connecting it to a computer or a tablet. Most importantly, you can get a smooth drawing performance even with an entry-level laptop.
RAM, Storage, and OS
The device does not offer RAM or storage, and one has to use an external computational device to make Wacom One reach its full potential. Most of the tablets work only with Windows or macOS-powered devices, whereas the Wacom One also works with Android OS-powered tablets (select models).
Display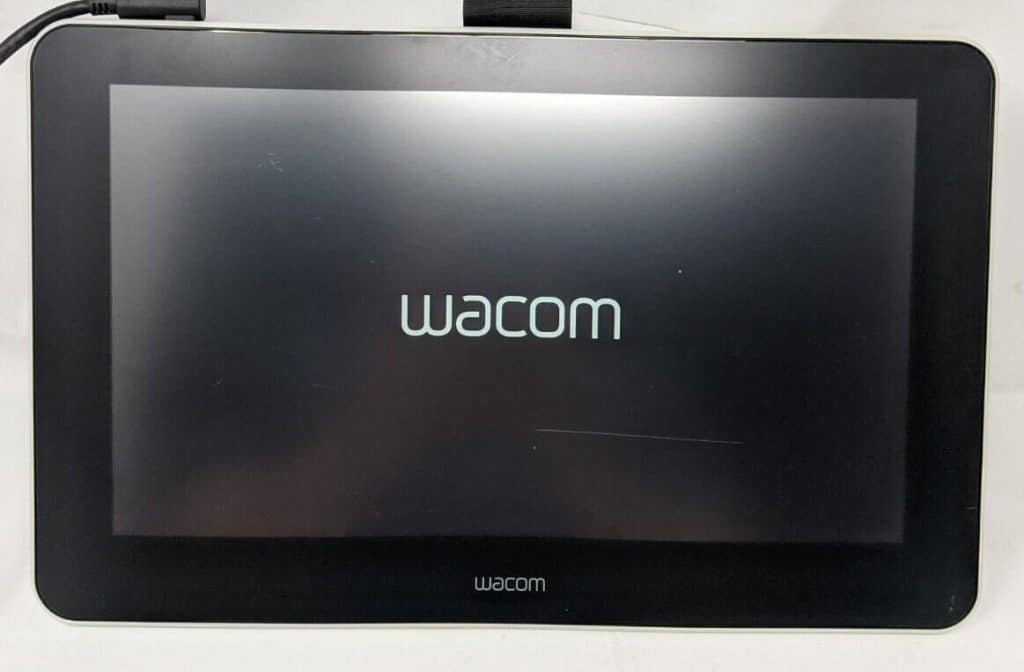 It comes with a 13.3-inch touch screen display with FHD resolution (1920 x 1080), and the display looks bright and vivid. The display is protected by tempered glass and features 170-degree, wide-angle viewing support, allowing this tablet to be used, regardless of the orientation.
Aspect Ratio
Besides, there is the 72 percent NTSC color gamut to rely on, which allows you to ideate and create life-like designs. Plus, the 16: 9 aspect ratio makes life easier for professionals.
Pen and Pressure Levels
The tablet comes with a battery-free pen featuring a two-tone color, giving this device a premium look. Also, this is a tilt-sensitive pen, allowing you to create designs even on the move. Besides, the 4096 pressure levels associated with this pen allow you to match the paper drawing experiences.
Ports
The Wacom One comes with a USB-A and USB Type-C port, allowing users to connect this device with old school, modern computers, and even legacy peripherals.
Design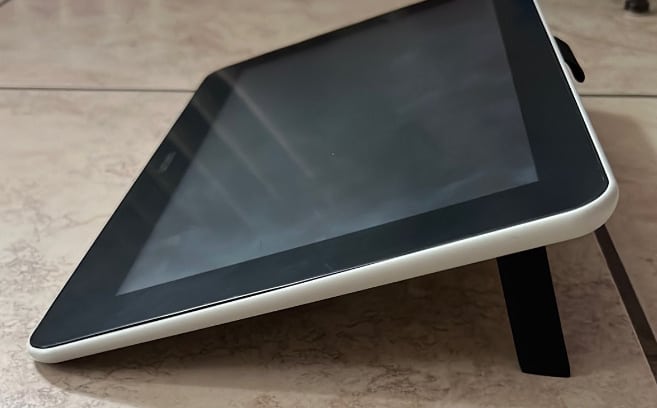 As far as the design is concerned, it has a dual-tone finish and also comes with a kickstand, offering flexibility while using this device in different scenarios. At 2.2 pounds, this is one of the lightest 13.3-inch tablets suited for drawing in the market.
Battery and Conclusion
It comes with a separate charger and does not draw power from the connected laptop. Therefore, if you want a light tablet, then the Wacom One will readily fit the bill.
Pros
Lightweight

Premium design

Responsive touch screen

Works with Android devices

Supports USB Type-C
Cons
No built-in memory

Slightly expensive
8. Best for Professionals:

Microsoft Surface Go 2
There is a lot more to the Surface Go 2 than what meets the eye. This exceptional piece of innovation from Microsoft isn't only a drawing-friendly tablet but more of an affordable tablet PC that allows you to bake the designs to perfection.
Processor
It seems legit, right! Wait till you learn more, as this device makes way for the powerful yet efficient Intel Pentium Gold 4425Y chipset that clocks at 1.7GHz base frequency. The graphics optimized processor readily justifies the sport for the Surface Go 2 on this list.
RAM
Graphics support is rendered by the Intel iris co-processor, which is precisely meant to attend to the visuals. The 8GB RAM takes productivity to a whole new level, allowing you to process multiple designs via resourceful applications like Photoshop and Illustrator.
Storage & OS
As a logo and graphic designer, this tablet and the ultrafast Low-power DDR4X RAM come forth as reliable, professional allies. At 128GB, the solid-state drive isn't the most sizable one around. Still, it gets the job done and even loads the relevant apps and the Windows 10 Home OS in virtually no time.
Display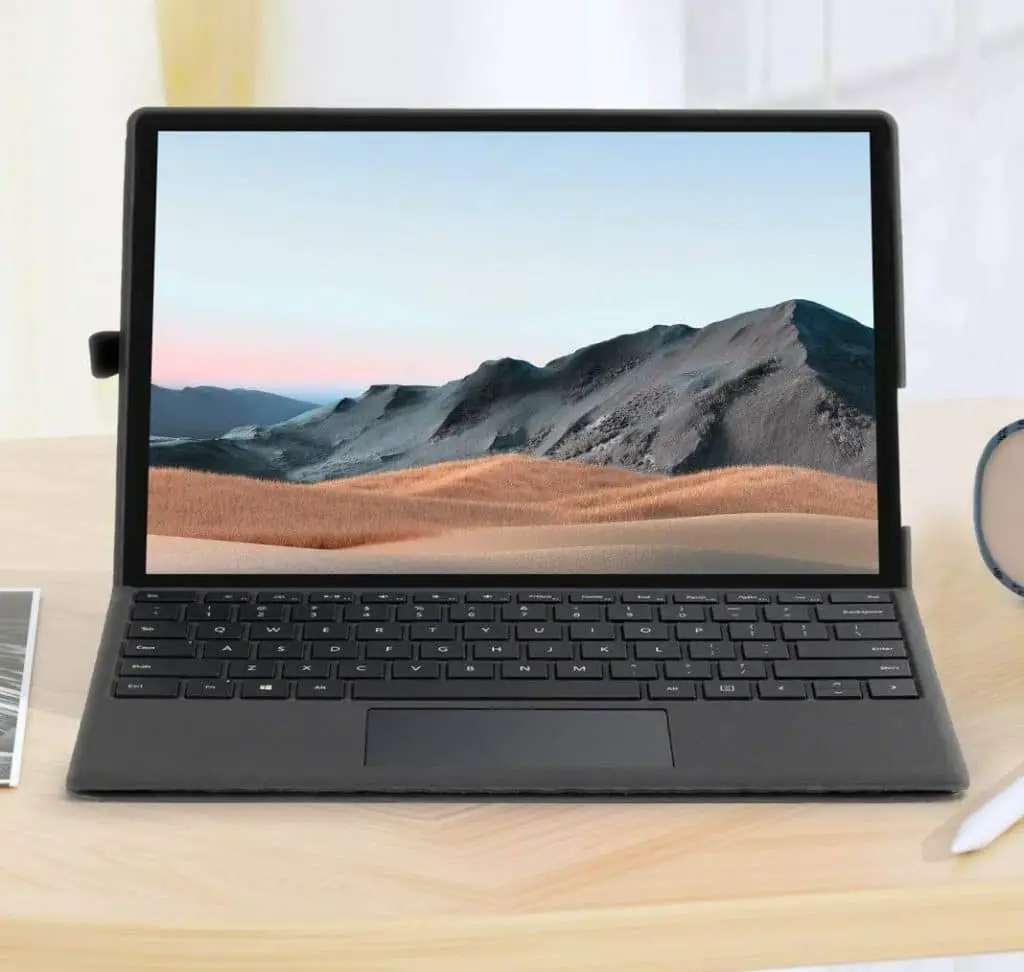 The 10.5-inch display inspires confidence. Despite being pretty big for a tablet, Microsoft doesn't cut corners when resolution is concerned, exhibiting 1920 x 1280 pixels, to be exact. The PixelSense technology further adds to the clarity and sharpness of the designs.
Camera
The Surface Go 2 also takes productivity seriously and features several resourceful specs, including an 8MP rear snapper, 5MP front shooter with Windows Hello integration, stereo speakers, and the ubiquitous TPM 2.0 security chipset for safer boot-ups.
Weight and Ports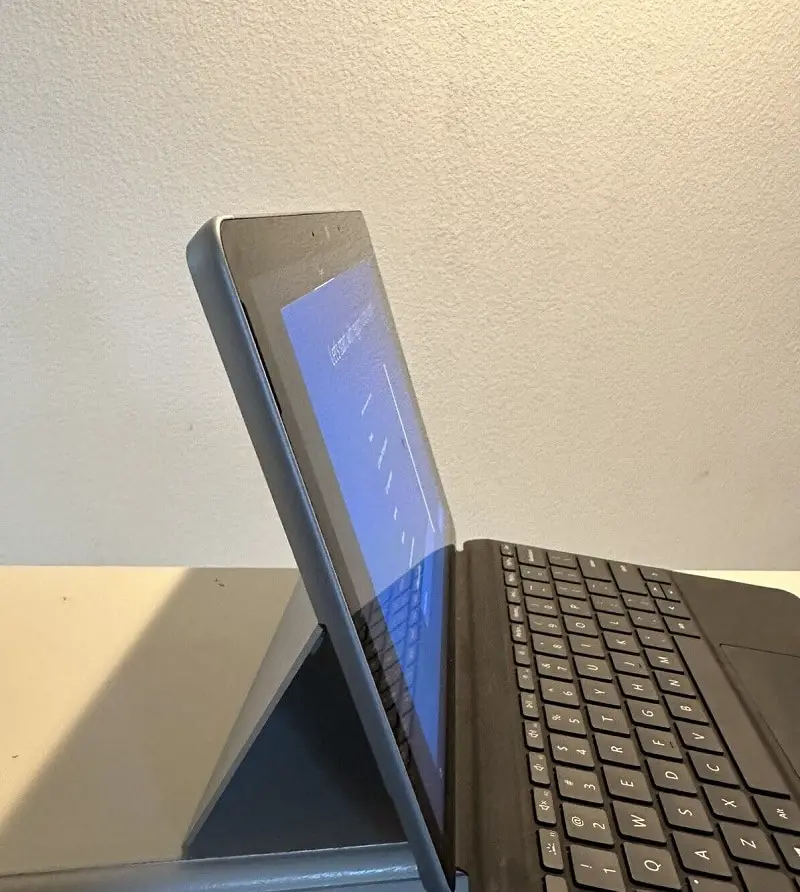 As far as aesthetics are concerned, this 1.20-pound tablet PC looks brilliant and even accommodates a good connectivity suite with the Type-C and a 3.5mm headphone jack. You also get access to an SDXC card reader followed by Wi-Fi 6 and Bluetooth 5.0 standards for setting up legacy peripherals wirelessly.
Battery & Pen
The battery backup is excellent, to say the least, with the Surface Go 2 capable of lasting for 10 hours on moderate to heavy usage. Plus, the PixelSense panel is stylus compatible. It works seamlessly with the innovative and pressure-sensitive Surface Pen, qualifying this tablet PC as one of the best options for drawing enthusiasts, engineers, and graphic designers.
Pros
Stellar PixelSense display

Can run most Windows programs

Ultra-fast RAM & storage

Wi-Fi 6 support (future-proof)

TPM 2.0 security standards

Decent battery backup
Cons
Surface Pen need to be purchased separately

Still pricey
9. Best Tablet for Animation:

Wacom Intuos Pro
So far, we've checked the devices with a dedicated screen. Now, it's time to look at a Digitizer, i.e., the one without a screen. Not sure what is it and how does it differ? Learn all the differences between Digitizers and Pen Displays.
The Wacom Intuos Pro is yet another tablet that's suited for drawing yet does not have a dedicated processor and cannot be used as a standalone device. So, you might be wondering why we are considering these dependent tablets all of a sudden.
Much like the Intuos Pro and some of the other tablets, dependable graphic monitors are more like extensions to your personal computer. In most cases, an individual doesn't want to invest in a touchscreen laptop or a device that can be used regardless of the orientation.
Performance
The Intuos Pro makes life easier and allows you to draw, design, and draft whilst feeding the same right into the main computing device. The performance of this tablet depends on the main machine that you have connected it to.
RAM, Storage & OS
The tablet also misses out on RAM and storage; hence there is no option to save drawings and sketches natively on this device. Coming to software compatibility, it can be used with computers that are running on Windows OS and macOS with ease.
Besides, the Boris FX comes forth as an integrated designing tool or rather creativity suite, allowing you to use the Wacom Intuos Pro at its full potential.
Display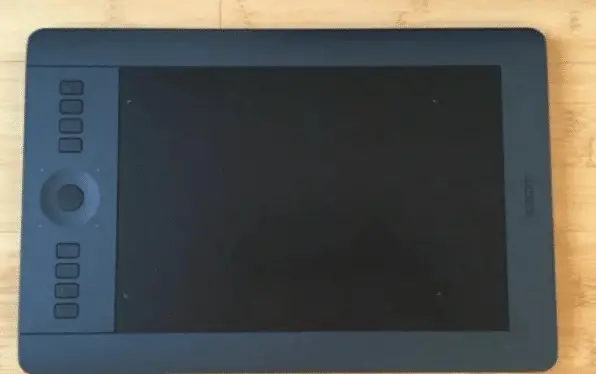 This model has an 11.2-inch surface, whereas the usable touch-panel surface is limited to 8.4 inches. However, if you are interested in smaller variants, you can either pick up the 8.5-inch variant or the 6.7-inch model, albeit with smaller active areas. Regardless, the drawing experiences do not change with the varying real-estate.
Pen and Pressure Sensitivity
You also get access to an innovative Wacom Pro Pen 2 that offers 8,192 levels of pressure sensitivity. This feature allows you to draw with various depths and to detail whilst replicating the paper-like feel. Moreover, the Pro Pen 2 also boasts lag-free device tracking and a slimmer chassis.
Software Support
The Pro Pen 2 and offers features like tilt response, thereby increasing the overall user experience. The tablet has 8 express keys, allowing users to program them with the different profiles for using different drawing software such as Adobe Illustrator or even Adobe Photoshop.
Ports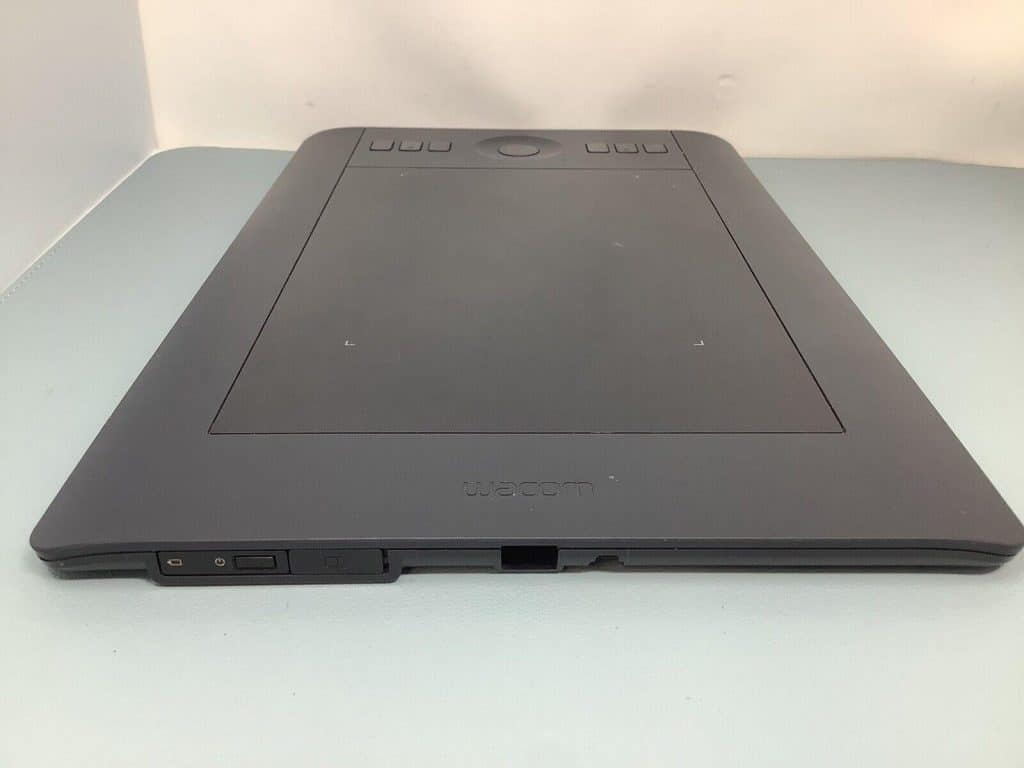 In terms of connectivity, the tablet has a USB-A output port, allowing users to deploy the tablet with a computer or a notebook with ease. Similarly, this drawing pad can also be used with modern laptops with Bluetooth technology, and it offers minimal lag even when connected wirelessly.
Battery & Conclusion
As there is no built-in battery, this machine has to be connected to a power source while using it with a laptop or a computer. Overall, the Wacom Intuos Pro offers a great balance between performance and portability. Plus, it is one of the more affordable gadgets to pick, irrespective of the variant you pick.
Plus, the price tag can also be modulated if you think this is slightly bigger. The Wacom Intuos Pro is also available in medium and small sizes at lower price tags. Plus, these models offer an identical feature set and specifications.
Pros
Supports Bluetooth connectivity

Can be used with Windows and macOS devices

Good touch response

Thin and light stylus pen

Detachable USB cable
Cons
Smaller touch surface

No built-in battery
10. Cheapest Option:

Xp-Pen Deco 01 V2
If you are in the market for a cheap drawing tablet, the X-Pen Deco 01 V2 is the perfect device to invest in. As is the case with any other drawing board, even the X-Pen Deco 01 V2 serves as a reliable extension to your primary computer.
RAM & Storage
Firstly, once you purchase this drawing board, you need not worry about the processor, RAM, or storage space. It is strictly a PC extension, primarily and only used for designing, taking notes, and etching out essential layouts.
Display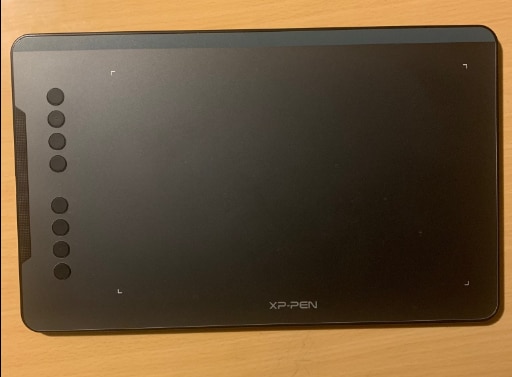 This ergonomically designed X-Pen Deco 01 V2 also comes equipped with a 6.25-inch screen, which might look small but is extremely responsive when accommodating designs are concerned. Coming to the display resolution, the 5080 LPI makes the tablet screen come to life.
Buttons
The X-Pen Deco 01 V2 also comes equipped with 8 integrated, customized keys that allow you to assume different modes with ease. This functionality allows you to use the device regardless of the orientation.
Compatibility
Coming to compatibility, the gadget is OS-agnostic, which allows you to pair the same with a Windows-powered laptop, MacBook, or even an Android device. Plus, the stylish design makes it easier for you to carry around. The X-Pen Deco 01 V2 is also one of the thinnest drawing boards on the list, making it an ultraportable unit to carry around.
Pen & Pressure Sensitivity
Plus, the 4 LED setup around the drawing area facilitates better control. Still, it is the P05 pen stylus that impressed me the most, owing to an exceptional pressure level sensitivity limit of up to 8192. This attribute allows you to use the stylus as per the design at hand.
Any drawing and designing app you use, the pen automatically detects the nature of the work and allows you to manage the pressure sensitivity accordingly.
Ports
Connecting this drawing board to the host computer is easier than ever, owing to the USB-type connector. Plus, the passive pen, upon connecting, acquires tilt-sensitive properties, which makes it easier to use even while traveling.
Battery
Lastly, charging the pen and the tablet is the last thing you need to worry about as the pen acquires the same via electromagnetic resonance. Also, the drawing board feeds on the host device for staying charged.
Conclusion
Overall, if you seek a competent, portable, and super affordable tablet for drawing, engineering, designing, and other indulgences, the X-Pen Deco 01 V2 is one of the better options to invest in.
Pros
Responsive screen

Ergonomic and portable structure

Stellar color accuracy levels

The passive pen is tilt-sensitive

Compatible with multiple operating platforms
Cons
Only a drawing tablet

Basic specs sheet
Frequently Asked Questions
What kind of display is preferred on a drawing tablet?
For drawing and animation, I would recommend at least a 7-inch screen with decent resolution. More than resolution, the color accuracy or rather the availability of the 72 percent NTSC color gamut is important. Also, anti-glare support, anti-reflective panel, and responsive touch screen are some of the attributes you need to consider.
How much RAM is required on a tablet for drawing?
Actually, none, as there are many tablets that can feed off the host computer and use the resources for sending forth the designs. Still, if you aren't planning to purchase a drawing board and looking to get a full-fledged tablet instead, having a brain of its own, a 4GB RAM seems to be the bare minimum.
What are the best tablet-compatible software for digital drawing?
In addition to the usual picks, including Adobe Photoshop and Illustrator, you can also consider using the Astropad Studio, Affinity Designer, CorelDraw, Lightroom, and Sketch, for a majority of your personal and professional creative indulgences.
What do you mean by the pressure sensitivity of the stylus pen?
A  pen isn't only used for writing stuff and taking notes. This is the principle, or rather one of the pain points a stylus pen for tablets looks to address. Different pressure sensitivity levels, i.e., 8192 and 4196, allow you to work on different design and writing-specific processes without changing pens.

The same pen can be used for drawing lines, shading, solving sums, and even perfecting and retouching images as the applied pen nib pressure changes as per the task at hand.
Can an Android tablet be used as a monitor?
While it can't technically be used as a monitor, you can attach a keyboard to it to use it like you would use a PC. You can also use it to stream your favorite shows and videos, but they don't really replace a proper monitor.
How good are Software Agnostic tablets for creative professionals?
Software agnostic solutions from Wacom and other companies are only good enough if you plan on connecting the tablet with an already powerful notebook. This way, the tablet only serves as a drawing board and gets your designs right to the application, sitting pretty inside the host computer.
Verdict
Each of the 10 tablets or drawing boards caters to a specific clientele. Still, if you are confused about purchasing the right one for the job, here are some handpicked recommendations to consider:
The

Microsoft Surface Pro 7

is good conideration as a tablet PC, helping you manage Windows-powered designs and professional levels designing applications.
If you want a portable tablet for drawing, logo designing, social post designing, etc consider the

Galaxy Tab S7+

.
While if you are invested in the Apple Ecosystem, go for

Apple iPad Pro

. Its also good for engineering designs owing to the massive processing power on display.
The

XP-Pen Deco 01 V2

has best drawing board in the retail space if you are looking for something more affordable and responsive.
Apart from the mentioned choices, you can also pick any of the other gadgets on the list, provided your requirements are aligned with the same. Plus, there are also a handful of alternatives to choose from, provided you are looking for an extended set of options to choose from.