Are you looking to connect multiple smart devices to make your home more intelligent? Or, do you have extensive video, light, and thermostat interoperability in mind? In fact, remote operability and large display are the main reasons why most of us prefer using tablets for automating homes.
Home automation is often all about the setup. Therefore, it is important to look for tablets with a Bloatware-free OS, customizable UI, and obviously the fastest possible internet speeds. Tablets suitable for home automation are expected to work as control systems, making portability, exceptional hardware setup for running Smart Home apps like Alexa and SmartThings, top-notch display quality, and massive battery life, important traits to consider.
Nevertheless, finding the best home automation tablet might not be as easy as while budget models boast subpar display, RAM allotment, heavy form factor, and middling connectivity, the premium ones often cost a fortune. To address each of these pain points, I have put together a list of the top-rated smart tablets for home automation, enlisted according to the setup complexity and price.
8 Best Tablets For Home Automation in 2023
There is a difference between the tablet you want and the tablet you need. In the subsequent sections, I shall enlist 8 of the most functional smart home tablets, upon testing each extensively over two weeks and more. Each of the sequenced tablets is positioned as per your needs, with premium and feature-packed devices stacked early.
I eventually move to the mid-range variants and then to the budget tablets that strike the perfect balance between price and productivity. Also, it is important to note that I ended up testing over 40 tablets to find the 8 most suited for the task at hand.
1. Best Overall:

Samsung Tab S6 Lite
If you plan on clubbing several Smart devices for establishing an autonomous home network, there is a better tablet than the Samsung Tab S6 Lite to rely on. Purchasing it makes sense if you have a wide range of IoT-inspired devices to connect and you wish to control each via a dedicated interface.
The Tab S6 Lite works seamlessly with the likes of Google Assistant, Alexa app, and Samsung's Proprietary SmartThings app, courtesy of the powerful processor. The hardware setup ensures that you can use this tablet for gaming, tattoo designing, photo editing, and other tasks, in addition to home automation.
Also, if you want to consider this against other products like the Tab 3 Lite from Samsung, the Tab S6 Lite performs better with a better and bigger display to rely on.
Why is it best suited for home automation?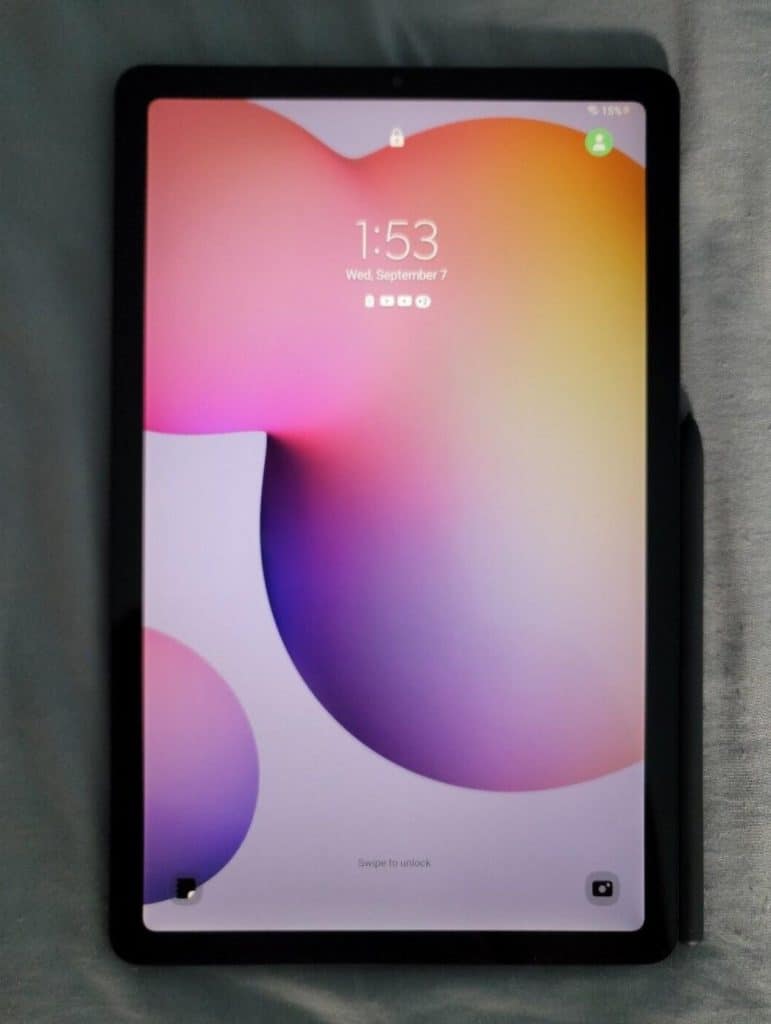 A word of mention needs to be secured for the 10.4-inch panel display. The slimmer bezels add to the real estate, whereas the resolution of 2000 x 1200 lends requisite vividness to the screen. Sunlight visibility is at par with expectations, allowing you to control the home network, whilst being out in the open.
Connectivity
While one version of the Tab S6 Lite comes with GSM support, I have been reviewing the wireless model with dual-band Wi-Fi support. Plus, connecting devices over Bluetooth is also possible with BT 5.0 being available. Coming to the wired predispositions, there is a Type-C port in play for charging and transfers followed by a 3.5mm audio jack.
Design & Build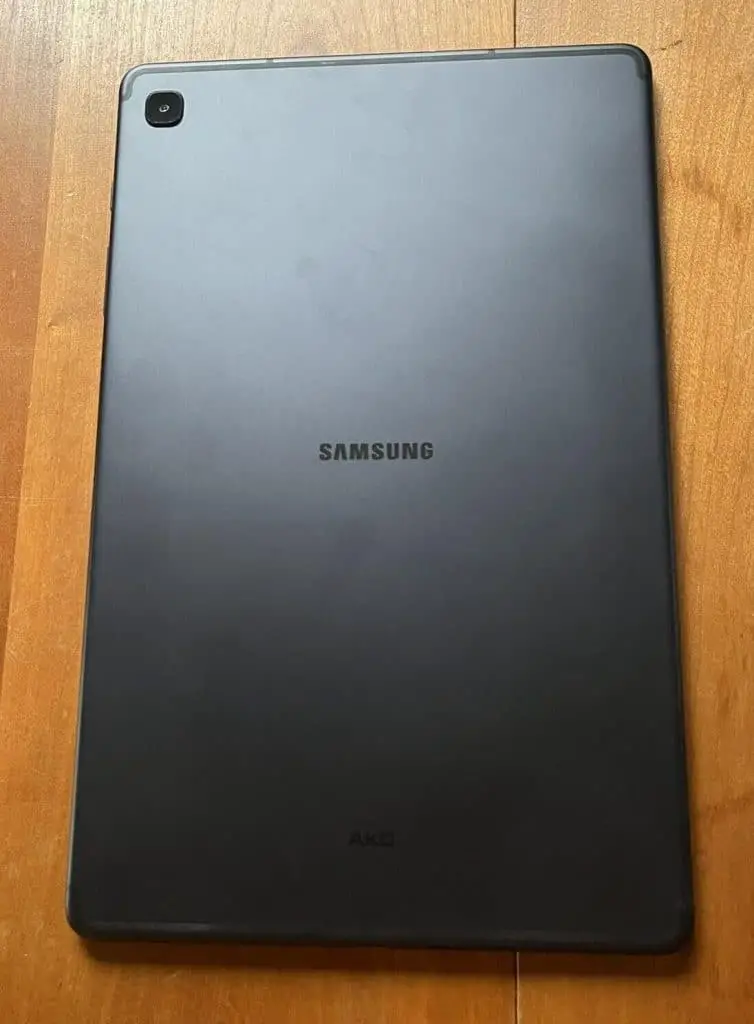 The Tab S6 Lite sports a slim metallic chassis that weighs 1.03 pounds. The dimensions at 9.63 x 6.07 x 0.28 inches validate the sleek form factor. Other structural perks pertaining to this Blue-colored tablet include the bundled S-Pen, clinging magnetically onto the surface followed by AKG-tuned dual speakers.
Hardware & Performance
Managing multiple home automation gadgets, IoT interfaces, and the concerned UI is easier with the Exynos 9611 SoC on-board. Working alongside the same is 4GB RAM that ensures seamless and consistent connections. Storage-wise, there is 128GB of device-specific space, expandable up to 1TB via the microSD slot.
The Android 10 OS makes life easier if you wish to connect multiple apps like Smart Things, Google Assistant, and more with the tablet.
Camera & Battery Life
Samsung fits in a 5MP front shooter and an 8MP camera for broadcasting live feed onto the connected TVs and computers. Plus, the tablet hardly runs out of juice with 12 hours of battery life to show for.
Conclusion
Overall, the Samsung Tab S6 Lite is a perfectly balanced tablet to buy for controlling Smart home devices and the automated interface as well. Also, it is one of the few tablets with a responsive stylus that separates it from other products on the list.
Interactive UI
Powerful hardware setup
S-Pen is an innovative addition
Sleek and light
The battery can be fast-charged
A fingerprint scanner would have been good
Proprietary UI skin adds to the Bloatware
2. Best with Cellular Support:

CHUWI HiPad X
Amid some of the best picks on the list, the CHUWI HiPad X clearly has the mettle to stand out, courtesy of its phablet-like functionality. As it comes equipped with two SIM slots, you can ditch your smartphone for the same and even ensure that the smart home devices respond to your voice commands.
As compared to the meatier HiPad Plus, the HiPad X's GSM functionality makes it a better bet, when home automation is concerned.
Why is it best suited for home automation?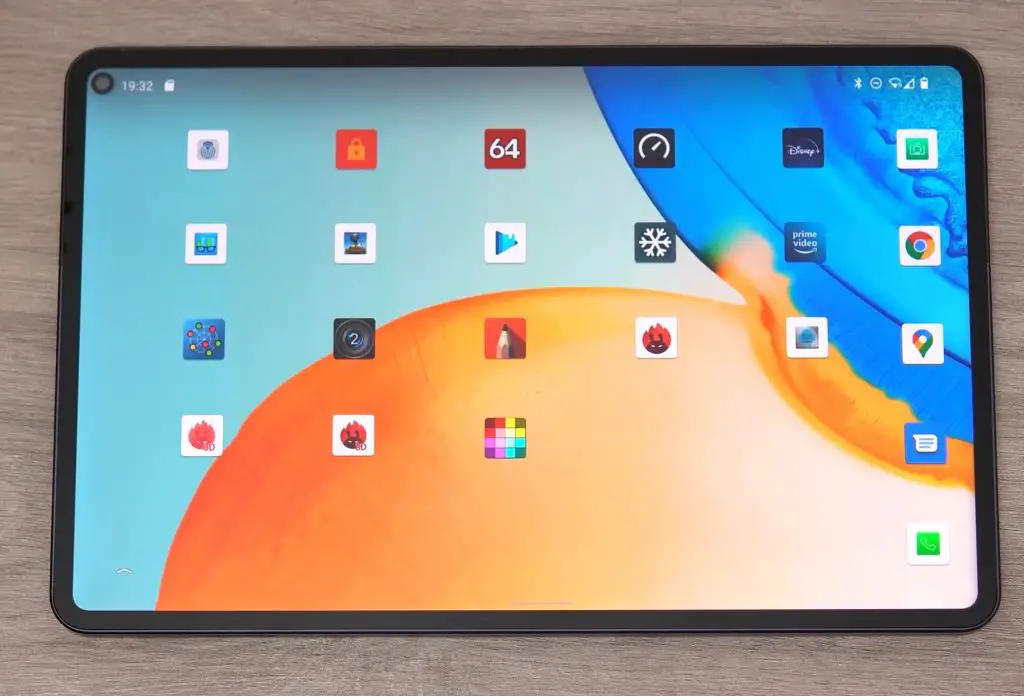 The fully-laminated 10-inch Full HD IPS panel is worth the splurge. Although it takes away a bit of sunlight advantage, the IPS screen is a sight to behold within walls. Plus, the 16:10 aspect ratio makes interfacing and controlling easier and visually more productive. Also, the overall resolution of 1920 x 1200 promises better color accuracy, in case you are into a bit of leisure.
Connectivity
Starting off is the provisioning for two dual-SIM slots. In addition to LTE connectivity, HiPad X also makes way for dual-band AC support, BT 5.0, and accurate GPS functionality. When it comes to wired connectivity, there is a Type-C port with charging support, and OTG functionality for enjoying the content on the move.
Design & Build

The metal-clad phablet measures 9.9 x 6.4 x 0 .37 inches, which makes it pretty thick. Also, it weighs close to 1.3 pounds and supports a Bluetooth keyboard that even doubles down as a kickstand. Not to mention the HiPen 3 that boasts excellent responsiveness.
Hardware & Performance
CHUWI paves the way for a MediaTek Helio MT6771V, an octa-core chipset that works in tandem with 4GB RAM. The existing chunk of system memory is good enough for running multiple home automation apps like Philips Hue, Ecobee, and more. However, it would be safer to say that you would just need one to control multiple products at once.
There is a fast, 128GB UFS storage module in play that can be upgraded by an additional 512GB if needed. Also, the storage unit loads the Android 10 OS faster and even lets you run most automation apps faster than usual.
Camera & Battery Life
The HiPad X makes room for an 8MP rear shooter. Also, the 5MP front snapper makes it easier for you to stream yourself via Zoom, Skype, etc onto a Smart TV, provided you feel like staying connected with your loved ones while traveling. The 15-hour battery life is a trait worth considering while purchasing the HiPad X.
Conclusion
Overall, the CHUWI HiPad X is one of the better products on the list, as compared to others, owing to the dual-SIM support and obviously the 15-hour battery life.
Excellent processor
Bundled accessories
Cellular support
Massive battery life
Metallic chassis
Lacks Wi-Fi 6
Thicker than other tablets
3. Best Value for Money:

Samsung Galaxy Tab A7
Priced at a tad less than $250, the Samsung Galaxy Tab A7 is one of the better Android tablets for home automation. I feel purchasing this tablet makes sense if you want to set up a basic IoT-powered home setup, preferably with Alexa compatibility. The brilliant and sharp display justifies this statement, coupled with the interactive Android 10 OS.
Also, when pitted against Tab A, the Tab A7 came out on top, courtesy of the bigger screen and a more equipped battery.
Why is it best suited for home automation?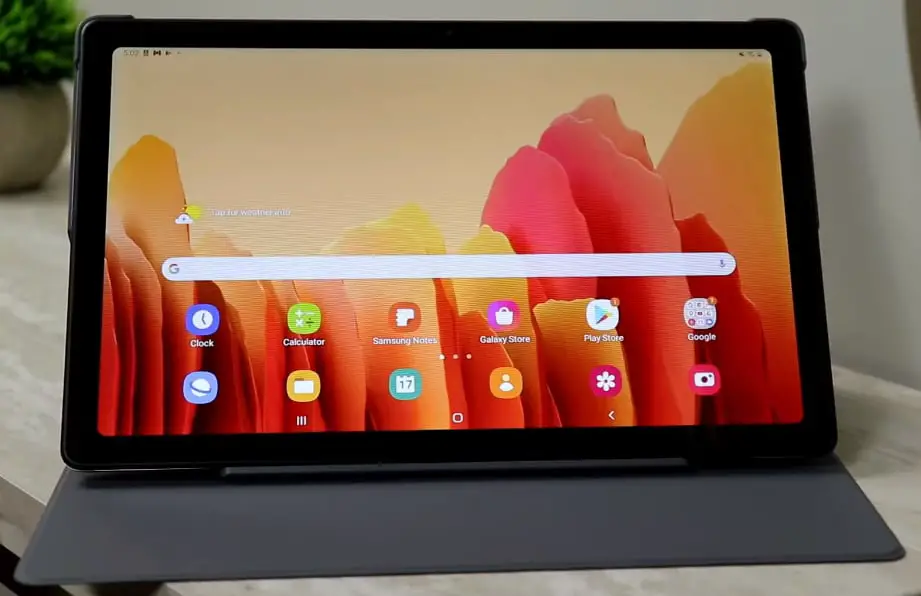 The Tab A7 brings in a 10.4-inch screen, boasting 1200 x 2000 pixels, as the overall resolution. What's impressive is the slimness of bezels followed by 224ppi as the pixel density, allowing you to view every interface with utmost clarity.
Connectivity
This variant misses out on cellular support but basks in the glory of the dual-band wireless support, USB Type-C charging port with USB 2.0 format, and Bluetooth support for connecting to the compatible devices, in close proximity.
Design & Build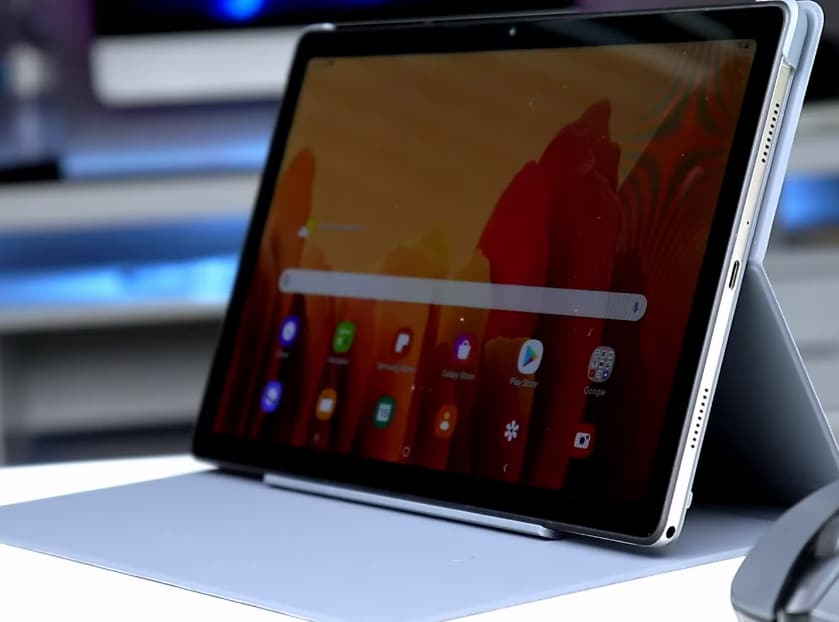 At 1.05 pounds, the Tab A7 is absurdly light. Plus, the dimensions at 9.75 x 6.20 x 0.28 inches vindicate the slimness of the profile. Coming to build quality, this tablet is strictly plastic but still appropriately durable.
Hardware & Performance
The Tab A7 brings in the Snapdragon 662 chipset, loaded with 8 cores and a maximum clock speed of 2GHz. Not to mention the 3GB RAM that supports multitasking and faster connections followed by 64GB of storage space. However, if you have additional data to transfer between devices, the existing storage space can be upgraded to 1TB.
Camera & Battery Life
The 8MP back and 5MP front shooters are persisted with. Plus, there is a dual-microphone setup in case you are interested in wireless talkbacks, especially while interacting with the smart webcam. The battery life on this one is set at a steady 10-hour point, which furthers the credibility of the tablet.
Conclusion
Overall, if you simply plan on setting up a home monitoring consortium, the Samsung Galaxy Tab A7 is one of the more reasonably priced options in the market. Plus, as compared to some of the other products on the list, the SD662 chipset is what makes it more powerful.
Alternate Option
However, if you are more into phablets, the Tab A7 (Wi-Fi+ Cellular) model can be persisted. While it offers half the storage space featured by the vanilla variant, the higher price tag is only justified by the 4G LTE support, a feature that lets you stay connected to the home network even without a wireless setup.
Reliable processor
Upgradable storage
Interactive OS
Fast wireless support
Vivid display
Flimsy build quality
Not enough storage, out of the box
4. Best with Speaker Stand:

Lenovo Tab M10 Plus
Better termed as the Smart Tab M10 Plus, this exceptional tablet from Lenovo is loaded with possibilities for a smart home enthusiast. Personally, I would recommend you to purchase the same if you plan on exhibiting better control over smart devices like webcam, refrigerators, thermostats, and more, courtesy of the reliable processor and a smart dock that comes loaded with Alexa compatibility.
I replaced the M8 with this inventive tablet as the former featured lesser RAM and even a smallish and less vivid screen.
Why is it best suited for home automation?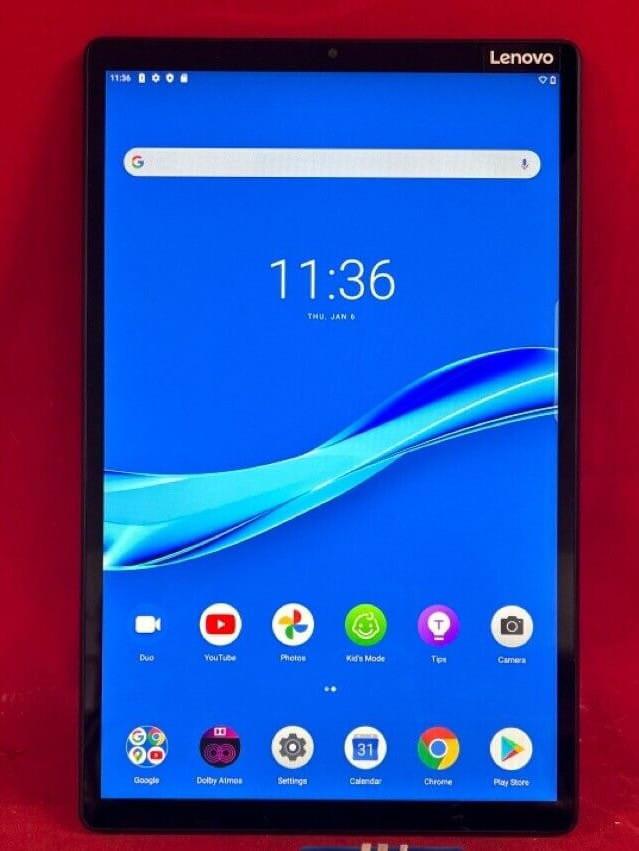 The 10.3-inch screen is perfect for most home automation apps. Coupled with an overall resolution of 1920 x 1200 pixels and IPS paneling, the display on this one is anything but regular. The 16:10 aspect ratio is convincing enough, followed by slimmer bezels to further amplify the real estate.
Connectivity
Lenovo boasts a basic gamut of ports, including the USB 2.0 port for data transfer. The concerned port also doubles down as the charging port and is supported by the 3.5mm audio jack, Wi-Fi 5 support, and Bluetooth 5.0.
Design & Build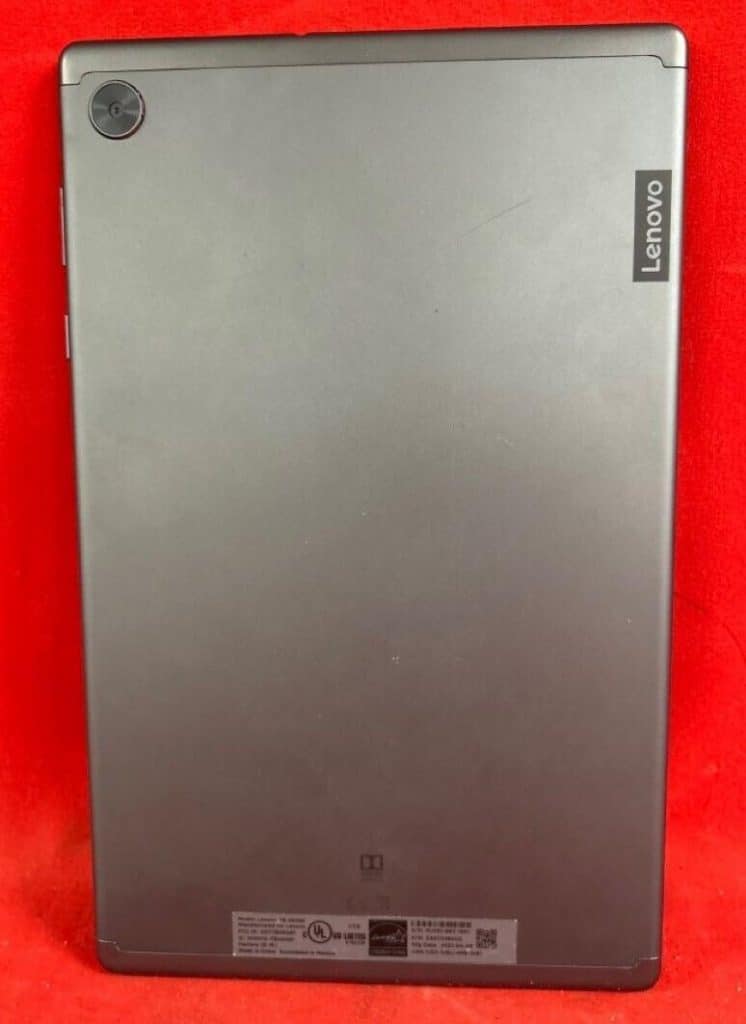 As far as the design is concerned, the M10 Plus boasts a metallic structure that measures 9.66 x 6.04 x 0.32 inches. At 1.01 pounds, it is still one of the lightest on the list. However, it is the Smart Dock that makes it fit enough for home automation, allowing the device to work as a hands-free digital assistant.
Hardware & Performance
The Helio P22T chipset performs better than expected. Led by the octa-core architecture, this existing processor allows you to handle multiple UIs, apps like Honeywell Home and Access Control, and other facets of home automation with ease. Plus, you get access to 4GB RAM and 64GB of integrated storage space that can be upgraded by 256GB, if necessary.
Camera & Battery Life
Much like any other tablet on the list, the Tab M10 Plus also offers an 8MP and 5MP shooter arrangement. Following this up is the standard 8-hour backup that might get drained quickly if you are consistently connected to the internet.
Conclusion
The Lenovo Smart Tab M10 Plus is laden with possibilities, especially for a smart home evangelist. However, it is the ultra-fast processor that sets it apart from the rest, when it comes to handling multiple resources with ease.
Fast processor
A sizable chunk of RAM
Smart Dock with Alexa-compatibility
Exquisite design
Upgradable storage
Middling battery life
Heats up a bit
5. Best with Fingerprint Reader:

Huawei MediaPad M5 Lite
As per the specs sheet, the Huawei MediaPad M5 Lite is one of the more promising home automation-compatible tablets on the list, best known for the high battery backup and a decent camera setup. When compared to the MediaPad M5 Lite 8.0, the existing variant promises a more beefed-up battery module.
Why is it best suited for home automation?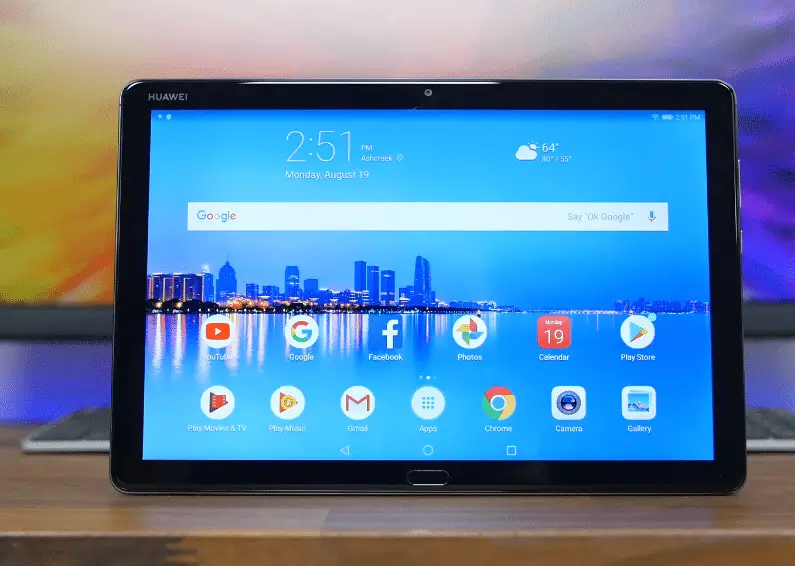 The dimensions are fixed at 9.58 x 6.39 x 0.30 inches, which readily complements the metallic form factor and adds to the aesthetic appeal of this tablet. Plus, there are two variants to choose from, including the Champagne gold and the Space gray, with me reviewing the latter.
Connectivity
The 1.05 pound M5 Lite makes room for a sizable battery unit, capable of lasting for up to 12 hours on a single charge. In addition to these features, Huawei also makes room for a Type-C port, 3.5mm jack, and a nifty fingerprint reader, placed subtly at the front.
Design & Build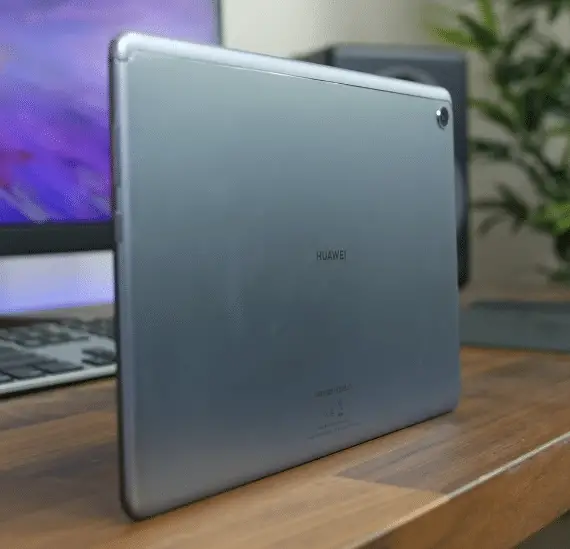 The Huawei MediaPad M5 Lite features an aluminum-clad chassis with a glass panel at the front. The 10.1-inch screen is pretty responsive and exhibits Full HD resolution.
Hardware & Performance
The Kirin 659 chipset comes equipped with 8 cores and works closely with the Mali MP2 graphics support. Therefore, no processing task feels like a stretch, more so with the maximum clock speed of up to 2.36GHz.
The M5 Lite offers 3GB RAM for handling basic tasks like surfing and video conferencing. The 32GB of storage space is slightly restrictive, but you can upgrade the same to up to 256GB if and when necessary. Also, the tablet runs Android 8.0 inspired EMUI 8 right out of the box.
Camera & Battery Life
Contrary to popular opinion, the 8MP front shooter is a force to reckon with, courtesy of the 1080p video recording support. Huawei also throws in an 8MP rear shooter with AF followed by powerful quad stereo speakers and integrated microphones, best known for the high-fidelity response. As for the battery life, it comes with 12 hours stable battery.
Conclusion
The excellent user interface sitting atop the Android ecosystem offers several camera-specific enhancements, making the Huawei MediaPad M5 Lite the best bet for handling home automation apps on a budget. Also, as compared to other tablets on the list, the integrated stylus on offer is way more responsive.
The front camera can handle low-light shots
Quad speakers
Reliable stylus
Light and portable
Fingerprint reader
Excellent battery life
Dated chipset
Lacks Wi-F 6 support
6. Best with Stylus:

LG G Pad 5
Among the most popular names in consumer electronics all over the world, not many people know that LG has quite a sturdy line of Android tablets. The No products found. is LG's latest tablet and it is a complete all-rounder. If you're hunting for an excellent tablet for home automation and don't want to pay too much for it, this is what you should be looking at!
Why is it best suited for home automation?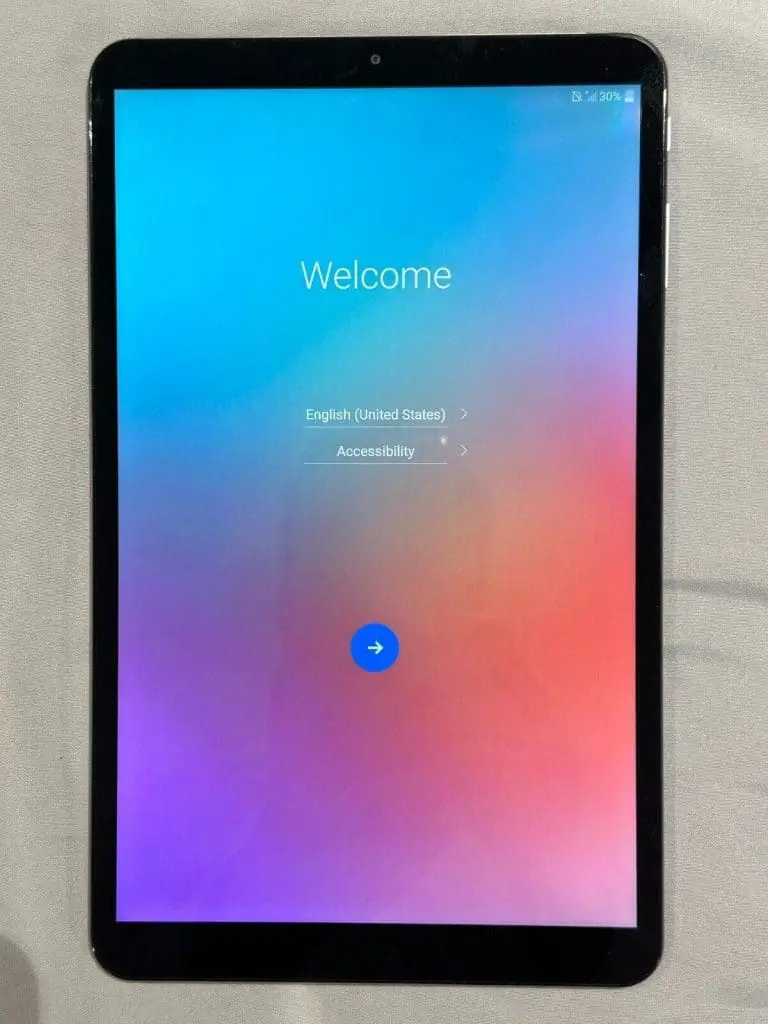 A 10.1 inch HD screen with a resolution of 1920 x 1200 pixels is good enough for most viewers who wish to use it as one place setup device. The screen is also big enough to navigate through the automation settings and use for video calls.
Connectivity
As far as the connectivity is concerned, this home automation tablet supports all the possible ways, which include Cellular 4G LTE, Bluetooth, WiFi 5, and wired via USB Type C cable.
The LG tablet runs on Android 9.0, and LG makes sure that all its users get timely updates and security patches, ensuring they are not vulnerable to any threats.
Design & Build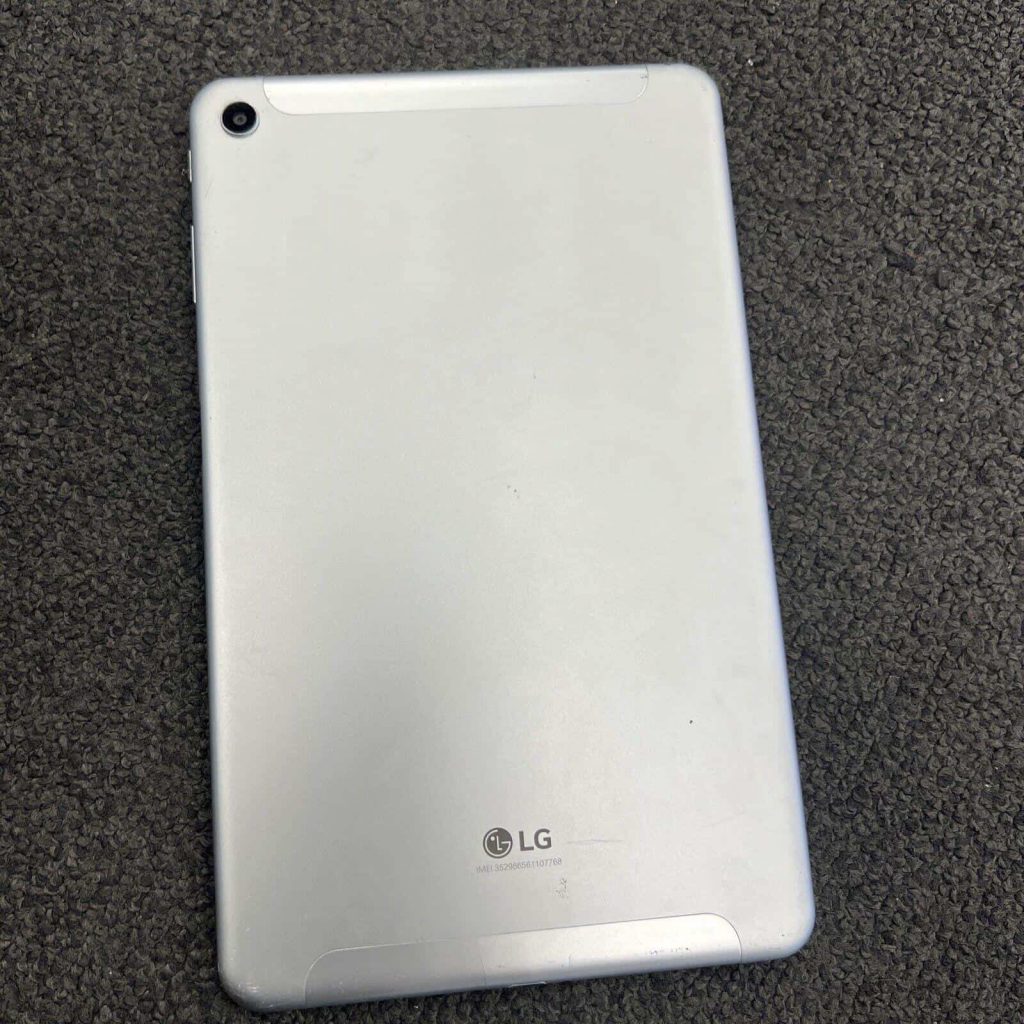 As far as the design is concerned, the LG G Pad 5 boasts a metallic structure that measures 9.73 x 5.93 x 0.31 inches. At 1.10 pounds, it is still one of the lightest on the list. However, it is the Smart Dock that makes it fit enough for home automation, allowing the device to work as a hands-free digital assistant.
Hardware & Performance
Fueled by a Snapdragon 821, the LG G Pad 5 is a total powerhouse. This is a 2.34GHz Dual + 1.6GHz Dual Processor, which doesn't heat up and makes sure you get smooth performance even after years of usage. Besides this impressive CPU, the tablet also features a powerful Adreno 530 GPU as well.
This model features 4GB RAM, along with a storage space of 32GB. There are no other variants, which might be a bummer for some users. However, microSD cards are supported up to 512GB that compensate your needs if you plan to keep yearly records.
Camera & Battery Life
Talking of video calls, there's a 5MP camera in the front and an 8MP camera located on the back. The tablet also carries an average battery life of about 10 hours, which makes it a great pick.
Other Features
A Mazery Stylus pen is also included with the package, which allows you to express your creative side. You can use it for drawing, note-taking, highlighting, and underlining things. The mesh-fiber tip of the stylus makes it particularly useful for sketching and drawing. This is quite a sleek tablet and has a metallic back. A fingerprint scanner helps the users quickly unlock the device.
Conclusion
In conclusion, this is a standard tablet, which performs a little bit of everything, and is more suitable for business tasks. A good device for the price point at which it comes in.
Fingerprint sensor unlocks the tablet quickly
Stylus pen included with the tablet
Decent battery life
Good quality cameras for video calls
Can handle quite a bit of multitasking
LTE supports only internet, not calls
Only one RAM/Storage variant
7. Best Budget-Friendly:

Dragon Touch MAX10 Plus
A good display should be your primary concern whilst investing in a tablet for home automation. The Dragon Touch MAX10 Plus readily qualifies with a picture-perfect QLED panel, which also makes it the best control center for smart homes, if you are mostly outdoors.
Also, the MAX10 Plus seems exponentially better as compared to the Y88X Pro, owing to a bigger screen and additional RAM allotment.
Why is it best suited for home automation?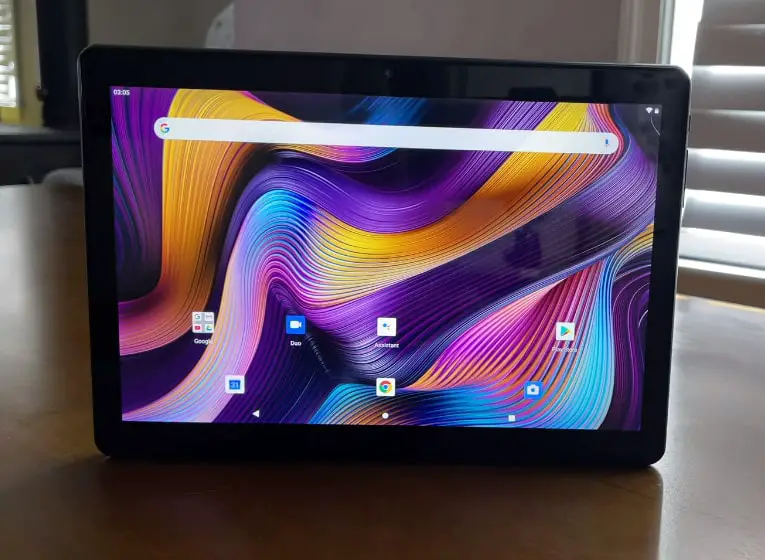 The 10.1-inch is bright and boasts a 135 percent sRGB color gamut for additional color accuracy. This means the MAX10 Plus is also one of the best devices for comic readers and graphic designers. Also, there is the QLED technology followed by the innovative Blue-Light filter that keeps glares at bay. In terms of resolution, the IPS screen sports 1920 x 1200 pixels.
Connectivity
As far as connectivity is concerned, there is a Type-C port in play for transfers, followed by BT 5.0 and Wi-Fi AC dual-band compatibility. The charging port is standard, with the USB Type-C connector feeding into the device.
Design & Build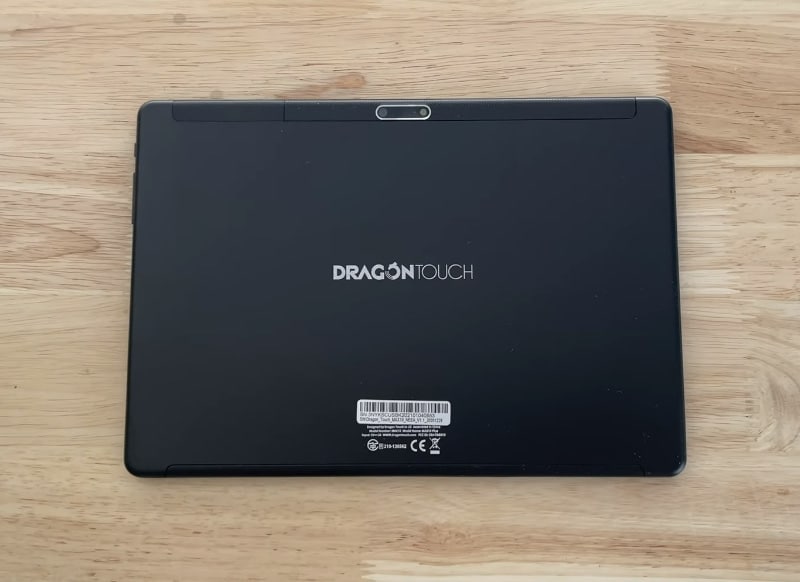 The plastic-clad tablet weighs close to 2 pounds and measures 9.45 x 6.57 x 0.31 inches. The dimensions reveal the sleek form factor and even renders the MAX10 Plus portable enough to be carried around while traveling.
Hardware & Performance
The 1.6GHz octa-core chipset ensures seamless performances. Plus, it can run any smart home app of your choosing, including the likes of Alexa app, Ecobee, and more. The 3GB RAM lends support, followed by 32GB of storage space. The same can be upgraded by an additional 128GB if needed.
Camera & Battery Life
The standard 8MP rear and 5MP front shooter arrangements are persisted with. However, what's impressive is the built-in microphone for supporting talkbacks. Coming to the battery life, 10 hours of backup is supplied by the existing unit, bolstered further by the Power Saving technology.
Conclusion
Overall, the Dragon Touch MAX10 Plus is a budget-friendly yet promising tablet for automating your home. However, the speed with which the Google Assistant responds makes it a cut above the rest in the given price range.
Dependable processor
Upgradable device storage
Stellar display
Excellent battery life
Not the best build quality
Middling cameras
8. Cheapest Option:

Vastking Kingpad K10
The Vastking Kingpad K10 is arguably one of the more dependable tablets to buy under 150 dollars. Most importantly, it is a good asset if you are only looking for a device to monitor the smart CCTV footage at home, as the upgradable storage slot might be useful for storing feeds.
I even evaluated the Kingpad K10 against the SA10, only to find the latter as a more powerful tablet sporting an evolved 8-Core processor.
Why is it best suited for home automation?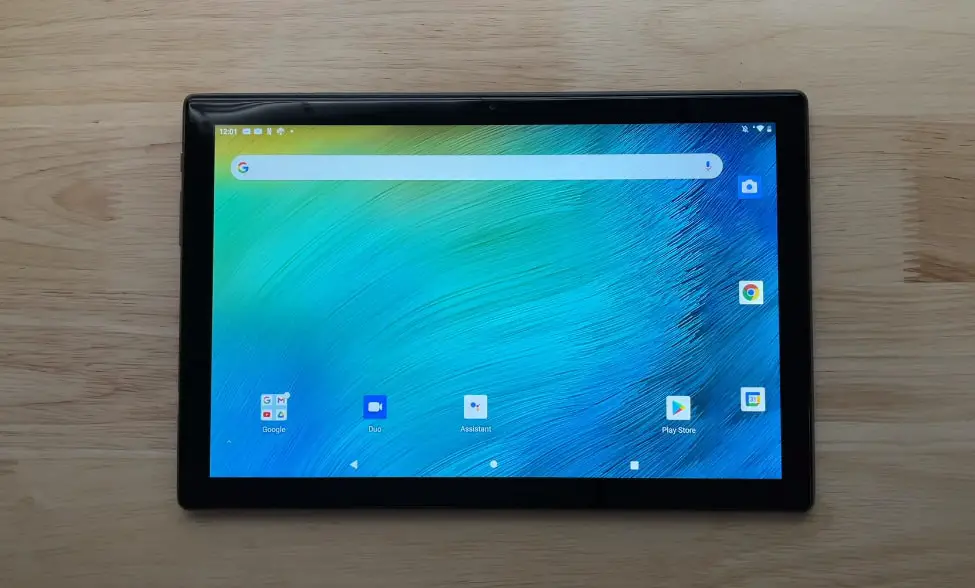 This cheap home automation tablet comes in with a 10-inch vibrant FHD screen with 1920 x 1200 max resolution. It has narrow bezels, which are perfect if you intend to mount the tablet for easy access via all family members.
Connectivity
The Kingpad K10 comes equipped with standard attributes when connectivity is concerned, boasting a 3.5mm jack, Type-C charging port, and dual-and Wi-Fi 5 standard followed by BT 5.0. You also get a docking slot for pairing an external keyboard and using the tablet as a laptop.
Design & Build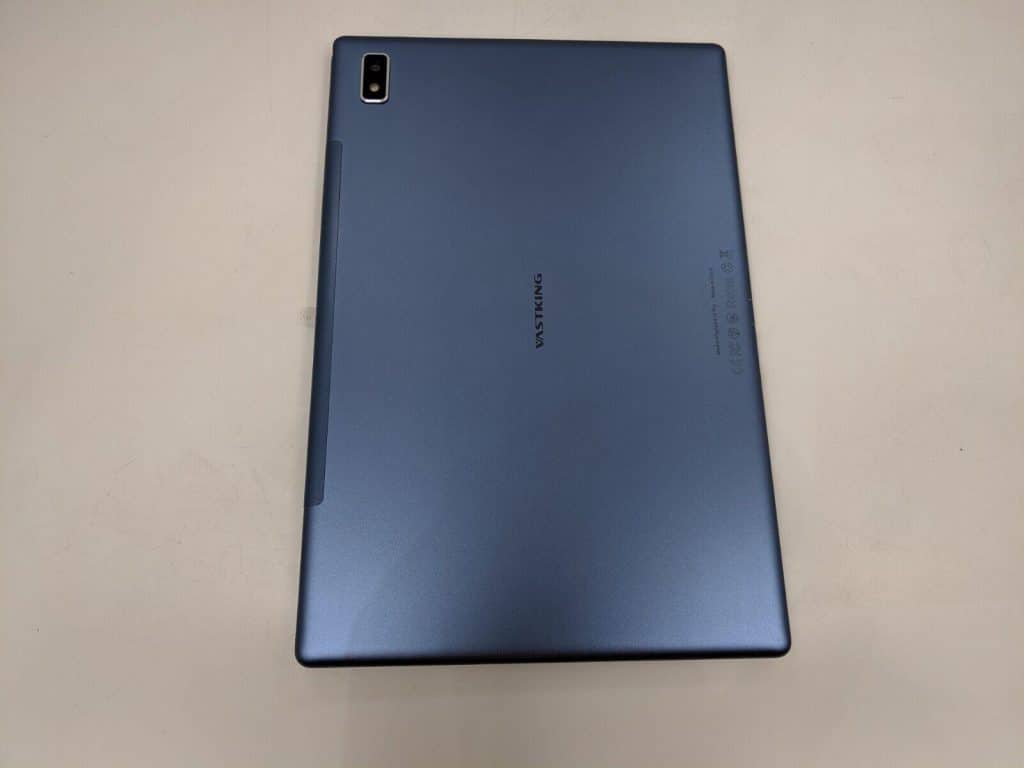 Despite the affordable price point, the Kingpad K10 is still metal-clad. The weight, however, is measured at 1.3 pounds, whereas the dimensions at 9.6 x 6.3 x 0.30 inches ensure that you have a slim tablet on your hands.
As mentioned, you can dock an external keyboard with the same, provided you are willing to purchase the same, in addition to the tablet itself.
Hardware & Performance
The octa-core processor is worth the investment as it renders the Kingpad K10 at least 50 percent faster as compared to its predecessors. Clocking at 1.8GHz, the chipset works alongside 3GB RAM and ensures that every home automation app runs on the tablet without any lag. Also, the 32GB storage space might not look enough but can be upgraded by 512GB.
The Android 10 OS is full of possibilities and presents an interactive UI for smart home enthusiasts to make use of. Also, you can secure your data with built-in facial recognition support.
Camera & Battery Life
The Kingpad K10 probably offers the best camera setup, led by the massive 13MP rear shooter. The 5MP front snapper is also good enough for streaming onto the smart TVs. Coming to the battery life, 12 hours offered by Vastking seems commendable.
Conclusion
The Vastking Kingpad K10 seems affordable but trounces most of the other products on the list when external keyboard access and security enhancements are concerned.
Fast and reliable processor
Excellent rear shooter
Top-shelf security
GPS functionality
Google assistance that works with voice control
Slow charging
The keyboard needs to be purchased separately
Frequently Asked Questions
What tablet is best for home automation?
The best tablet for smartly managing your home is the one that offers a biggish screen for you to set aside multiple interfaces to view, simultaneously, if needed. Plus, the fastest possible wireless connectivity followed by SIM integration are some of the better features to look for, provided you wish to interact with the smart devices in real-time.
Which tablet features are essential for home automation?
The tablet should have an excellent battery life as staying connected to the internet can be quite draining. Apart from that, you should look for a tablet with the best possible display, preferably a matte panel, if you wish to spend most of the time outdoors.
Can I get an iPad for home automation?
You certainly can get an iPad for home automation as it is compatible with the Apple Home Kit application. Plus, the interface is quite straightforward, and you can view the connected devices by simply heading over to the Control Center.
What display size is good on a tablet for home automation?
For me, anything between 10 inches and 12 inches seems fine. A tablet for home automation should have ample screen real-estate for placing multiple UIs to monitor the entire home network at once. However, something north of the 12-inch mark might not be useful as it would make the tablet heavier.
Verdict
Tablets best suited for home automation are hard to find. Also, if you can get your hands on one, you are better off using it for other purposes like drawing, music creation, reading, streaming, and more. Therefore, considering home automation as the crux of this discussion, I have handpicked a few exclusive tablets that are also useful otherwise.
Invest in the

Samsung Tab S6 Lite

if you want a tablet to serve multiple purposes with ease, apart from sheltering home automation apps
Also, if you seem interested in a device with cellular support and the ability to work as a laptop, I would suggest considering the

HiPad X from CHUWI

If you are in the market for a more affordable option but with as many perks, the

Vastking Kingpad K10

is a reliable ally
Barring the mentioned choices, you can pick any of the other tablets on the list, depending on your aesthetic preference, aligned needs, and budget.