Both Chromebooks and Tablets allow you to read books/comics, browse the internet, play games, watch videos/movies, etc, and having both could be an expensive affair, that's why I've done a detailed comparison between Chromebook and Tablet to help you figure out the right computing device for your needs.
A Chromebook can help you get closer to a laptop, at least from a structural perspective. While there you don't get the ever-reliable Windows OS or macOS to make things simpler, these Chrome OS devices can still manage quite a lot of things.
You can use Chromebooks to create content, play basic games like Fallout Shelter, Quake, and more, work offline if needed, invoke remote access, and run some of the web apps of the more demanding tools. Therefore, it wouldn't be wrong to assume that Chromebooks would cater to teens, and college students relying more on online academia.
Tablets, on the other hand, are way more portable. In addition to catering to gamers on the move, eBook readers, musicians, and tattoo artists alike, they can also be used to automate your home, and also PC oriented tasks provided it has the right operating system to work with.
But then, if you are confused between a tablet and a Chromebook, I feel the subsequent comparisons shall serve you right. Besides enlisting the several differences and few similarities between these two device categories, I shall also take time to discuss some of the prominent aspects at length, throughout this guide.
The Key Differences
Key differences between a Chromebook and a Tablet
Weight: A tablet is probably a lot lighter than a Chromebook. A regular Chromebook weighs anywhere between 2.5 to 4 pounds, whereas a tablet hardly exceeds 1.5 pounds and is a much better computing resource to buy if you are a portability seeker.
Screen: The screen size for a Chromebook fits anywhere between 10 to 15 inches. Therefore, if you seek a laptop-like experience at probably half the price, most Chromebooks outwit tablets, as the latter have screens going up to 12.5 to even 13 inches at most.
Operating System: Tablets are clear winners if OS is a matter of concern. Despite android tablets being in excess, you can always get yourself a Windows 10 powered machine to experience laptop-like usage, much like on the Surface Go from Microsoft. Chromebooks are inflexible in this regard with the Chrome OS being a tad restrictive in terms of user experience. 
User Base: As far as the user base is preferred, tablets cater to a more diversified clientele, comprising designers, tattoo artists, musicians, and more. Chromebooks are better bets for cloud computing professionals and students who rely on online guidance.
Storage: A regular tablet wittingly offers better storage space as compared to a Chromebook as the latter isn't supposed to entertain offline usage.
Manufacturer: Almost every manufacturer and OEM you know is into Chromebooks, barring Apple. On the other hand, tablets have multiple players vying for supremacy, but the top ranks are being held by the likes of Samsung, Apple, and Microsoft. But then, newer players like CHUWI and Vankyo are coming into the tablet space, making it more receptive towards future growth.
Price: Tablets are usually cheaper than Chromebooks unless you are comparing top-end models like the iPad Pro 12.9 with the likes of standard HP Chromebooks.
Port Arrangement: Chromebooks rule the roost in terms of the port arrangement as the clamshell models still follow laptops when slot-specific setups are concerned. Tablets are often sold short when ports are concerned, barring the models that come with dedicated keyboards.
Battery Life: Chromebooks have better battery backups, with 10+ hour backup being a common sighting. Tablets might reach 8 hours with ease, but the average often falls lower than that of Chromebooks.
Similarities between Chromebooks and Tablets
Similarities between Chromebook and Tablet
Tablets and Chromebooks have comparable wireless standards
Both these devices are capable of running MS Office apps in different capacities
Some Chromebooks can easily run android apps, thereby living up to the tablet-like potential
Certain Chromebooks can run Asphalt 9: Legends as a tablet would run
Both are good for streaming live content
Both are perfect for video conferencing
Chromebooks vs Tablets: 6 Aspects Compared
Despite enlisting the differences and similarities, there are certain aspects that warrant detailed speculations and comparisons. These include:
1. Design and Build
The build quality of both tablets and Chromebooks depends on the price you are willing to pay for either. However, tablets have smaller structural footprints and are easier to hold. Plus, most tablets come with stylus support, touch screen compatibility, and detachable keyboards, provided you plan on using the same as laptops.
Chromebooks are structurally more rigid and do not support multi-mode operability like tablets. Also, Chromebooks are heavier, making them less portable than tablets.
Winner: Tablet takes the cake here as they are sleek, light, and easy to move around with. Also, even plastic-made tablets are less prone to breakages as, unlike Chromebooks, they have fewer hinges and mechanical obstructions to deal with.
2. Battery Life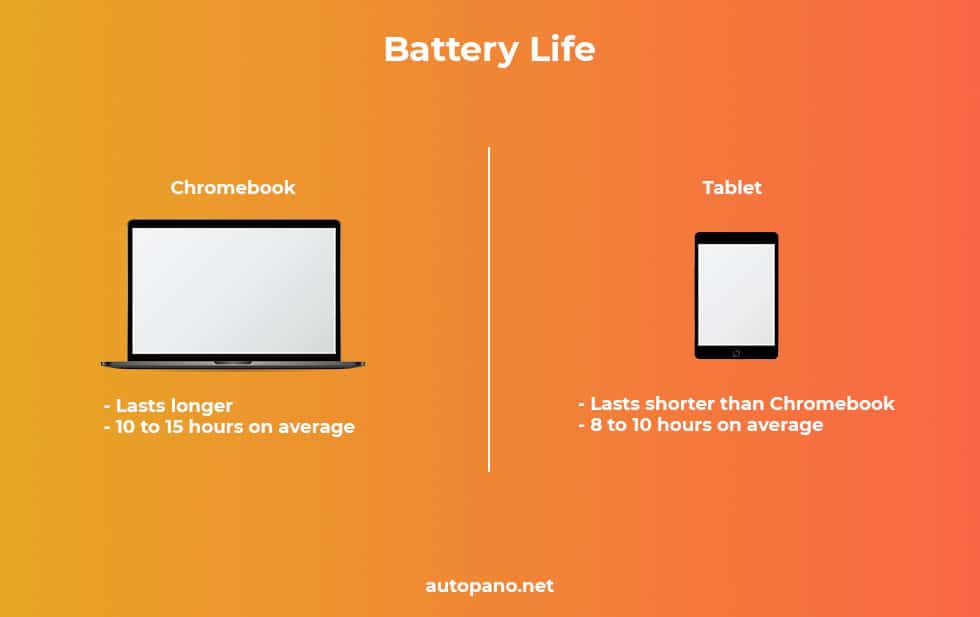 Chromebooks ought to last longer when the battery backup is concerned as they aren't designed to handle truckloads of in-device processing workload. Battery life projected by a standard tablet is somewhat in the 6-9 hour ballpark as opposed to 10-14 hour ballpark for the Chromebooks.
Winner: Chromebooks are better bets if you are more interested in autonomy as a prior computing feature.
3. Connectivity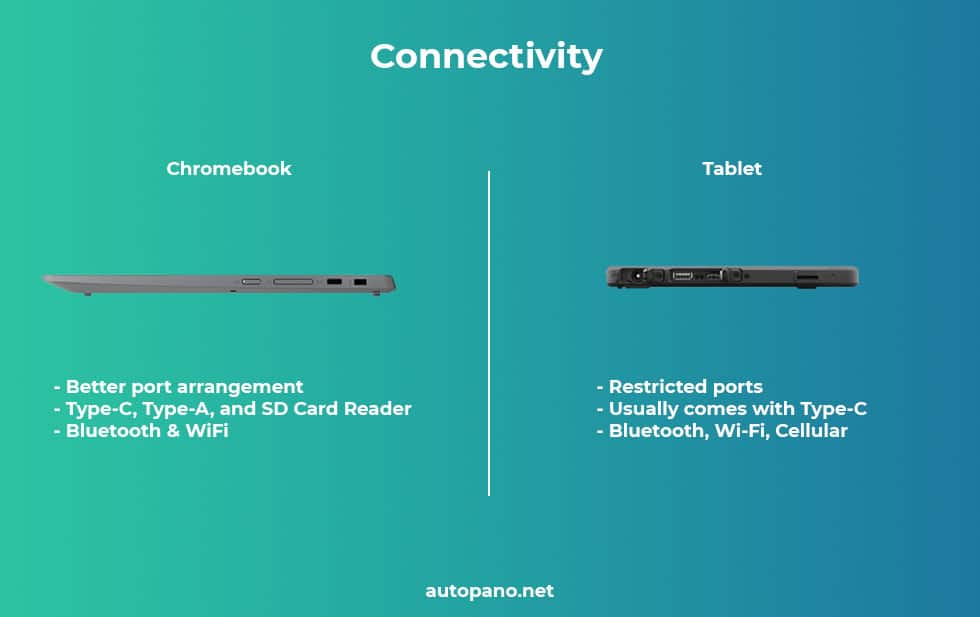 Tablets are somewhat restricted when port setup and out-of-the-box keyboard setup are concerned. While they make up for the same with top-notch wireless support and Stylus compatibility, Chromebooks come closer to replicating a laptop-like experience, more salubriously than tablets.
Winner: When it comes to holistic connectivity, Chromebooks fit in better.
4. Performance & RAM
When it comes to RAW computing performances, tablets have an edge over Chromebooks. As most Chromebooks house low-end Intel chipsets with an eye for minimal heat dissipation, they are somewhat restricted when it comes to managing apps and resources that require faster clock speeds.
The tentative RAM allotment for Chromebooks is in the 4GB-8GB range, which is good enough for students interested in multi-tab browsing and developers working on browser-based coding platforms.
Tablets, however, are loaded with Smartphone-specific Octa-core, quad-core, and Hexa-Core processors that are way more powerful and especially meant for smaller real-estates. The RAM allotment falls in the 2GB-8GB ballpark but despite a lower chunk of RAM, gamers, designers, readers, and artists can experience fast and snappy performances.
Winner: Tablets steal the show when computing performances are concerned as Chromebooks are mostly meant for handling online workflows.
5. Storage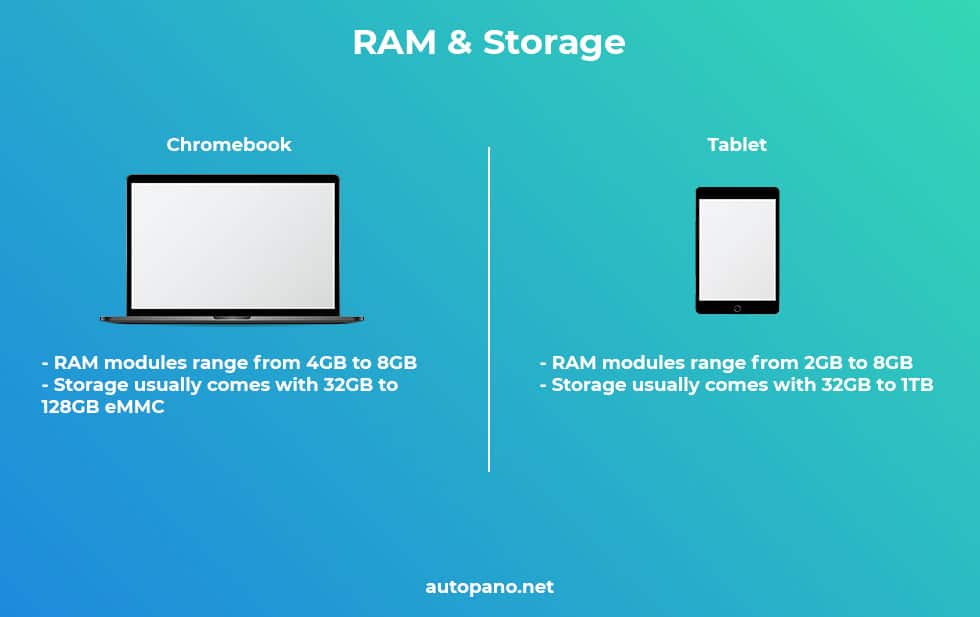 While I did talk about memory allocation in the previous segment, storage is also a segment where tablets are supposed to show better presence. A standard tablet comes with a minimum of 32GB storage space that can go up to 128GB and even 512GB on specific iPads.
Chromebooks, on the other hand, feature smallish eMMC units, which are faster than HDD but lack the requisite performance fidelity.
Winner: When it comes to device memory and processing support, the tablets outpace Chromebooks, quite comfortably.
6. Operating System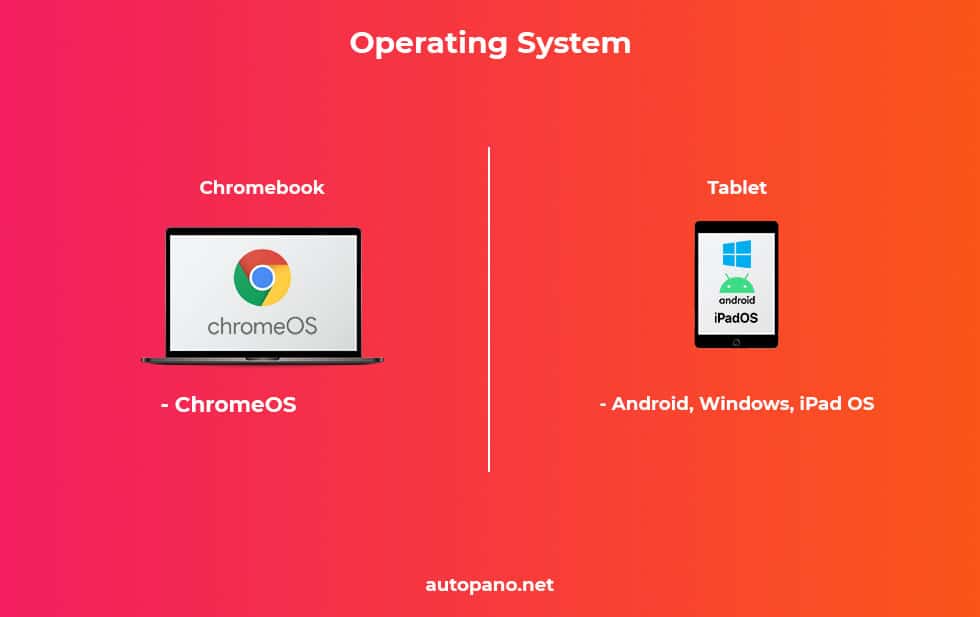 Chromebooks, as obvious, house the Chrome operating system, best known for additional security, cloud storage support, frequent updates, and better online browsing speeds. Also, some Chromebooks are also capable of running Android apps, making them stand at par with any tablet.
Tablets offer a disparate range of choices when operating systems are concerned. You can choose between Android tablets, iPads, and even Windows OS based tablets.
Winner: Tablets sweep the OS-based comparisons as they offer flexibility, which seems to be missing with the Chromebooks.
Conclusion
Both Chromebooks and tablets have their uses. However, neither of these can completely replace laptops and might only work as secondary workstations. Also, the efficacy of either a Chromebook or a tablet depends specifically on what you wish to achieve upon purchasing a new computing device.
Chromebooks are better bets if you are into online app development, browser-based content creation, sparing gaming, online video, and photo editing, and video conferencing on Zoom. Tablets, on the other hand, can be efficient ebook readers, gaming stations, drawing platforms, or high-end designing workstations, depending on the price you are willing to pay for them.
Regardless, Chromebooks and tablets come with their share of hits and miss and it would take a detailed analysis of your requirements to find the one that is most suited.