When it comes to note-taking tablets, we all think of two behemoths in the market, i.e., the reMarkable 2 and Apple iPad Pro. Both of them have some exclusive and relevant traits in play. And we shall take a closer look at both devices, their efficiency, ease of use, and overall performance across different aspects through this reMarkable 2 vs iPad Pro comparison.
Simply put, these two high-end tablets aren't the same, and if you wish to pick the right device that writes like paper and is aligned with your diverse needs, the iPad Pro vs reMarkable 2 discussion is worth having. Just so you know, both reMarkable electronic notebook and using iPad Pro for note-taking have their own set of hits and misses.
For instance, the iPad Pro is a much better device overall, whereas the reMarkable 2 takes digital writing and note-taking to a whole new level. In the end, it all comes down to the features and capabilities you seek. Keeping the diverse user requirements in mind, I have decided to compare reMarkable 2 with iPad Pro so that you can make an informed buying decision.
The Key Differences
Before I proceed, it is important to note (pun intended) that I have tested both these devices, comparatively, for over two months. The Apple iPad Pro and reMarkable 2 reviews are therefore based on the comprehensive tests and my experience of using them together.
I will share the detailed, section-wise analysis in a bit, but if you are pressed for time, do go over these key differences between reMarkable 2 and iPad Pro to get a better overview:
Display: The basic version of the iPad Pro still offers a bigger screen at 11 inches, while the reMarkable 2 screen size is set to 10.3 inches. The in-person brightness doesn't feel apart if you are just taking notes.
Stylus & Functionality: reMarkable 2 offers a pencil-like stylus, which feels smoother while drawing and taking notes. Yet, Apple Pencil Gen 2 isn't that far behind.
Note-Taking Experience: If you just prefer writing and taking notes quickly, reMarkable 2 lives up to its name. You can feel the difference in how reMarkable's stylus presses up against the screen.
Design & Portability: If you are in it just for the slimness, the reMarkable 2 is better as it is even lighter than the 11-inch iPad. Yet, in terms of build quality, Apple takes the cake.
Hardware & User Interface: The iPad is an insanely powerful tablet, courtesy of the M1 chipset. UI-wise, reMarkable 2 seems like a note-taking favorite, but the iPad makes more sense to professionals.
Pricing: A standard iPad pro is 2.5 times higher than the reMarkable 2's price. So if you just want a device for taking down notes, go with the latter.
reMarkable 2 vs iPad Pro: Detailed Comparison
Now that I have covered the key differences between reMarkable 2 and iPad Pro for note-taking, I will delve a little deeper into the specifications and their overall impact on your diverse requirements. Read along as I begin comparing reMarkable 2 with iPad Pro in detail, followed by a dedicated 'Winner' segment at the end of each section:
1. Display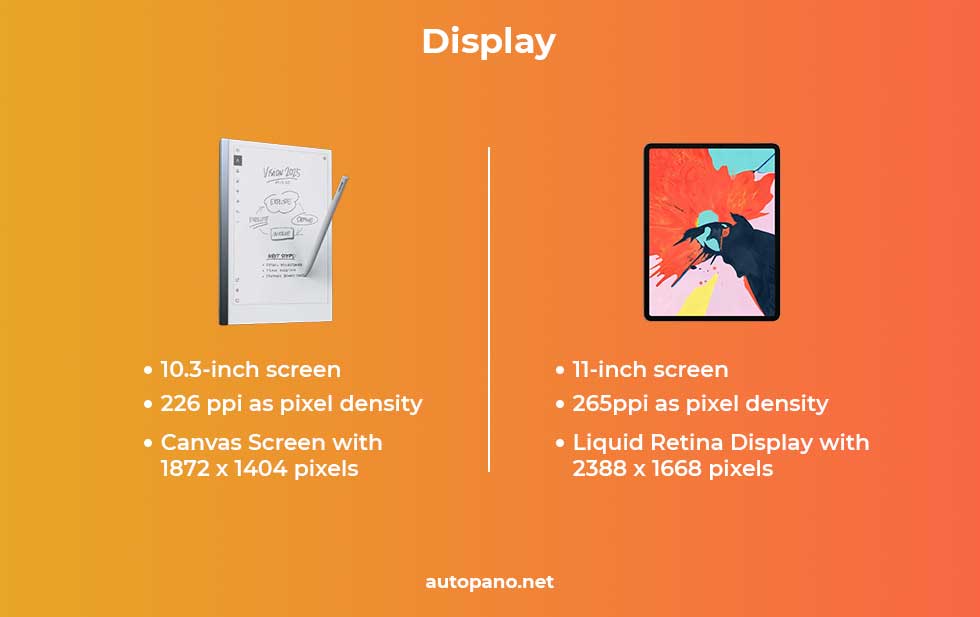 Let's start with the specs first. The reMarkable 2 tablet has a 10.3-inch standard CANVAS display for the note evangelists. On the other hand, the iPad Pro has a bigger 11-inch screen for you to experience. But that's not where things end. The iPad is brighter courtesy of a better overall resolution of 2388 x 1668 pixels compared to reMarkable 2's 1872 x 1404.
The former also gives you a 17% pixel density bump (265ppi against 226ppi) to guarantee better sunlight visibility. The iPad also offers a wide viewing angle and an enhanced peak brightness of 600 nits, which is much better than what reMarkable 2 offers. The iPad Pro boasts a backlit display, HDR10 support for better visuals, and an anti-reflection coating.
Winner: Apple iPad Pro is a clear winner when display-specific attributes are concerned.
2. Stylus and Writing Experience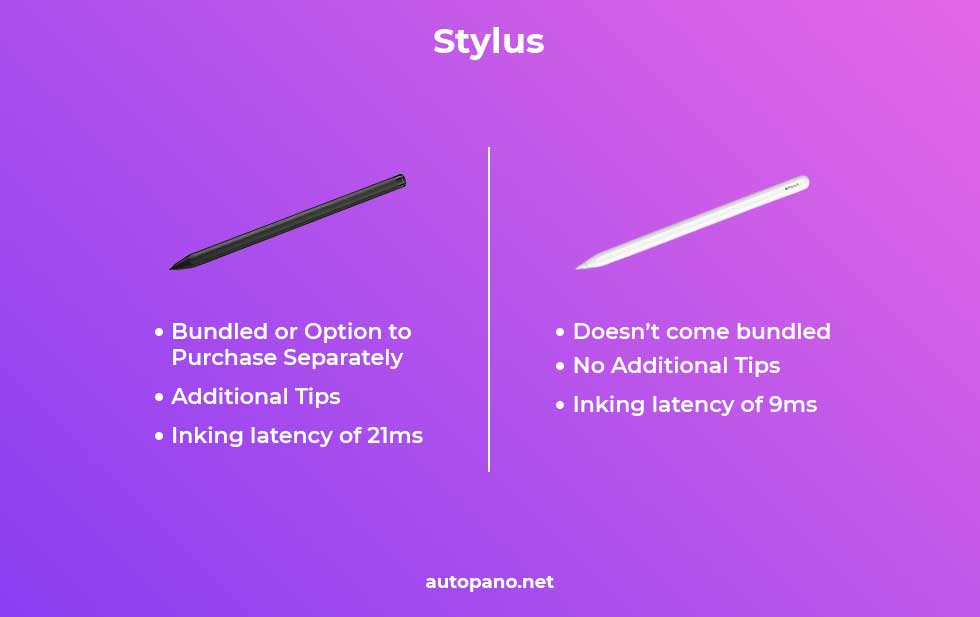 First of all, only reMarkable 2 comes with a bundled stylus. As good a device as the iPad Pro is, you still need to shell out something extra to get hold of the Apple Pencil 2nd Gen. However, if you end up making the second purchase and now plan to compare the stylus and writing experience side-by-side, read along.
First of all, both reMarkable 2 and iPad Pro come with tilt-sensitive stylus pens, which are good assets for creators. The pen pressure stands comparable as well, with reMarkable 2 promising 4,096 levels right out of the box and the Apple Pencil 2 actually living up to it.
I feel that the iPad stylus offers a slightly better grip as well, whereas there is palm-rejection support built-in on both iPad Pro and reMarkable 2 stylus pens.
But then, when it comes to responsiveness and writing experience, the Marker Pen and Marker Plus Pen (can be purchased separately) for reMarkable 2 are better picks. Also, with reMarkable 2, you get extra tips for your pens. And the tap-to-screen note-taking and inking time is set at 21ms, a segment where the iPad performs better with a latency of 9ms.
Winner: Despite the back and forth, this segment belongs to the reMarkable 2 tablet for better stylus responsiveness.
3. Design and Portability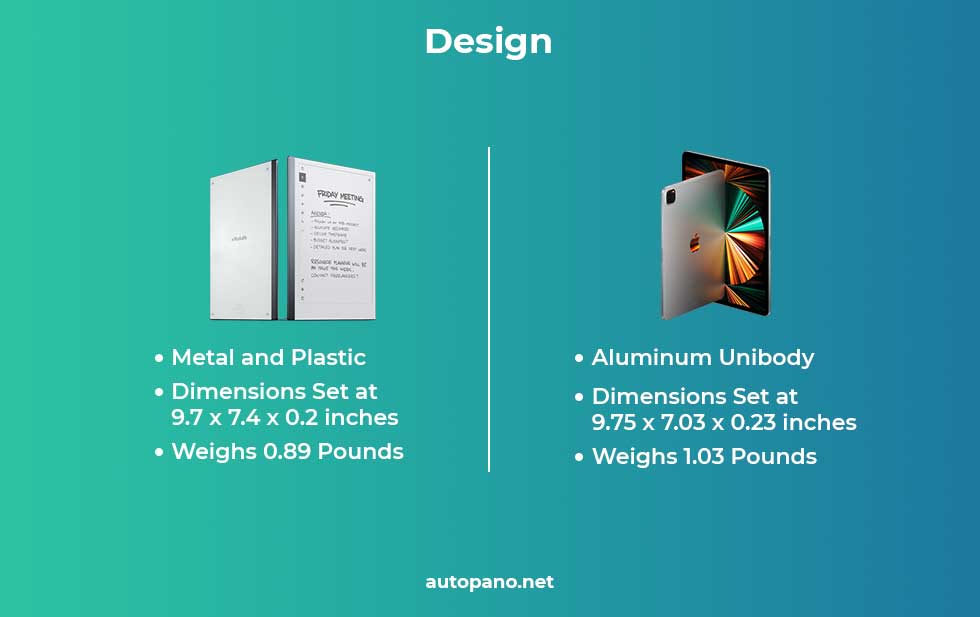 As far as aesthetics are concerned, the reMarkable II is more of a plastic-made device, which is enviably slim and good to hold. However, some might even end up missing the pronounced metallic undertones, which add a more premium look to this note-taking tablet. Honestly speaking, this tablet is as gorgeous as it is thin.
If you ask about the reMarkable 2 size, the dimensions read 9.7 x 7.4 x 0.2 inches, making it insanely sleek and portable. The iPad Pro is a tad thicker but is still one of the slimmest standalone tablets in existence.
When it comes to the front and rear ends of these devices, the reMarkable 2 has a more settled form factor at your disposal. Plus, the reMarkable 2 weight is a mere 0.89 pounds, as compared to the 1.2-Pound chassis present by the iPad Pro.
Winner: If portability is one of your primary concerns, the reMarkable 2 is a better bet than the iPad Pro.
4. Connectivity & Inputs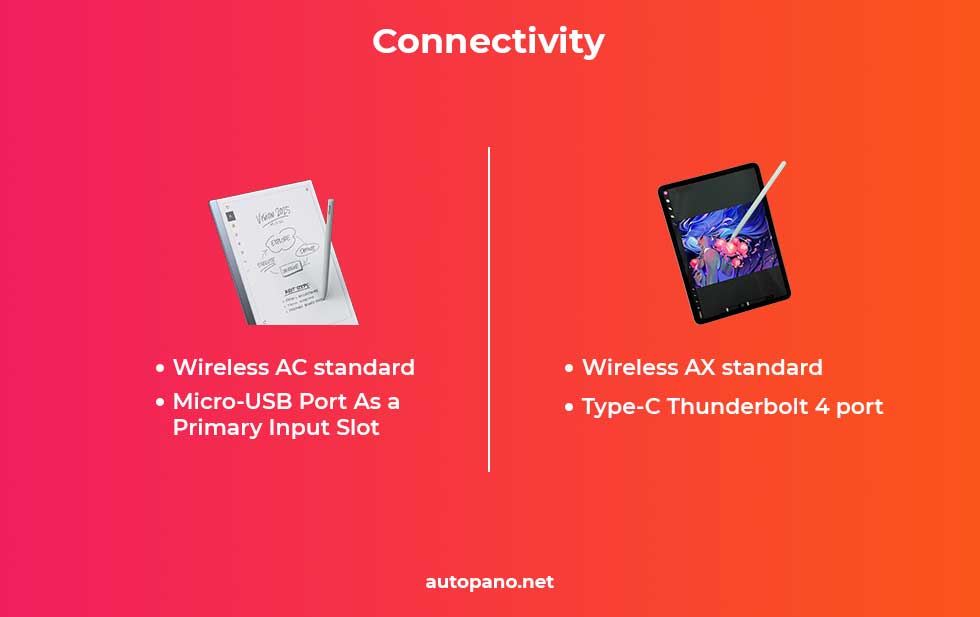 As far as connectivity is concerned, the reMarkable 2 is pretty pedestrian, with dual-band Wireless AC support leading the way. Plus, you get a USB Type-C port, which isn't the faster input port in plain sight.
The iPad Pro excels with Wi-Fi 6 support, lightning port, and other powerful connectivity specs in play. Also, the Type-C port here supports fast reversible charging, courtesy of the Thunderbolt 4 capabilities. Only the iPad lets you connect to a bigger screen like a TV, provided you want to treat the creator within with something surreal.
Winner: The iPad Pro 11 wins this segment, courtesy of the Wi-Fi 6 tech and the Thunderbolt 4 port.
5. Battery Life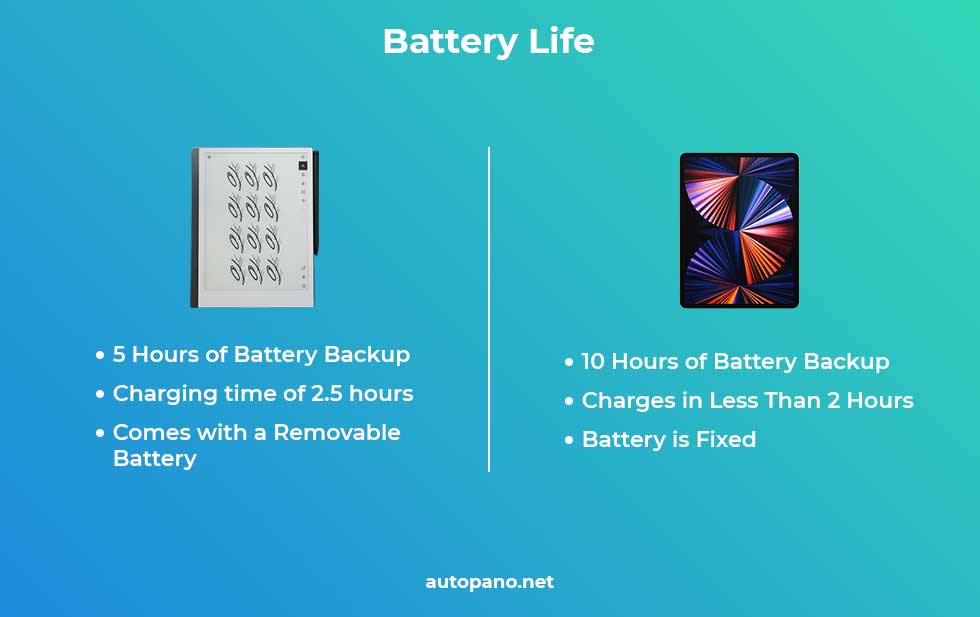 The reMarkable 2 brings home a 3000mAh battery life that can hardly offer 5 hours of extended usage. On the other hand, the iPad Pro manages to pull off a 10-hour, all by itself. As far as the charging time is concerned, the iPad takes close to 2 hours to get fully charged under normal circumstances whereas, for reMarkable 2, the time is set at close to 2.5 hours.
Only the iPad Pro supports fast charging but not with the charging pack that comes bundled with the tablet itself. However, reMarkable 2 is a better device to carry on trips, owing to the removable battery module.
Winner: The iPad Pro wins this segment as well, fixed battery consideration notwithstanding.
6. Hardware & User Interface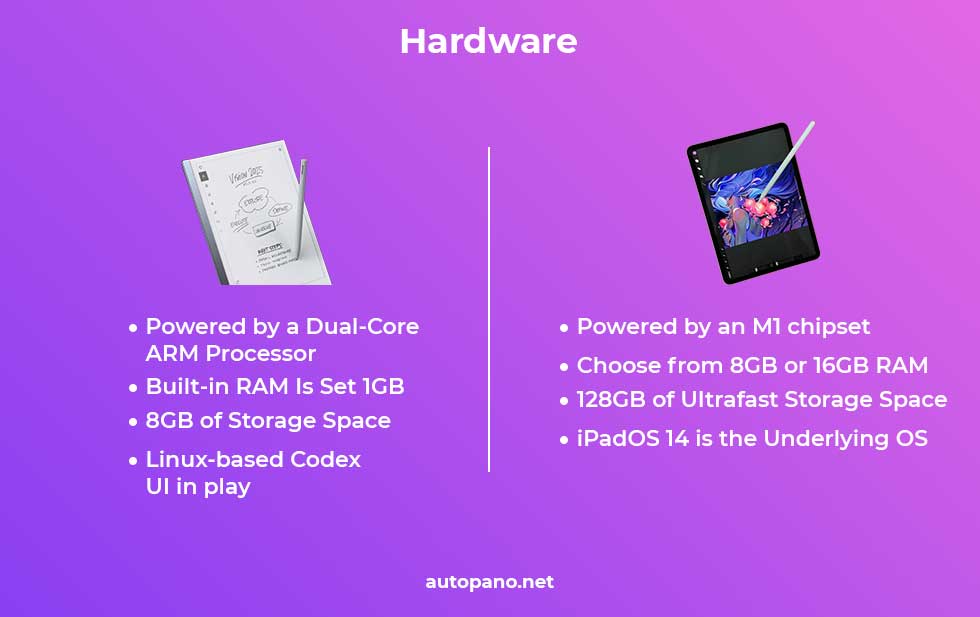 Coming to the internals, the iPad Pro throws in the exclusive M1 chipset, making it as good a device as the Macbook Air. As far as the RAM module is concerned, the iPad lets you pick 16GB of memory, whereas reMarkable 2 only offers 1GB of the same.
Processor-wise, reMarkable 2 brings home a 1.2GHz ARM chipset with 2 cores, which is good enough only for basic note-taking. Storage-wise, the iPad Pro is miles ahead with 128GB of fast processing space in play as compared to the 8GB limit offered by the reMarkable 2.
As far as the OS is concerned, the reMarkable 2 runs the proprietary Codex UI, which is a simplistic Linux-based platform known for its simplicity and paper-adhering visual imprint. The iPad Pro runs the quintessential iPadOS 14, with a pretty user-friendly interface.
Winner: Despite the ease of usage offered by the reMarkable 2, the iPad Pro wins this segment as well, riding on the shoulders of the massive hardware support.
7. Pricing
So, how much is reMarkable 2?
Well, the reMarkable 2 price is manageable at $299. You might be tempted to pair the Market Plus pen with the bundle, which would set you back by an additional 100 bucks. On the other hand, the iPad Pro costs $750 for the 11-inch 128GB WiFi-only variant and even close to $1000 for the 12.9-inch (WiFi 128GB) variant.
Plus, the Apple Pencil (Gen 2) costs an additional $120, making the entire note-taking bundle inch towards $100 to $1200, depending on the variant you choose.
Winner: The reMarkable 2 wins this segment with ease, as even with an additional stylus, it barely exceeds the $450 mark.
Frequently Asked Questions
How are iPad Pro and reMarkable 2 different?
The iPad Pro is a standalone tablet with massive power seething underneath the hood. In comparison, the reMarkable 2 is more like a kindle-like device, precisely for note-taking. Also, the reMarkable 2 is a lot cheaper and can cater really well to the students and aspiring professionals.
Is reMarkable 2 worth it?
Yes, reMarkable 2 is a worthy purchase if you feel about investing in the right tablet instead of the pedestrian paper-pen approach. It's solely made for note-taking, and that's what you're looking for; remarkable 2 is a no-nonsense choice. You can find my review of reMarkable 2 in the comparison above.
Is iPad Pro good for note-taking?
Despite being a massively stacked tablet with an M1 chipset and 16GB of RAM to spare, the iPad Pro doesn't cut corners when standard note-taking is concerned. With the Apple Pencil 2nd gen at your disposal, you can easily jot down notes on the iPad with latency lower than 10ms.
Where can I buy a reMarkable 2?
The reMarkable 2 tablet is available to purchase at the company's official store. It's priced at $299 + $79 for Marker bundle and $299 + $129 for the Marker Plus package. So, depending on the Marker you choose, the final price can cost you over $428.
reMarkable Marker vs Apple Pencil: Which one's is better?
When it comes to working closely with the tablet itself, the reMarkable pen is a better choice, owing to the excellent paper-like feel and unmatched responsiveness. Apart from that, pressure sensitivity is set at 4,096, which feels better than what the Apple Pencil has to offer.
Can you use reMarkable as an e-reader?
Yes, you can use the reMarkable as an e-book reader, courtesy of the Codex UI, which lends Kindle-like characteristics to the tablet.
Conclusion
I hope this comparison helps you choose from iPad or reMarkable for your note-taking needs. If you ask me, both reMarkable 2 and iPad Pro are excellent picks in their own right. However, selecting one depends purely on your budget, specific requirements, and other performance you seek.
For instance, if you want to ditch paper-and-pen at school or college for taking notes, the reMarkable 2 is the perfect device to pick.
But then, if you want a full-blown tablet for streaming, heavy computing tasks, designing, sketching, and note-taking, the iPad Pro can be picked without second guesses. To sum it up, it all comes down to the preferences and skillsets — with the right tablet complementing the same.
Recommended Articles: