Well, this shouldn't be hard. You will simply skip this and get yourself a notebook, right? Yes and no, as selecting between an iPad and a Notebook is a lot harder than you'd expect. Yes, notebooks offer an edge over iPads, especially when raw power is concerned. But with Apple bringing the power of the M1 chipset to iPads, this theory is expected to falter, real quick.
And to be honest, iPads are visual spectacles, especially when the sleek form factor, stylus support, and keyboard integration are concerned. Also, keeping the differences aside, iPads and Notebooks, provided you pick the correct one, even showcase a wide range of similarities in terms of screen size, display metrics, RAM allocation, storage support, and battery life.
But that's more like scratching the surface. In the next few sections, I shall talk about how iPads match up against notebooks and vice versa. Plus, I would also factor in the key similarities and differences, before detailing out the contrasting aspects in detail.
| | iPads | Notebooks |
| --- | --- | --- |
| Definition | Standard wireless devices with touch functionality. | Laptop-like small computing gadgets that are portable but may not come with touch functionality. Also termed as Netbooks by some. |
| Power | Powered by Apple's proprietary A-series Bionic and M1 chipsets. | Feature low-power Intel processors to keep heat generation to a minimum. |
| Design | Aluminum-clad layout with a rectangular form factor. | Mostly plastic-clad as they are quite affordable. |
| Price | $400 to $1300 | $200 onwards |
| Functionality | Good for drawing, streaming, video editing, doodling, and more. | Good for net surfing, editing documents, and streaming. |
| Accessories | Can support Apple Pencils and External keyboards. | Come integrated with Keyboard access and offer USB ports for you to accessorize further. |
| Ecosystem | iPadOS with faster responses and excellent interactivity. | Windows and Android ecosystems with unfettered access to apps. |
| Connectivity | Type-C port and Wi-Fi 5/Wi-Fi 6 support. | USB 3.0, USB Type-C, Type-A, Wi-Fi 5, and more. |
Key Similarities between iPads and Notebooks
Well, an iPad and a Notebook aren't all about the polarities. They do share quite a few glaring similarities, including:
Handful of iPads and Notebooks share comparable battery backups.
You might come across notebooks that share similar screen sizes.
Older iPads often boast similar internal memory modules to notebooks.
Front-facing snappers are similarly outfitted.
iPads and Notebooks share similar wireless capabilities.
Differences Between an iPad and a Notebook
Now that the premise is set, it is appropriate to detail out each aspect that would help us differentiate between an iPad and a Notebook better, thereby helping us make informed decisions:
1. OS and Ecosystem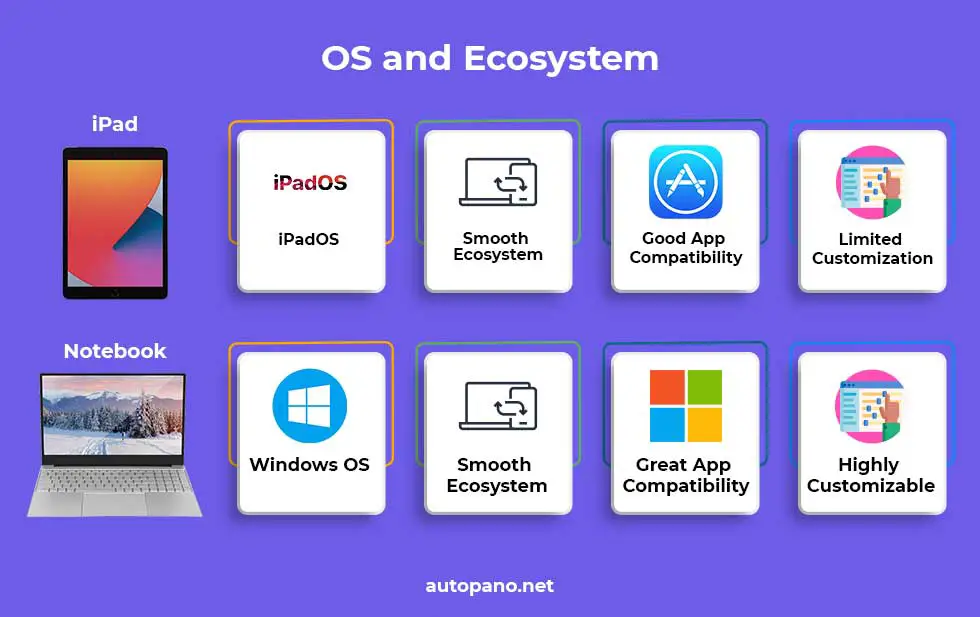 Let's start with the Notebooks first. The likes of Mini 10 from Dell and portable mini notebooks from HBESTORE feature different variants of the Windows operating system. This feature lets you download and install a wide range of laptop-like applications on the device, provided you keep an eye on the memory expense.
An iPad, on the other hand, is a completely dissociated ecosystem as compared to Windows. When it comes to functionality, you get better multitasking support, which isn't real-time but still quite functional, an extensive range of widgets, FaceTime support, and more.
2. Hardware Capabilities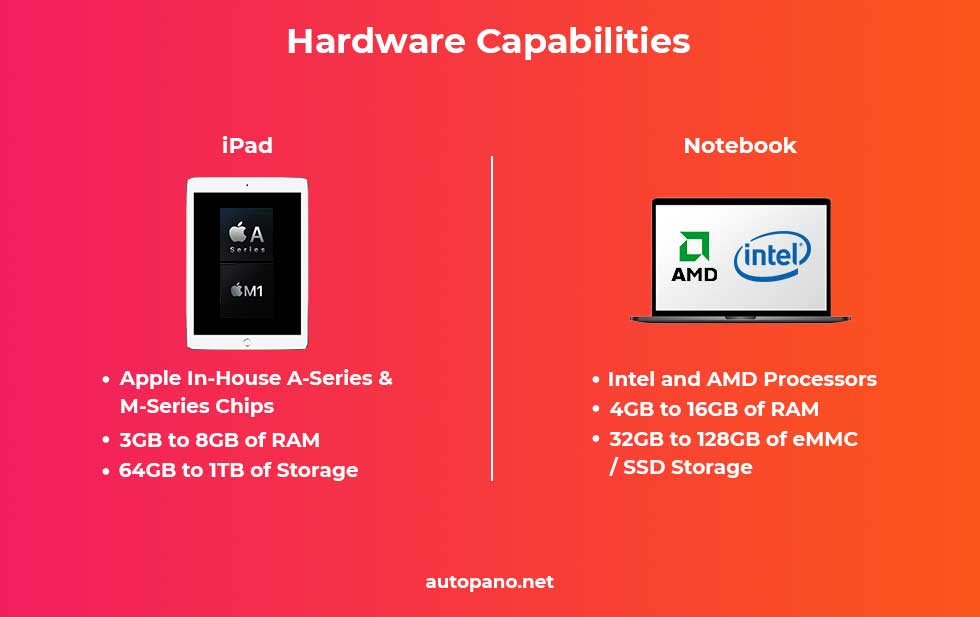 A standard iPad, regardless of the generation, is fast, courtesy of the impeccable software-hardware cohesion. However, if you plan on getting the new ones, it is important to account for the latest A-series Bionic chipsets and the high-end M1 processor. Following these up is 4GB to 8GB of high-speed RAM.
Therefore, it wouldn't be wrong to state that a mid-range iPad can easily replace your moderately powerful workstation. However, Notebooks generally settle with Intel Atom chipsets that are usually low on power and clock at speeds nearing 1.4GHz.
This means you are better off using them for creating standard documents or viewing stuff that matters. Internal memory toggles between 2GB to 4GB, depending on the price you are willing to pay for one.
3. Display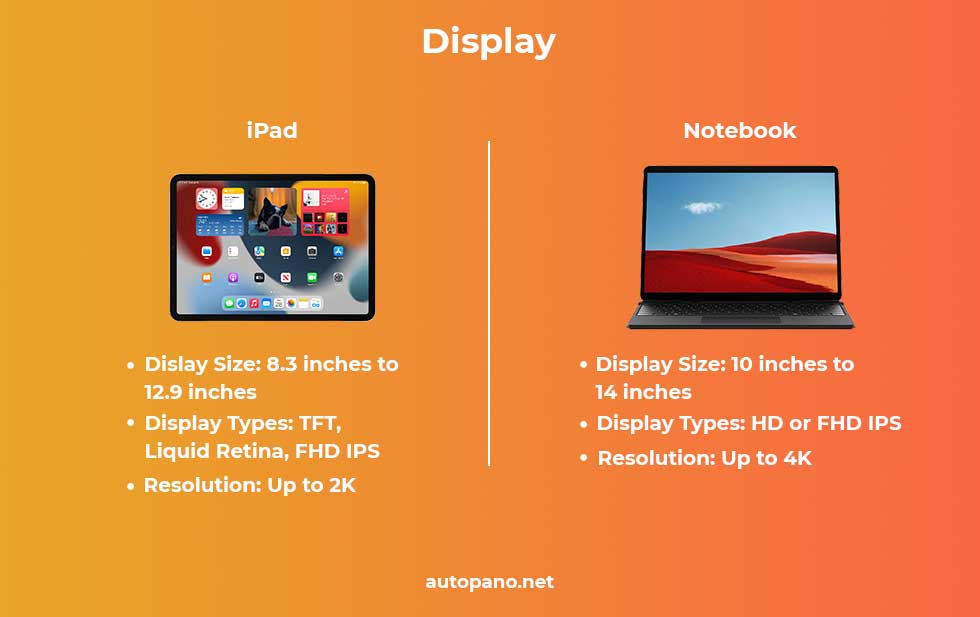 This is where the differences hit a crescendo with Notebooks offering HD or Full HD screens at max. Plus, the screen size varies between 10 inches to 14 inches, depending on the functionality you seek. iPads, on the other hand, boast Retina displays and screen resolutions exceeding 2K. And on top of that, you have impeccable and accurate touch screen functionality to work with.
4. Storage and Upgradability
iPads, especially the new ones, offer 64 GB to 1TB of blazing-fast storage space. However, the prices go up once you opt for the more beefed up modules. Notebooks, on the other hand, offer Chromebook-like storage support with the 10.1-inch model from HBESTORE offering a mere 32GB of space.
But then, iPads do not allow you to upgrade the on-device storage whereas notebooks do offer slots to insert SD cards and ramp up the storage allocation by 256GB to even 1TB if required.
5. Design and Portability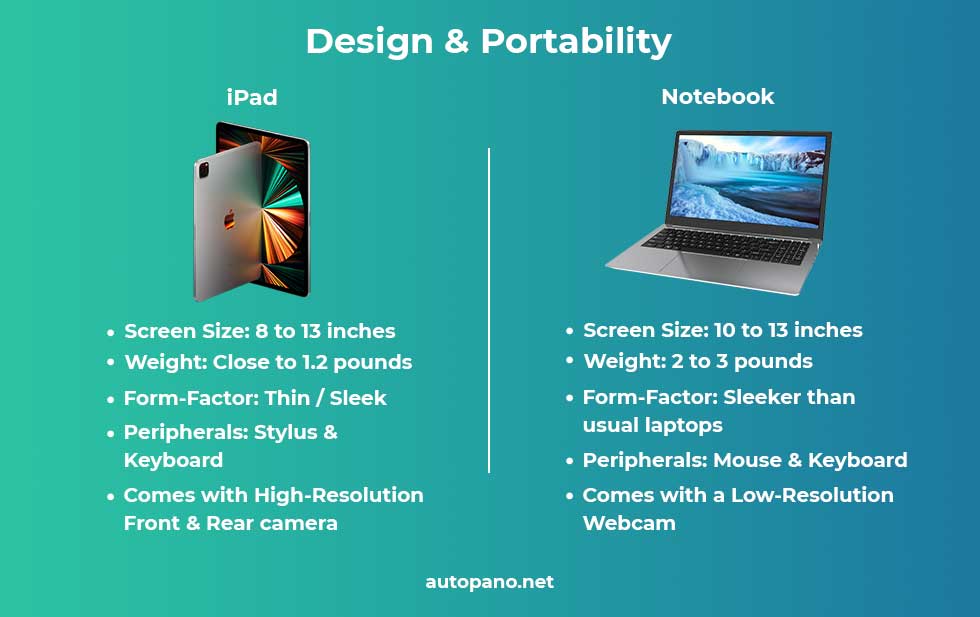 iPads are exquisite, metal-clad devices that are sleek and exceptionally light. If you are into specifics, iPads measure close to 0.25 inches in terms of thickness whereas the weight ranges between 1-pound to 1.4 pounds.
Notebooks, however, aren't too heavy either as the standard 10-inch variants weigh close to 2 pounds. But then, they are structurally a tad inferior with most notebooks featuring plastic-clad chassises.
6. Peripherals and Connectivity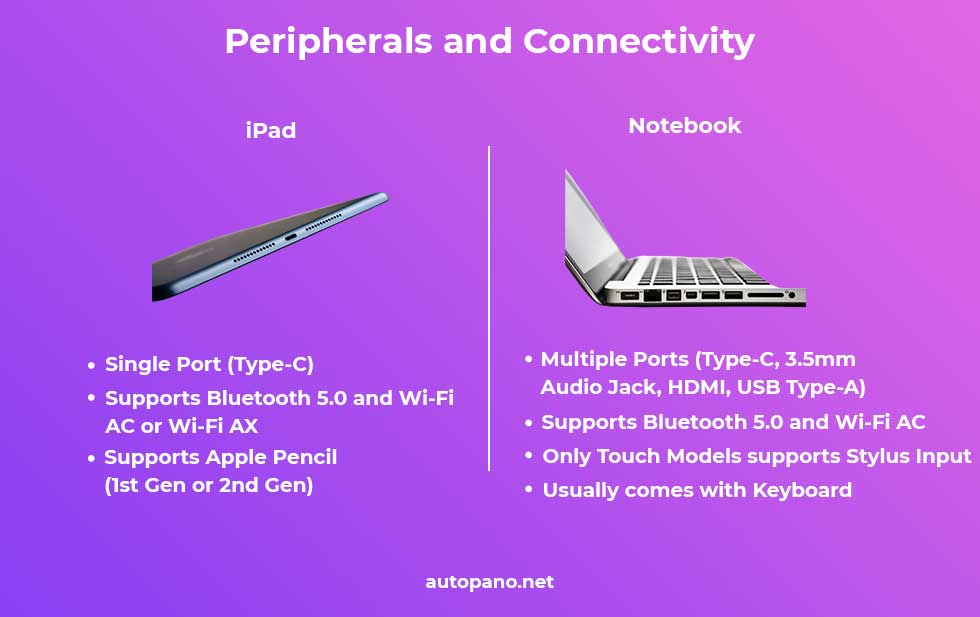 In case you plan on exploring both these devices in their entirety, it is important to focus on the peripherals and connectivity suite. Notebooks sport standard features in this regard with USB 3.0, Type-C, HDMI, and USB 2.0 being the usual set of ports in play. As far as wireless support is concerned, Bluetooth 5.0 and Wi-Fi AC are the latest standards to expect.
iPads, especially the new ones, come loaded with Type-C or Thunderbolt 4 ports. Also, you get access to Wi-Fi 6 wireless standard in case you seek faster online connectivity. But then, if you are into 3.5mm audio jacks, Notebooks invariably have them in place, unlike the newest breed of iPads.
Also, if you are into integrating accessories, iPads offer a lot of options by extending support towards Apple Pencils, both 1st and 2nd gen, and external keyboards. Notebooks hardly offer such benefits and come with pre-existing keyboards.
7. Charging and Battery Life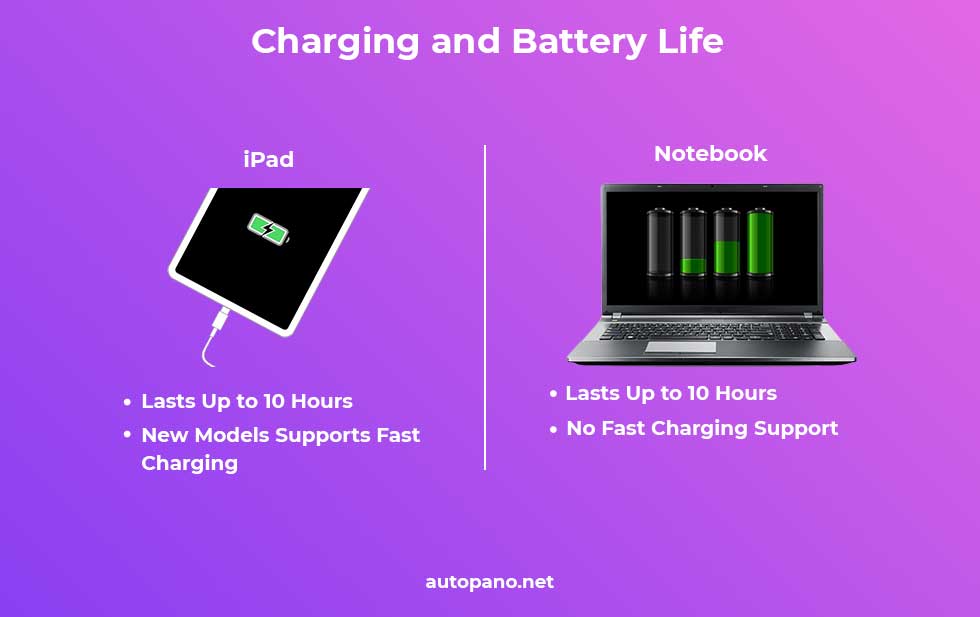 In some cases, iPads end up offering similar battery backups as compared to Notebooks. As a notebook makes way for low-power processors, it is common for it to exhibit a battery life of almost 8 to 10 hours. However, the battery charging functionality is rather standard and you cannot expect high-speed charging support.
The latest lineup of iPads offers 10 hours of battery backup on moderate usage. Plus, they are compatible with fast chargers, provided you are willing to purchase them separately.
8. Pricing
When it comes to the pricing, iPads start at close to 400 dollars for the latest models whereas the older variants can even be procured for close to $300. Notebooks are way more affordable, with the cheapest ones going as low as 200 dollars.
Conclusion
Both iPads and Notebooks are resourceful computing devices. However, they have different functionalities, and therefore, clientele. For instance, if you are interested in purchasing a standard secondary computer for viewing and tweaking basic documents on the go, a notebook seems like a more prudent investment.
But then, if you are more interested in a power-packed tablet-like device that can handle all of your demanding tasks and apps without lags, and that too without compromising on portability, iPads are certainly the better picks, albeit the higher prices.