You can find so many tablets under the $500 price range, but you have to ensure that you do not get a random device that may ruin your expectations. Most people need some standard features on their tablets. We are talking about impressive performance, long-lasting battery, high-quality visuals, and support for newer technologies.
I think the tablet in this budget must have an excellent display, to begin with. Followed by sufficient RAM, durable build, and optimized performance. Finally, if you want to get a sub $500 tablet for college or for drawing, you should check for stylus support. I know that filtering your results based on these criteria can be difficult, especially with so many options.
That is why I have done the difficult part of the job for you. After going through close to 21 tablets, I have picked the top-rated tablets to buy under $500.
Best Tablets Under $500 in 2023
I have tried to make this list as versatile as possible, bringing tablets from every potential category. As a result, you can find iPad OS, Android, and Windows-based tablets on this list. So, based on the ecosystem you currently are a part of, you can make the final pick. I will also recommend a few potential upgrades you can consider with each entry.
1. Best Overall:

Apple iPad Air
The 4th Gen iPad Air is undoubtedly the best tablet to buy under $500. It also happens to be one of the most cost-effective devices that Apple launched recently. Compared to iPad Air 3, this device comes with an edgy design, better stylus support, and top-notch performance. It is thus an incredible choice for those who are already a part of the Apple software ecosystem.
Why Is It Best Suited?
This tablet from Apple brings the best of both worlds: performance and affordability. Its 64GB Wi-Fi model sets you back at $500, which is a great deal. It packs some of the newest hardware from Apple along with a super-modern design. Therefore, staying up to date with new apps and technologies would not be an issue.
The device uses an Apple A14 Bionic chip, which provides impressive performance. Coupled with 64GB of onboard storage and 4GB of RAM, the chip can meet your heavy performance requirements. Moreover, with the upcoming iPad OS 15, you can manage multiple tasks with a never-before ease.
Display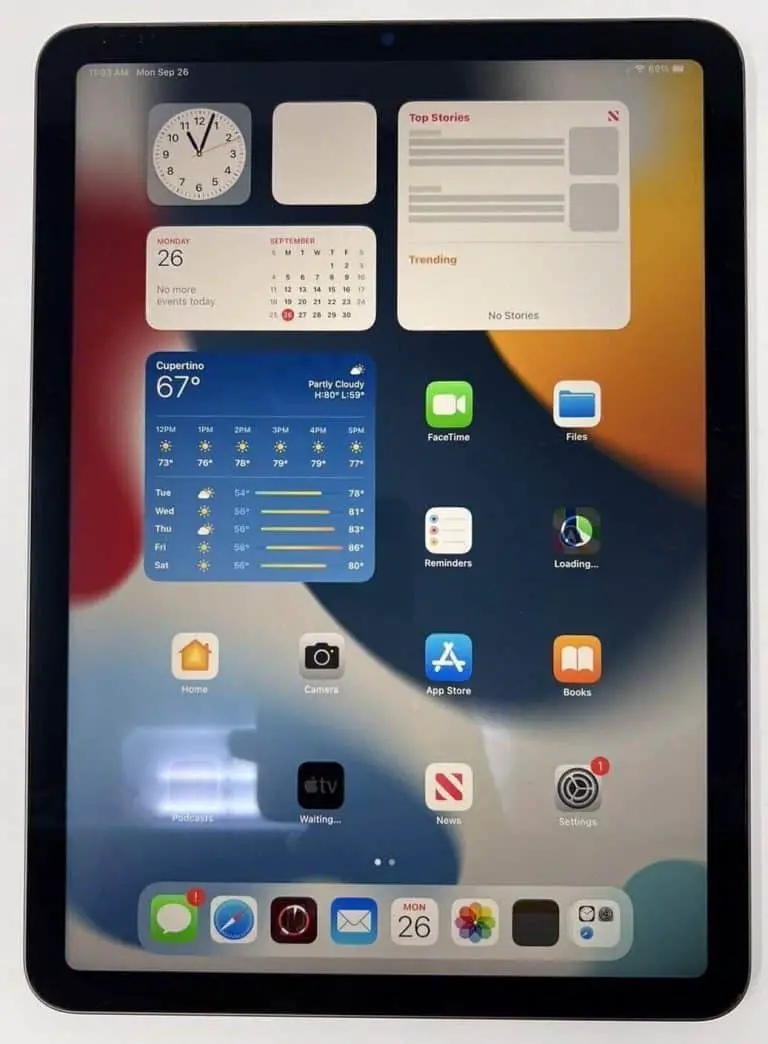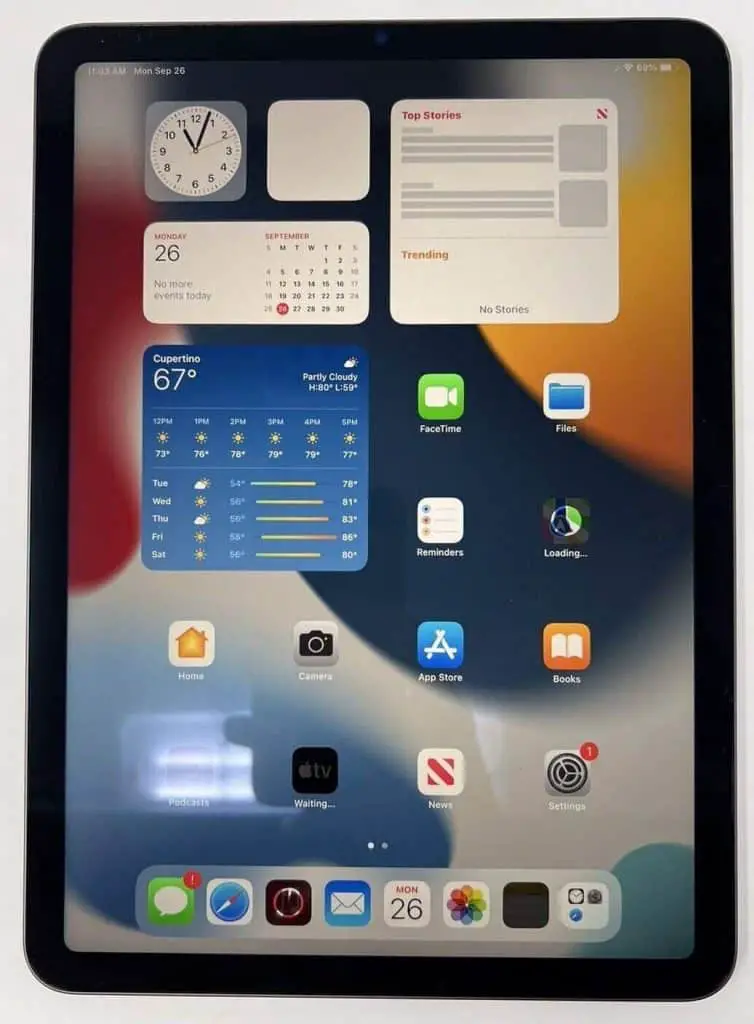 The iPad Air 4 uses a 10.1-inch Full HD+ Liquid Retina display. One of Apple's more affordable display panels, this 2360 x 1640 unit delivers maximum details on screen. The device also has an 81% screen-to-body ratio, which makes the visual takes more immersive. Last but not least, Apple has brought support for a wide color gamut and True-tone display tech.
Design & Connectivity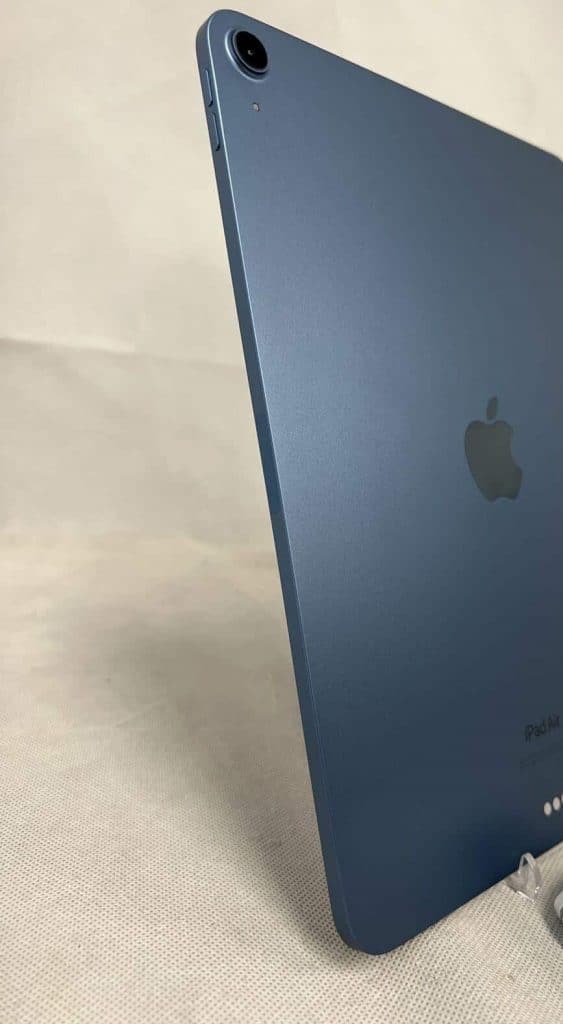 It is a really portable device as it weighs only 1.01 pounds. It also has an incredible thickness of 0.24 inches. As for connectivity, Apple has used a USB Type-C port, accompanied by Wi-Fi 6, Bluetooth 5, and GPS on the wireless side. Unfortunately, the device does not have a 3.5mm jack, but when it comes to listening to music, stereo speakers sound really good.
Other Features
Apple has also included a 12MP wide, dual-pixel camera on the back. It supports 4K video recording at 60fps with gyro-EIS. On the front is a 7MP standard camera that you can use for meetings and video calls. It offers 1080p recording at 60fps. Apple has used a 7606mAh battery pack inside, offering up to 10 hours of screen-on time.
In short, the iPad Air 4 is my go-to choice as an iPad under the $500 price tag. And we can easily recommend it to students, professionals, and drawing artists.
A modern and edgy design

Premium build quality

Apple Pencil 2

nd

gen support

Long-lasting battery life

Incredible performance ratings
It lacks a headphone jack

It does not come with a stylus
2. Best Runner Up:

Lenovo Tab P11 Pro
The Lenovo Tab P11 Pro is the next best choice for an Android tablet under $500. It is powered by one of the best processors from Qualcomm, and the package has the best hardware too. However, you will have to pay additionally for the keyboard and pen, as you did in the case of the iPad Air. By the way, a more affordable model of the device, Tab P11 Plus, is also available.
Why Is It Best Suited?
The 128GB storage and Wi-Fi variant of the Lenovo Tab P11 Pro is available for a sweet price point of $500. It also packs 6GB of RAM, which is sufficient for performance-friendly users. This hardware setup itself makes the tablet an excellent choice for students and professionals.
Coming to internal hardware, Lenovo has used a Qualcomm Snapdragon 730G. Thanks to 6GB of RAM, you do not have to worry about multitasking, either. In addition, the system runs on Android 11, which is optimized for low-configuration devices as well.
Display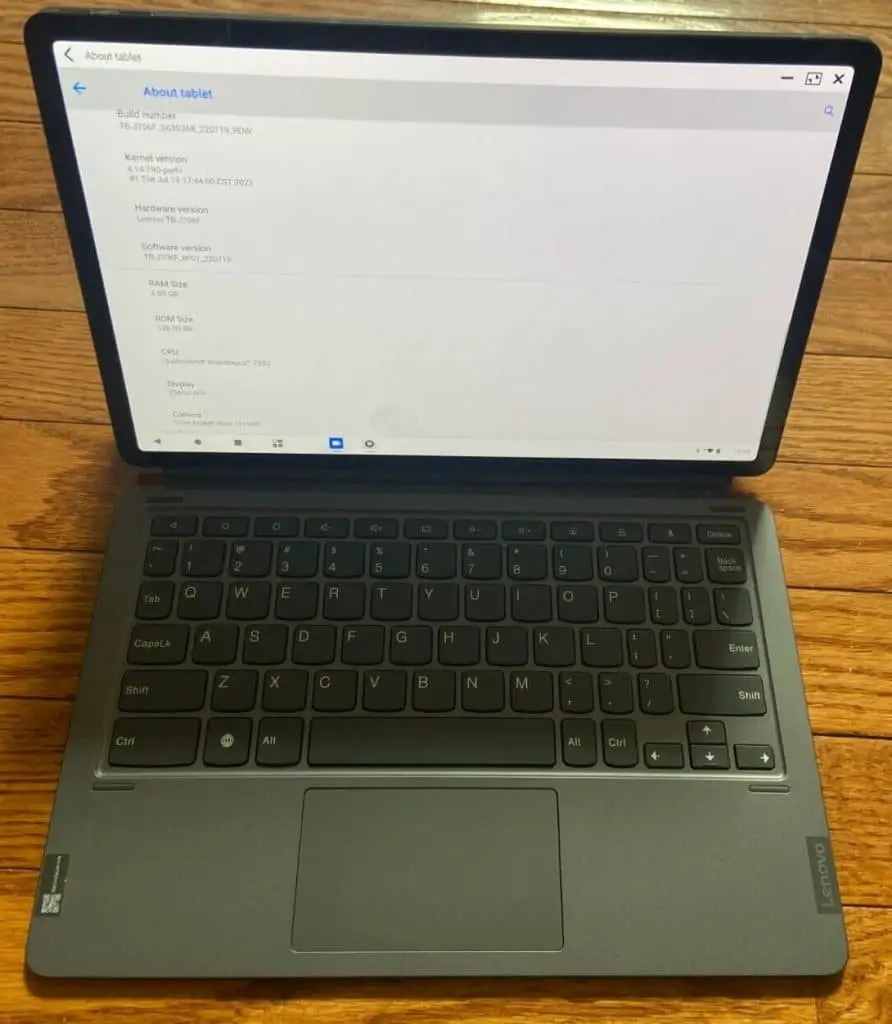 A little bigger than the iPad Air 5, the 11.5-inch Full HD+ OLED panel on the device looks fantastic by any criteria. The Dolby Vision panel has a maximum resolution of 2560 x 1600 and an aspect ratio of 16:10. The screen-to-body ratio of 84.6% also contributes to the immersive feeling from the system.
Design & Connectivity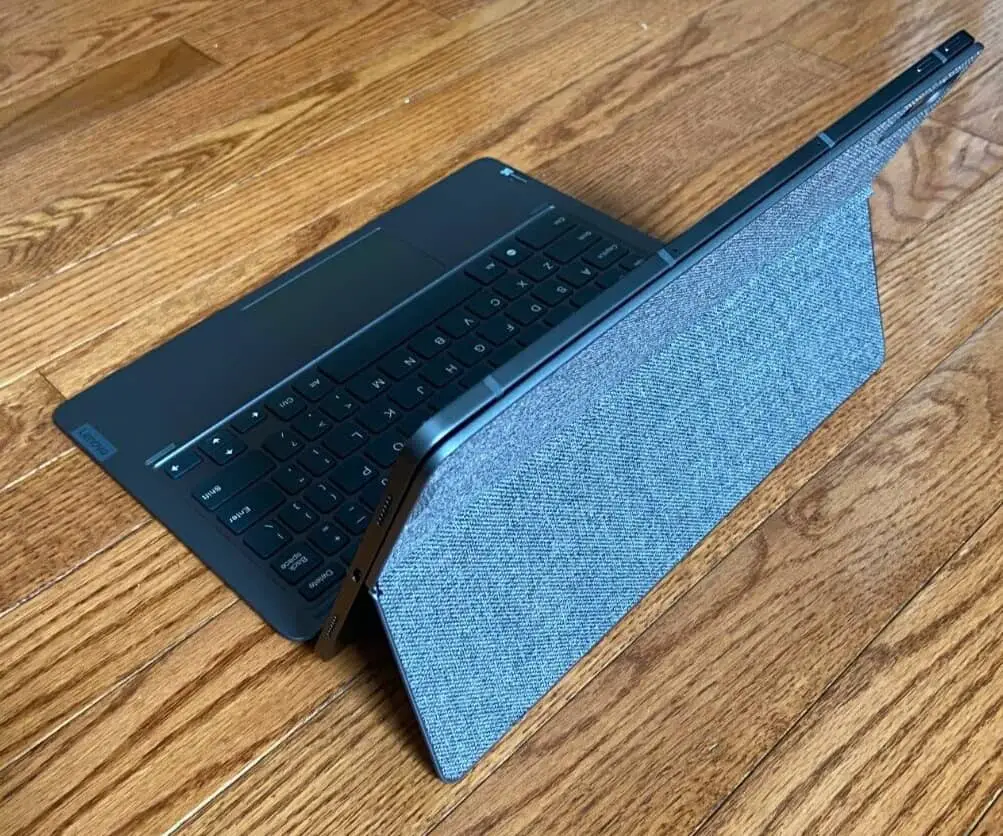 In terms of design, the Lenovo Tab P11 Pro is not extraordinary. It has a standard thickness of 0.27 inches and weighs only 1.07 pounds. Coming to connectivity, a USB Type-C port is a primary option, along with Wi-Fi 5, Bluetooth 5, and GPS. The device also retains an audio jack.
Other Features
The tablet packs a dual-sensor system on the back, with 13MP wide and 5MP ultrawide lenses. On the front side, you can find an 8MP camera as well. The rear camera supports Full HD recording at 30fps. Lenovo has used an 8600mAh battery, which claims to run for up to 10 hours.
Although the tab does not come with a stylus or keyboard, getting them can make Lenovo Tab P11 Pro a great device for students. Regardless, the current package is worth what you pay.
Bigger Full HD+ OLED display

Snapdragon 730G for performance

Sufficient RAM and onboard storage

Dual-camera setup on the back

Smooth and optimized software
It does not come with a stylus/keyboard

Build quality could be better
3. Best Windows Tablet:

Microsoft Surface Go 2
The Surface Go 2 is still one of the best Windows tablet PCs you can get from Microsoft. As it happens, you can get it while spending less than $500. This Microsoft-branded hybrid device is an excellent choice for teachers, stock traders, illustrators, and professionals alike.
Why Is It Best Suited?
Like we did see on the iPad Air 4, Surface Go 2 is a complete package. It is well-integrated into the Microsoft ecosystem with the options to expand. When you pair this tablet with the Surface Pen and a compatible keyboard, you are good to go.
In terms of hardware and performance, the device does not back down. It uses an Intel Pentium Gold 4425Y processor clocked at 1.7GHz. Combine it with 8GB of RAM and 128GB of RAM; you have got a pretty potent Windows 10 laptop right there.
Display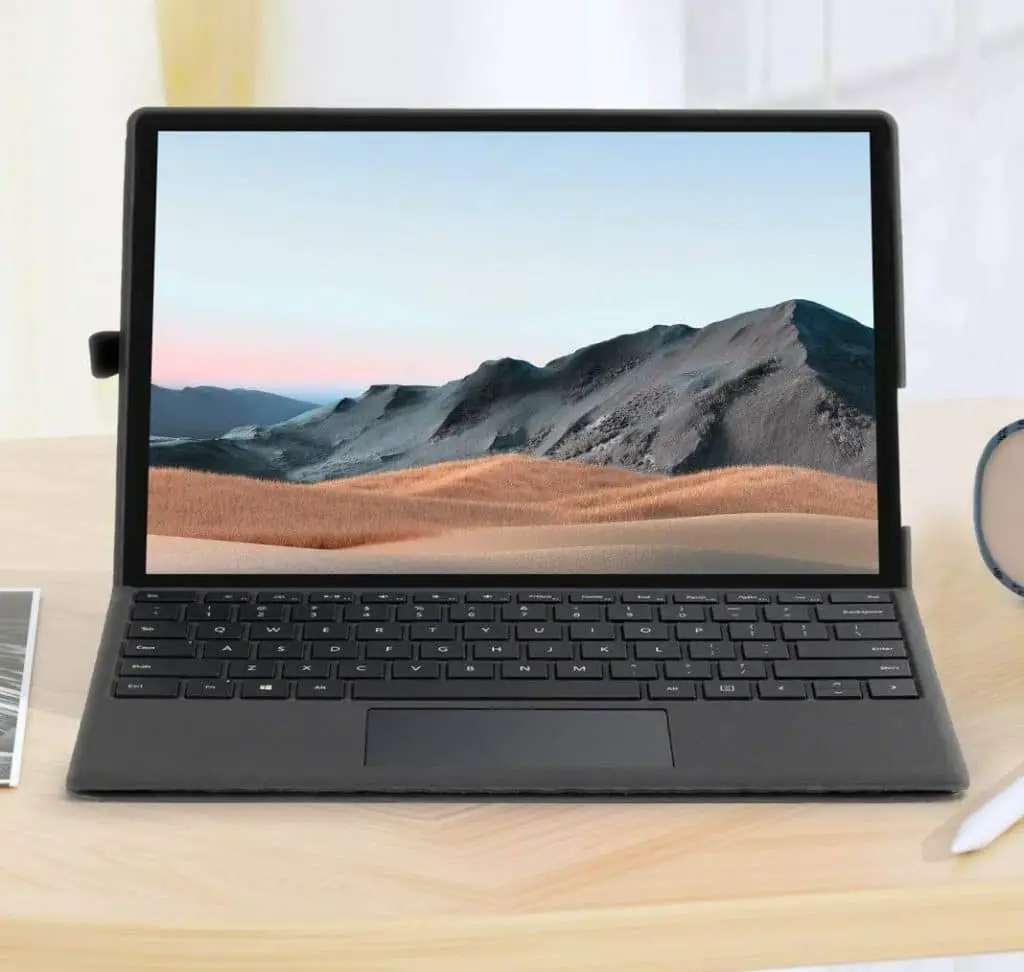 The device comes with a 10.5-inch Full HD panel that competes well with other tablets we have listed. It has full HD resolution and offers good viewing angles. Plus, the touchscreen display works fine with various Surface accessories in the market.
Design & Connectivity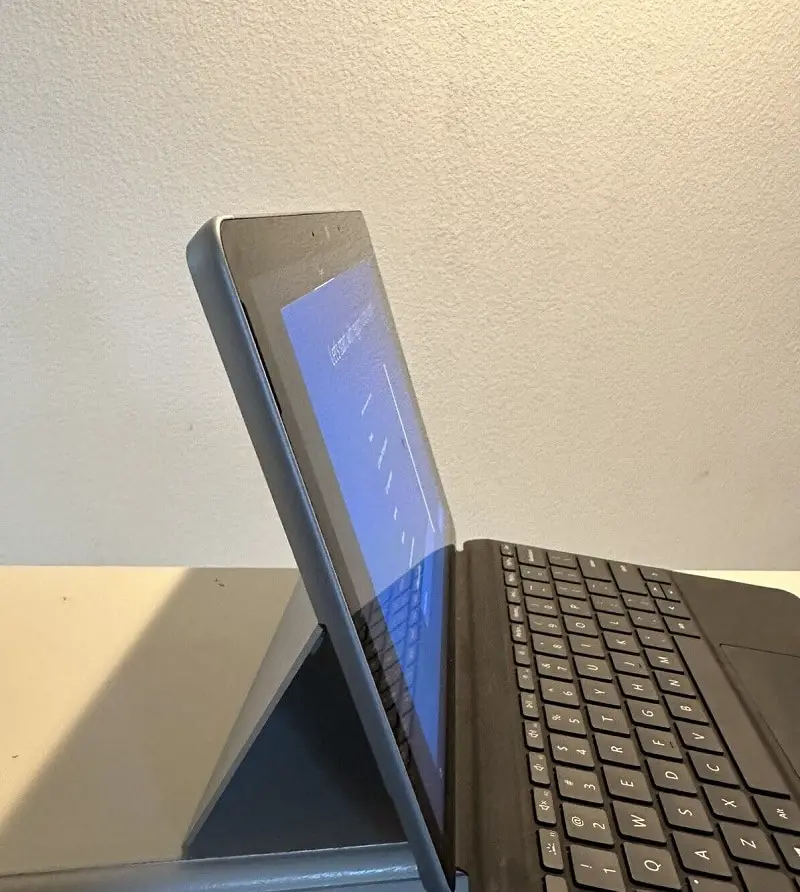 In terms of design, the Surface Go 2 is a superstar in that you get all the necessary options. You can choose between Laptop, Tablet, and Studio modes on the device. In any case, it weighs only 1.20 pounds and can be the perfect companion for your backpack. In addition to the USB Type C port, it checks all the wireless boxes.
Other Features
The device does have both front and back cameras. However, you cannot expect high-quality content from these sensors. Nevertheless, the gadget can run for up to 10 hours on a single charge, which is excellent for a tablet running on Windows 10.
In short, if you are looking for a Microsoft-branded Windows tablet under $500, you cannot go wrong about the Surface Go 2 as a choice.
Pure Windows experience

Surface accessories support

Incredibly compact design

Competitive performance

Full HD PixelSense touchscreen
Stylus not included

Not suitable for high-resource tasks
4. Best 2-in-1 Tablet:

CHUWI Ubook X
The CHUWI Ubook X is an interesting device when you need a powerful Windows tablet PC under $500. The package contains all the accessories for a smooth computing experience, including the stylus and keyboard. It also makes a few other promises on the performance front.
Why Is It Best Suited?
The CHUWI Ubook X is a comprehensive package in terms of performance and features. One of the few good Windows 10 PCs under $100, the device brings laptop-level hardware to a smaller form factor. So, at the same time, you can enjoy top speed and performance.
As for hardware, the device uses an Intel Core N4120 quad-core processor coupled with 8GB of RAM. When a 128GB SSD storage is added to the package, the tablet can be swift through multitasking hurdles. The clean Windows OS installation also helps.
Display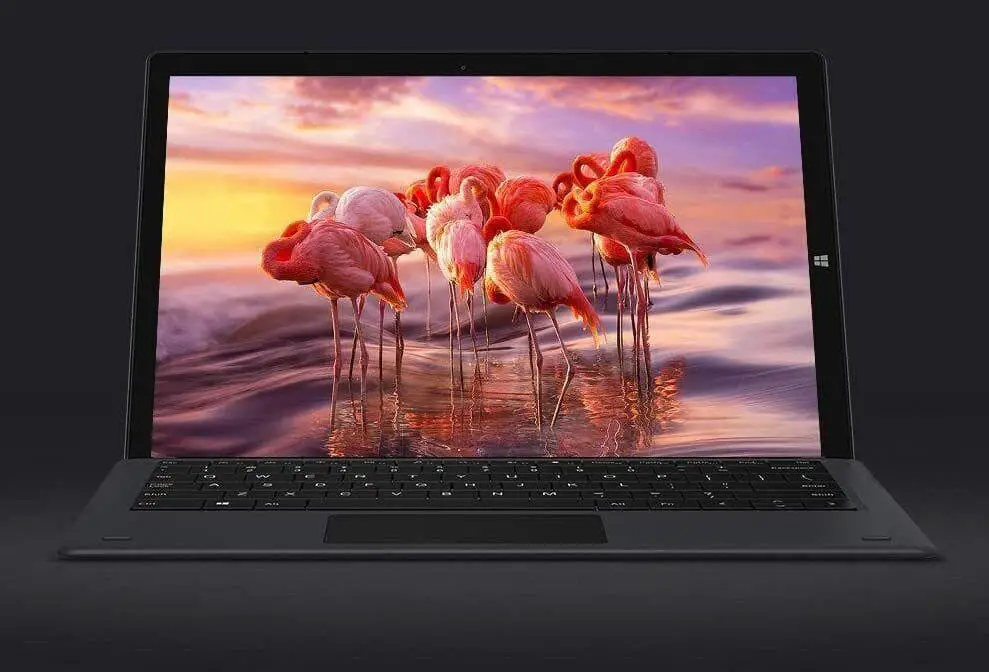 The device comes with a comparatively larger screen. In addition, the 12-inch Full HD+ 2K panel has an aspect ratio of 3:2 and a resolution of 2160 x 1440. Thus, in comparison to 16:9 panels, you can enjoy better content. However, the bezels are too noticeable.
Design & Connectivity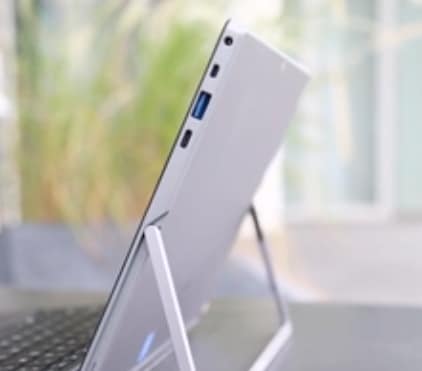 The hybrid tablet resembles the design of the many Windows 10 tablet PCs in the market. You can quickly attach the keyboard and use the kickstand to turn the device into a laptop. There are various ports such as USB Type-C, Type-A, Micro HDMI, audio, Wi-Fi, and Bluetooth.
Other Features
The package only contains a front camera that you can use for video calls. The manufacturer has used a 38Wh battery, capable of providing up to 9 hours of backup. It also claims to offer several hours of standby time.
In short, the CHUWI Ubook X checks all the essential boxes when it comes to purchasing the best 2-in-1 tablet under $500 price. It does have some shortcomings in terms of the ecosystem, though.
Super-affordable Windows 10 device

8GB RAM and 256GB storage

Kickstand with adjustable angles

Included keyboard and stylus

Multiple connectivity options
Subpar build quality

Bigger bezels on the display
5. Best Value for Money:

Samsung Tab S6 Lite
Coming back to the Android ecosystem, the Samsung Tab S6 Lite is an excellent choice if you have a budget of less than $500. It brings the necessary hardware and features in an affordable package. However, if you want better performance, you can spend $30 extra and go for the Samsung Tab S7.
Why Is It Best Suited?
The Samsung Tab S6 Lite seems to be a versatile yet brief package of what people expect from a tablet PC. Despite being a Lite version, the tablet does not compromise on the performance front. As far as everyday tasks are concerned, it is a super-efficient combination.
It comes with the Exynos 9611, Samsung's custom-made chip that is clocked at 2.3GHz. Even though it has only 4GB of RAM, 128GB of expandable storage comes to the rescue. You can get up to 1TB of storage using an SD card.
Display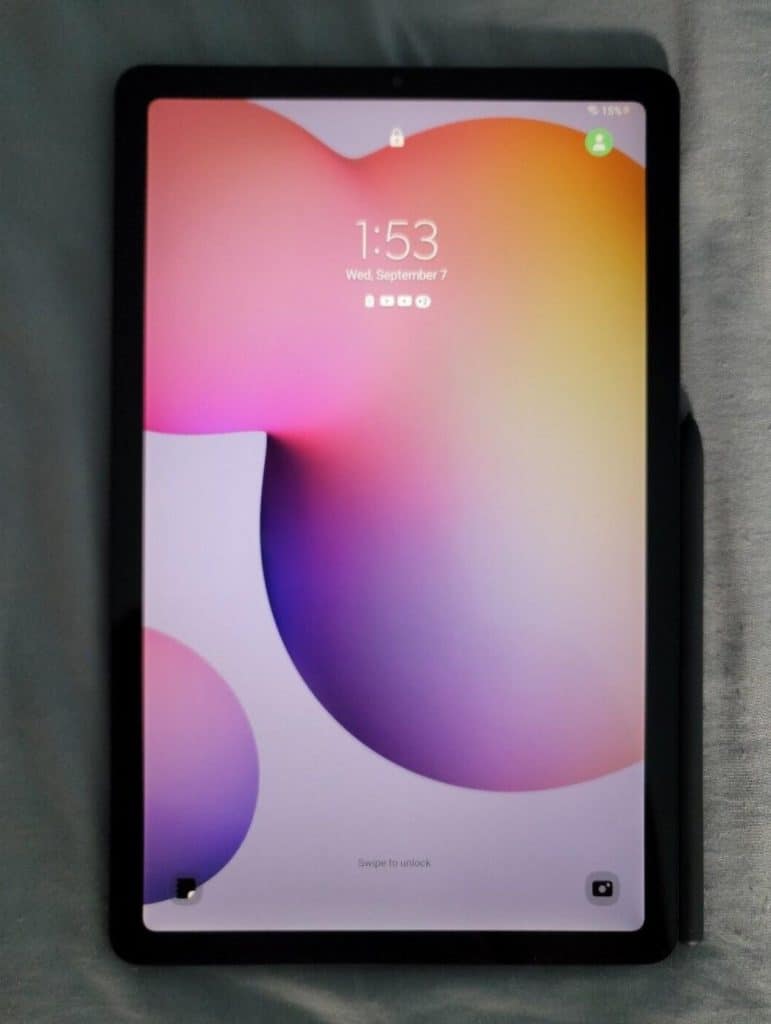 Samsung has not made any compromises in the display department, either. The device has a 10.4-inch Full HD+ display with a resolution of 2000 x 1200. In addition, you can expect incredible touch sensitivity and S Pen support with the panel, ensuring good viewing angles.
Design & Connectivity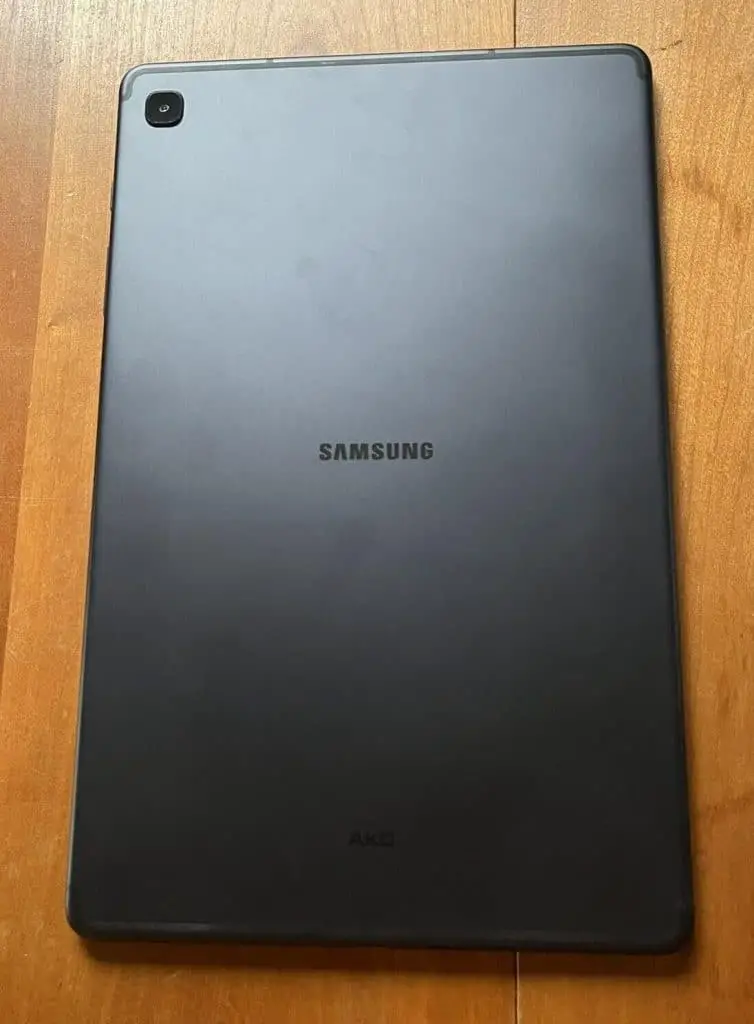 Sleek is the term I would use to describe the design of the Samsung Tab S6 Lite. It does not weigh much at 1.02 pounds. At the same time, parts of the tablet feel premium, especially when coupled with the S Pen and keyboard. In addition, the device comes with AKG-tuned audio and a 3.5mm audio jack alongside the USB Type-C port.
Other Features
Samsung has added a single-camera setup on the back, using an 8MP wide sensor. It lets you record 1080p content at 30fps. On the front, there is a 5MP camera with the same recording options. In the end, the tab has a 7040mAh battery that can keep the device running for up to 13 hours.
In short, if you are okay with everyday-quality performance, you should check out what the Samsung Tab S6 Lite has to offer.
Affordable pricing

S Pen included

Versatile accessories

AKG-tuned audio

Incredible battery life
Limited RAM

It could be more optimized
6. Best with Chrome OS:

Lenovo Chromebook Duet
Last on this list is a popular Chromebook from Lenovo. However, the Chromebook Duet is known for flexible design options and productive features. If you need a budget-friendly tablet for homeschooling and teaching, it will be a great option.
Why Is It Best Suited?
Even though it has a minimal profile, the Lenovo Chromebook Duet is a great package. Because it runs on Chrome OS, you do not have to worry about resource consumption. As long as you have the right web apps, the device will stay smooth.
In terms of hardware, Lenovo has gone for a MediaTek Helio P60T SoC that is clocked at 2GHz. Even though 4GB of RAM may seem a little too minimal, we must not forget that Chrom eOS is highly efficient. Moreover, the 128GB eMMC storage is commendable too.
Display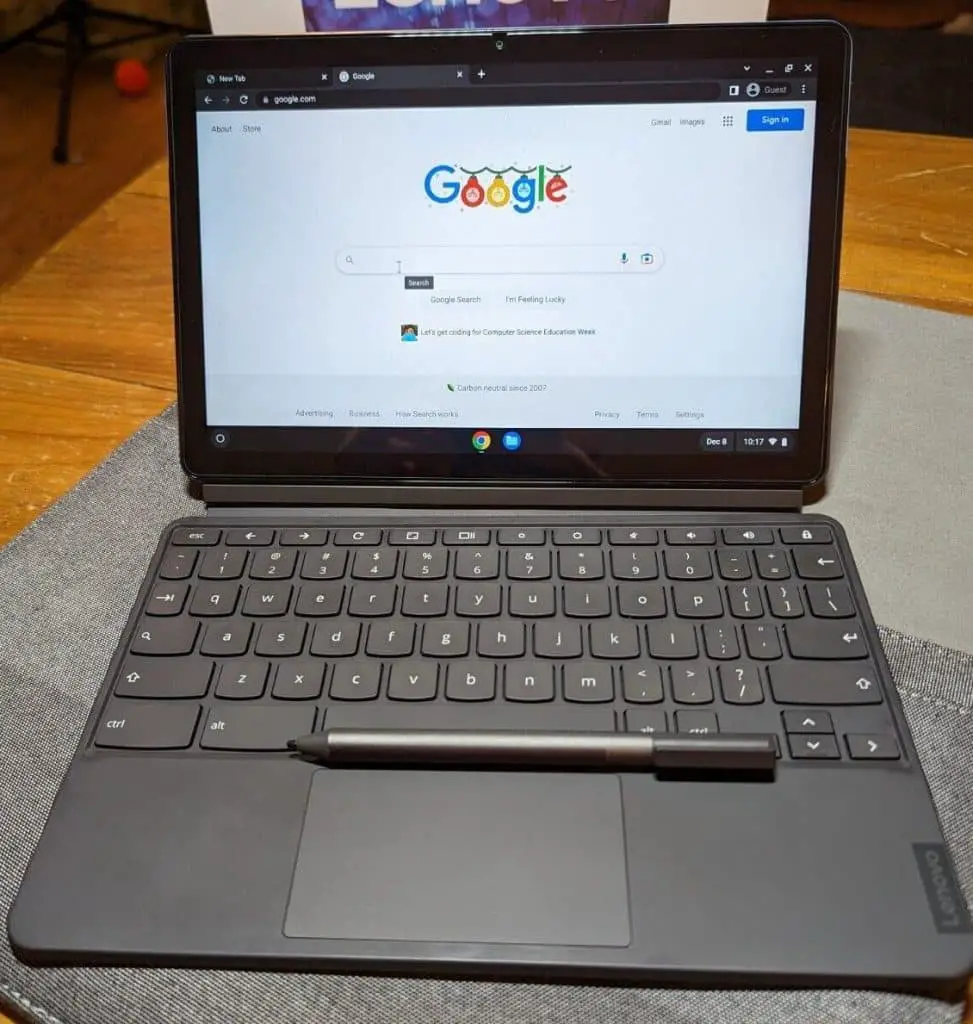 The 10.1-inch Full HD display on the device is not magical by any means. It has a resolution of 1920 x 1200, with good viewing angles. In addition, the touchscreen display has been optimized for Chrome OS without leaving any part unchecked.
Design & Connectivity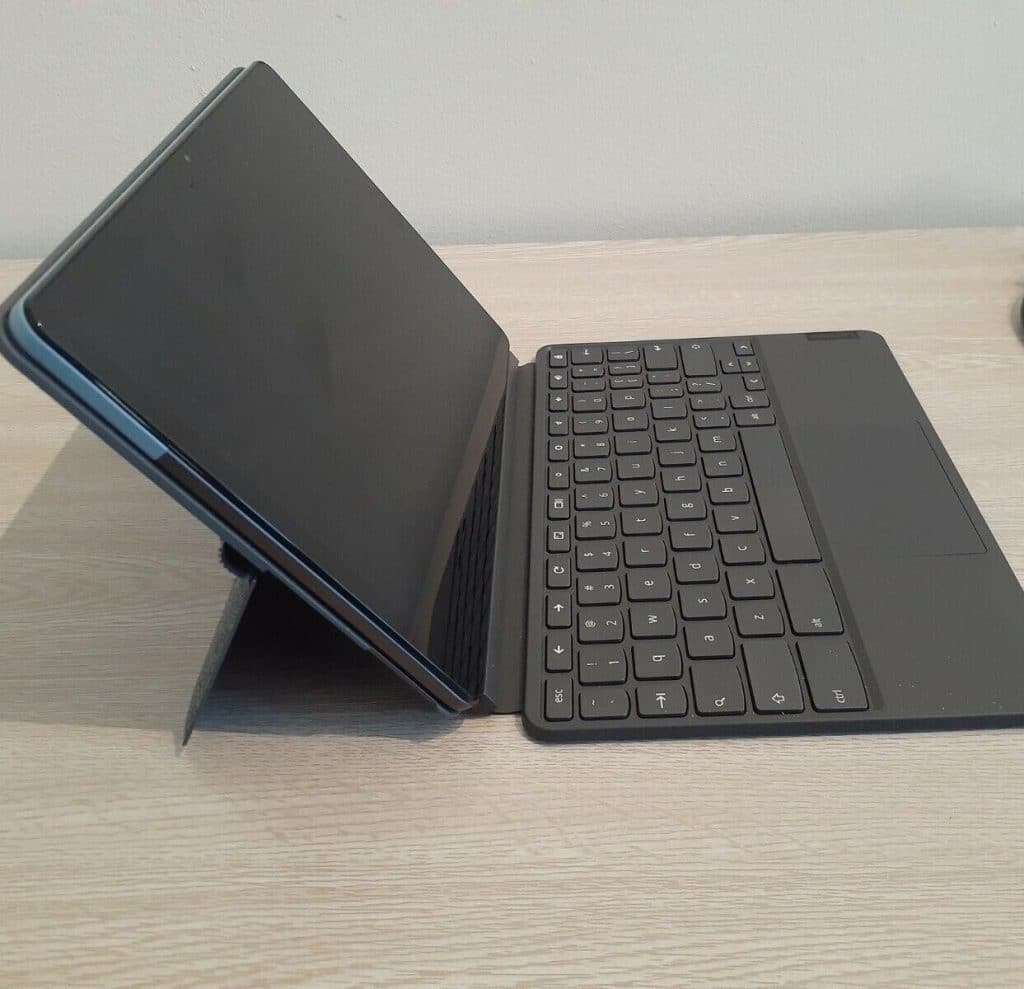 The Lenovo Chromebook Duet follows a simple design with a built-in kickstand. Because the device comes with a stylus, you can make the best out of the kickstand. It uses a USB Type-C connection for everything. It also packs Wi-Fi 5 and Bluetooth 4.
Other Features
The 8MP rear camera and the 2MP fixed-focus front camera do decent jobs. However, as far as video calls and meeting sessions are concerned, you do not have to worry. Lenovo claims that the device would run for up to 10 hours on a single charge.
Long story short, the Lenovo Chromebook Duet is an excellent choice for those who need an upgrade to Chrome OS. It is pretty different from other tablets in many ways, though.
Chrome OS-enabled

Optimized for e-learning

Decent battery life

Multiple connectivity options

Stylus pen included
Performance limitations

Compatibility concerns
Frequently Asked Questions
Which is the best tablet under $500?
Contrary to popular belief, you can find many good tablets under the $500 price tag. Furthermore, I cannot say that one tablet is better than all others. The Apple iPad Air 4, Samsung Galaxy Tab S6 Lite, and Microsoft Surface Go 2 are some of the most popular choices in the sector.
Should you spend 500 dollars on a tablet?
If you can increase your productivity, you should spend 500 dollars or more on a tablet. By spending at least 500 dollars, you can ensure that your device has a good processor, sufficient RAM, stylus support, etc. You can get the device from a reputed brand as well.
Which is the best iPad to buy under $500?
The iPad Air 4 is the best iPad you can buy for under $500. The device has a better display than the previous version, Apple Pencil 2 support, a faster processor, more RAM, and a top-mounted biometric fingerprint scanner. It is also one of the fastest iPads in the price range.
What specs can I expect in a 500-dollar tablet?
In most cases, you can expect 4GB of RAM, 128GB of RAM, and a quad-core processor in a tablet priced under $500. However, there are exceptions. For example, tablets with 8GB of RAM and more storage sometimes fail to provide real-world performance. So, you must read the specs alongside other aspects.
Verdict
I hope you can find the tablet under the $500 that you were looking for. I would also like to make a few quick recommendations for those who did not read everything.
You should go with the

Apple iPad Air

if you need an iPadOS-based device with great performance and multitasking options.
If you are looking for a Windows laptop that does not let you down, the

Surface Go 2

from Microsoft is the better option.
In the Android sector, you can choose the

Samsung Tab S6 Lite

, which offers top features and features despite the affordable price tag.
You can consider the other devices I have listed as valuable alternatives.