As a beginner, basic illustrations, comic book creation, and sketching a bit can be some of your top-most priorities. And to get them done right, you should aim for high-quality digital art tablets. This article not only recommends top drawing tablets for beginners but also includes a dedicated buying guide to help you choose the right one.
Yet, identifying the best beginner drawing tablet isn't a walk in the park, especially when budget constraints are there. Issues related to heft, processing power, RAM support, battery life, and price-to-value ratio are common. Also, it would help if you kept your eyes open for the stylus pen, which in fact, is a tad hard to find in cheap drawing tablets.
Despite the blockers along the way, beginners like students, hobbyists, and graphic design enthusiasts need their share of creative resources. And that is exactly why I have prepared a list of tablets that can actually help make a difference. I tested each device for over two weeks to finally curate a list that fits into the pocket without cutting those creative corners.
7 Best Drawing Tablets for Beginners in 2023
Short story: I am going to enlist 7 of the best digital drawing tablets for beginners, with a focus on functionality, cost-to-ownership, and availability. Note that I haven't included drawing tablets that don't need a computer. Although they can be a good fit for beginners, they're often pricey and cannot beat drawing-specific devices.
Long story: After testing each starter drawing tablet for an extended period of time and interviewing aspiring designers, manga artists, and creators, I have finally zeroed in on the best picks for you to consider. As far as the list is concerned, you can expect a few premium models at the start, followed by the mid-range picks and then the entry-level, budget variants.
So, let's dig our claws deep into the discussion, starting now:
1. Best Overall:

HUION Kamvas Pro 16
As a beginner, you do not want to miss out on the HUION Kamvas Pro 16, especially when the screen quality is your top-most preference. The Pro 16 is one of the few products to let you handle some of the more complex designs without compromising on color fidelity. Plus, it even bests the performance of the Pro 12, with a bigger screen at its disposal.
Why is it suited for Beginners?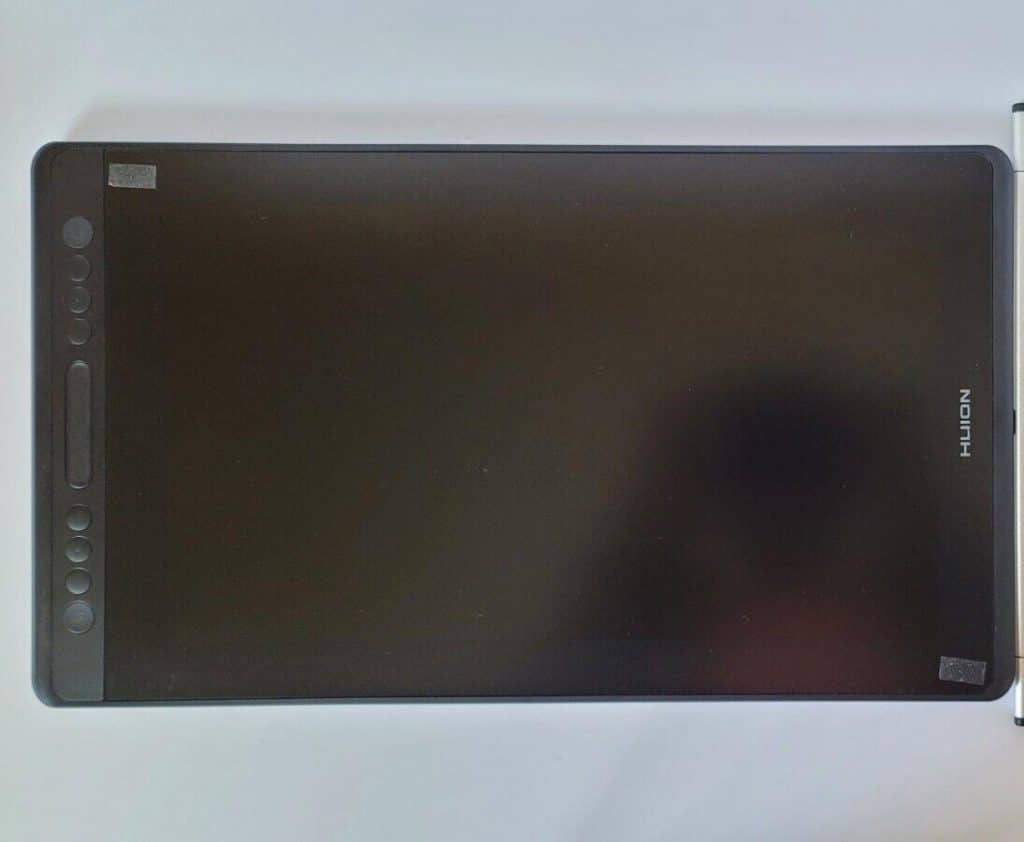 Beginners prefer bigger displays and shorter learning curves — something the Huion takes pride in offering. The 15.6-inch screen is an asset, followed by a native resolution of 1920 x 1080 pixels. For designers, the IPS screen is also quite a handful — enforced by a significant color gamut of 120% sRGB. Adding to this is the 178-degree viewing angle, preferably for designers.
The best-in-class stylus pen drives the next leg of utility with 8192 pressure levels, passive charging schematics, and 10 pen nibs. You get six shortcut keys and a touch bar to manage the device better. And if you are concerned about the drawing experience, believe that Kamvas Pro 16 matches and exceeds expectations, all thanks to the support of Manga Studio, Photoshop, and more.
Connectivity & Compatibility
You can connect the Kamvas Pro 16 to the host machines using the functional Type-C port. Plus, the cable comes bundled with the package. Next, you have the multi-OS compatibility, extended from Chrome and going all the way up to the macOS and Windows platforms. The app support is great, with Huicon embracing ZBrush, Clip Studio, and even the more demanding Sketchbook.
Design & other Features
This tablet separates the wheat from the chaff by presenting a thick and durable form factor, weighing close to 3 pounds. The dimensions read 17.2 x 9.9 x 4.5 inches, and it also makes way for an anti-glare screen and a standard pen holder. Making the designs flawless is the 60-degree tilt support — that deserves a separate discussion of its own.
Conclusion
Overall, the HUION Kamvas Pro 16 is the best drawing tablet with screen for beginners, specifically illustrators and creative manga designers. Compared with other products on the list, the quality of the stylus and the display clarity set it apart.
Suggested Read: Best Huion Tablets
Excellent for putting in longer spells

High-end pen for the best experience

Affordable yet functional

Shortcut keys make life easier
2. Best Graphic Design Tablet:

XP-Pen Artist 15.6 Pro
If you're looking for a graphic design tablet for beginners, a premium display of the XP-Pen Artist 15.6 Pro makes a lot of sense. This beginner drawing tablet is an excellent GIF, comic book, and meme creator, courtesy of the exceptional color accuracy levels on display. Compared to the Artist 13 Pro, the 16 Pro makes quite a compelling case, all thanks to the bigger screen.
Why is it suited for Beginners?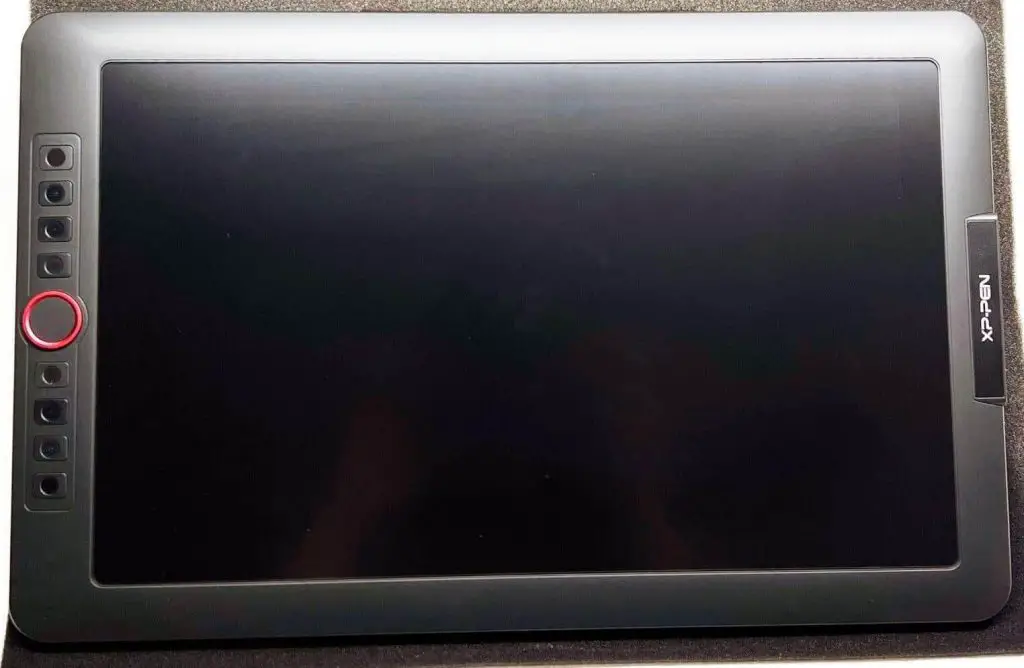 The 15.6-inch screen IPS screen is bright enough, boasting a 120% sRGB color palette, laminated paneling, and Full HD resolution. The 178-degree viewing angle is a great addition, whereas the excellent visual angles ensure excellent sunlight visibility, provided you prefer working outdoors.
The stylus is responsive enough, supported by 8192 pressure sensitivity levels, the lowest level of parallax, and the 60-degree tilt support. Eight shortcut keys add to XP-Pen's productivity, whereas the solitary Red Dial makes life easier if you look for optimal efficiency.
Connectivity & Compatibility
The Artist 15.6 Pro lets you establish wired connections with the host devices, primarily the Windows and macOS-powered setups. A multipurpose cable also comes bundled with this device, making it easier for you to establish connections. Coming to the app support, XP-Pen lends support to Photoshop, Sketchbook, and other relevant resources.
Design & other Features
The plastic-clad XP-Pen Artist 15.6 Pro weighs close to 3.31 pounds and measures a significant 17.4 x 11.02 x 0.51 inches. Plus, this beginner digital art tablet also bundles a kickstand that works just fine, making it easier for you to work across modes.
Conclusion
The XP-Pen Artist 15.6 Pro is one of the good drawing tablets for beginners. It's aimed at standard designers and illustration creators. For those looking at a comparative study, the Artist 15.6 Pro scales above the rest when color fidelity is concerned.
Laminated screen is bright enough

Usable shortcut keys

Stylus is quick and responsive

Customizable and durable stand
Heavy

Lacks Wacom's responsiveness
3. Best Wacom Tablet for Beginners:

Wacom One
Not many drawing tablets, let alone those for beginners, are good enough when multi-OS compatibility is concerned. The Wacom One changes all that by supporting almost every host platform. It's also a better bet as compared to the likes of Wacom Cintiq, which only support a handful.
Why is it suited for Beginners?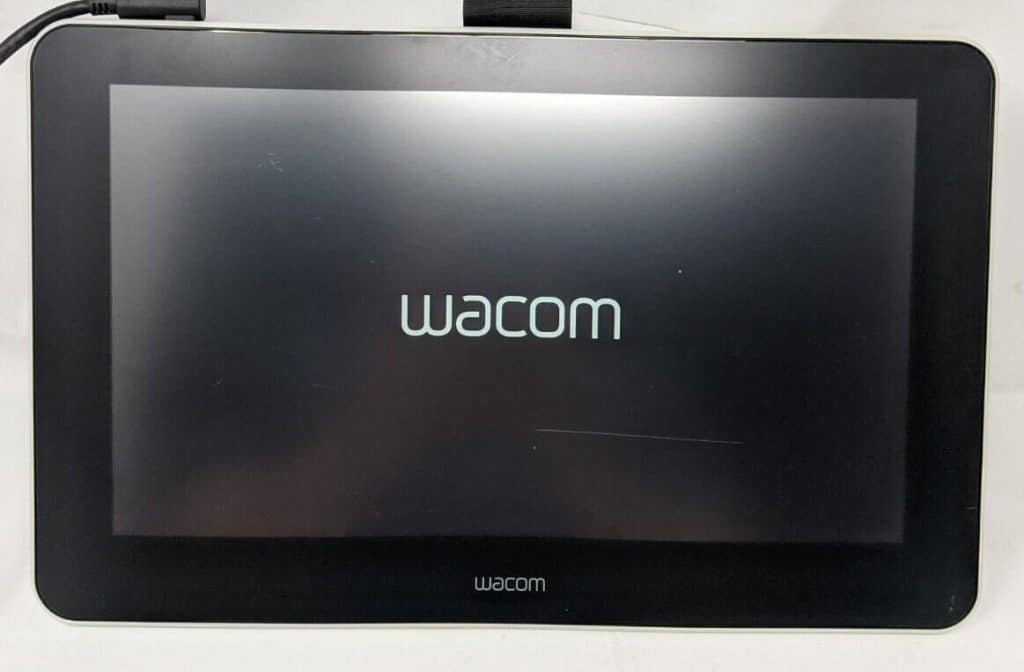 The 13.3-inch IPS screen is a reason big enough to consider it the best art tablet for beginners. The 99% sRGB or the 72% NTSC color gamut is added to the real estate, focusing on color accuracy. Next, you have the wide-angle viewing experience followed by the glare-free schematics and a 16:9 aspect ratio.
This Wacom variant makes way for a standard stylus, boasting 8 additional nibs and a pressure sensitivity peak of 4096. As a designer, you can use the same to draw basic illustrations, where shading isn't a priority.
Connectivity & Compatibility
The Type-C and Type-A interfaces make this Wacom tablet easy to connect with. Plus, it works really well with every PC, MacBook, Chromebook, and Android tablet in the retail space. When it comes to OS support, a lot is going for this tablet as it lets you work alongside Limnu, Pear Deck, and other productivity-enhancing resources.
Design & other Features
At close to 2.2 pounds, the plastic-clad One from Wacom is quite a steal. As far as dimensions are concerned, it measures 8.86 x 14.05 x 0.57 inches, which is a tad thick to my liking. The 60-degree tilt support is a great asset for aspiring designers.
Conclusion
If OS compatibility is one of your priorities, I would recommend the Wacom One over any other drawing tablet with a pen for beginners. Also, this is quite an easy device to work with for designers looking for something with a shorter learning curve.
Yet, if you are more interested in shortcut keys for managing your tasks well, you can always consider investing in the variant with the Express Key, which doesn't cut corners when other features are concerned.
Suggested Comparison: Wacom vs Huion
Lighter than most drawing pads

Looks and feels premium

Works with Type-C interfaces

Bright screen

Multi-platform compatibility
Pen isn't as responsive as high-end offerings

Thickish
4. Best Tablet for Animation:

XP-PEN Artist 13.3 Pro
Are you into animation or planning to learn the art? You would need a responsive tablet, and what can be better than the XP-Pen CR Artist Pro for animation. The perfect sRGB color palette makes it brighter than other products, especially the more dated XP-Pen variants.
Why is it suited for Beginners?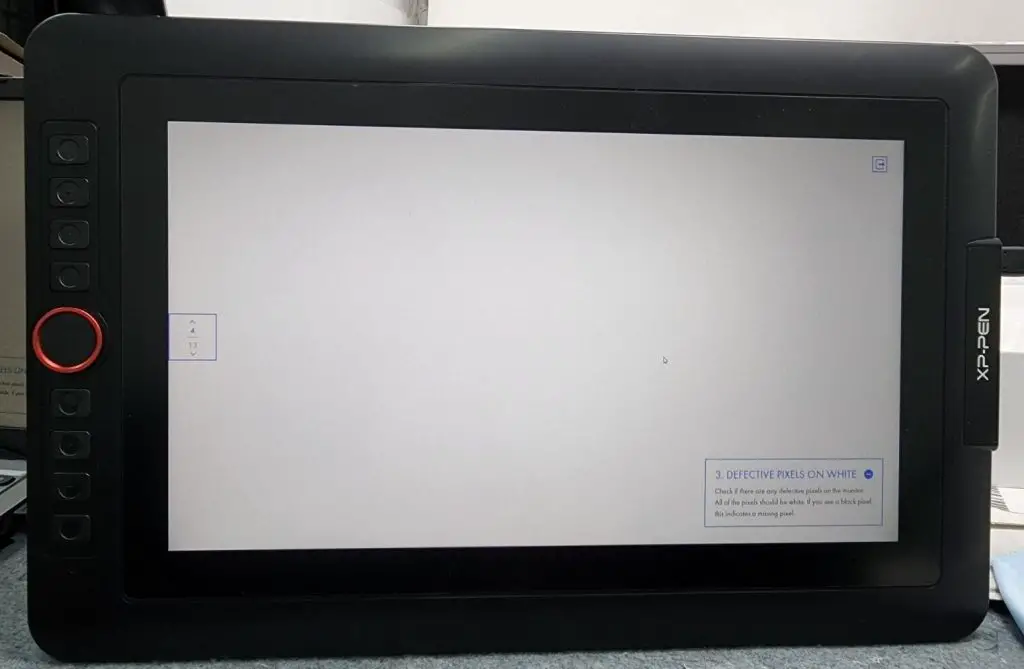 Well, the Artist Pro has a lot to offer, becoming a great animation tablet for beginners. Firstly, it is the 13.3-inch screen that makes quite an impression. Plus, you have an overall resolution of 1920 x 1080 pixels. And that color accuracy is next to one with XP-Pen supporting a 123% sRGB color gamut. Adding to this is the 178-degree viewing angle for a more vivid experience.
The standard, EMR-powered stylus is a great addition, more so with 8192 pressure sensitivity levels to work with. Plus, there are 10 nibs and 8 shortcut keys for managing the pen and device perfectly. Also, the shortcut gamut gets new addition to the roller wheel, especially for better handling of the designs.
Connectivity & Compatibility
The Artist Pro supports wired connectivity, features a USB interface, and comes bundled with a relevant cable. As far as OS compatibility is concerned, you can expect it to work well with PCs and MacBooks alike. Also, with the fully laminated display and 60-degree tilt functionality at work, you can use XP-Pen CR to work with apps like Blender, Illustrator, and more.
Design & other Features
The Artist Pro is designed to perfection, despite being metal-clad. The screen is glare-free to work on, whereas the device weighs close to 2.50 pounds and measures 15.37 x 9.84 x 0.51 inches. Next, you have the option to pair an adjustable stand, as per preferences.
Conclusion
The XP-Pen CR Artist Pro is one of the best tablets for beginners, especially if they prioritize the color-accuracy part of the display over anything else.
Most extensive color palette

Glare-free screen

Reliable stylus

Excellent viewing angles
5. Best for Students:

Gaomon PD1161
If you are a design student who wants to get a headstart in your career, the Gaomon PD1161 is the perfect option to pick. First things first — it promises a great-looking screen, which is even better than the ones offered by low-cost Huion and XP-Pen models.
Why is it suited for Beginners?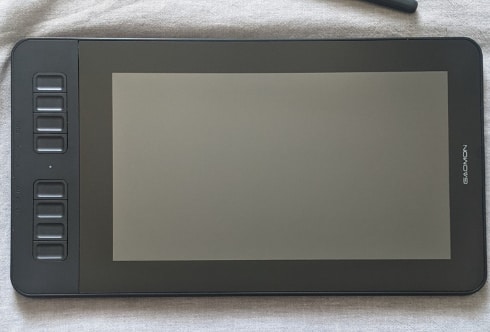 Gaomon makes room for a sharp and punchy 11.6-inch screen. Apart from real estate, it is the IPS display technology that makes a difference. Despite the price cuts, the color accuracy doesn't take a backseat, with Gaomon PD1161 making way for the 100% sRGB color gamut followed by a 178-degree wide-angle viewing experience.
What works even better is the reliable stylus pen that is self-charging comes with additional nibs and boasts maximum pressure sensitivity levels of up to 8192. And there are 8 shortcut keys to help you work around different design elements with perfection.
Connectivity & Compatibility
The PD1161 lets you connect a Windows PC or a MacBook via the dedicated Type-C or even the HDMI port in play. And while the shortcut keys are great, PD1161 also has two dedicated hotkeys to make life easier for you. As far as overall compatibility is concerned, Gaomon supports Blender, ZBrush, Photoshop, and other apps right out of the box.
Design & other Features
Gaomon ensures that the device isn't abnormally thick at 14.2 x 7.9 x 0.50 inches. As far as the weight is concerned, the heft stands somewhere close to 1.50 pounds, making the PD1161 one of the lighter picks around.
Conclusion
The Gaomon PD1161 is strictly a budget pick but with several resourceful traits like a great stylus, compact design, and a punchy screen. And when compared with other products around, it is the out-of-the-box app compatibility that sets it apart.
Easy to carry

Several on-device shortcuts

Affordable price

Works with major creative apps
Not the best viewing angles
6. Best Value for Money:

Huion Kamvas 12
Not every affordable option is good enough for beginners. However, you can put your faith in the Huion Kamvas 12 if you are serious about designs and sketches. And this drawing pad packs in quite a few shortcut keys, which make it a better bet than the Kamvas Pro 12.
Why is it suited for Beginners?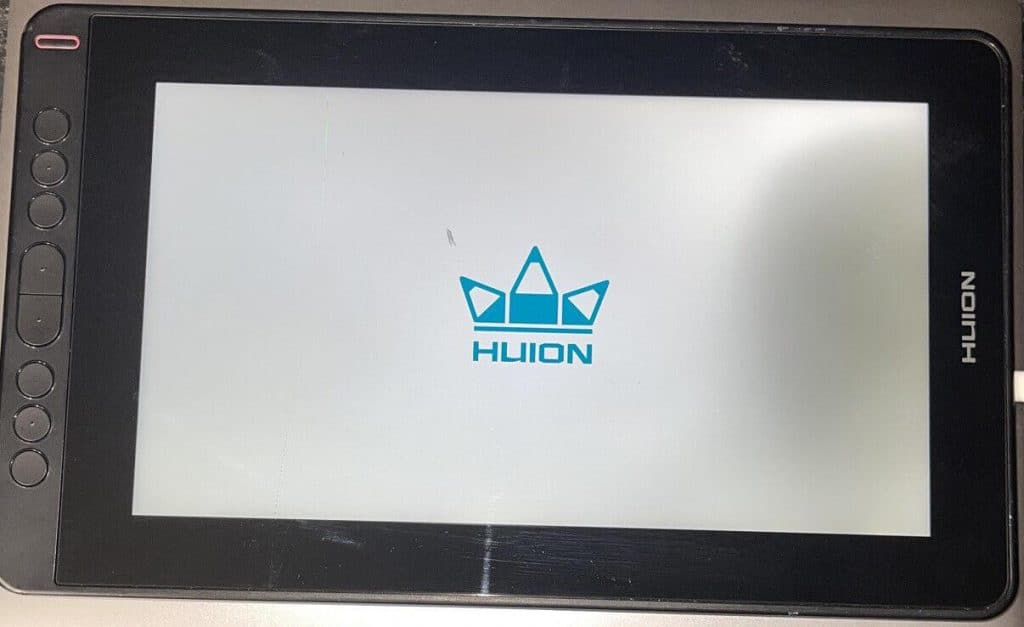 There is an 11.60-inch screen for the designer in you to work with. Also, the 120% sRGB palette keeps the color fidelity intact. The display feels brighter, with Huion assuming a native resolution of 1920 x 1080 pixels. The 178-degree viewing experience and the all-important, hardened screen surface make things better.
Huion paves the way for a top-shelf stylus, led by the PenTech 3.0 technology. The pressure sensitivity peaks at 8192, and you also get bundled pen nibs with the same. If the design parallax concerns you, rest assured that the pen offered by Huion won't let that be a problem. Plus, there are 8 shortcut buttons for helping with a better device and design management.
Connectivity & Compatibility
Huion makes room for two Type-C interfaces. Even though it misses out on the wireless option to connect with the host device, the ability to work alongside Windows PCs, MacBooks, and even Android tablets. Compatibility-wise, you might also want to consider its support for Krita and Photoshop.
Design & other Features
The Kamvas 12 isn't as thick as most of the other budget tablets are. At 0.46 inches, the sleekness is real. Plus, it weighs a manageable 1.62 pounds, despite flaunting a ruggedized plastic-clad form factor. The adjustable stand is also a great addition, allowing you to use the tablet in different modes.
Conclusion
The Huion Kamvas 12 is a dependable, low-cost budget-friendly pick that allows you to excel in most design-related tasks. Plus, it is best known for supporting Android as one of the compatible platforms, which many others miss out on.
Two USB interfaces

App support is excellent

Support for android hosts

High-end stylus

Portable
Lacks the best viewing angles
7. Best Graphic Tablet for Beginners:

XP-Pen Deco 01 V2
Not many graphic tablets can achieve what the XP-Pen Deco 01 V2 can do, along with affordability and functionality rolled into one. I even compared it with the ever-reliable Deco 02 and found the former to be a better bet due to the additional shortcut keys.
Why is it suited for Beginners?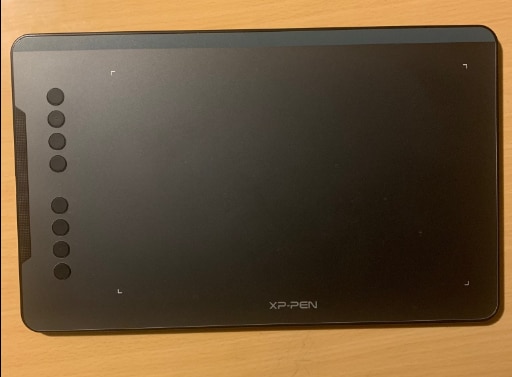 The Deco 01 V2 is a standard graphic tablet for beginners. So you would not get a display even if you wanted. However, the 10 x 6.25 square inches of active area lets you work most of your designs with perfection. Adding to this is the passive stylus pen that boasts rotation support of up to 270 degrees.
Coming to the shortcut keys, the Deco 01 V2 has 8, making it easier for you to handle panning, zooming, and deleting with ease.
Connectivity & Compatibility
The Deco 01 V2 is one of the few graphic tablets for beginners that support every ecosystem out there. You can pair MacBooks, PCs, Android tablets, and even Linux computers using the USB port in play. The app support is pretty standard, with XP-Pen lending support to Photoshop, Ibis, and Autodesk Sketchbook for the aspiring creative within.
Design & other Features
Touted as a sleek device, the Deco 01 V2 measures 13.8 x 8.54 x 0.31 inches. And it weighs 1.50 pounds — qualifying it as an easy-to-carry drawing pad for beginners. And if you look closely at the bundle, there is a stacked USB cable, drawing glove, pen stand, and 8 additional nibs to help you scale.
Conclusion
To sum it up, the XP-Pen Deco 01 V2 is one of the best graphic drawing tablets for beginners who want to migrate from paper designing to digital creation. And what's important is that it doesn't include a screen, unlike every other product on the list, making it less prone to latency.
Suggested Read: Graphic Tablets vs Pen Displays
Comes with a bundled drawing glove

Supports every other ecosystem

Excellent stylus

Lowest possible parallax
Factors to Consider When Buying an Art Tablet for Beginners
So you have looked at every digital art tablet for beginners in the retail space? Yet, if you want to make an informed call, keep the following factors in mind:
Use-Cases
Your beginner digital art tablet choice should depend on your own set of requirements, period.
Consider this: If you want something for designing comic books and manga, all you need is an option with exceptional color accuracy. Also, if you want one for sketching, color fidelity might not be as important as the stylus quality.
Display or Drawing Area
Choosing a digital drawing tablet and keeping the display or drawing area in mind isn't as easy as it sounds. In the end, it all boils down to the use-cases. For instance, if you are a tattoo artist and have plans to create stencils, you might need something close to 14 inches.
However, if you are into smaller logos and illustrations, something south 10 inches can also work, provided the color accuracy is good enough. Other factors to look for include a standard resolution of 1920 x 1080 pixels, preferably an IPS panel, and
Stylus and On-Device Keys
As a beginner, you need to rely on an efficient stylus pen to get the job done. The resources here include decent levels of pressure sensitivity, preferably 8000+, additional pen nibs for extended usage, and even tilt support or palm rejection, depending on the resources you seek.
Next, you have on-device controllers — something a beginner cannot do without. For that, you might want to consider a device with at least 4 shortcut keys for deleting and pasting designs from one interface to the other.
As far as the minimum feature requirements are concerned, a self-charging stylus pen with at least 4096 pressure sensitivity levels is a must followed by at least 4 shortcut keys and a touch bar/dial.
Connectivity and Compatibility
Beginners are mostly on a budget and therefore seek devices that do not burn holes in their pockets. A good way to keep this from happening is by investing in tablets with wired connectivity. Wireless connections are desirable but might push prices through the roof.
Also, as far as OS compatibility is concerned, an ideal art tablet for beginners would be one that can work with Android, macOS, Windows, Chrome, and even Linux. Yet, your budget might not permit you to invest, and the minimum requirement would then be support for Macbooks and Windows-powered devices.
For creatives like tattoo designers and graphic designers, it is important to focus on the apps as well. Therefore, it is advisable to proceed with tablets that support Photoshop, Sketchbook, and other relevant apps.
Design and Feel
Some beginners might overlook the build quality, but you shouldn't. As far as the design-specific preferences are concerned, you would only get plastic-clad units for the concerned budget. You can still look for integrated tilt support, bundled kickstand, and rubberized ends to ensure that the product you pick is durable and useful enough.
To learn more, check out our comprehensive drawing tablet buying guide.
Frequently Asked Questions
What is the best drawing tablet for beginners?
A product with a handful of shortcut keys, a touch bar to manage designs stylus-free, and a smaller learning curve followed by multi-OS compatibility can be considered the best digital art tablet for beginners.
What features should be there in beginner drawing tablets?
Good drawing tablets for beginners include a decent set of connectivity options, making it easier for a user to connect to the compatible host. On top of that, relevant tablets should be able to support multiple platforms, should be able to work with a host of creative apps — most importantly Photoshop, and should try to be light and portable.
Should beginners get a pen display or a graphic tablet?
Well, beginners should never start without a screen. Graphic tablets that only offer active drawing areas are exceptional drawing resources. However, they do not make much sense to beginners who prefer seeing the design or creation they are working on.
Is Gaomon a good brand?
When it comes to the quality of creative software, Gaomon is a great tablet brand. Also, Gaomon is an excellent choice for beginners, all thanks to its cost-to-ownership ratio.
Verdict
All types of drawing tablets are featured here and work just right for designers in the early stages of their careers. However, if you are still unsure as to which one would be suitable for what kind of designing a task, here is a small, curated list for your reference:
Pick the

HUION Kamvas Pro 16

if you are into big and expressive designs— tattoos, stencils, sketches, and more.
In case you're interested in an animation tablet for beginners, the

XP-Pen CR Artist 13.3 Pro

is a great pick.
Finally, if you do not prefer a screen and looking for a graphic tablet, the

XP-Pen Deco 01 V2

is undoubtedly a great entry-level drawing tablet to invest in.
Believe it or not, you can still look around and pick something else that fits better with your budget and requirements.
Suggested Articles: