There are a lot of advantages of reading, not only does it help you improve your knowledge, memory, and mental stimulation, but it can help you live longer too. So, if you're in search of a good tablet for e-reading, you've arrived at the right place.
Many readers prefer printed books because of the feel. However, many people prefer digital versions (eBooks) because they're cheaper and come with various benefits such as font-flexibility, takes less space (a basic e-reader can store 1000s of books), etc.
Are you looking for a good quality tablet for reading? Whether you read comics, PDFs, or browse the internet, the models in my list won't let you down.
I got in touch with 74 people of different age groups and reading habits and interacted with them. Based on the inputs from the interactions, I researched the various options available in the market and finally handpicked the 8 best options for 2023.
Best Tablets For Reading in 2023
If you're looking for a distraction-free reading session, consider getting a dedicated e-reader. However, if you're looking forward to performing multiple tasks such as browsing the internet, writing, watching Netflix shows, then you shall consider getting a modern tablet with decent specifications.
1. Best E-Reader:

Kindle Oasis
This model is the most high-end Kindle yet and is definitely for the super-elite. If you are already well-versed with the Amazon ecosystem, then Kindle Oasis is the best reading option for you. It is also one of the longest battery life tablets with a backup of up to 6 weeks and 28 hours on a single charge at a stretch.
Display Quality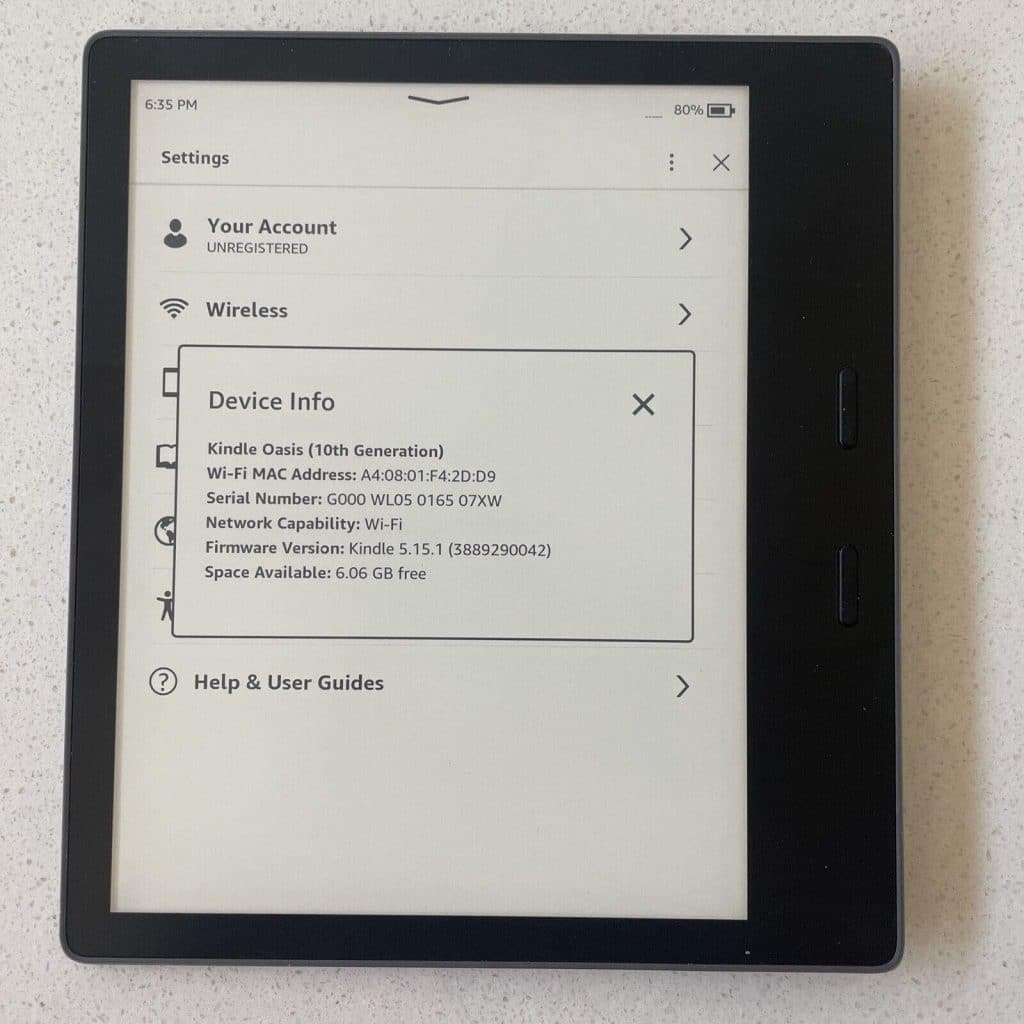 It's a full touch screen display with 300 PPI resolution using Kindle's very own E-ink technology. E-ink gives you the feel of reading a paper-based book on the kindle and works great outdoors, even in direct sunlight.
Processor, RAM, Storage
The 10th generation Kindle Oasis comes with 512MB RAM and two storage options, i.e., 8GB and 32GB which are plenty to store many books, publications, and comics. It is extremely power efficient with a 1GHz Colibri iMX7 processor.
Design & Build
Buttons are placed on the heavier side of the e-reader and fall right below your thumb as you hold it for easy navigation. Design-wise, it is, strangely enough, not a flat tablet, which takes some getting used to, but after using it for a while, you'll realize how ergonomic it is. It is slightly fatter towards one end, making it easy to hold and transfers the majority of the weight on that end.
Other Features
Kindle Oasis is water-resistant, rated IPX 8, meaning you can easily take it to the beach and not worry about it. It also comes in an LTE model, meaning you can sync your books on the go and do not have to wait for Wi-Fi connectivity.
Final Thoughts!
If you are on the lookout for a dedicated e-book reader that is efficient, devoid of notifications and distractions, and a screen that feels like you're reading a physical book, the Kindle Oasis is your go-to tablet.
Pros
Supports warm light
Great battery life
No distractions
Ergonomic hold
LTE model
Water-resistant
2. Best Runner Up:

Kobo Libra H2O
If you notice, Kobo is actually an anagram of "book," and that's the inspiration behind naming the company what it is. The Kobo Libra H2O offers a Kindle-like experience at an affordable price. The reason I love this e-reader is that it allows you to connect over an overdrive account. Thereby you can borrow a book without performing any extra steps (This is where it beats Kindle!)
Display Quality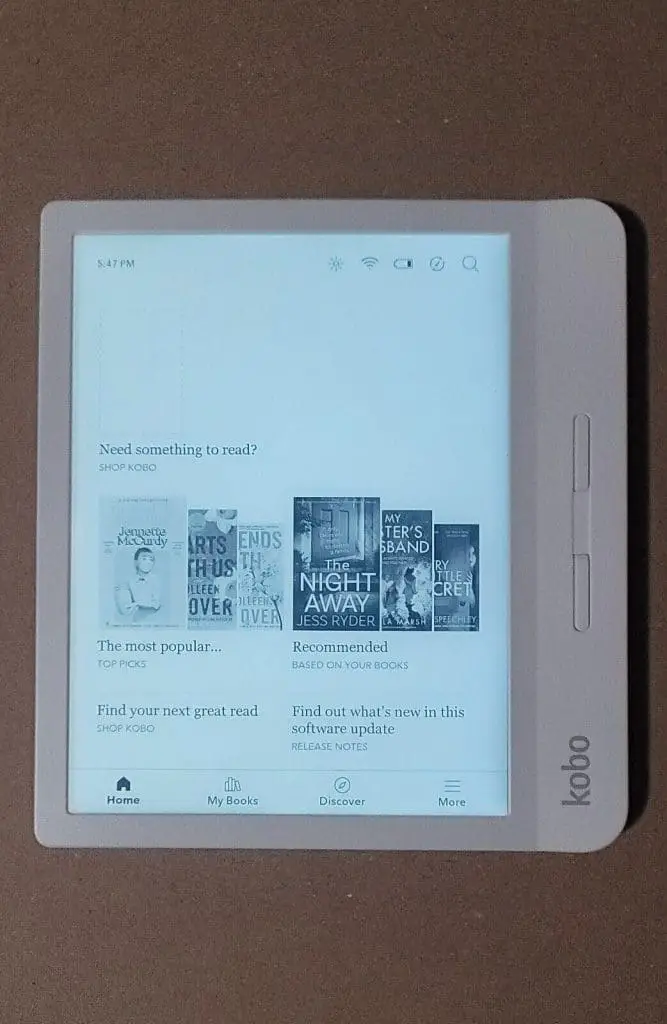 The Kobo Libra H2O is equipped with a 7-inch display of 1680 x 1264p resolution. It also comes with comfort light technology, which tries to mimic the feel of reading a paper-based book. It comes with a unique auto lighting feature which, with the help of Wi-Fi, changes the brightness based on the time in your particular location.
Processor, RAM, Storage
The 1GHz NXP i power the Kobo Libra H2O.MX 6SLL works in tandem with 512MB of system memory and 8GB of storage. It supports most e-book and comic formats. It has a very simple UI that is easy to get accustomed to.
Other Features
Kobo has its own "My article" which is a pocket extension that can be added to your Chrome or any other web browser which then syncs it to the app, and you can read it on your tablet as a book and not having to scroll on your laptop or mobile phone. In addition to that, it is also water-resistant with IPX8 certification.
Final Thoughts!
The Kobo Libra H2O serves as a great tablet to read ebooks without ads or interruptions. It's one of the rare ebooks readers which comes with a pin lock for added security purposes. It comes with preloaded dictionaries, which is a plus, and has a huge e-book store wherein you can browse the books you want to purchase.
Pros
No ads or interruptions
Reasonably priced
IPX8 certified for water resistant
Support for landscape mode
Comfort light technology
Various format support
Can change font and size of texts
3. Best Android Tablet:

Lenovo Tab M10 Plus
Easily one of the coolest and most innovative tablets to come out in the last decade was the Lenovo Tab M10 Plus. What makes it unique is that it offers excellent specifications at an affordable price. Keep on reading to know whether it can be your reading companion.
Display Quality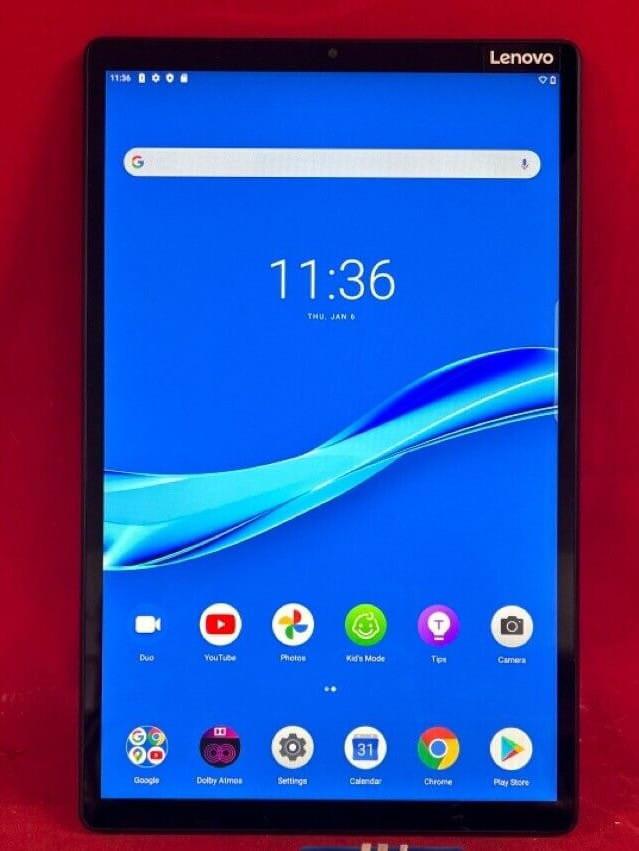 The 10.3-inch display with a resolution of 1920 x 1200 pixels has increased the screen space from the company's Tab M8 model. In addition, the sharp display allows you to read a lengthy text without any strain on your eyes.
Processor, RAM, Storage
The tablet boasts a smooth performance when reading ebooks, comics, accessing emails, browsing online, writing offline, and streaming videos. The 1.6GHz MediaTek Helio P22 processor, 4GB RAM, and 64GB of storage on the Tab M10 Plus allow you to multitask in a hassle-free manner.
Other Features
From a reading point of view, this can handle PDFs, Kindle books, audio files, and everything. It comes with a 3.5 mm jack as well, so if you're on the go, just plug in your earphones, and you can listen to your book.
Final Thoughts!
Lenovo has definitely pulled up the game as compared to their previous generation tablets. Carefully considering the aforementioned advantages of the tablet, readers must definitely consider purchasing the Tab M10 Plus for their everyday study needs.
Pros
Premium looks with metal back
Bright full HD panel
Capable processor
Good camera setup
Good battery life
Multiple storage options
Cons
Targeted to a very niche audience
4.

Kindle Paperwhite
The latest version of the Kindle Paperwhite gets a huge upgrade to its storage and water resistance while retaining most of its hardware and features. The current version of Kindle paperwhite also comes in both WiFi and 3G versions at a lighter weight.
Display Quality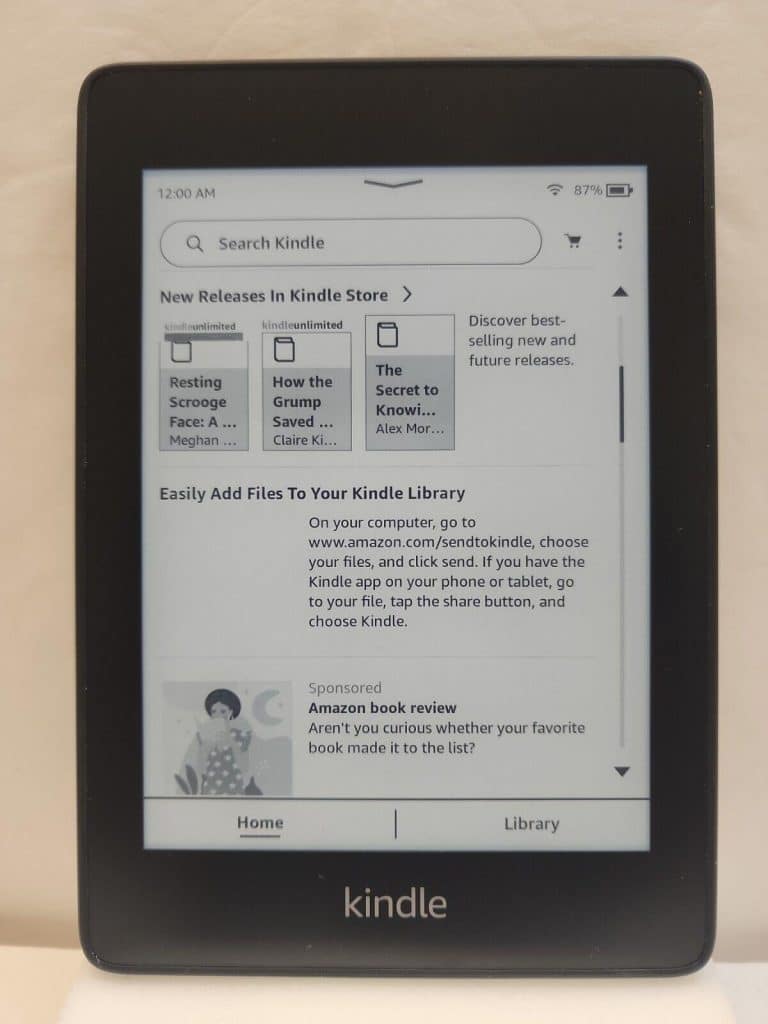 Sticking to its previous model display configuration with a 300PPI density, 16-level grayscale LED illuminated 6-inch display. The illuminated display and the anti-glare screen make it easier to read outdoors, despite the sunlight.
Processor, RAM, Storage
The latest version of Kindle white keeps the 512MB RAM from its previous models. With two choices of storage, 8GB and 32GB, the 8GB edition brings space for thousands of e-books, and journals. The 32 GB version will be ideal for Manga fanatics. Amazon sticks to the Freescale 6 SLL processor clocking at 1GHz, imperative for its energy-efficient operation.
Design & Build
Amazon puts a flush-front design that avoids dust accumulation in the corners and larger bezels on the top and bottom. The device weighs 0.40 pounds and measures 6.6 x 4.6 x 0.32 inches, going easier on the hands of its user. Like the recent versions, the power and micro-USB charging port can be spotted below the lower bezel.
Other Features
Kindle Paperwhite comes with an IPX8 waterproof body. Pair your audible book with a Bluetooth speaker and listen to it, while you are on the move. The paperwhite also can flip between black and white background with the ability to customize font, margins with ease.
Final Thoughts!
Fully recharged within 4 hours, the kindle paperwhite can last up to 6 weeks with daily balanced usage, without looking for a charger. Looking to have all your e-book collection handy during your travel, Paperwhite is one of the best e-book readers in the market, despite the price.
300 PPI display

Long battery life

Audible compatible

Waterproof
5. Best Value for Money:

Fire HD 10
If you're someone who is used to the Amazon ecosystem, then the Fire HD 10 is the perfect option for you. It has got several upgrades compared to the previous releases of the Fire HD tablets. All this at the $150 price tag, interesting, isn't it?
Display Quality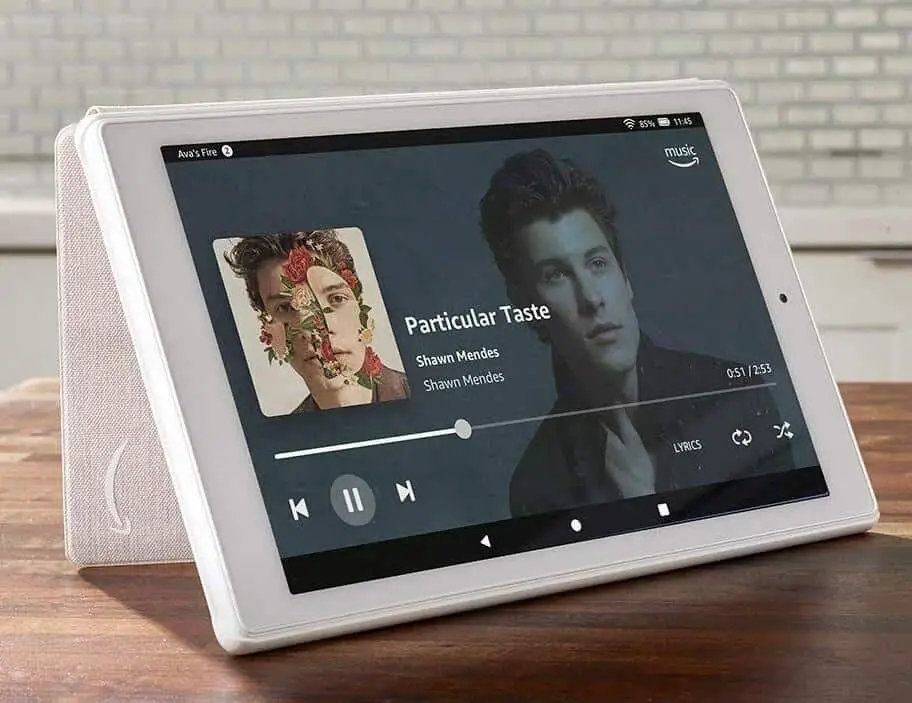 Unlike the previous releases of the Amazon-branded tablets, this variant sports a full HD display with a screen resolution of 1920 x 1200p. To make reading easier on the eye, the tablet also comes with Blue shade technology. It auto-adjusts the backlight of the screen depending on whether you're using it in direct sunlight or in the darkness of your room at night.
Processor, RAM, Storage
The Mediatek Helio P60T quad-core processor powers the tablet. Under the hood, the device offers 3GB of RAM and 32GB of internal storage. It might seem restrictive, but you can expand it up to 1TB with the aid of a micro SD card.
Other Features
It comes with access to the Kindle store, with Amazon giving you payment options for unlimited access to the Kindle store based on a monthly subscription fee. Additionally, when it comes to reading, the Fire OS comes with a customizable setting.
It also comes with a set of front and rear cameras that aid in video calling and just about get the job done. Amazon recently also launched a kid-friendly Fire HD 8 Kids Edition that can help you get children interested in reading comics.
Final Thoughts!
Modeled on Android Lollipop, running on Fire OS, the Fire HD 10 is a reliable 10-inch tablet that is powerful enough to run most things in life and comes with Amazon's well-acclaimed voice assistant Alexa on board. Also, not to forget the Blue shade technology that provides you with a pleasurable reading experience.
Pros
Stellar full HD display
Blue Shade technology
Access to the Kindle
Storage expansion of up to 1TB
USB Type-C port for charging
Amazon Alexa support
Cons
Poor quality camera
Restrictive internal storage
6. Best for Apple Fans:

Apple iPad (9th Gen)
Apple is actively trying to reach everywhere with its products and a brilliant ecosystem. The 9th generation Apple iPad is its concrete way of doing so. It's the most affordable iPad you can buy for reading purposes.
Display Quality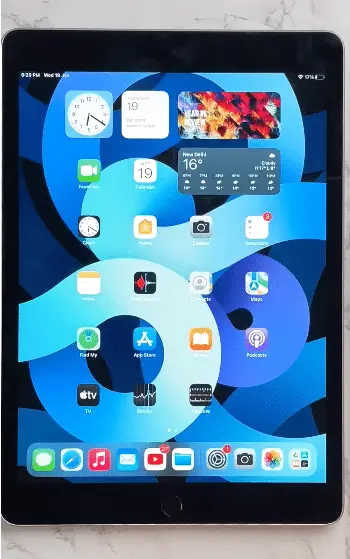 As a reader, this iPad works extremely smoothly thanks to its 10.2-inch IPS Retina display with a screen resolution of 2160 x 1620p. This equates to reading being an absolute pleasure on this device. It can handle almost all formats and handle all your Kindle content via the Kindle App.
Processor, RAM, Storage
The A13 Bionic chip means that the iPad can actually compete with some of the entry-level laptops. The 3GB RAM and 64GB of internal memory can handle all the reading apps you throw at it. Moreover, the support for Apple Pencil (1st Gen) makes it great for using it with note-taking apps like OneNote.
Design & Build
Apple packs such powerful hardware in a thin body. At 1.09 pounds, it's lightweight and appealing to hold and read content on. However, it looks a bit old due to the thick bezels around the display. As for security, the iPad comes equipped with a Touch ID fingerprint scanner that doubles as a home button.
Other Features
It comes with an 8MP wide rear camera and a 12MP ultra-wide front-facing camera. The group FaceTime capabilities add to its plethora of advantages over other tablets. It comes with the iPad OS, which uses intuitive gestures to go home and pull up the multitasking tab. Apple also retains the beloved 3.5mm headphone jack.
Final Thoughts!
It's a power-packed device and can easily last you a day on a single charge. However, Apple still uses a lightning port for charging for this device. It is quite popular among college students and kids.
Pros
Performance-friendly chip
Support for Apple Pencil
Sufficient storage for reading
Affordable compared to other iPads
Thin and lightweight design
Cons
Thick bezels
No USB Type-C port
7. Best from Samsung:

Samsung Galaxy Tab A
The Android v/s iOS battle will go on forever, and luckily for us, we will keep getting great products out of this. The Galaxy Tab A 8.0 is a result of that. It comes with all-day battery life to read ebooks without charging it quite often.
Display Quality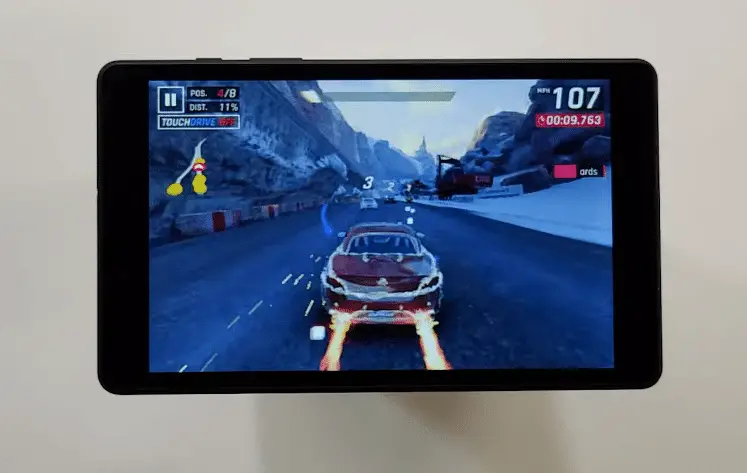 The 8-inch TFT panel is excellent, and reading in direct sunlight is also not an issue. Even though the tablet doesn't offer an AMOLED display which Samsung is well known for, the 1280 x 800p resolution exhibits sharper texts. In addition to that, a 16M color capacitive touchscreen makes viewing anything a pleasure, texts are crisp, and videos play with extreme fluidity.
Processor, RAM, Storage
The Samsung tablet comes equipped with the Qualcomm Snapdragon 429 processor. It is further enhanced by 2GB RAM and 64GB of internal storage. While the RAM is a bit low on this model, you can expand the storage using a micro SD card slot. Hence, storing a lot of ebooks wouldn't be an issue, as it supports memory cards of up to 512GB.
Other Features
To view books, you can view them in PDF format or download the Kindle app and download multiple books from there. There are dual speakers and a 3.5mm jack taking care of your music and multimedia needs.
Final Thoughts
If you're low on budget and seeking a Samsung-made tablet, this is your only option to go for. However, if you can increase your budget, you should check out my list of recommended Samsung tablets that offer better specifications, display quality, and even stylus support.
Pros
Long-lasting battery life
Lightweight chassis
Expendable storage
3.5mm headphone jack
Dedicated kids mode
Good quality rear camera
Cons
Thick bezels
Only 2GB RAM
No USB Type-C port
8.

Kindle
The latest version of the budget version of Kindle comes with an upgrade to its storage capacity. The lightweight version sticks to its basic features in delivering a solid reading companion, that lasts up to a few weeks.
Display Quality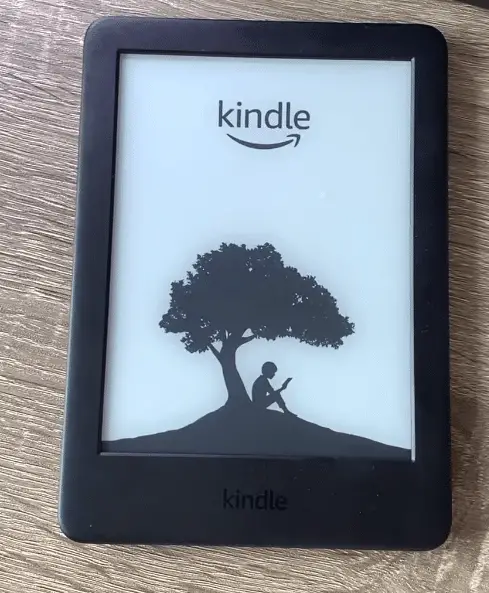 Amazon retains the 6-inch display configuration; a 167 PPI density gray-scale display with a 600 x 800-pixel resolution. The anti-glare screen works better indoors.
Processor, RAM, Storage
The 10th generation Kindle has 512MB RAM and comes in two choices of storage, 6GB and 8GB that leaves a lot of room for storing e-books, PDFs, journals, magazines, etc. Amazon keeps its processor from the previous version, Freescale 6 SLL processor clocking at 1 GHz.
Design & Build
With large bezels around all sides, the kindle aesthetic design with rounded edges makes it easy to grip and hold with one hand. The device weighs 0.38 pounds and measures 6.3 x 4.5 x 0.34 inches in dimensions, making it easier on your hands for long hours of usage. The power and USB port are placed below the lower bezel, easily accessible to your thumb.
Other Features
Kindle is neither water-resistant nor comes with an auto-adjustable light sensor like the premium version. It does come with free cloud storage for Amazon-based content. Accessibility features, including a screen reader with Bluetooth audio and a text-to-speech converter, make this a perfect reading companion.
Final Thoughts!
Taking 4 hours to recharge, the kindle reader can last up to 4 weeks with balanced usage. If you are a voracious reader, you could still go on days without looking for a charger. In case you are planning to venture into the world of digital books, it is one of the best entry-level e-book readers.
LED Illuminated Display

Long battery

Ergonomic design

Lightweight
Frequently Asked Questions
Should you choose an e-reader or a tablet?
You will ideally use an e-reader if your primary function is just reading as it is a lot lighter weight, as well as the battery life, is great. You need to charge most e-readers just once in 2 weeks.
What size should I go for in a tablet solely for reading?
This is a very personal decision, but tablets and e-readers now come in varying sizes from 6.1 inches all the way up to 13.3 inches. But if you want the feeling of a physical book, then 6.1 inches works fine.
How often do I have to charge an e-reader?
Most tablets last a day of average usage and up to two days of light usage, which means you'll charge it as often as your phone. E-readers need to be charged once every two weeks or sometimes just once a month.
Do I need to buy only a kindle to read my kindle books?
No. Most E-readers support all reading formats, while a few other runs on Android, which means you can download the Kindle app and read your Kindle books on the app.
How much storage is enough for a tablet used for reading?
Typically, if your primary reason to buy a tablet or an e-reader is just to read, then you'll be fine with the default storage, be it 8GB or 32GB, as most books are not more than a few MBs. 
Are all tablets waterproof?
No. All tablets and e-readers are not waterproof, so you cannot drop them in the swimming pool or the tub. Some are IPX8 rated, which means they can handle occasional splashes and the mistakenly dropped glass of water. 
Verdict
When it comes to reading, you'd be better suited to purchasing an e-reader given the added battery life that you get and the absence of notifications, and, therefore, the distractions.
But adding an extra device can seem like a hassle. Therefore now we have many tablets that come with varying display qualities to reduce that strain on your eyes, ergo leaving the option up to whether you are okay with an extra device or will just use some software setting to optimize reading on a tablet.
To sum up my recommendations,
The

Kindle Oasis

is the best overall e-reader you can get in the market, as of today.
Don't want to spend too much but need an e-rearder over a traditional tablet? Well, the

Kobo Libra H2O

has your back.
Lastly, if you want a reliable Android tablet for reading as well as performing other daily tasks, you can't go any wrong with

Lenovo Tab M10 Plus

or even the

Fire HD 10

.
Do let me know which one are you purchasing?