Isn't the iPad a tablet? Yes and No. While the screen size, usability, and features of an iPad are often synonymous with tablets, there are still quite a few dissimilarities to account for. Still, for the uninitiated, tablets and iPads are often evaluated across the same set of parameters. Despite the similarities, it is the set of distinctions that need to be enlisted clearly to help you make several informed decisions, over time.
Therefore, if you are interested in purchasing a tablet with utmost urgency, it is necessary to understand how the iPads and Tablets resemble and differentiate, and what benefits each brings to the table. I shall, in the subsequent sections, talk about the key differences and similarities between a tablet and iPad, whilst eventually discussing each one at length.
| | iPads | Tablets |
| --- | --- | --- |
| Functionality | Mobile workstation, Comic Book Designing, Apple-specific | Portable Computer, Drawing Pad, Covers Multiple Brands |
| Ecosystem | iOS and iPadOS | Android |
| Build | Premium, Metal-Clad | Plastic and Metal |
| Hardware Setup | A1X series of Chipsets, M1 in the latest iPad Lineup | MediaTek, Snapdragon, and Exynos variants |
| Display | Retina Display | IPS, TFT, and LCD screens |
| Connectivity | 802.11ac, Type-C, and 802.11ax for new models | 802.11ac, 802.11ax, USB 2.0, USB 3.0, etc. |
| Camera | 12MP + 7MP shooters in new variants | 13MP, 8MP, 5MP, and 2MP shooters as per the budget |
| Tasking | No Support for real-time multitasking | Supports real-time multitasking |
| Pricing | Starts at $400 | Starts at $150 |
| Storage Upgradability | No | Yes |
The Key Differences Between iPad and Tablet
Despite sporting similar form factors, iPads and Tablets differ a lot when it comes to functionality, operability, design, build quality, and other parameters. Here are some of the factors that need further detailing:
Apple's top-shelf iPadOS boasts an excellent UI, which is far more interactive as compared to Android 9 or Android 10 OS.
iPad supports better device integrations, provided you have a MacBook by your side.
The app store comes with a more seasoned set of applications.
Android tablets offers better customization.
Wide-range of android-powered products as compared to standard iPads.
Storage space in a tablet can be upgraded.
Android tablets are more affordable.
Similarities Between an iPad and a Tablet
iPads and Tablets aren't always loggerheads with each other. Instead, there are quite a few similarities between them, which can also influence your tablet buying decisions, to a certain extent.
iPads and Tablets have comparable screen sizes, depending on the real estate you seek for professional and personal activities.
An iPad and a high-end tablet resemble when it comes to camera quality.
Both the Play Store and App Store have a wide range of usable applications.
Specific tablets and iPads can be connected with external keyboards.
You can pair a stylus and active pens with relevant iPads and Tablets.
Both iPads and Tablets support third-party applications.
iPad vs Tablet: Vital Aspects Compared and Discerned
Now that I have enlisted the basic differences and similarities between these breeds of computing devices, it is only appropriate to further this discussion by covering each important aspect at length:
1. Ecosystem & App Compatibility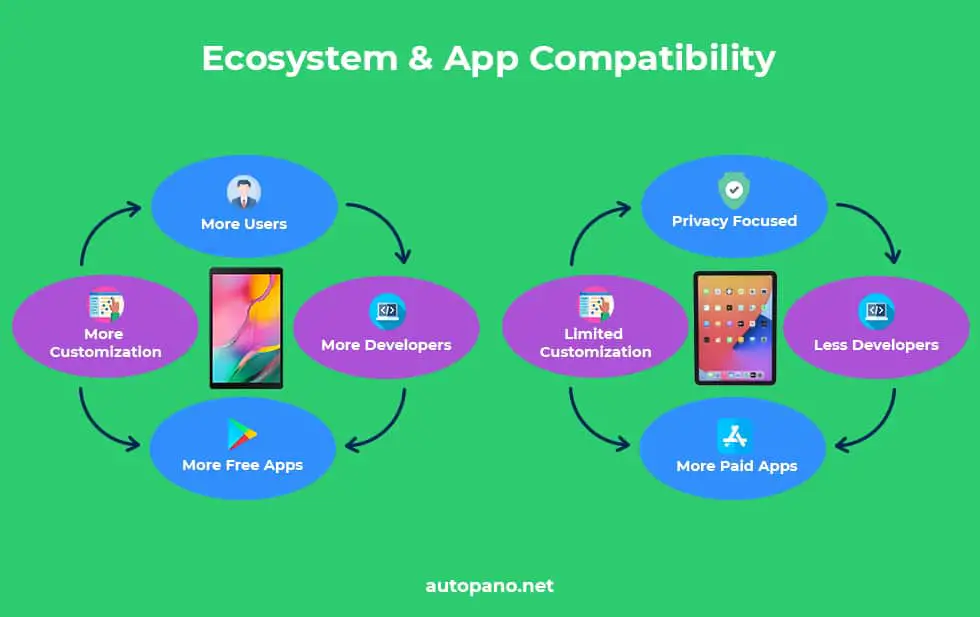 Apple's iPadOS is a lot more interactive when the android ecosystem is concerned. However, the disparity extends beyond the UI and moves right to the realm of applications. As far as app compatibility is concerned, both iPads and Tablets perceive computing applications differently.
For instance, Android tablets rely on Google Chrome as the go-to web browser whereas, for iPads, it is Safari that makes an appearance. When mapping services are concerned, Google Maps are relevant to the Android ecosystem whereas, for iPads, you have Apple Maps to rely on.
If you are a professional who is into video conferencing, Tablets come forth with Google Meet as the choice of app. For iPads, FaceTime comes forth as the native application. Finally, if you are into voice assistants, Tablets have built-in Google Assistant where Apple relies on Siri.
2. Different Offerings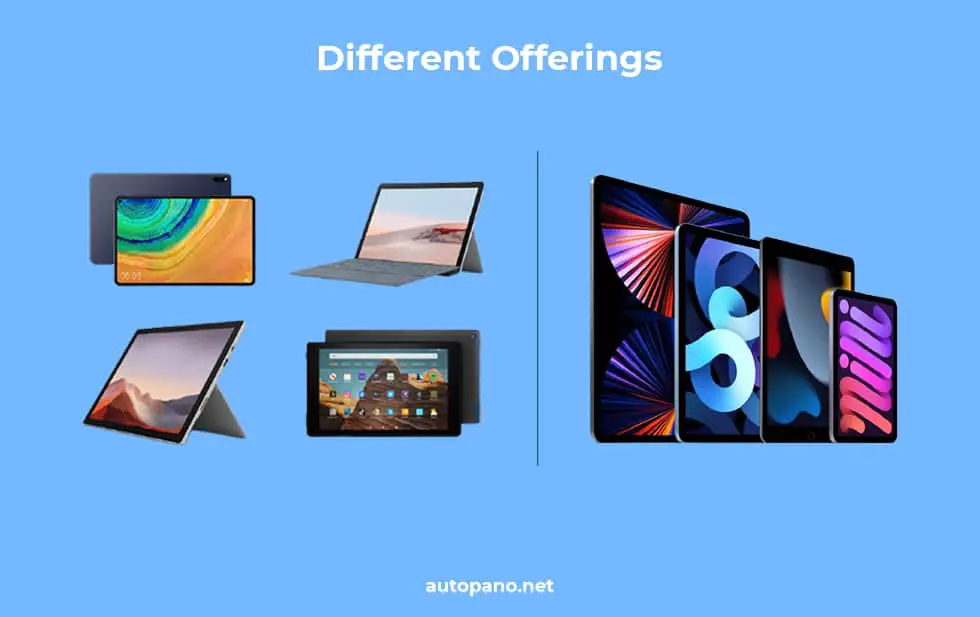 iPads, despite sharing several traits with tablets, have their own set of offerings to account for. For instance, you can pick the affordable, standard iPad, more powerful iPad Air for professional use, iPad Mini for portability, and the workstation-grade iPad Pro.
Tablets, however, are more diverse when it comes to choices. You can pick from drawing tablets, rugged tablets, waterproof tablets, sheet music tablets, and more. Also, you can select android tablets based on the budget you are willing to spare.
3. Design and Build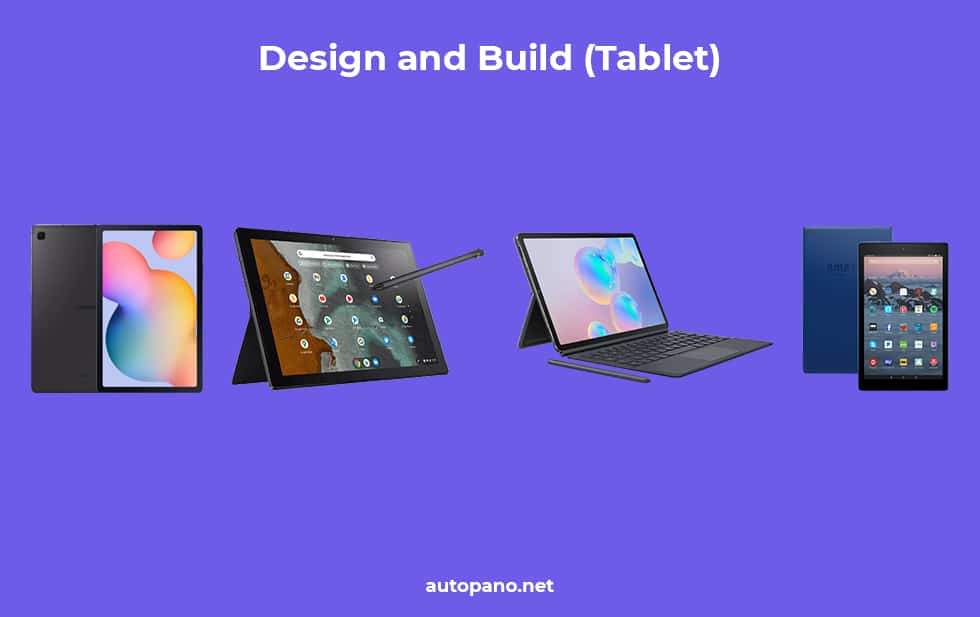 Let's start this segment by talking about tablets first as they are diverse and exude a wide range of structural impressions. Budget Android tablets are mostly plastic built, whereas the mid-range tablets costing less than $500 do feature some metallic undertones. Premium tablets are metal-clad but only a few, like the Samsung Tab S7+, are as sleek as the iPads.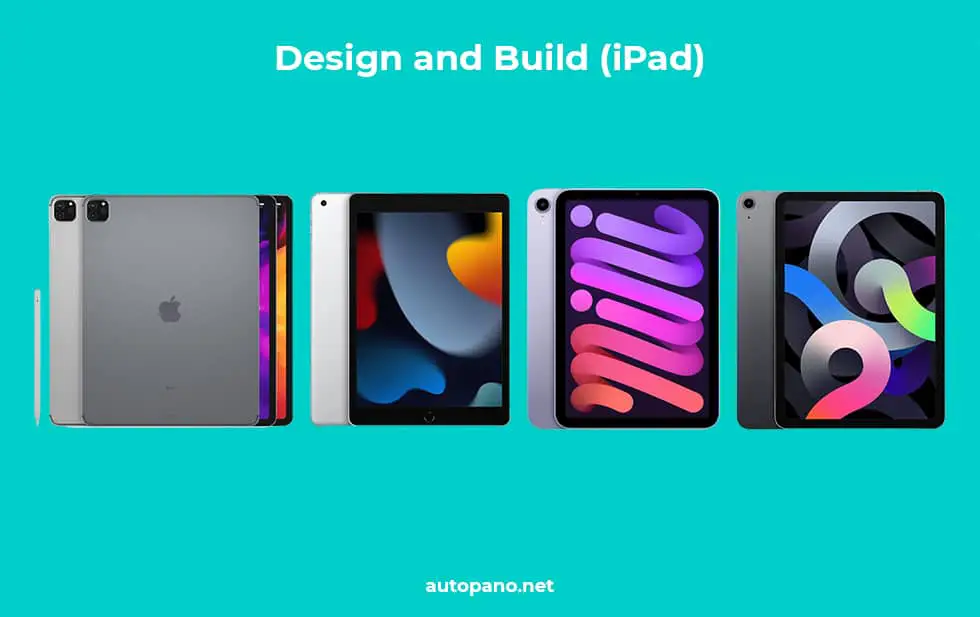 The iPads, on the other hand, are aluminum-clad and way more aesthetic than their android counterparts. Plus, they are sleeker with the thickness not exceeding 0.28 inches in any given scenario.
4. Display
Tablet displays are explorative and diverse. And yes, they vary depending on the money you are willing to pay. You can pick some rugged, HD+ visuals and excellent screen brightness. Also, if you are willing to pay more, the market is replete with WQXGA, QHD, and 2K resolution variants. As far as paneling is concerned, IPS, LCD, and TFT are the go-to options.
Tablets, at least a handful of them, are further protected by Corning Gorilla Glass panels. iPads, in comparison offer Retina Display as the existing technology with the resolution starting at a minimum of 2048 x 1536. Therefore, iPads are inherently brighter and more color accurate as compared to Android tablets.
Coming to the screen protection, iPads exhibit oleophobic coating to immunize the screen against scratches.
5. Performance
Here is the metric that differentiates tablets and iPads in the best possible way. The new line of iPads has started bringing in the M1 chipsets. However, for now, the same is restricted to the iPad Pro 2021. The older variants like the iPad, iPad Mini, and iPad Air 2020 bring in different variations of the A1X Bionic chipset clubbed with 3GB to 6GB of RAM.
The processing setup relevant to tablets is way more diverse as the budget variants stack in the UNISOC octa-core chipsets followed by the likes of Exynos variants, MediaTek's Helio P60T, and Snapdragon 600-series chipsets. However, the more advanced tablets like the Samsung Tab S7 and S7+ feature Snapdragon 865+ processors that are 4G ready and a tad faster than the likes of the A12 Bionic chipset.
However, the likes of A13, A14, and M1 chipsets outpace the latest android tablet processor by a significant margin. Therefore, it wouldn't be wrong to state that iPads are better in terms of performance as compared to tablets. Also, when it comes to the RAM allotment, tablets follow a similar range with RAM allotment ranging between 3GB and 8GB.
Storage-wise, iPads start at 64GB and can go as high as 1TB. Android tablets follow the same range, but they offer upgradability via the microSD card.
6. Connectivity
The latest breed of iPad features a Type-C port that even doubles up as a Thunderbolt 4 port for faster charging and data transfers. However, the general scenario involves standard Type-C ports and 802.11ax/802.11ac wireless connectivity without the 3.5mm audio jack.
Android tablets lack Thunderbolt support on even the more premium devices. However, the high-end tablets are more accommodative towards Wireless 6 standards. Also, barring a few premium options, tablets generally come with 3.5mm audio jacks.
As I am discussing connectivity, it is important to throw some light on customizability. Every iPad is compatible with an external keyboard and Apple Pencil, 1st or 2nd generation, depending on whether you wish to purchase these separately. In the case of Android tablets, select tablets come with a detachable keyboard whereas the active pens vary depending on the OEM.
For instance, Samsung tablets respond to the S-pen whereas the likes of Huion and Wacom have proprietary stylus pens for drawing. Finally, if you seek devices with LTE and Wi-Fi support, both iPads and Tablets offer selections, depending on the price tag.
7. Battery Life
When it comes to battery backup, there isn't much to choose between iPads and Tablets. With iPads, you can get up to 10 hours of backup, regardless of the device you are using. Battery backup offered by Android tablets varies with the processor, RAM, quality of display, and other parameters with the lowest hitting the 5-hour mark and the highest allotment going as far as 15 hours.
Suggested Read: Best Tablets with Long Battery Life
As far as charging support is concerned, some tablets offer fast charging right out of the box. iPads follow a slower charging mechanism but do support fast charging, in case you end up purchasing the 30W power adapter, separately.
8. Pricing
iPads are inherently pricier as compared to the generic range of android tablets. As far as the starting prices are concerned, the most affordable iPads come at close to $300 with the new iPad Pro 12.9 being the costliest at close to $1500. Android tablets offer a better price range, which allows you to pick something that is in line with the budget.
You are free to purchase a $100 drawing tablet for basic work or an $850 Tab S7+ to ensure that the tablet covers all the bases. The pricing, therefore, is better when tablets are concerned.
Conclusion
Despite the plethora of dissimilarities, both iPads and Tablets have their respective clientele. While tablets offer a larger selection, allowing you to pick devices for drawing, graphic designing, industrial work, outdoor usage, comic book reading, schooling, and more, iPads have more targeted functionalities.
Clubbed with more color accurate displays, fast charging pens, and better touch responsiveness, iPads are more suitable to video editors, illustrators, and strictly, creative artists.
Regardless of how the benefits pan out, let's not jump the gun right away. It is important to first determine the tasks at hand and the budget to spare before you can fix your gaze on the preferred computing device.
But just for the sake of financial autonomy, do consider the fact that iPads come as standalone gadgets and every accessory, including the keyboard, fast charger, and Apple Pencil, needs to be purchased separately. Premium, stylus compatible android tablets, however, come with the Pens bundled along, making them edge past the iPads in terms of cost-to-value ratio.