Habit tracking apps are a great way to create and follow good habits in routine. Most habit building apps allow you to set goals, track your daily performance and analyze the data in appropriate formats. You can set your daily, weekly, or monthly targets to transform your routine.
But how do you decide which is the best habit tracking app with thousands available on the market? While some daily tracker apps work only on iOS, others are designed for Android. But luckily, there are some good habits apps available for both platforms. I have tested a lot of them and come up with a list of the best habit forming apps with all the essential features.
Let's see which one is made for you!
Best Habit Tracker Apps in 2023
Before you decide on apps to track daily activities, there are a few criteria you must keep in mind:
Mobile App: Getting multi-platform availability is a bonus, but it must be present on your Android or iOS device as smartphone apps are handy and easy to operate.
Flexible Tracking: A good routine tracking app allows you to do things more flexibly than just operating with a calendar. The advanced features of tracking apps let you set a target number of weekly, daily, or monthly activities. You can also set the timings and limits to control what you want to do and when.
Updates & Improvements: As habit building is a long-term commitment, you need apps that run for an extended period with regular updates by the development team to offer the latest features. I have featured only those actively supported apps here. 😉
Simple, Quick, and Easy to Use: A good tracking app must be fast, simple, and easy to use so you can process the data in seconds without any complicated settings.
Data Analysis & Reports: The activities and habit data provided by the app must be detailed with an instant analysis feature. The data must show each habit's breakdown, duration, length of your current streak, and much more.
Availability:

iOS & macOS

Price:

Paid

Free Trial:

 No

Paid Version Cost: $4.99
Export Data:

Yes

Reports:

Daily, Weekly, Monthly
Streaks is a colorful and minimalist habit tracker that lets you create up to 12 custom habits. It is less a tracker and more of a to-do list creator to list down habits to perform daily, weekly, or monthly.
The app icon widget has a ring around the letter "S," which gets filled to indicate the progress on habits you have created.
The home screen suggests some daily tasks with an option to add a custom task to create streaks. As you complete a daily task, your streak gets extended; when you don't follow a task, the streak returns to zero.
Instead of daily tasks, you can set specific days weekly or monthly to keep your streaks intact. You can even set some habits multiple times a day, like drinking water or brushing your teeth twice.
You can track your performance using the streaks' data by tapping on the "star" icon at the bottom right corner. The data is available weekly, monthly, or for custom days.
The app integrates with Apple's HealthKit to collect data from your iPhone or Apple Watch. It can automatically track useful goals like measuring your heart rate, recording your blood pressure, walking 5000 steps daily, etc.

Works efficiently with iPhone, iPad, Mac, and Apple Watch.

Let you see all tasks in the list on your Apple Watch on a single panel. You can keep track of all tasks you have completed and are remaining. You can also analyze the progress of each habit and mark it as done when finished.

Let you select the theme that matches the app: Dark or Light appearance. Also, let you customize the widget's background – Gradient or Flat.

You can also customize the size of task icons and how many you want in a single widget. You can set a maximum of four tasks in a widget. Also, you can decide if you wish to display the task title or its icon in that widget.
Availability

: Android

Price

: Free

Export Data

: Yes (Daily Automatically)

Reports

: Daily, Weekly, Monthly
Loop is an open-source free habit tracker app for Android users with a simple and minimal UI. You can simply create a new habit by clicking on the "+" icon on the top navigation bar. Just give your habit a name and description and set how often (and when) you want to repeat it.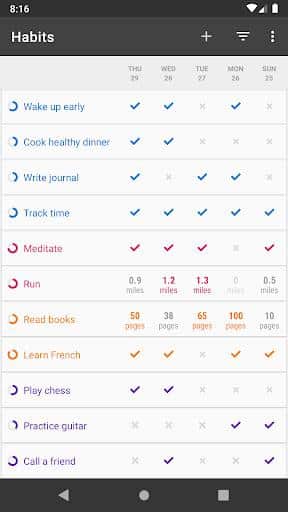 With the Loop tracking app, you can:
The daily tracker app allows you to track your daily, weekly, or monthly performance with detailed graphs of your complete habit history.

Set individual reminders and flexible schedules for each habit.

Analyze your habit score. Every repetition of a habit makes its habit score stronger.


On the home screen, you can see the data for the last four days, so you can mark your habit even later if you forget one day.

Organize multiple habits in a single widget.

Add notes to habits and sort them by status.
Overall, Loop is the best free habit tracker app available for Android users.
Availability:

Android, iOS

Price

: Free & Paid

Paid Version Cost: $3.99/Month, $19.99/Month, $39.99 Lifetime
Export Data

: Yes

Reports

: Weekly
Higher Goals is one of the best apps for habit tracking that lets you create your short-term and long-term goals. You can customize its virtual dashboards to write your daily habits and long-term goals.
The dashboard shows you the current streaks of daily habits and their percentage based on your activity. Also, you can customize colors and images on the dashboard to categorize various habits & goals. The app uses a science-based method called Tiny Habits to measure your progress.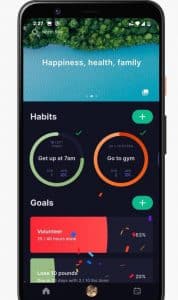 This app lets you:
Set your daily, weekly, and monthly repeated habits.

Analyze streak stats and weekly completion trends.

Track your short-term and long-term goals performance with percentage visualization

Upload photos of your achievements.

Offers Dark Mode and Offline functionality

Align your goals and mindset with your North Star

Sync data between multiple devices

Offers mindset and north star reminders
However, the app is free for Android and iOS users and offers an optional Pro Membership. You can buy the membership if you wish to track more than 20 goals and 8 habits. You can pay monthly, annually, or for a lifetime subscription.
Availability:

Android, iOS, macOS, Web

Price

: Free & Paid

Paid Subscription Cost: $5.99/month, $24.99/year, $39.99 Lifetime
Export Data

: Yes

Reports

: Weekly
Habitify is an award-winning Habit Tracker app for all devices: Android, Web, iOS, and macOS. The app allows you to create and sort habits into different habit groups. By clicking on the "New Area" button, you can create new Habit Areas like Fitness, Meditation, etc., and then group your related habits in those areas.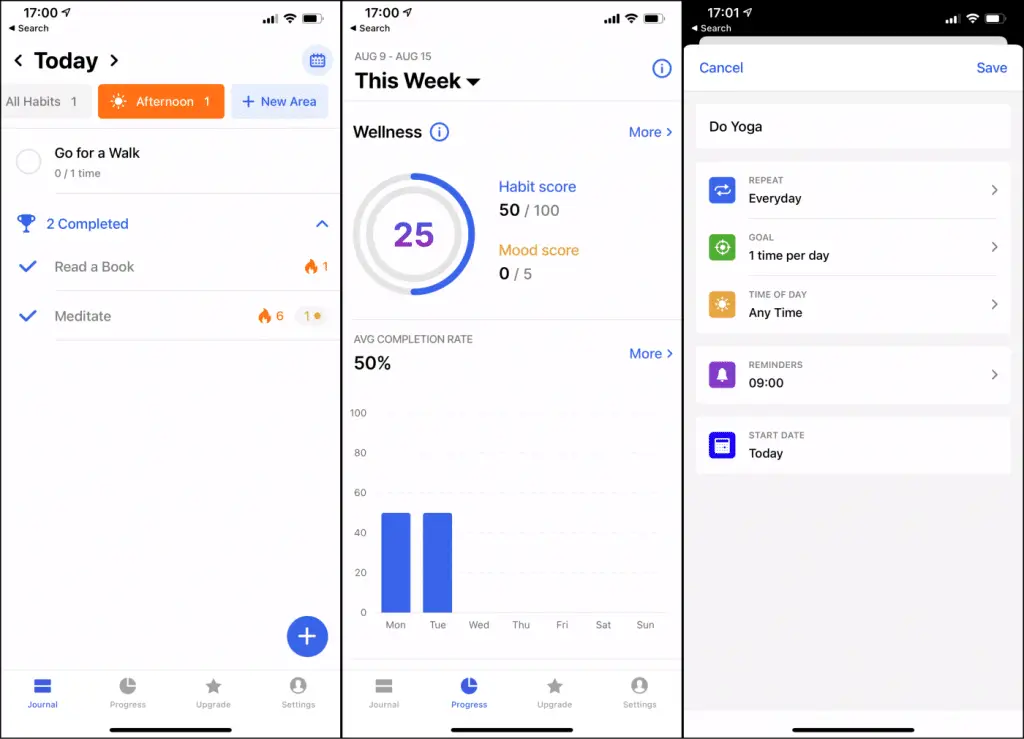 In short, the app works by letting you:
Set up new habits and categorize them.

Send multiple reminders to perform those habits & maintain streaks.

Track your performance over time through visual representation.
Some of the notable features of the app are:
Track the completion rate through habit calendars in the "Progress" tab.

Let you add notes to various habits.

Set time goals for habits.

Attach to-do items to the "Action-List" of every habit.

Can set custom frequencies with multiple reminders.
The app offers 15 free check-ins per week. To do more, you have to purchase a paid subscription.
Availability

: Android, iOS

Price

: Free & Paid

Paid Version Cost: $2.79/Month
Export Data

: Yes

Reports

: Weekly
TickTick is not precisely a habit tracker but more of a daily routine checklist app. The best thing about this routine app is its customized habit gallery. The app lets you create and categorize habits with custom habit icons. For each habit, you can choose a custom background color and icon.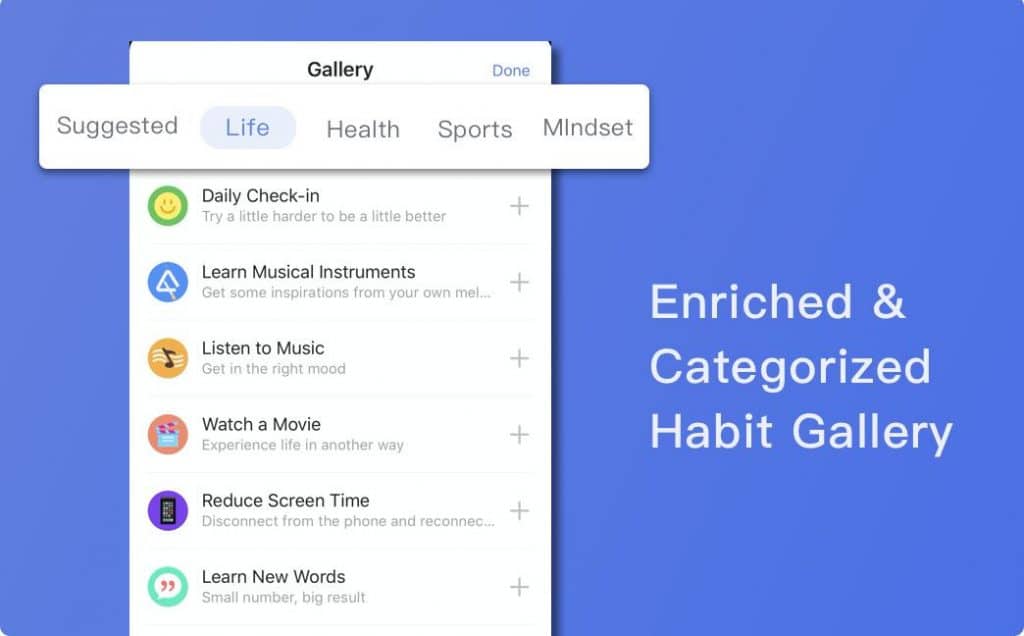 Some fantastic features of TickTick include:
Setting custom frequencies for various habits for days, months, or weeks.

Mark your habits as "unachieved" if necessary.

View and switch between Total days and current streak for each habit.

Edit log of each habit with the optional auto-display feature.

Share your progress with your account avatar in the form of visuals.

Analyze weekly habit status data under "Task statistics" within the "My Profile" section in settings.

Set reminders for each habit.

Collaborate, Assign tasks and Share results with friends, colleagues, and family.

Choose from the more than five calendar views to handle your schedule.

Data syncing across multiple platforms.
Availability:

Android, iOS

Price

: Free & Paid

Paid Version Cost: $4.99
Export Data

: Yes

Reports

: Weekly, Monthly, Yearly
Way of Life is an intuitive habit tracker app with a clean and straightforward walk-through UI. The app is slightly different from other building habits apps as it lets you create a journal with each habit.
The streaks in the app are known as "Chains," and you can set the custom target length of them with the help of a journal.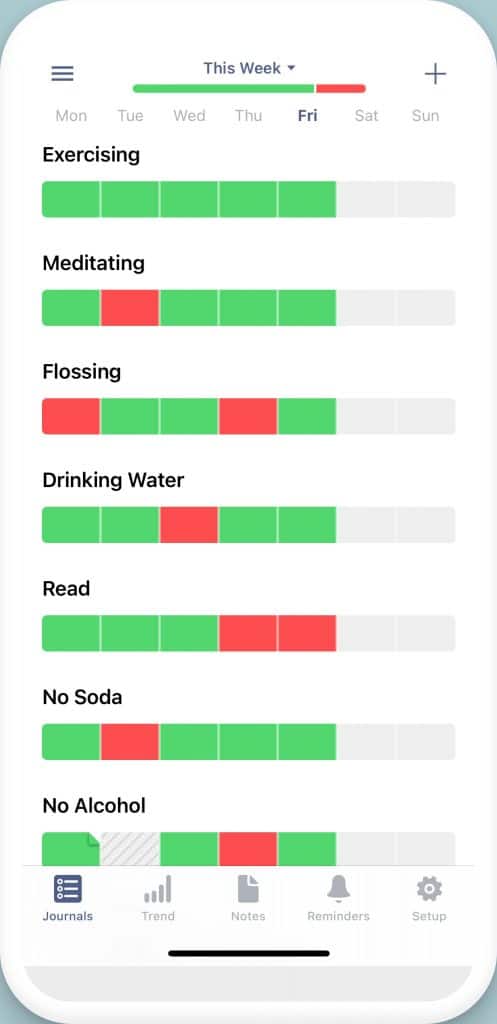 You can specify in the journal which days you have skipped a particular habit, its reason, and several other things to keep track of.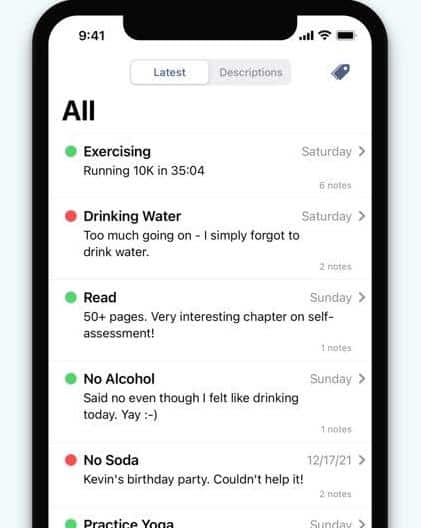 Several other exciting features of this app are:
Custom messages and reminders for daily habits with flexible scheduling.

Multiple themes like Dark Mode, Light, Serenity, Retro C64, Rose, etc.

Tracking data is available in Pie Charts and Bar Graphs with trend lines.

Custom tags for all habits.

Habits scoreboard with weekly, monthly, or yearly reports.

Cloud Backup.

Face ID and Touch ID lock.

CSV data export.
Availability:

Android, iOS

Price

: Paid

Paid Version Cost: $39.99
Free Plan

: 7-Day Trial

Export Data

: Yes

Reports

: Daily, Weekly, Monthly
With a Productive habit-building app, you can create your personal goals and life-changing habits. The app has a simple and minimalistic UI with a "+" icon to add new habits or goals. You can categorize your habits into habit categories.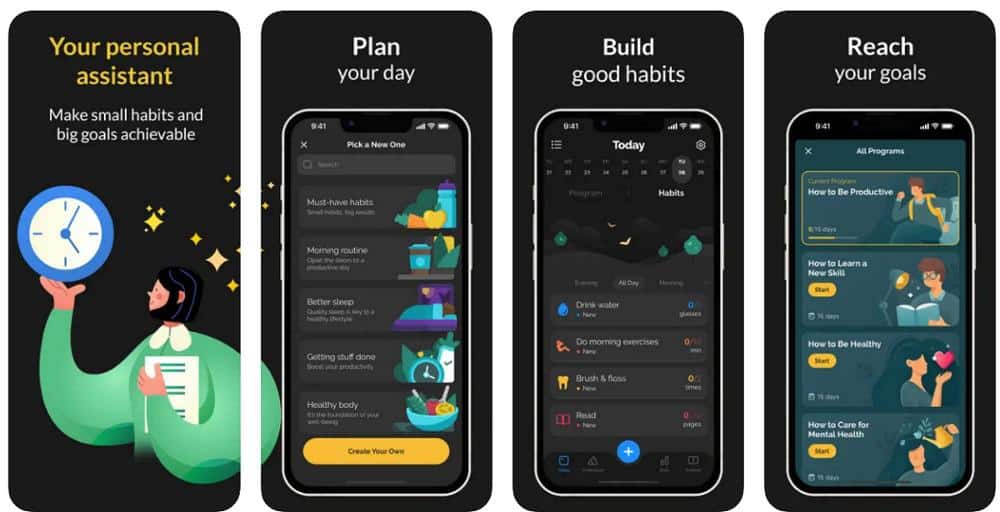 The app has some built-in challenges with predetermined activities. You can set custom frequencies of all activities with custom reminders. Your habit streaks will help you track your progress data over time.
Some Premium Features:
Create unlimited habits.

Multiple challenges with detailed expert analysis.

Location-based reminders.

Habit trends with weekly data.

App personalization with custom habit icons and colors.

Create, Pause, Complete, or Stop habits by adding notes for a particular day.
Frequently Asked Questions
What is the best habit tracking app?
The best routine app is the one that comes with an advanced habit planner and tracking features.
Some of the best apps to track daily activities for Android and iOS users are:
Streaks (iOS Exclusive)
Loop (Android Exclusive)
Higher Goals for Android & iOS
Habitify for Cross Platforms
TickTick Daily Routine Checklist App
Way of Life for Android & iOS
Productive for Android & iOS
Are habit trackers worth it?
Yes, habit tracking apps are worth your money and time as they help you stay consistent with new habits. They send you constant reminders and motivations to keep the streaks going on. Also, as you can track your daily, weekly, or monthly progress with visual proofs, you feel more confident and encouraged to follow good habits.
How good is Habitica?
Habitica is two apps rolled into one: A multiplayer RPG (Role-Playing Game) app with habit-building features. Upon completion of habits in the app, stats build up for a character in the game. This character can then go to parties and engage in other activities just like other RPGs. This way, the app keeps you motivated and involved in building new habits.
Conclusion
With these best habit-forming apps, you can bring a change in your lifestyle and analyze the transformation over time. Depending upon the device you have, you can choose the suitable one for you from the list. Go with the free trials first, and if you feel satisfied with the features, opt for the premium subscription. Start the journey of being a "better you" from today!