Are you finding it hard to choose between a tablet and a laptop as your next buy? While the confusion seems justified, it is important to note that both these devices, albeit a broader classification, caters to disparate clientele.
Tablets are more portable, best suited for enthusiastic gamers, globetrotting professionals, tattoo artists, musicians, and more. Laptops, on the other hand, are more inclined towards comprehensive professional excellence. They often come loaded with adequate processing firepower, brilliant displays, and even top-shelf graphics cards to ensure better coverage for accounting professionals, seasoned gamers, 3D artists, engineers, and corporate professionals. 
But then, there exists a middle ground between the two, especially in the form of tablet-PCs. Although tablet PCs aren't capable of matching the exceptional processing hardware pertaining to laptops, they play their part as secondary notebooks, assisting designers, musicians, and content creators, in absence of their primary setup.
Regardless of the functionalities, clientele, and core competencies of both tablets and laptops, I shall now compare both these device categories across diverse parameters. This detailed comparison would help you make better buying decisions, depending on your requirements, budget, and portability preferences.
| | Tablet | Laptop |
| --- | --- | --- |
| Design | Lightweight & More portable | Heavier & less travel-friendly |
| Display | Size range from 7-inch to 12-inch | Size range from 11-inch to 17-inch |
| Performance | Decent enough | Better than tablets |
| Connectivity | Limited ports and connectivity features | More ports and connectivity features |
| Battery Life | Up to 8-15 hours | Usually last for 5-8 hours |
| Operating Systems | Android, iPad OS, Chrome OS, and Windows OS. | Windows, Linux, MacOS, or Chrome OS. |
| Pricing | Relatively affordable | Relatively pricey |
The Key Differences
The key differences between a tablet and a laptop:
Now that I am at, let us first get the key difference between a tablet and laptop, out of the way:
Display: Laptops usually have bigger displays as compared to tablets. A standard laptop exhibits a 14 or even 15.6-inch screen, which is a better bet compared to a tablet, even if it showcases a 12-inch screen, like the Galaxy Tab S7+.
Keyboard setup: If you want a dedicated keyboard with a sizable screen, it is better to invest in a laptop. While there are some tablets that bundle a keyboard, the inclusion is hardly generalized.
Portability: In case you want a portable device to replace your smartphone with, I would recommend a tablet. As compared to a laptop, the tablet allows single-handed usage and multi-mode operability. This makes sense if Zoom meetings, video calling, and working on the cloud are some of your professional preferences.
Heat Dissipation: Despite heating being considered an exclusive device-specific trait, laptops, courtesy of their beefed-up hardware setup, are prone to overheating. However, a laptop also dissipates heat better via the strategic placement of vents.
Flexibility: As most tablets support the Android ecosystem, I would consider them as better bets for trivial tasks like photo editing, social media interactions, and more. A laptop mostly features Windows and macOS, right out of the box, and beckon extensive measures.
Connectivity: If you prefer multiple ports and slots on your new computing device, a laptop should serve you well as it usually comes with multiple USB ports, HDMI slots, and other resources.
Accessibility: If you want a device that supports easy access, courtesy of touch screen compatibility, stylus integration, and restricted dimensions, a tablet is a better choice than a laptop.
Tablet vs Laptop: 7 Aspects Compared
Now that I have covered the basic aspects, related to similarities and differences, it's time to get more granular with the approach and talk about 7 of the most essential aspects of each, at length:
1. Design
Tablets, in general, are smaller than laptops. As far as the size of a standard tablet is concerned, you can expect manageable dimensions, something in line with a pouch. Most tablets weigh around 1.2 pounds or even less unless they come bundled with stylus pens and keyboards.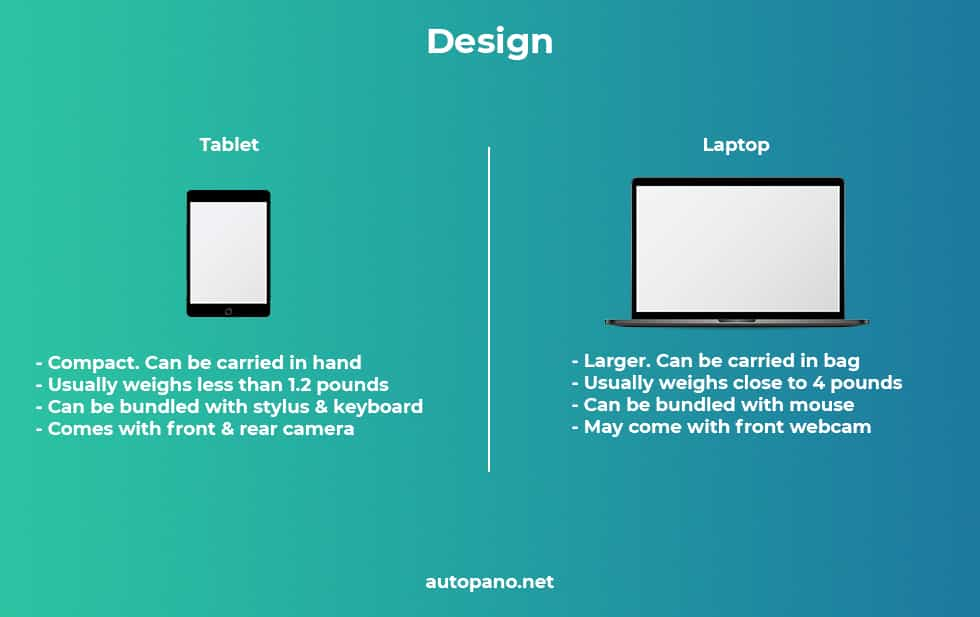 Laptops are far bigger and way more intimidating if you aren't into full-scale setups. A standard 15.6-inch laptop weighs close to 4 pounds, which is significantly higher than a tablet.
Winner: I prefer tablets for portability as they are easy to carry around. Laptops can be tricky to manage during trips and while walking unless you have an 11-inch ultraportable by your side.
2. Display
If you prefer smallish, bright, and glossy screens, tablets offer a better range of options. Tablets let you choose between varying screen sizes, with the range extending from 7-inch to almost 13 inches in certain cases. Plus, you get to choose TFT panels in select Samsung tablets, displays with Liquid Retina technology, glossy paneling, matte screens, and more, depending on the type of visuals you wish to experience.
Laptops also offer quite a few display-specific choices, with sizes varying from 11 inches to over 17 inches for the behemoths. You are free to choose between TFT, Super AMOLED, and IPS panels as per your pocket.
Winner: If bigger displays are what you seek, laptops are clear winners as even the ultraportable models offer bigger panels as compared to 10-inch tablets.
3. Performance
Differentiating tablets with laptops in terms of processing firepower is easier. As far as the hardware setup is concerned, tablets are rife with Qualcomm Snapdragon, MediaTek Helio, Exynos, and Kirin chipsets. Complementing the same are 2GB to 8GB RAM modules, depending on the budget you are willing to spare.
Tablets offer a wide range of storage options, with the budget units starting from as low as 32GB. You can even go up to 512GB on select iPads, provided you are ready to spend quite a fortune. Coming to task management, tablets, despite their varying configuration and processing attributes, are good enough for graphic designing, content creation, sheet music reading, tattoo designing, and other moderately demanding tasks.
Laptops, on the other hand, are way more expressive with their hardware. While the Intel heavy-weights like i7-9750H, i5-9300H, and more add to the processing abilities of the concerned laptops, 8GB is often the bare minimum RAM allotment, even for most entry-level notebooks.
Storage-wise, you are free to choose between SSD and HDD modules, with the former being significantly faster. A laptop purchased in 2022 is expected to throw in 256GB of SSD space or a 1TB HDD, depending on what your budget and professional preferences are.
Some laptops consider packing in high-end graphics cards, with options including GTX 1650 for entry-level gamers, RTX 20-series cards for mid-range titles, and RTX 30-series GPUs for seasoned gamers. Plus, laptops are better equipped for tasks like sheet management, accounting, music creation, 3D designing, rendering, and more.
Winner: If you are in the market for a processing heavy setup and the ability to manage low-level and demanding apps and resources with comparable aplomb, it is better to invest in a laptop.
4. Connectivity
If you are more invested in Wireless standards and ports, laptops are more desirable as even the low-end ones come with Type-C, Type-A, and HDMI ports. Dual-band Wi-Fi AC and Bluetooth 5 are the common wireless standards to watch out for.
On the other hand, tablets do not differ a lot when wireless standards are concerned, but they often compromise when port setup is concerned. However, if you plan on investing in a tablet PC, you might just be able to get a diverse set of ports at your disposal.
Winner: Laptops are clear winners as they offer a more diversified connectivity setup, comprising several ports and slots.
5. Battery Life
As far as the battery support is concerned, there isn't much to choose between a tablet and a laptop. However, as tablets are smaller and have less powerful processors, you can expect the 7000mAh battery modules or bigger units to last for at least 10 to even 12 hours.
Only a handful of laptops like the HP Spectre x360 13 and LG Gram offer battery backups in excess of the 12-hour mark.
Winner: Tablets are better choices to consider if you are a globetrotter and looking for a device with exceptional battery life and lesser charging liabilities.
6. Operating Systems
Using an electronic device is often all about the operating system in play. Laptops, in that regard, seem restricted with Windows, macOS, and Linux being the only available options. While Windows-powered laptops are more generic, MacBooks come at a price, and Linux-based laptops are mostly restricted to ethical hacking, Virtual Machine setup, and other complex processes.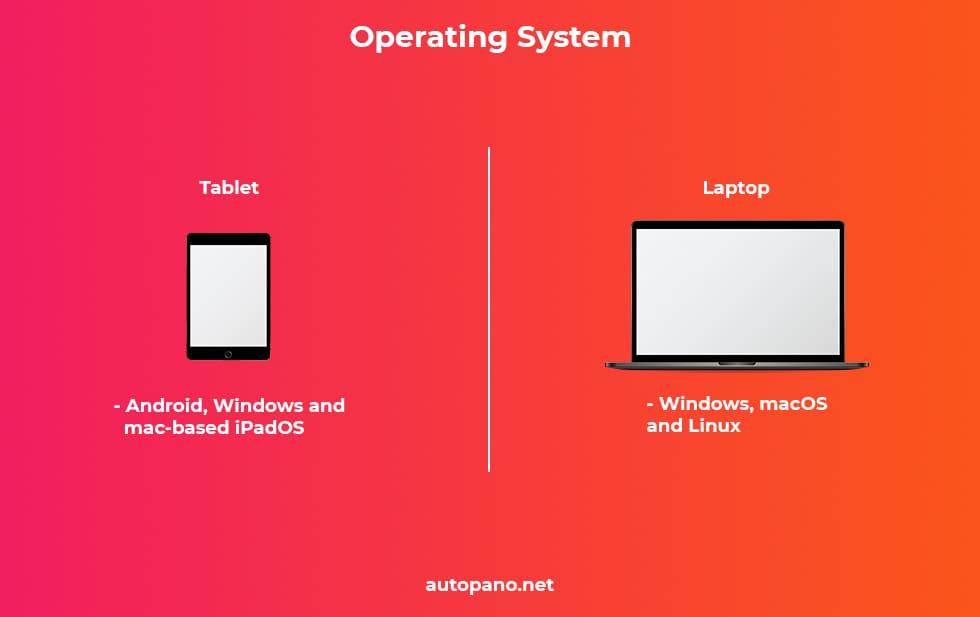 Tablets, however, make better use of the operating systems, with Android, Windows, and mac-based iPadOS being the probable variants. However, the open-source Android OS is the more predominant platform, with Android 10 being the most expected version in tablets available in 2022.
Windows-powered tablets are best suited as Tablet-PCs, whereas iPadOS is actually a more refined middle ground between the macOS and the iOS, getting you the best of both.
Winner: Tablets offer more expressive usage of base operating systems and even support the integration of skins like OneUI and more, making them more interactive than laptops.
7. Pricing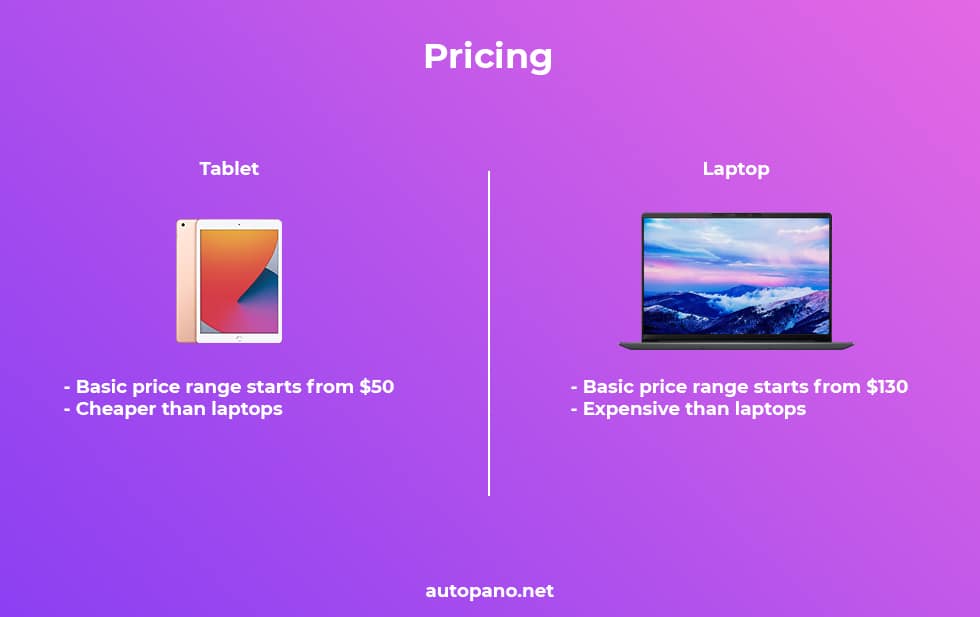 Tablets are any day cheaper as compared to laptops. While you might have to shell out close to 500 dollars for getting a decent laptop, a good tablet can often be purchased at close to 300 dollars, and that too with a stylus and keyboard paired along.
However, there are several pricey tablets to consider like the iPad Pro, Galaxy Tab S7+, and more, the generic price range is $250-$350.
Winner: Tablets are better placed when pricing is concerned as they have it in them to offer exceptional functionality at a fraction of laptops' price.
Conclusion
Now that I have compared tablets and laptops across diverse parameters and categories, the choice of device, as per preferences, is now clearer than ever.
Laptops make better selections if you are a professional gamer. Plus, if you are a CAD designer, 3D renderer, high-end business professional, audio engineer, and video editor, purchasing a mid-range or top-shelf laptop might make sense.
Tablets, on the other hand, are best computing allies to artists, smartphone gamers, audiophiles, streamers, and content creators. As they strike the perfect balance between power and portability, it makes sense to purchase these smaller devices in place of laptops, if you are not into workstation-grade activities and keyboards aren't always essential.